With mild climate temperatures and a reduced tourism season, Ibiza in autumn is perfect to discover our island's natural beauty and culture, unrivaled by any other.
Whether you are seeking refuge from the usual cold and rainy European winter season or planning a vacation that you will never forget, a luxury holiday home as your base offering total relaxation, privacy, and some of the best facilities to explore Ibiza freely could be right up your alley.
With our top autumn villas and great reasons to visit during the off-season, you can start planning your next luxury villa holiday in Ibiza right now.
Why choose Ibiza in Autumn
In Ibiza, the off-season and Autumn can offer a whole different set of experiences for visitors and residents than the summer peak. Ibiza in autumn is filled with a sense of great outdoors thanks to Ibiza's stunning natural surroundings and remote beaches. From water sports to golf, excursions, and boating to guided hikes and cycling tours, our leisure activities in the off-season abound.
However, there is so much more to Ibiza off-season than just a leisurely holiday: the island also offers a wide range of cultural experiences and festivities, adding excitement to the itinerary.
As well as local artisan markets, renowned patron and saint festivals, Dalt Vila, museums, and contemporary art galleries, the island provides plenty of local restaurants that are open year-round.  
Check out our detailed off-season leisure activities and cultural attractions blogs to plan your perfect stay.
Autumn in Ibiza: Our Top Rental Villas
There is nothing better than a stay at Villa Bora, where high-tech and modern interiors meet a beautiful natural environment and complete relaxation. Within a short driving distance of Es Cubells and Es Torrent on the island's southwest coast, this property is surrounded by 500 m2 of land in the private and secure Vista Alegre urbanisation.
On the ground floor, you have a fully equipped kitchen with all the appliances you need, the living room, which is the central social space of the house, with a beautiful fireplace and a warm and pleasant zone with high-quality design furniture – perfect for those autumn evenings. 
The master bedroom has a tatami round bed where you can watch TV from the ceiling. This bedroom also has a magnificent bathroom with an endless sea view, as well as a large terrace with a jacuzzi. Both the second and third suites feature king-size beds, private terraces, and spacious showers. 
With this home, you don't need to worry about the off-season, water temperatures because you can relax in the heated saltwater pool or jacuzzi and take in the panoramic view of Porroig Bay.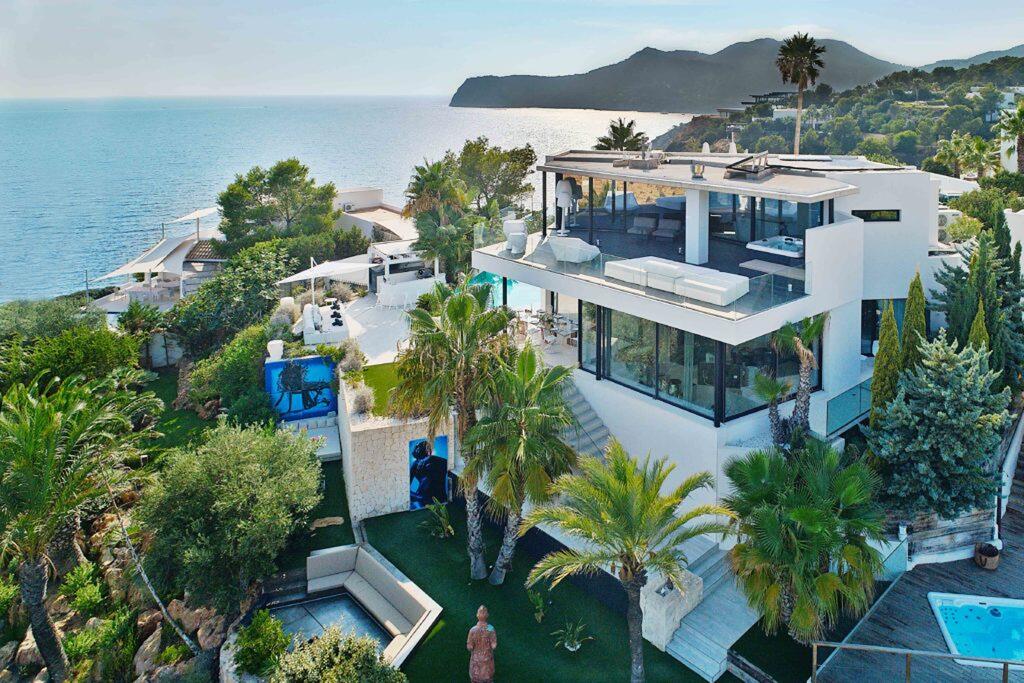 In the heart of Ibiza, Can Nikita is an intimate oasis surrounded by nature's abundance.  The magnificent finca is located just 10 minutes from Ibiza's old town. A sophisticated interior design and rustic style combine to create this exceptional Finca, which can accommodate up to 12 guests. 
Here, there are many relaxing living spaces, large entertaining areas, tennis courts, a thermal spa, a gym, outdoor yoga decks, and a large salty infinity pool with views of the forest and shady trees, all of which will keep you fully immersed in wellness – a great place to relax and recuperate over the Autumn season. 
In addition to the bedroom suites with state-of-the-art facilities, there is also a unique Tree House with a detached double bedroom just in the middle of the orchard with an en suite bathroom.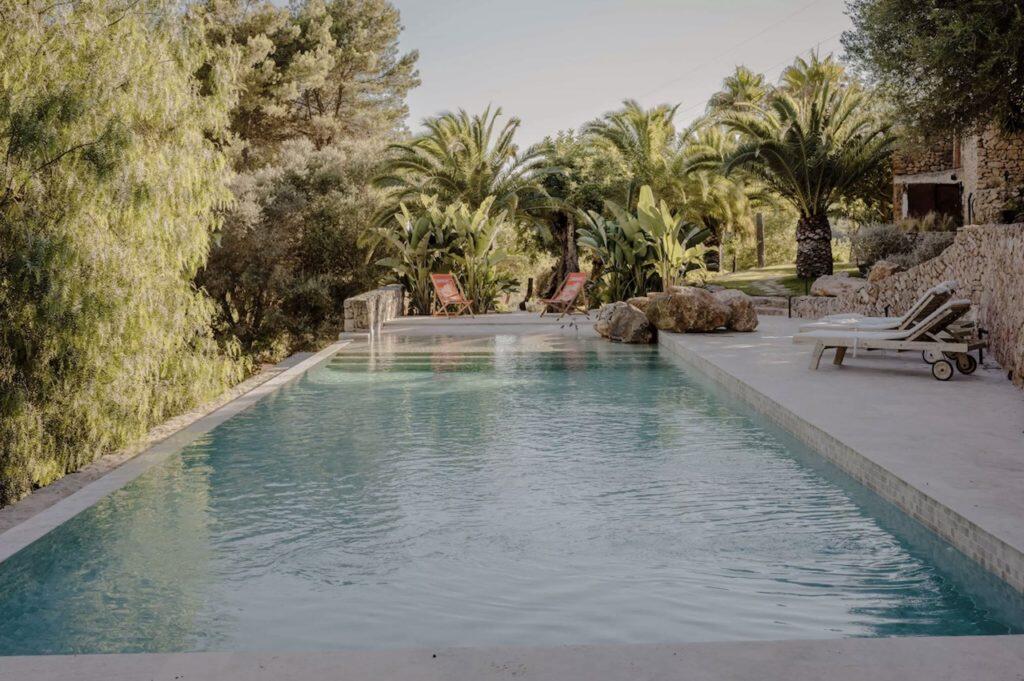 On Ibiza's west coast, Isara is a luxury beach house with striking sea and sunset views. In this magnificent home with its many lawns and decked terraces, there are fully furnished chill-out zones, alfresco dining areas, and plenty of sun-drenched loungers, all of which are beautifully illuminated at night.
Additionally, the open-plan living areas are filled with natural light, and the interiors are light-filled with soft furnishings in whites, pale greys, beechwoods, and magnolias. Furthermore, the property has a Mediterranean Sea view and lovely exterior gardens.  
Located within walking distance of the beach, Isara is ideal for families and groups of friends on the lookout for a wonderful Ibizan getaway and engaging in plenty of Autumn beach walks in the area of Cala Moli.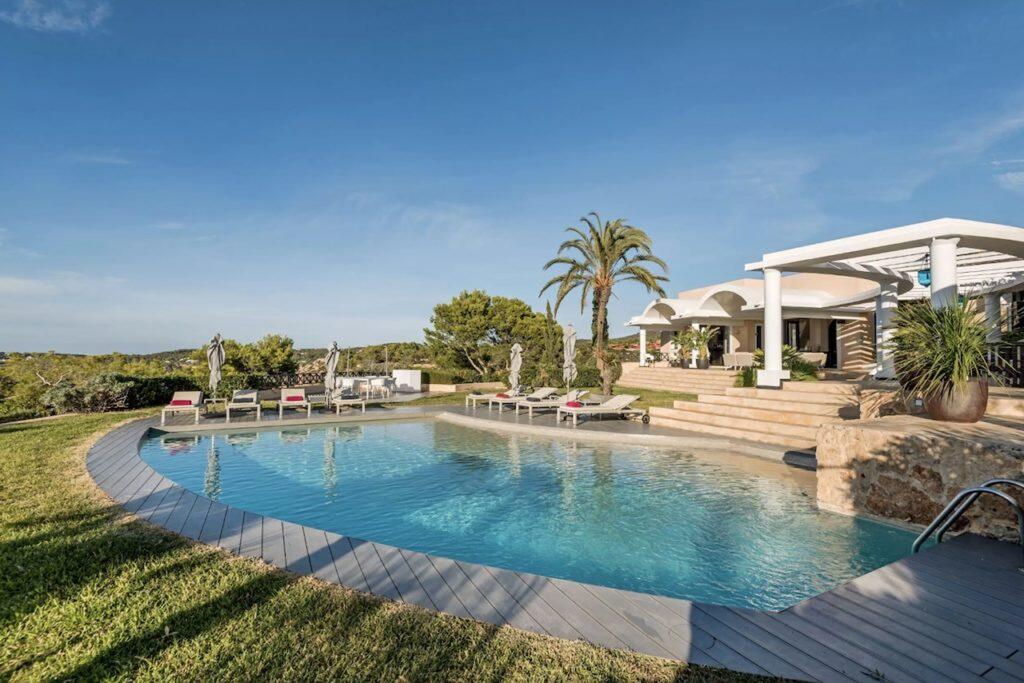 Let us help you plan your Ibiza Autumn getaway
We can help you take care of the finer details when planning your perfect Ibiza holiday if you use our concierge services when planning your perfect holiday on this island. Whether you would like hiking tours or watersports, in-house chefs and catering, wellness, yoga, personal training sessions, private spa and massage treatments, or even a home cinema set up, we guarantee that you will receive the highest quality service from the most reputable collaborators this Autumn season.
With plenty of properties to browse through, we are sure you'll find the perfect villa vacation rental just for you. Everything is possible with us at Prestige Properties Ibiza.