If you are considering buying a property in Ibiza, and you are looking for a local, modern, yet family-friendly atmosphere near some of the best beaches in the east, then Santa Eulalia del Río might be the perfect location for you.
Santa Eulalia's diverse property market offers plenty of attractive purchasing possibilities for families, couples, first-time buyers, and high-profile clients seeking more exclusive second-home investment opportunities.
Locals, as well as international residents, live and socialise in the beautiful area of Santa Eulalia del Río, where many diverse communities, cultures, and lifestyle prospects reside all year round. With its enchanting attractions, breathtaking scenery, pristine beaches, agricultural land, quaint villages, and a stunning Marina Port, why not see if Santa Eulalia is the right place for you to buy a property in Ibiza this 2022?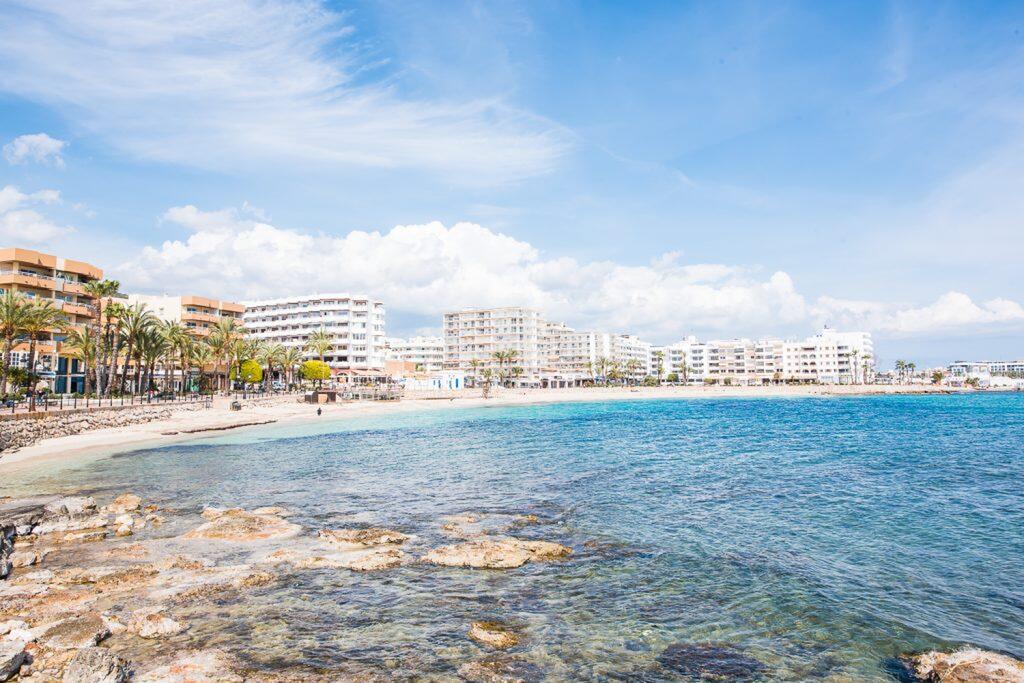 Life in Santa Eulalia del Río Town Centre
The town of Santa Eulalia del Río offers one beautiful relaxing strip of golden sand and turquoise waters perfectly complemented by a range of contemporary bars and great restaurants, as well as a buzzing seafront promenade, and an abundance of yachts and sailboats from its Marina Port.
The town itself has seen an up-market makeover since 2019 which is quickly competing against its more affluent counterparts, such as Talamanca, Ibiza Town, and Marina Botafoch. New and exciting places have arrived, boosting a casual cosmopolitan lifestyle for both locals and tourists. You'll find a variety of trending places here, including restaurants like the VE-Cafe, and the award-winning coffee shop Meke Cafe Spanish Specialty Coffee Roasters. Recent new outlets to hit the scene since late 2021 include Pepita, Higo, and WOM (Word of Mouth – Radio Cafe) which are among the most appealing latest additions with their great atmosphere, global cuisine menus and regular socialites. Furthermore, the new W Hotel and Aguas de Ibiza continue to provide the town with a 5-star luxury experience over the summer, strengthening the area's high-end expectations and attracting affluent tourism.
From retail to food, yoga and pilates studios, watersport and boating activities, and those old-time favourite authentic local spots, Santa Eulalia Town really has it all.
Buying a Property in Santa Eulalia del Río, Ibiza
Buying a property in Santa Eulalia del Río Town can offer anything from traditional whitewashed architectural homes to modern villas and some of the most sought-after newly built apartments on the island. The mountain of Siesta may also be of interest with hillside properties overlooking the town, Marina Port and the turquoise Balearic Sea at particularly attractive prices, for those seeking properties with spectacular sea views.

Life in Santa Eulalia Villages: San Carlos, Santa Gertrudis & Jesús, Ibiza
For a little less hustle and bustle, Santa Eulalia also has three charming villages to choose from, each with its very own unique stamp and character. San Carlos, the closest to Santa Eulalia's main town is known for its cultural heritage and community spirit. Once an important meeting place and residence for hippies during the 60s and 70s, this wonderful village is now a picturesque place offering a vibrant local community and iconic spots such as Bar Anita and the island's biggest hippie market, Las Dalias. The village is surrounded by outstanding countryside, offering residents and visitors a more peaceful and authentic way of life.
Next, the picture-perfect and charming Santa Gertrudis is the second closest village to Santa Eulalia's main town. This architecturally perfected village features a newly remodelled main square and a white and yellow central church which coordinates excellently with the houses and apartments that surround it. The village is home to a mix of modern cafes, pizzerias, fine dining restaurants, boutiques, and art galleries, as well as being incredibly convenient for those wishing to access both the public and private schools, including the renowned Morna International College.
Lastly, Jesús, a small yet extremely cosmopolitan village situated slightly farther afield, is known for its easy access to Ibiza Town as well as its proximity to summer hotspots like Destino, Marina Botafoch, and Pacha. All year long, Jesús is filled with life and atmosphere especially on the weekends due to its popularity with local residents, booming coffee culture and weekly artisan farmers' market. The area is also incredibly popular among tourists during the height of the season due to its renowned high-class gastronomic and nightlife opportunities including Sa Punta, Patchwork, Ginger, and Chambao at the luxurious Nobu Ibiza Bay Hotel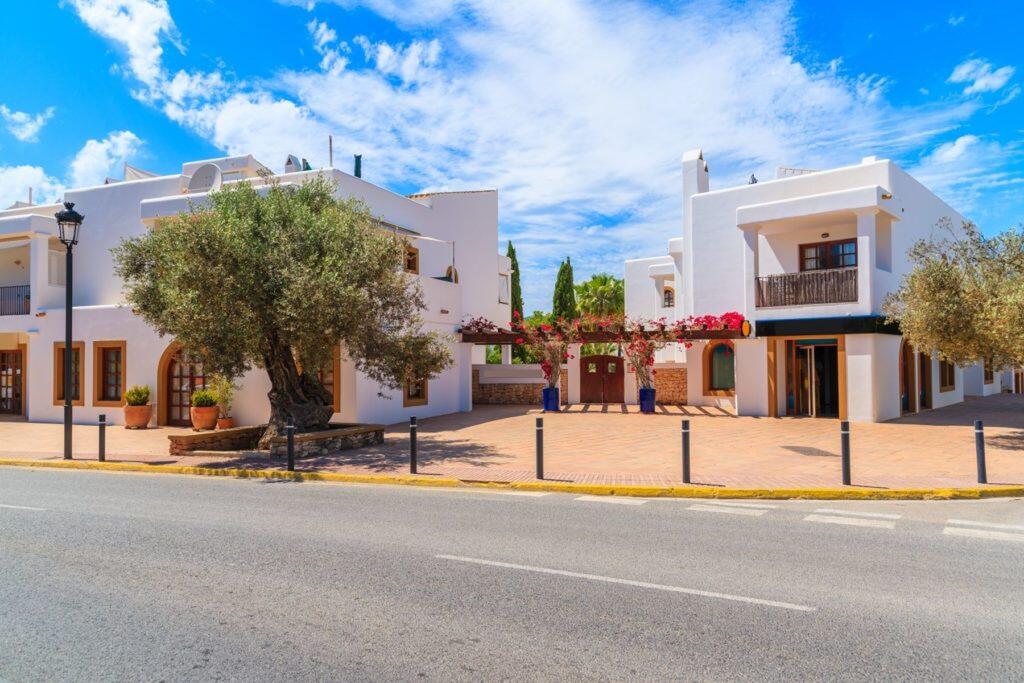 Buying a Property in Santa Eulalia Villages
Homes for sale in San Carlos, Santa Gertrudis and Jesús offer a wide range of styles and locations. In Jesús, there are several exclusive cliff-top properties. These properties can often be found within three of five private communities of Santa Eularia des Riu, which include Cap Martinet, Can Rimbau and Can Pep Simo. However, due to the location and high-end tourist appeal, buying a property in Jesús comes with a very high price tag compared to the rest of the municipality.
On the other hand, the villages of San Carlos and Santa Gertrudis predominantly present different styles of property, which are commonly sought after by families looking for country lifestyle homes in idyllic settings including renovation projects or remodelled fincas, farmhouses, and modernised authentic villas.
Life in Santa Eulalia Beach Resorts, Ibiza
In addition to the 300m-long white sandy beach of Santa Eulalia Town, beautiful nearby beaches and charming resorts can also be found along the coastline, including Cala Pada, Playa Niu Blau, Cala Martina, Es Cana, Cala Nova, Cala Llenya, Cala Mastella, Cala Boix, Pou des Lleó, Es Figueral, Aguas Blancas in the north and Cala Llonga, Cala Olivera and Cala Bonita towards the South. Here there is a sense of peace and tranquillity in these smaller residential locations, accompanied by an intimate local community during the winter and a vibrant atmosphere and excitement during the summer.
Though these areas are particularly reserved in the off-season, they have a completely different appeal during the summer with venues such as the Bless Hotel, a variety of luxurious beach clubs like Babylon Beach, Aiyanna Beach Club, Atzaro Beach Restaurant, and Chiringuito, and the VIP Amante Ibiza Beach Club in Cala Llonga, creating a very desirable area for many tourists visiting the island.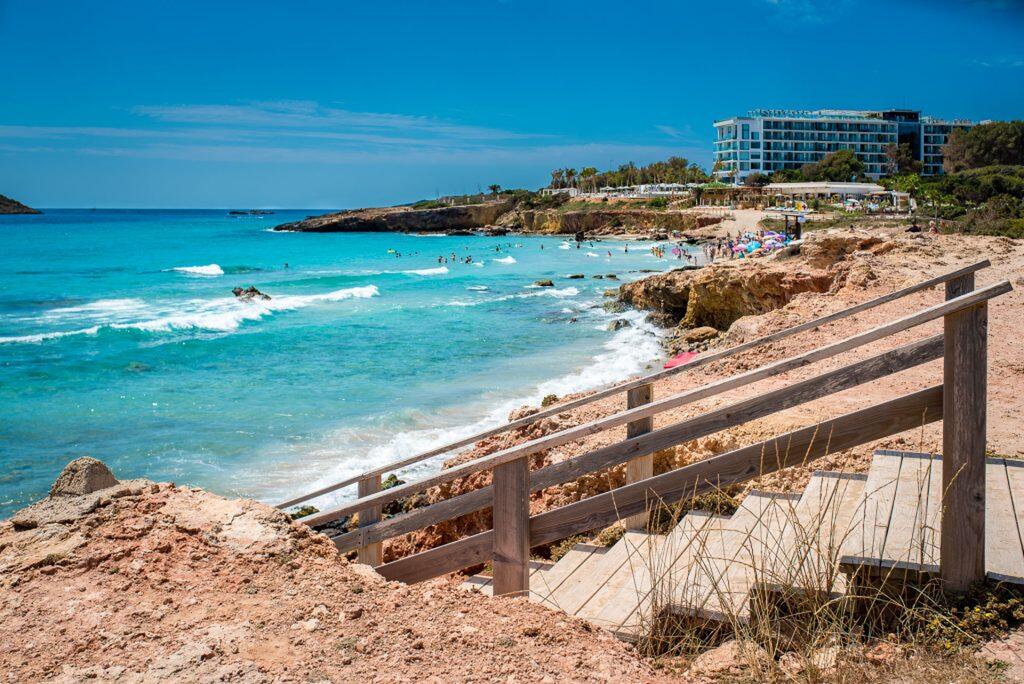 Buying a Property in Santa Eulalia's Beach Resorts
Santa Eulalia's beach resorts offer many well-positioned homes within walking distance of the local beaches and coastal paths. The most popular property choices are located near Cala Llonga, giving buyers quick access to the cosmopolitan village of Jesús and the private urbanisation with its very own golf course, Roca Llisa. Here, you can find a selection of property styles ranging from apartments to detached family homes and large exclusive villas, all suitable for young couples, families, and buy-to-rent clients seeking a local community and a relaxed Mediterranean lifestyle at a more affordable price.
Looking to buy a property in Santa Eulalia del Río?
If you are interested in the area of Santa Eulalia del Río and are looking to buy a property in the near future then why not visit our in-depth article Why Buy a Property in Santa Eulalia for further information, or alternatively take a look at our quick read, Living in Santa Eulalia Blog here.
Why not take a browse at our current exclusive properties available in Santa Eulalia's municipality.

Or, in need of a Ibiza Holiday Rental Villa whilst visiting to view properties?
Our portfolio of vacation villas has recently expanded. Book a villa with us and we can show you around interesting properties for sale during your stay!