Our guide to exclusive properties for sale in Santa Eulalia del Río (Santa Eulària des Riu)
Santa Eulalia des Rio is located on the east coast of the island, bordering Sant Joan de Labritja, Sant Antoni de Portmany and Eivissa. The area occupies 153.48 km2 with an estimated population of 36,457 of the total island population of 147,914.
The municipality of Santa Eulalia is typically characterised by its idyllic family-friendly areas and returning tourism. The area boasts of beautiful and incredibly clean, smoke-free beaches, spectacular forestry, agricultural farmland, charming villages, a Marina Port, the islands only golf course; and hosts a busy and vibrant atmosphere with restaurants and amenities open all year round.
Santa Eulalia de Rio consists of one town and three charming villages, all marked with traditional white churches, including the central town of Santa Eulalia (the third largest town on the island), Santa Gertrudis, Jesus and San Carlos.
The culture, community, and style of the municipality of Santa Eulalia is culturally diverse with many locals and international residents. Buying a property in Santa Eulalia offers many opportunities for families, couples, high profile and buy to rent clients.
The municipality provides plenty of authentic charm as well as modern contemporary living and often attracts many clients looking for exclusive Ibiza villas in private secure urbanisations.
Home buyers looking to buy a property in Santa Eulalia can be typically sub-categorized into four distinctive areas; south east (Jesus, Cap Martinet, Can Rimbau, Can pep Simo, Roca Llisa, Can Furnet, Cala Llonga), the town (Santa Eulalia, Siesta), north east (Cala Martina, Es Cana, Cala Nova, Cala Llenya, Es Figueral, Aguas Blancas) and the surrounding countryside and smaller authentic villages (San Carlos, Santa Gertrudis).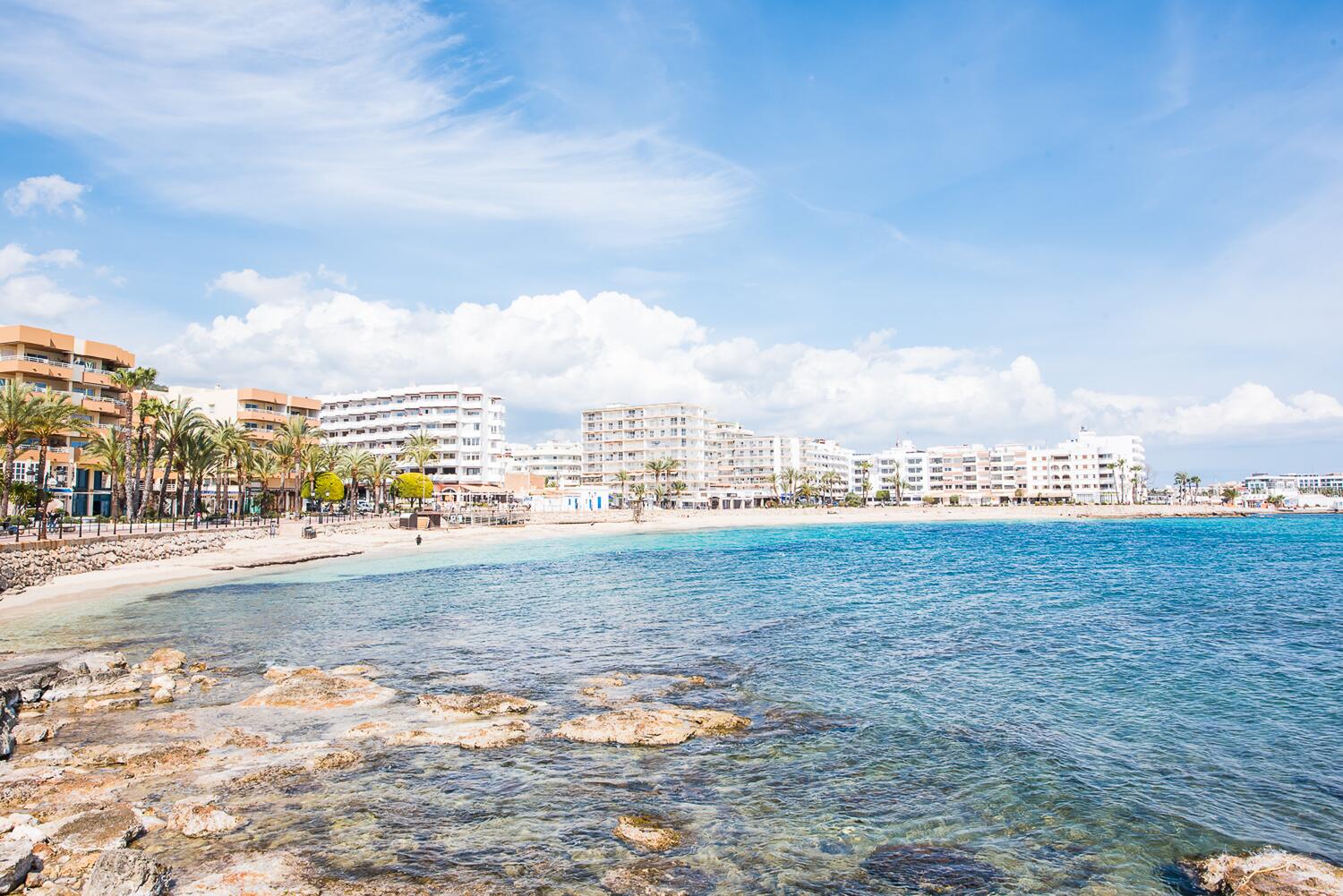 Santa Eulalia del Río South East

The south-east of Santa Eulalia del Rio is split into two seperate clientele groups. Those pursuing exclusive modern properties in Ibiza as luxury lifestyle homes and investment opportunities in secure gated communities, and those seeking a more permanent and long-term family friendly residence.
Those seeking properties for sale in the south-east of Santa Eulalia with high profile secure community grounds, exclusive cliff top villas, vast landscapes and outstanding Mediterranean Sea and Formentera views are often drawn to buy a property in Jesus, Cap Martinet, Can Rimbau, Can pep Simo, Roca Llisa and Can Furnet as their primary location choice.
The smaller second group of clients within the south-east of Santa Eulalia property market who are noted to pursue a more family-orientated local community, typically choose the family resort of Cala Llonga, which sits in close proximity to the surrounding popular family-friendly areas of the municipality, including the main town of Santa Eulalia.
Jesus
To buy a property in Jesus offers quick access to a variety of unspoiled countryside, beauty spots, restaurants and beaches. Although Jesus belongs to the municipality of Santa Eulalia, its small and highly cosmopolitan village sits very close to the city of Eivissa and the popular Talamanca Beach. Jesus is particularly favoured for its quick access into Ibiza Town and proximity to attractive A-list hotspots like  Destino, Marina Botafoch and Pacha.
The village of Jesus is very popular with residents all year round making the area full of life and atmosphere. The village is centered around its iconic white-washed church, which is thought to host the most important piece of artistic heritage of all the churches of the Pitiusas.
Jesus offers plenty of high-class gastronomic and nightlife opportunities including Sa Punta fine dining Mediterranean Restaurant, Patchwork Lebanese Rooftop Restaurant, Ginger Rooftop Asian Bar,  Chambao at the luxurious Nobu Ibiza Bay Hotel and the stunning Cala Bonita Restaurant at s'estanyol Beach.
Properties for sale in Jesus present many luxury exclusive cliff top homes set up high in the mountains, overlooking the beautiful bay of Talamanca, Dalt Vila and the city of Eivissa. It really is no wonder this location is highly sought after in the Ibiza property market and comes with a high-end price tag compared to the rest of the municipality.
To buy a luxury exclusive clifftop home in Jesus often encompasses three of the five private communities within the Santa Eularia des Riu municipality, which include properties in Cap Martinet, Can Rimbau and Can Pep Simo.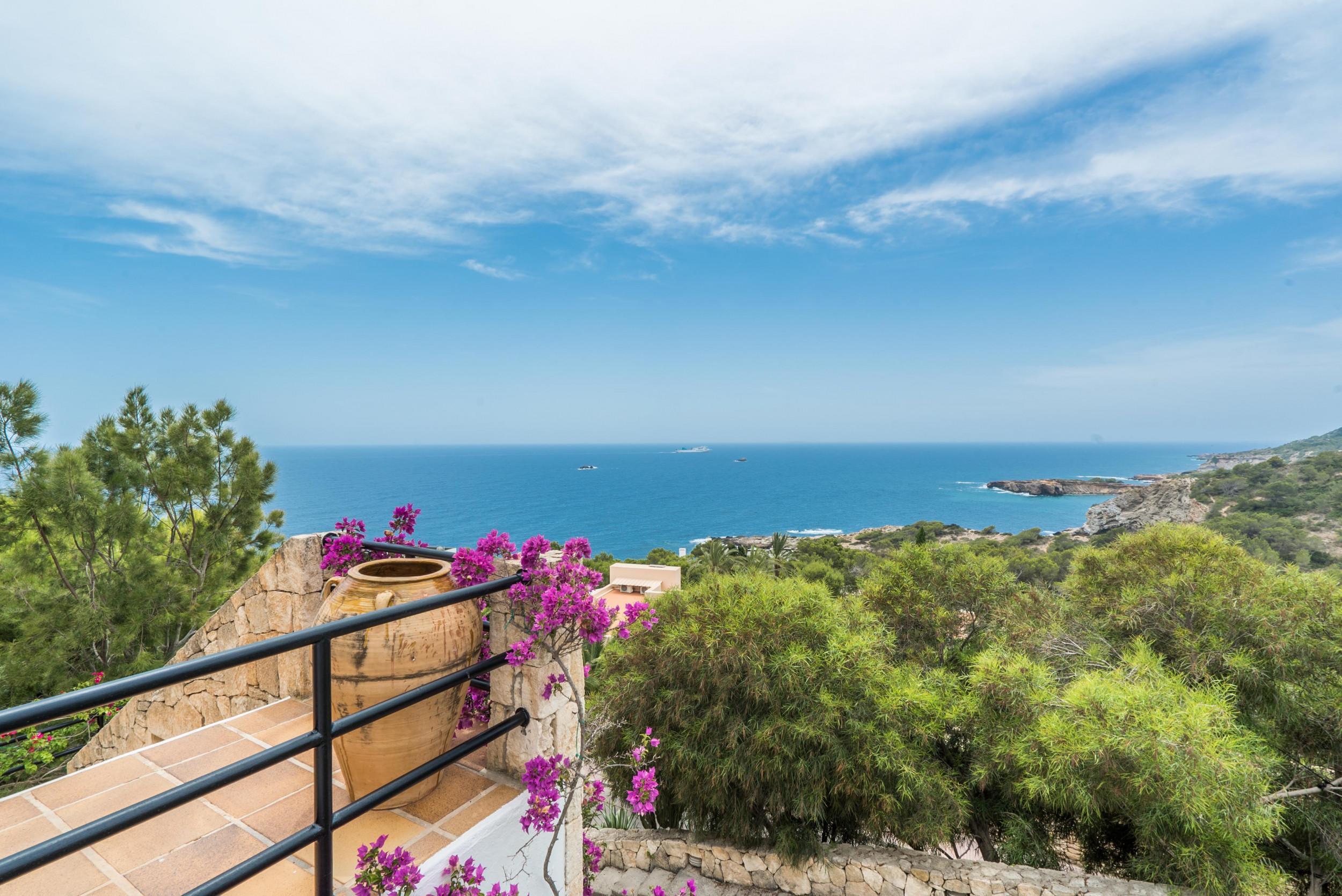 Cap Martinet – Jesus

Cap Martinet is one of the most exclusive areas to buy a property in Ibiza and is renowned to receive VIP and high-profile clients from around the world. Exclusive villas, apartments and luxury vacation rentals in Cap Martinet with frontline sea views are renowned to uphold a prestigious league of their own.
Properties for sale in Cap Martinet offer a secluded and private location overlooking the beautiful Talamanca beach and is only a moments away from Ibiza Town with its famed night clubs, restaurants and bars.
Within the private community, Cala Roja beach is easily accessible via a small pathway in which guests and homeowners will find a hidden spot to enjoy a relaxing day at the beach without the rush and busyness of tourism. Although very close to the city of Ibiza Town, villas and homes for sale in Cap Martinet are completely segregated from the rest of the surrounding area.
Can Pep Simo – Jesus
Set in the countryside of Jesus sits the community of Can Pep Simo, with beautiful homes designed in the 1970s by the renowned architects of Erwin Broner. A property for sale in Can Pep Simo is guaranteed to boast of spectacular sweeping, untouched views to Puig Manyá, San Rafael and as far as Formentera, from almost all the villas in the Can Pep Simo urbanization on offer.
Only a few minutes from Ibiza's Old Town, properties in Can Pep Simo are perfectly located, modernly authentic and family friendly. Overall, this private community is an incredibly peaceful location for those seeking a harmonious property for sale in Jesus.
Can Rimbau – Jesus
The private gated community of Can Rimbau is equally very close to the city of Ibiza. Properties for sale in Can Rimbau offer grand architectural gems and beautiful houses from exclusive mansions, luxury residences to high quality modern and newly built villas.
Finding a property for sale in Can Rimbau is quite rare. Much like most exclusive urbanisations in Ibiza, Can Rimbau is always in high demand. Exclusive villas in Can Rimbau boast of a prime location, hidden in the mountainside, which all offer views over Eivissa and Dalt Vila World Heritage Site, plus sweeping panoramic views of the Mediterranean Sea. The area has well-earnt its secret name as 'Ibiza's Beverly Hills', and is home to many high profile business clients, celebrities and exclusive buyers.
To buy an exclusive property in Jesus is often difficult. Potential high profile home buyers looking for up-market and secure ground properties for sale in Can Martinet, Can Pep Simo and Can Rimbau should expect property values well in excess of €4,000,000 for those larger homes.
Properties to buy in Roca Llisa and Can Furnet also follow suit in their property value margins. These exclusive locations are located slightly north of Jesus, yet are equally as accessible to unspoiled countryside, beauty spots, restaurants, local beaches and the centre of Jesus.
Roca Llisa
The Roca Llisa urbanisation sits perfectly between Jesus and Cala Llonga. The urbanisation is probably the most renowned of the islands private gated communities, particularly for its Golf Course situated within the grounds.
Properties for sale in Roca Llisa offer two distinctive opportunities. The south-facing hillside villas and homes, guaranteeing staggering sights over the glistening Balearic Sea and views as far as Formentera, and the Golf Side with an infinity of lush green landscapes.
Properties for sale in Roca Llisa come in a wide range of architectural designs dating back as early as 1970, when the urbanisation was first built, through to modern contemporary new builds.
To buy a property in Roca Llisa encompasses everything from exclusive villas, apartments and detached properties, all perfectly divided into smaller residential communities within the urbanisations grounds. Many clients seeking properties and villas for sale in Roca Llisa are often looking for homes for 'buy to rent' purposes.
Can Furnet
Buying a property in Can Furnet provides surveillance 24 hours a day with all houses within the vicinity fully fenced and protected, creating a quiet and secure lifestyle. This urbanization offers potential buyers seeking a property for sale in Can Furnet the luxury of a tennis club, and an idyllic spot set up high in the midst of the mountainous countryside, with both extensive sea and landscape views from almost any villa available on the market.
The secure community is a only a few minutes drive away from the Golf Course of Roca Llisa, the village of Jesus, Talamanca Beach and also offers quick access into the main town of Santa Eulalia.
For many clients struggling to acquire an exclusive, modern contemporary style villa in the south of the island, where first choices of buying a property in Ibiza is within close proximity to the areas of Ses Salines, Playa d'en Bossa, Es Cubells and Ibiza town, then finding a property for sale in Jesus, Cap Martinet, Can Rimbau, Can pep Simo, Roca Llisa or Can Furnet offers parallel similarities and a wealth of opportunities certainly worth considering.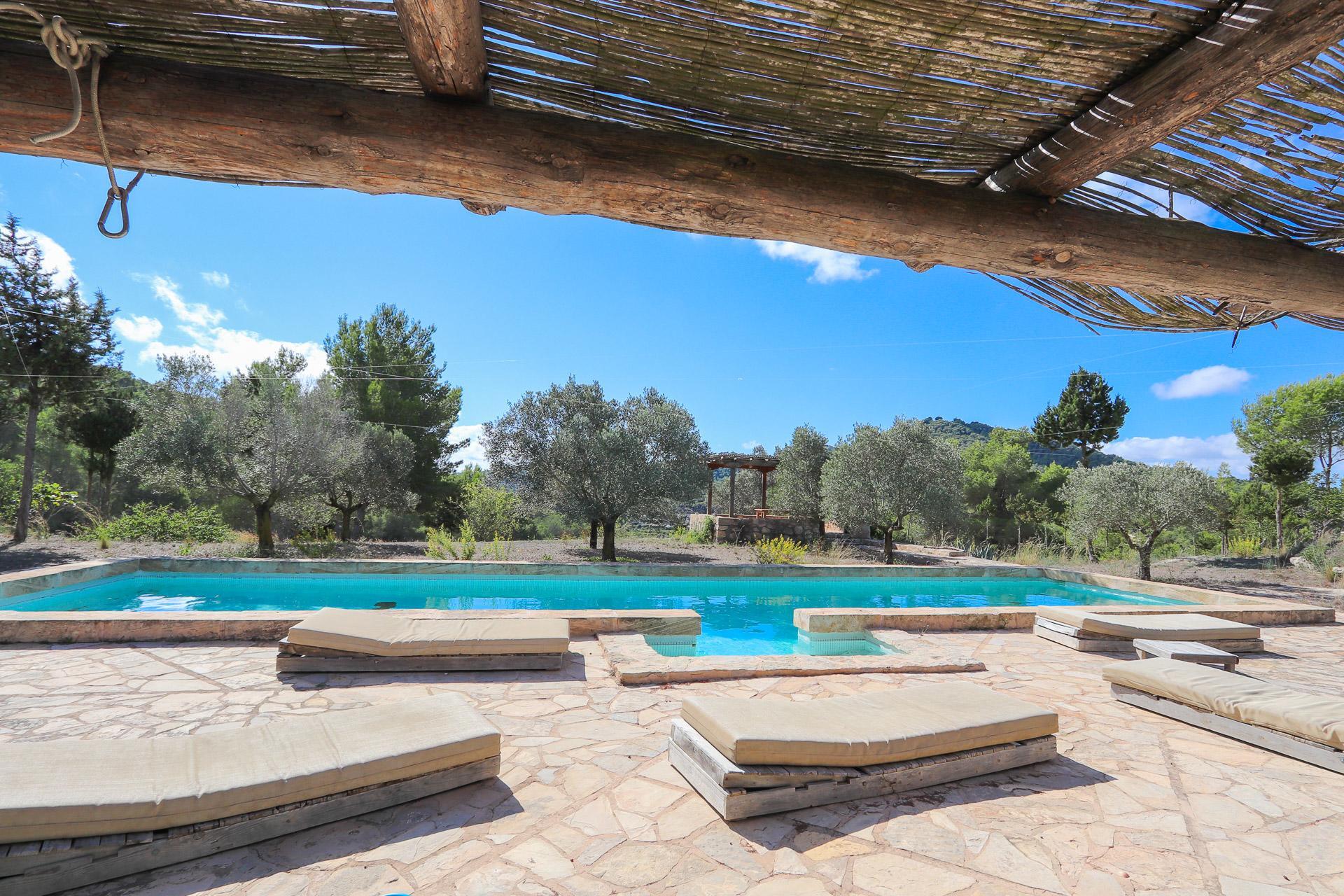 Cala Llonga 
To buy a property in Cala Llonga offers clients a family-orientated and picturesque village located within a 10 minute drive from the main town of Santa Eulalia. Villas for sale in Cala Llonga provide well positioned homes overlooking its well-maintained bay of soft white sand, steep pine clad hillsides, and crystalline shallow waters.
Properties in Cala Llonga are almost always located within perfect walking distance to the beach, where families and returning tourism can enjoy water and beach sports as well as strolling the village with its array of restaurants, bars and local amenities.
The area has a great selection of restaurants available from traditional Mediterranean seafood specialties, healthy snack bars and fine dining cuisine, like Amante Ibiza Beach Club, which overlooks the cliff sided and perfect waters of Sol d'en Serra and encounters many VIP tourists spending secluded summer days.
To buy a property in Cala Llonga offers a wide selection of property styles from apartments, detached authentic family homes and large scale exclusive villas, which is perfect for young couples, families and buy to rent clients seeking a local community and a relaxed Mediterranean lifestyle, at a more affordable price.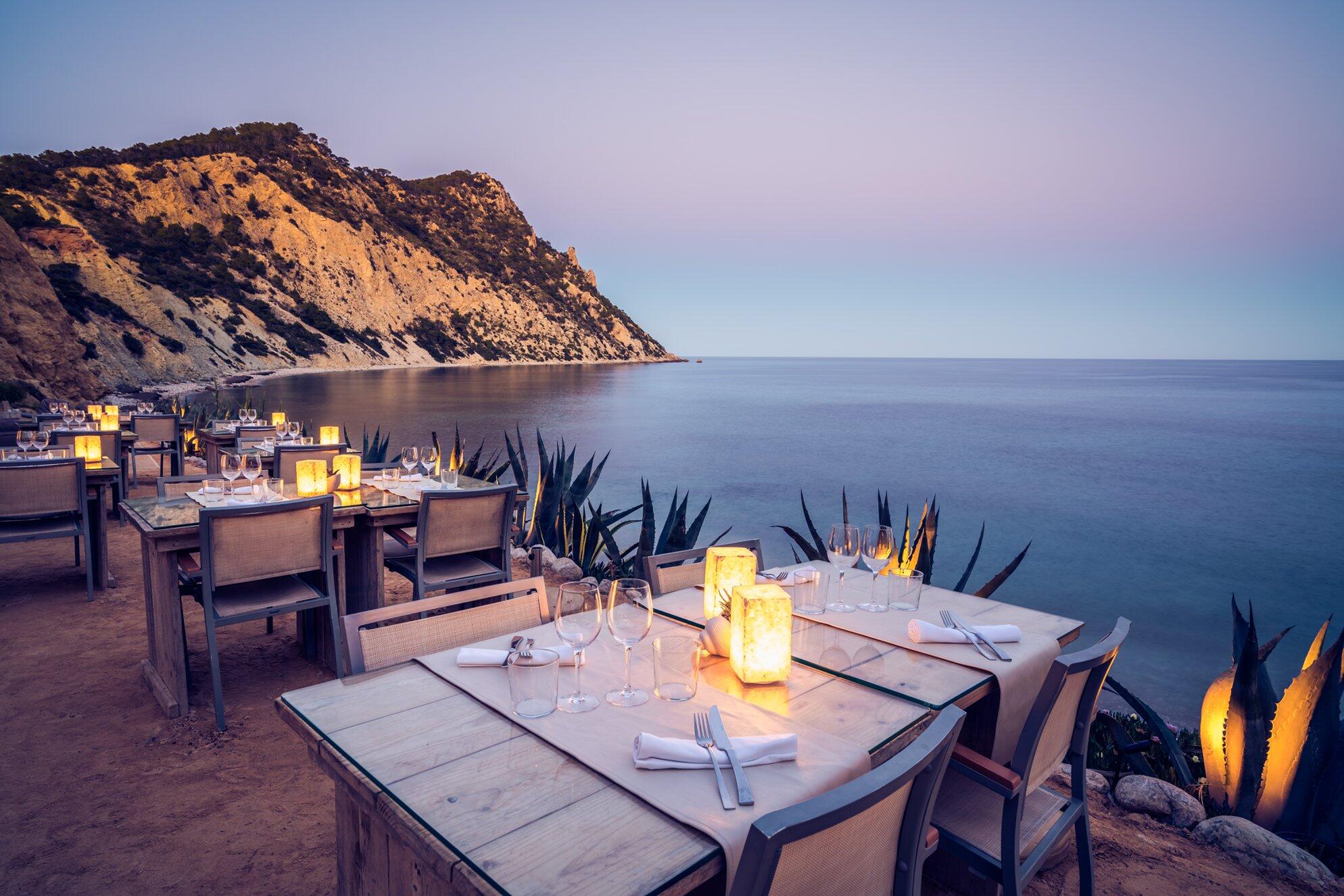 Santa Eulalia Town
Santa Eulalia is Ibiza's third largest town on the island and is full of a local vibrant community, both in and out of season. The area is marked by its central white church, "Puig de Missa" sitting 52 meters above sea level, offering breathtaking views across the town and over onto the mountainside village of Siesta.
Buying a property in Santa Eulalia town offers a blend of authentic whitewashed architectural homes, alongside many modern villas and some of the most highly desirable newly built apartments for sale in Ibiza.
Everything from the Santa Eulalia Marina Port, where you will find a multitude of spectacular yachts and sailing boats, along the promenade seafront with its beautiful 5-Star Luxury Hotels, such as the grande luxe Aguas de Ibiza and the brand new W Hotel, onto the two lengthy beaches; offers views of golden sands, deep blue waters and an array of trendy, contemporary bars and restaurants, all overlooking the picturesque mountain side of Siesta.
Buying a property in Santa Eulalia or the neighbouring village of Siesta offers clients and family-friendly community which is starting to define a new style of its own. Although not quite as fashionable as the popular areas of San Jose, recent developments are increasing the towns up market status and desirability among more affluent clientele.
Santa Eulalia is home to a multitude of cultures, and attracts age groups both young and old as well as families and buy to rent clients. Property for sale in Santa Eulalia with Prestige Properties would usually average 1.700.000€ for a 250m2 villa with a pool.
Casa La Tortuga is a beautiful six bedroom, countryside house with a pool and spectacular sea views which is located only a few minutes drive from the town centre and local beaches . The property is a typical country home for sale in Santa Eulalia and is currently on the market for 1.590.000€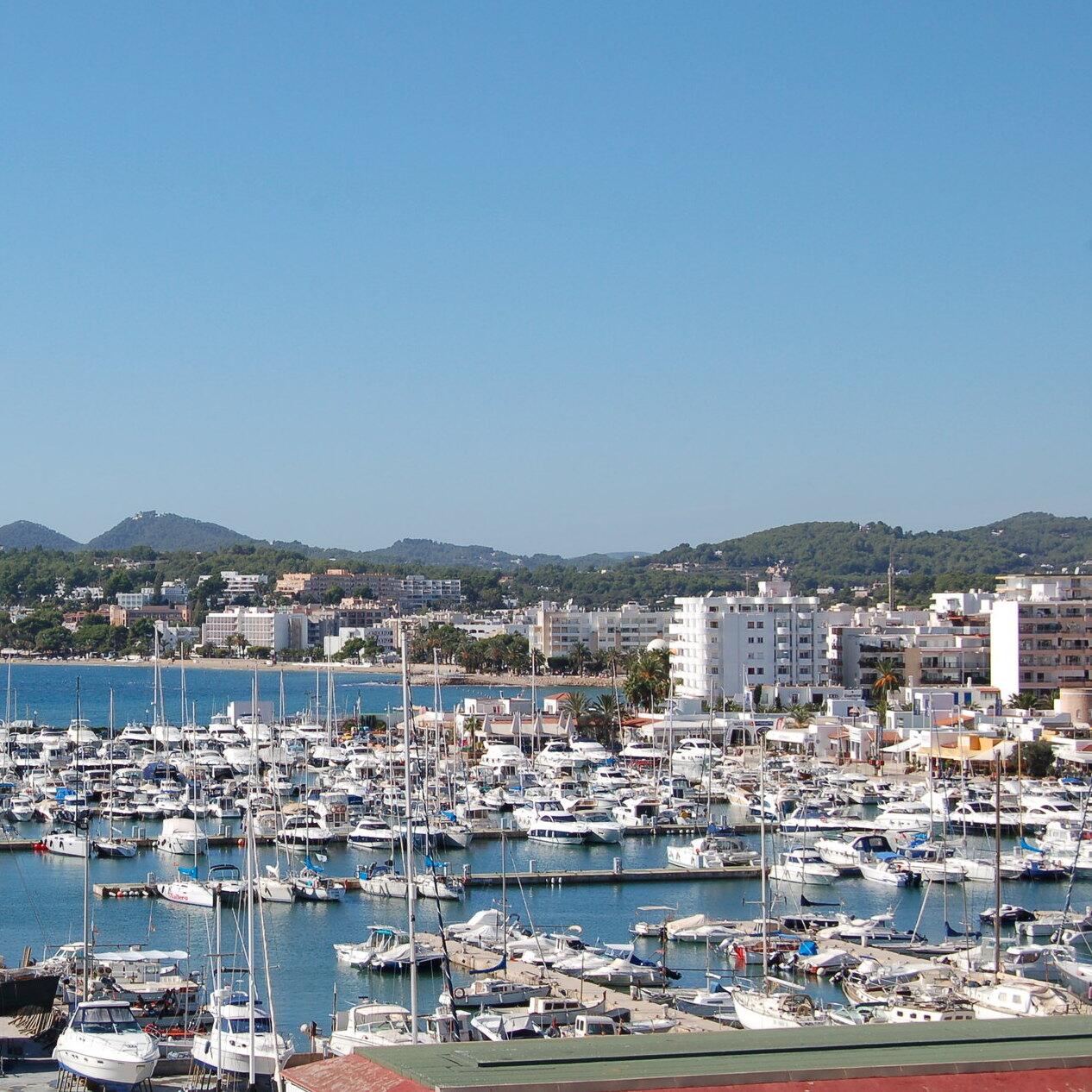 Siesta
To the side of Santa Eulalia is the mountain of Siesta with a multitude of hillside properties overlooking the beautiful town, Marina Port and turquoise Balearic Sea. Clientele typically seeking properties to buy in Siesta are often envisioning properties with spectacular sea views.
For this exact reason, many properties for sale in Siesta are consumed by clients looking to purchase a property in Ibiza for investment and tourism licencing.
Santa Eulalia del Río North East
Alongside the 300m long white sandy beach of Santa Eulalia, sits the beautiful close-by beaches on the north-east coast including Cala Pada, Playa Niu Blau, Cala Martina, Es Cana, Cala Nova, Cala Llenya, Es Figueral and Aguas Blancas, all of which are family friendly and humble tourist spots, which rest in spectacular beauty and tranquility.
Clientele typically seeking properties to buy in the north-east of Santa Eulalia are usually families with more permanent or regular residence in Ibiza, followed by young couples, holiday lifestyle home buyers and buy to rent investors.
Those looking to buy a property in the Cala Pada, Playa Niu Blau, Cala Martina, Es Cana, Cala Nova, Cala Llenya, Es Figueral and Aguas Blancas are typically attracted to the natural beauty of coastal paths and smaller authentic local resorts, as well as seeking properties for sale with outstanding Mediterranean Sea and sunset views.
These north-east coast areas were previously more dated, upholding much of its 1960's and 1970's appeal. However, even though many traditional Ibicencan outlets still operate and are still very popular among locals, a recent surge of new projects and hotels have emerged.
Visitors and home buyers looking for properties for sale in Cala Nova, Cala Llenya, Es Figueral and Aguas Blancas are considerably increasing due to the attractive new and chic beach lifestyle environments.
The brand new Bless Hotel opened at the end of 2019 in Cala Nova, a 5-star Luxury Hotel overlooking the Mediterranean Sea.  This aligned perfectly with the boho-chic and luxurious beach rustic setting of Babylon Beach on the road to Es Canar, Aiyanna Beach Club and Atzaro Beach Restaurant and Chiringuito in Cala Nova, and the famous VIP Nikki Beach in Cala Martina. As the south-east coast sees more inviting spots to enjoy a touch of new elegance and style, so is the new demand for properties for sale in the area.
The new exclusive and luxury Promocion Arena Llenga development situated between Cala Nova and Cala Llenya is a spectacular location, just a few moments from the sea and white sanded beaches. The 12 modern and elegant apartments for sale in Cala Nova are currently valued at 975.000€ and offer stylish elegance in an increasingly up and coming area.

Countryside & Villages (San Carlos & Santa Gertrudis)

The countryside of Santa Eulalia is filled with beautiful authentic charm and architecture, set among spectacular surrounding countryside and many unique spots with sea views. The countryside and smaller villages of Santa Eulalia predominately attract clients looking to buy a property in San Carlos or Santa Gertrudis.
Naturally, this clientele group are lovers of the great outdoors, nature walkers and cultivators of their own organic foods and plantations. Families are incredibly keen buyers of fincas, renovated farmhouses and modernised authentic villas in both San Carlos and Santa Gertrudis, as well as retired couples looking for a permanent future home on the island and those looking for a quiet country lifestyle second home to retreat too.
Countryside homes for sale in Santa Eulalia average price of €1,000,000 – 4,000,000 for a decent family sized home.
Similarly to the rest of Santa Eulalia, buying a property in San Carlos or Santa Gertrudis offers a local community of families and like-minded country living individuals, with quick access to a variety of unspoiled countryside, beauty spots, restaurants and beaches.

San Carlos
To buy a property in San Carlos offers clients a quaint village situated in the north of the Santa Eulalia region. Its small village is well-known for its cultural history and modern day community spirit.
Once a meeting place and residence to the hippies during the 60's and 70's, San Carlos is now a beautiful village with a bustling local community and notable house prices rising year upon year.
Properties in San Carlos for sale range from small terrace housing, apartments and detached housing to large villas and traditionally renovated farmhouses. San Carlos offers properties for sale in a wide range of styles and locations, which equally appeal to a wide buying audience with many high profile clients seeking properties to buy in San Carlos as secret getaways on acres of farmland or up high on mountainous top secluded locations.
Although San Carlos is centered around its beautiful church, a more iconic spot, Bar Anita, is perhaps the most recognised spot in the centre of the village. The bar has been ongoing since the 1960's era and is still a local authentic hotspot which offers a sense standing still in time.
San Carlos also is host to the islands most famous Hippy Market, Las Dalias, where both local tourism and island entrepreneurs gather for market stalls, great street food and regular music during both the winter and summer month.
Families enjoy the relaxing, safe atmosphere and country living of the village and typically seek renovated finca farmhouses for sale in the San Carlos area. Equally these family clients are attracted to the areas quick and easy routes into Santa Eulalia the many east coast beaches close by.
San Carlos is one of the most picturesque landscaped areas in the Santa Eulalia municipality with beautiful agricultural grounds and organic farmlands. Properties for sale in San Carlos guarantee the luxury open space and panoramic views with farmland plots and rustic contemporary living.
Santa Gertrudis
Buying a property in Santa Gertrudis is one of the most charming and picture-perfect villages in Ibiza to reside. Situated in the centre of the island, Santa Gertrudis is perfectly located for quick access to Ibiza Town, Santa Eulalia and all the surrounding beautiful beaches the island has to offer.
This traditional village is architecturally styled to perfection, with a recently renovated main square plaza filled with traditional bars and restaurants, such as  Macao Cafe, Bar Costa, Musset, Can Mimosa and a central white and yellow decorated church with matching surrounding lined streets of beautiful terrace housing and apartments.
Looking for a property for sale in Santa Gertrudis offers potential home buyers the luxury of a perfectly blended area of modern cafes, pizzerias, fine dining experiences, boutiques, art galleries and auction warehouses. Located just a few minutes from the village centre, sits SLUIZ, a warehouse store filled with unique shopping of bizarre home decoration, clothing and a place to sit, eat and drink. Beware, you may drive past and think it is a circus from the outside, which completely reflects their controversial marketing and brand concept.
To buy a property in Santa Gertrudis offers an elegant and particularly bohemian lifestyle. Many new international residents have sought houses on the market in Santa Gertrudis to enjoy the artistic and social community lifestyle the village has to offer.
Villas and properties in the area of Santa Gertrudis extend past the actual village itself, although the village in particular is fashionable for all year round living and its demand for properties is reflective of its high-end price valuation. Many properties for sale in Santa Gertrudis account for those authentic modernised mediterranean style villas and contemporary style homes situated in the midst of and vast landscape and agricultural farmland.
When seeking a property for sale in Santa Gertrudis, clients may be quite surprised by the variety of housing styles available. Fina Torreta is an authentic 19th century estate, for sale with Prestige Properties. The property is located on the side of a hill and has 180º views towards the beautiful countryside.
This very special property, which has a total area of ​​32,000 m2 and a house of 251 m2 has a beautiful and imposing white facade of peasant style. Traditionally, these houses were built by Ibiza's own farmers and ranchers to live next to their land, and were distinguished by having small square-shaped windows and curved lines at the ends of the roofs and walls.
Families equally are attracted to buy a house in Santa Gertrudis due to the close proximity to the local public and private schools, including the renowned and popular Morna International College, as well as the area's family–friendly and safe environment.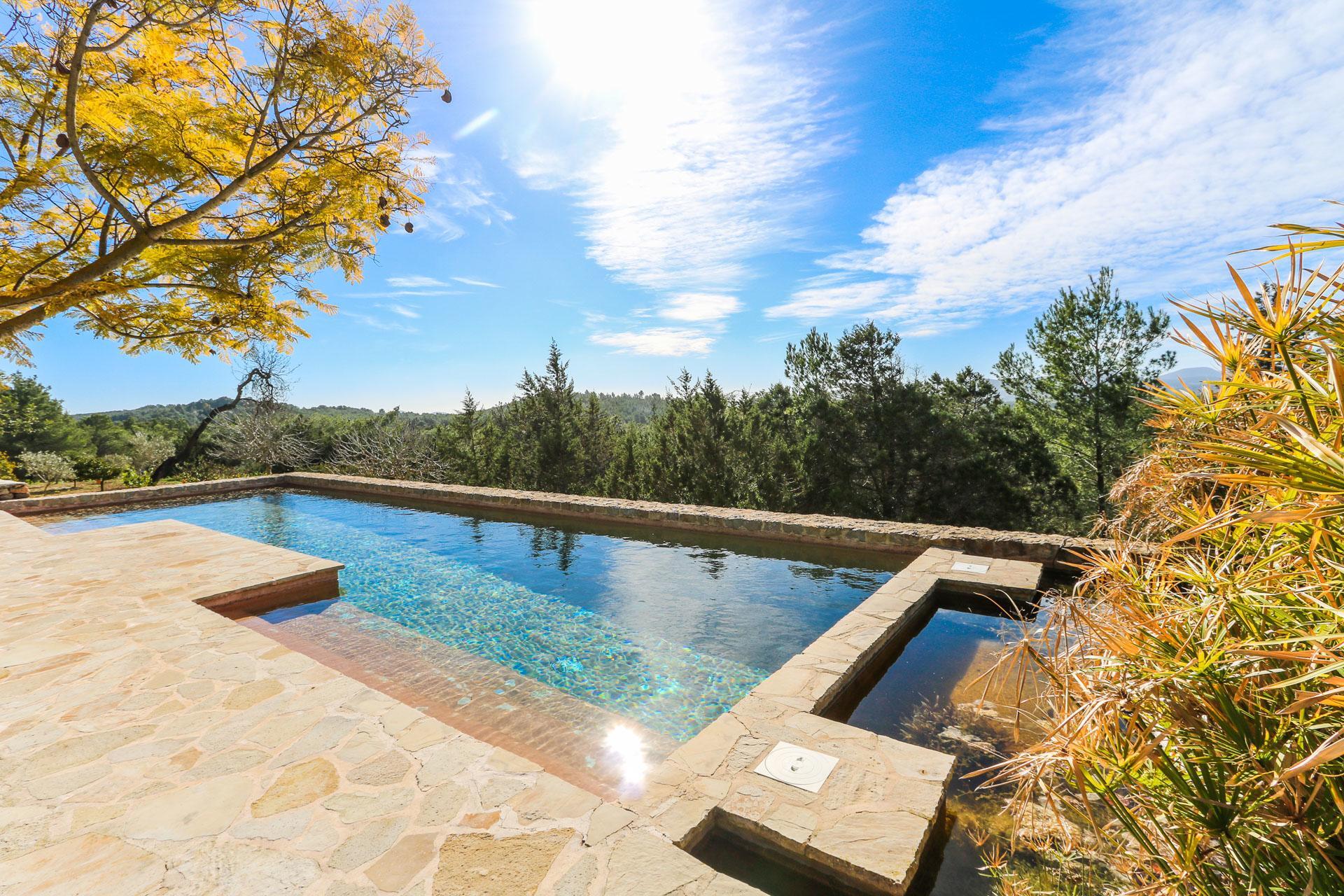 Are you considering to buy a villa in Ibiza?
Prestige Properties Ibiza currently has a portfolio of 94 properties for sale in Santa Eulalia municipality. The area of Santa Eulalia is becoming increasingly popular with a high demand for luxury properties in the exclusive gated communities of the south-east as well as in Santa Gertrudis.
Potential home buyers are often encouraged to look beyond the well sought after areas and onto the neighbouring spots which have an incredible opportunity to maximise value for money and still be impeccably close to those upcoming areas of the north-east and the town area of Santa Eulalia, where exclusive and luxury property are more widely available and still of top calibre.
If you are considering buying a property in the Santa Eulalia area, then why not take a browse at our current exclusive properties available.
Our team is always ready to help you along your buyers journey and ensure you discover your dream home with Prestige Properties Ibiza – contact us today.
In need of a Holiday Rentals Villa whilst visiting to view properties? 
Our vacation villas have recently expanded. Book a villa with us and we can show you around interesting properties for sale during your stay.
Spectacular villas in the municipality of Santa Eulalia are readily available for your 2020 / 2021 Ibiza vacation. Take a look at what is on offer below;
The charming 6 bedroom Villa Blue Rock, a luxury villa located in Roca Llisa with private access to the sea, two outdoor pools, one indoor pool, hammam, jacuzzi for 8 and a fully equipped gym is the perfect property to enjoy a relaxing villa holiday.
Can Bet is a charming self-sufficient, eco villa designed by Blakstad located in the campo close to the beautiful organic farm Terra Masia.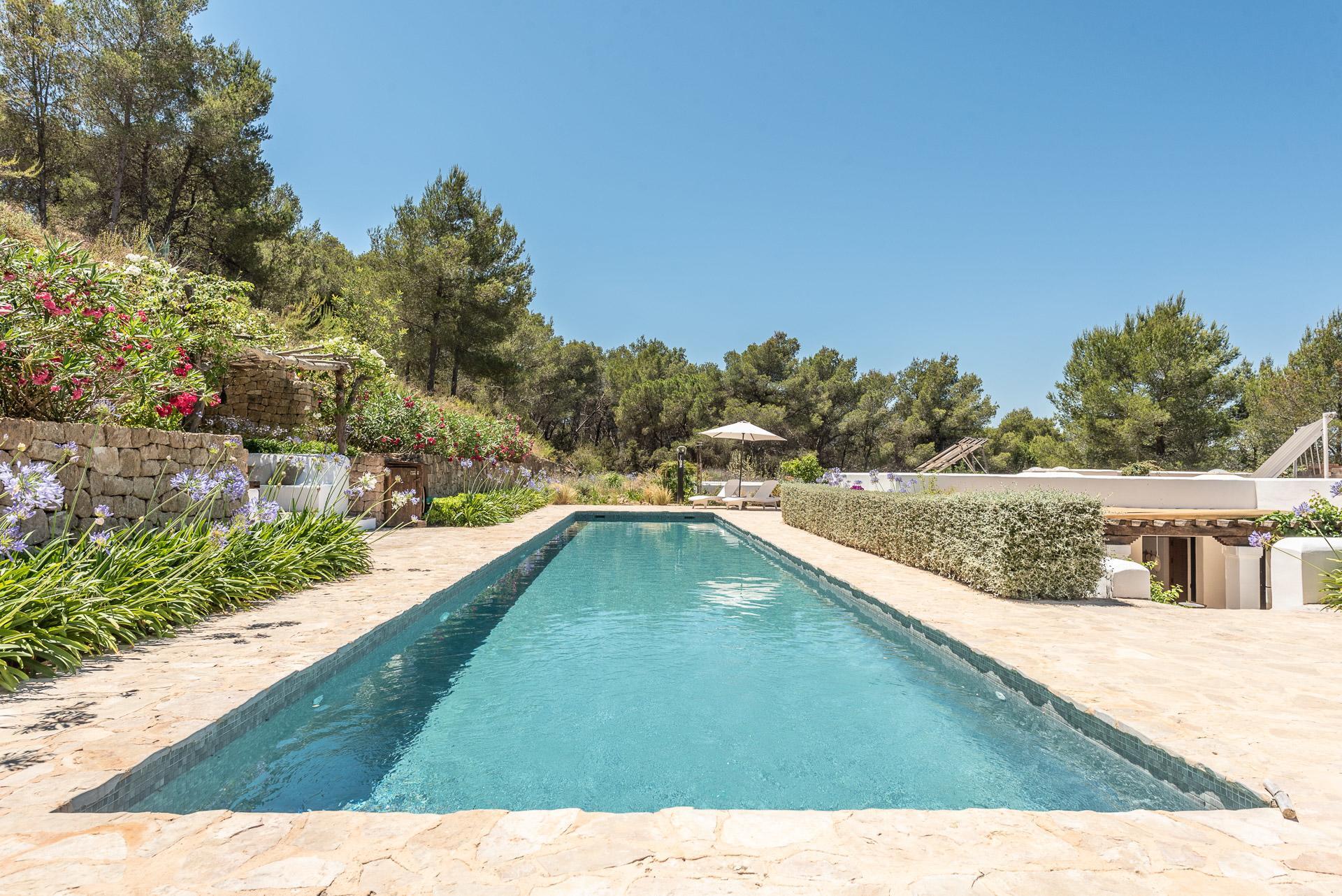 Can Ribas, a traditional mediterranean finca located close to famous Atzaro Agroturismo with beautiful campo views and serene atmosphere.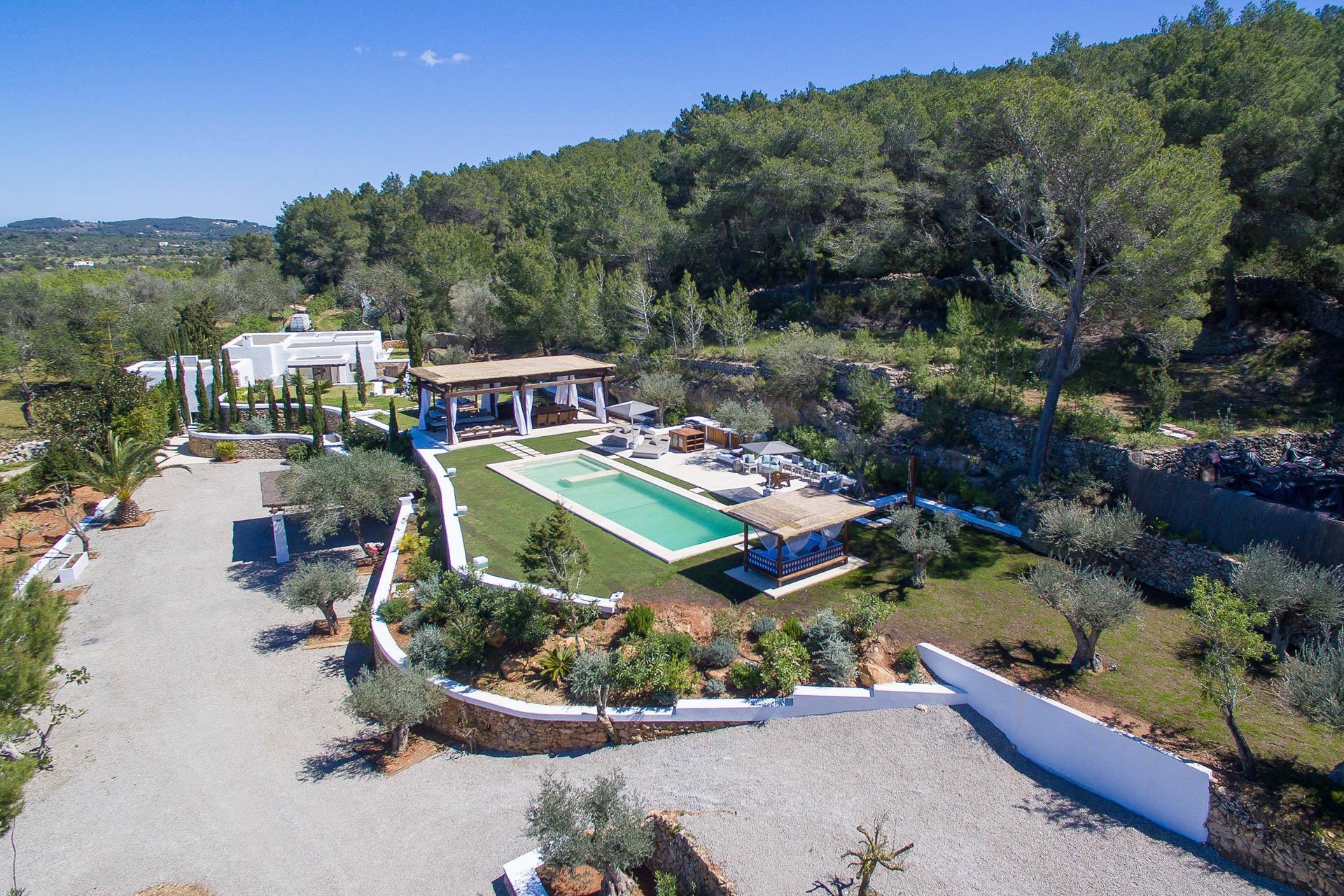 Thank you for staying in contact. We hope to see you soon and the very best of luck with purchasing your new home here on the magical white island of Ibiza.