Santa Eulalia del Río: The Most 'Up and Coming' Family-Friendly Town on the Island of Ibiza
Santa Eulalia del Río Town is well-known for its family-friendly ambience and wonderfully spirited community, both in and out of season. The peaceful yet vibrant setting offers a cultural mix of long-term locals and international residents from across Europe, with an exciting burst of regular tourism year after year.
The north-east coast of Ibiza, including the town of Santa Eulalia del Río, was previously more dated, upholding much of its original 1960's and 1970's appeal. However, even though many 'older' traditional Ibicencan stores, restaurants, and bars are still scattered throughout the town and operate successfully, a recent surge of new-modern projects, 5-star hotels, boutiques, and trending social spots have rapidly started to emerge.
Recent investments in the town, including many brand-new apartment complexes, alongside an influx of classy cafes, bars, and restaurants, have begun to label Santa Eulalia del Río as a 'new up and coming' area for young singles, couples, families, and fashionable crowds. Although not yet quite as renowned as some of the most popular areas of San Jose and the south, these recent developments are increasing the town's up-market and trendy status, therefore enhancing its desirability among more affluent clientele and property buyers.
The surrounding municipality of the town boasts beautiful clean beaches, spectacular forestry, agricultural farmland, charming villages, a golf course, and hosts a busy and vibrant atmosphere, with the vast majority of its amenities open all year round.
Santa Eulalia del Río Beaches
Santa Eulalia del Río sits perfectly on the waterfront, spanning three beaches, lined by its stunning palm-filled and night-lit promenade.
In the summer months, the town's beaches are naturally bustling with tourism, but are never too overwhelming, offering plenty of personal space and freedom to move around. The soft-sands and shallow turquoise waters are both perfect for swimming and safe for younger children, with regular lifeguards monitoring the area. Santa Eulalia is proudly the first and only smoke-free beach in Ibiza, ensuring both an environmentally friendly and pleasurable place for all.
For those who wish to experience full relaxation and a little luxury, a spread of boho-chic beach chiringuitos, further down the promenade, slightly past the main town plazas, offer full waiter services with lined sunbeds, personal towels, and parasols.
Evening strolls along the promenade are the perfect way to end the heat of the day during the height of the season. The relaxed night scene comes alive with many independent bars and restaurants serving a fantastic array of global and healthy cuisine, boasting seafront and attractive atmospheres.
In those quieter out-of-season months, the clean white sands are often dotted with local children playing whilst their parents relax and soak up the last few hours of the evening winter sun over coffee. It is not unusual to see regular skaters, roller-bladers, cyclists, and runners taking advantage of the quiet winter promenade, all while overlooking the beautiful views towards the mountain of Siesta.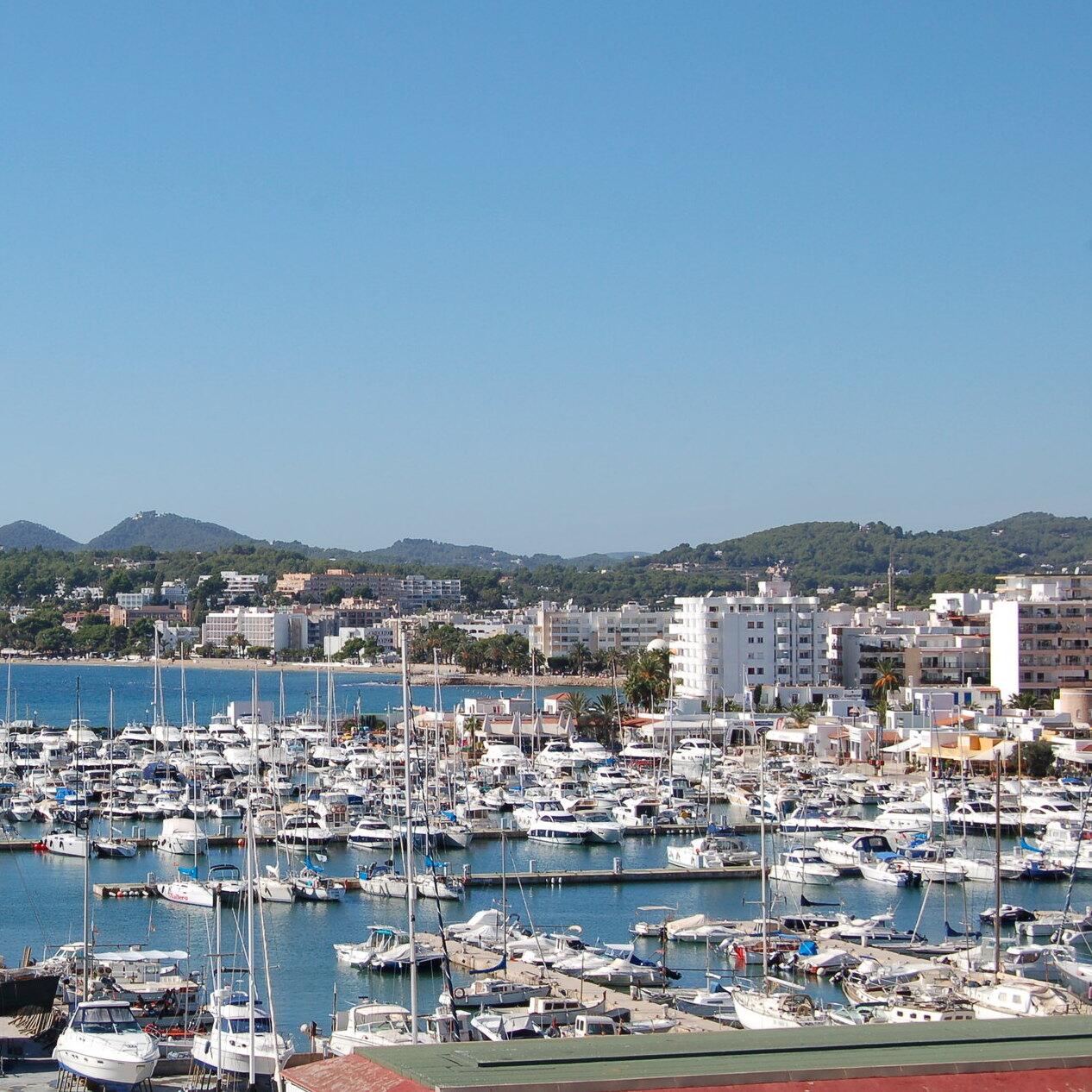 Santa Eulalia del Río, a Casual Cosmopolitan Lifestyle
The beautiful town of Santa Eulalia del Río offers the perfect blend of modern-authentic white-washed architecture, contemporary new-builds (predominantly along the seafront-promenade), winding cobbled back-streets, beautifully paved plazas, a central town hall with a lengthy waterfall feature, and scattered sculptures and monuments throughout. Everything one could need from retail to food, sports, gymnasiums, yoga and pilates studios, supermarkets, pharmacies, as well as restaurants and bars are in the many, with plenty of diversity to suit all.
Over the past few years, a fresh selection of inviting spots to enjoy a touch of elegance and style has arrived, creating a casual cosmopolitan lifestyle for locals and tourists, both day and night.
Here we find many new trending eco-friendly and bio health shops, juice bars, vegan and vegetarian restaurants, including the brand new VE-Cafe, artisan bakeries, and coffee baristas, like the award-winning, ethical Spanish Speciality Coffee Roasters, Meke Cafe, as well as a few additional fine-dining eateries.
In particular, opening in 2019 Bonsai Ibiza, offers a great selection of elegant cocktails, with highly recommended sushi and shisha overlooking the port. Another 'La Marina Santa Eulalia' addition, CBbC Marina is a fantastic spin-off from the original beach club in Cala Bassa, where you can enjoy a fine Mediterranean menu from their privileged marina port location, directly overlooking the sea.
Additionally, the brand new W Hotel, which also opened at the end of 2019 has brought a 5-star luxury experience to the previously quieter and more authentic end-of-town. With a matching stylish beachfront restaurant Chiringuito Blue, which sits adjacent to the hotel exteriors, and the new VE-Cafe (as mentioned above), as well as some regular sunset and evening parties with A-list resident DJs, W-Hotel has undoubtedly strengthened the towns overall high-end social expectations.
However, the W-Hotel is not the first 5-star promenade hotel in Santa Eulalia del Río. At the opposite end of town, on Santa Eulalia Marina Port, where you will find a multitude of spectacular yachts and sailing boats, lies the grande luxe Aguas de Ibiza. The recently extended hotel with its high-class suites offers an incredibly sleek and modern design with a beautiful underground wellness spa and numerous cocktail, pool, and chill-out zones. Their brand new roof-top terrace restaurant, Maymanta, claims to be the best gastronomical experience in Ibiza, serving fine-dining Peruvian cuisine with outstanding views across the marina and Santa Eulalia town.
Walking Santa Eulalia del Río
Venturing around the town of Santa Eulalia del Río offers so much more than first meets the eye. To explore the urban side and beach promenade is a relaxing stroll that can be undertaken in around an hour or so, and will also cover all those back streets with its little unique boutique fashion stores and restaurants. However, if you want to go further afield, there are also plenty of natural coastal paths, little greenery areas at the mouth of the sea, and wonderful authentic walkways leading to outstanding mountain-top Mediterranean Sea views. These quieter and relatively unknown spots can all quite easily be reached directly from the town centre on foot, and are perfect for a relaxed afternoon out in nature, whether with the family, groups of friends, or strolling with a pet.
The area of Santa Eulalia is marked by its central white church, "Puig de Missa" sitting 52 meters above sea level with breathtaking views across the town and over onto the mountainside village of Siesta. To make your way up to the top is quite steep on foot, however, the views and quaint church is well worth the visit, even if only by car.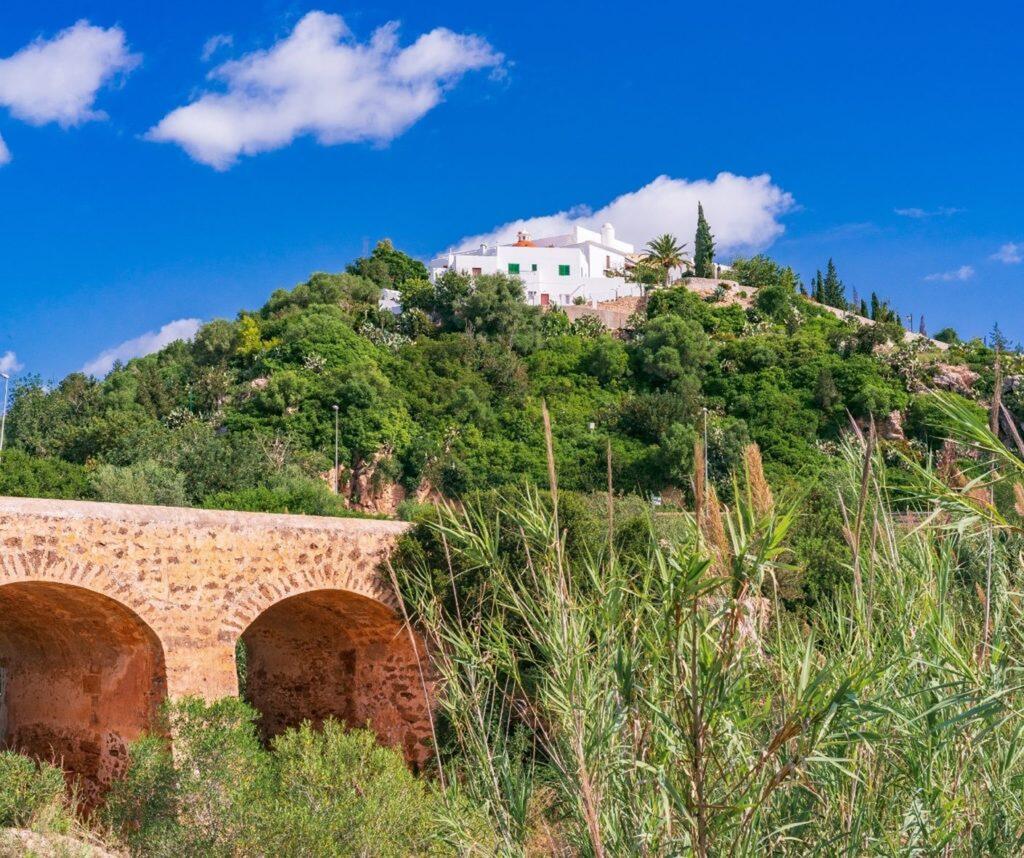 Alongside the 300 metre long white sand beaches of Santa Eulalia del Río sits the beautiful close-by beaches on the north-east coast including Cala Pada, Playa Niu Blau, Cala Martina, Es Cana, Cala Nova, and Cala Llenya. These wonderful family-friendly and humble spots, which rest in spectacular beauty and tranquility, all run along one long coastal path, through to the town of Es Cana and onto the final two beaches. Although it is a long journey from one end to the other, nothing is stopping a shorter walking adventure to any one of these local beaches before returning to the main town. The views and coastal walkway come highly recommended and are one of the very best in the area.
Properties in Santa Eulalia del Río
Santa Eulalia del Río offers many opportunities for families, couples, high profile, apartment seekers, and buy-to-rent clients. Potential home buyers are often encouraged to look beyond the well sought-after areas and onto the neighbouring spots which have an incredible opportunity to maximise value for money.
Buying a property in Santa Eulalia town offers a blend of authentic whitewashed architectural homes, alongside many modern villas and some of the most highly desirable newly built apartments in Ibiza. Take a look at our current properties in the town center of Santa Eulalia del Río below.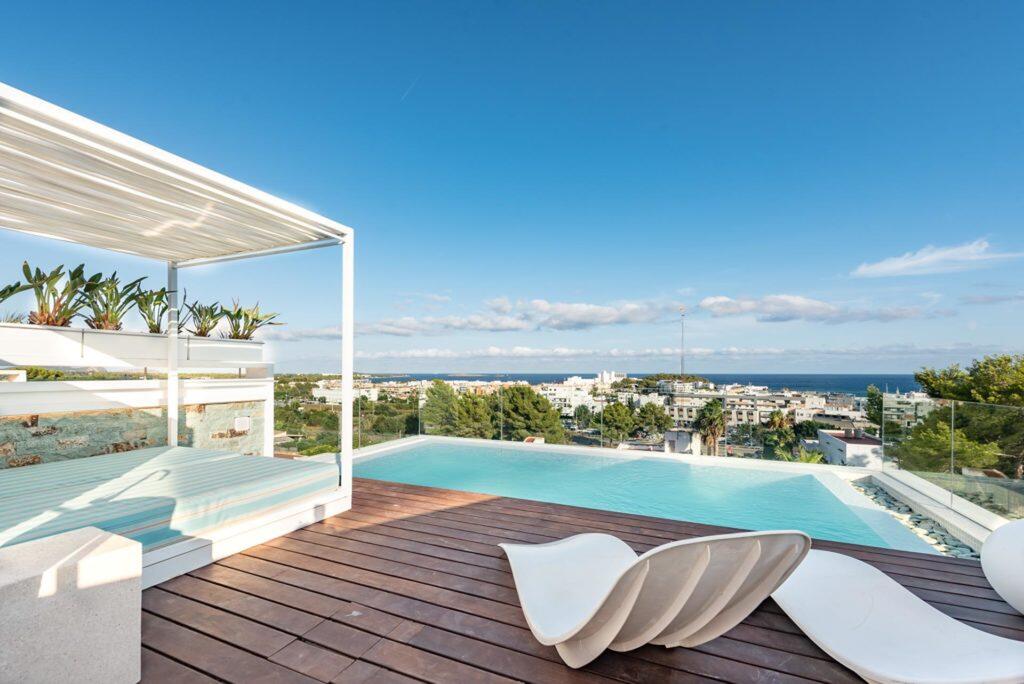 Check out our villas for holiday rental and properties for sale in the area of Santa Eulalia del Río here…
…and our in-depth guide to exclusive properties for sale in Santa Eulalia del Río (Santa Eulària des Riu)