We Live In San Antonio De Portmany
The team at Prestige Properties have all lived in Ibiza for many years and we're here to share our knowledge and local experience with you. We have team members that live in every municipality so between us we probably have the answer to any question you might have!
Click An Icon To Find Out More About San Antonio De Portmany
General Information
In the San Antonio area, throughout the year, you will find beautiful sunsets over the ocean, with some of the most famous views to be found from the symbolic Café del Mar, Cala Saladeta point or the viewpoint at las Puertas del Cielo, in English known as 'The Gates of Heaven'. In the north of San Antonio, you can find traditional Ibizan countryside, between San Mateo and Santa Inés, famous for it´s almonds and the delicious tortilla at Bar Cosmi. Walk along the biggest natural bay in Ibiza, go sailing from the harbour, and witness the dance of the dolphins, one of the most beautiful natural phenomena. These are just a few of the privileges of living in San Antonio.
Beaches in San Antonio de Portmany
Without a doubt, the beaches of San Antonio de Portmany are known all over the world, both for their variety and for their beauty. You should not miss the following: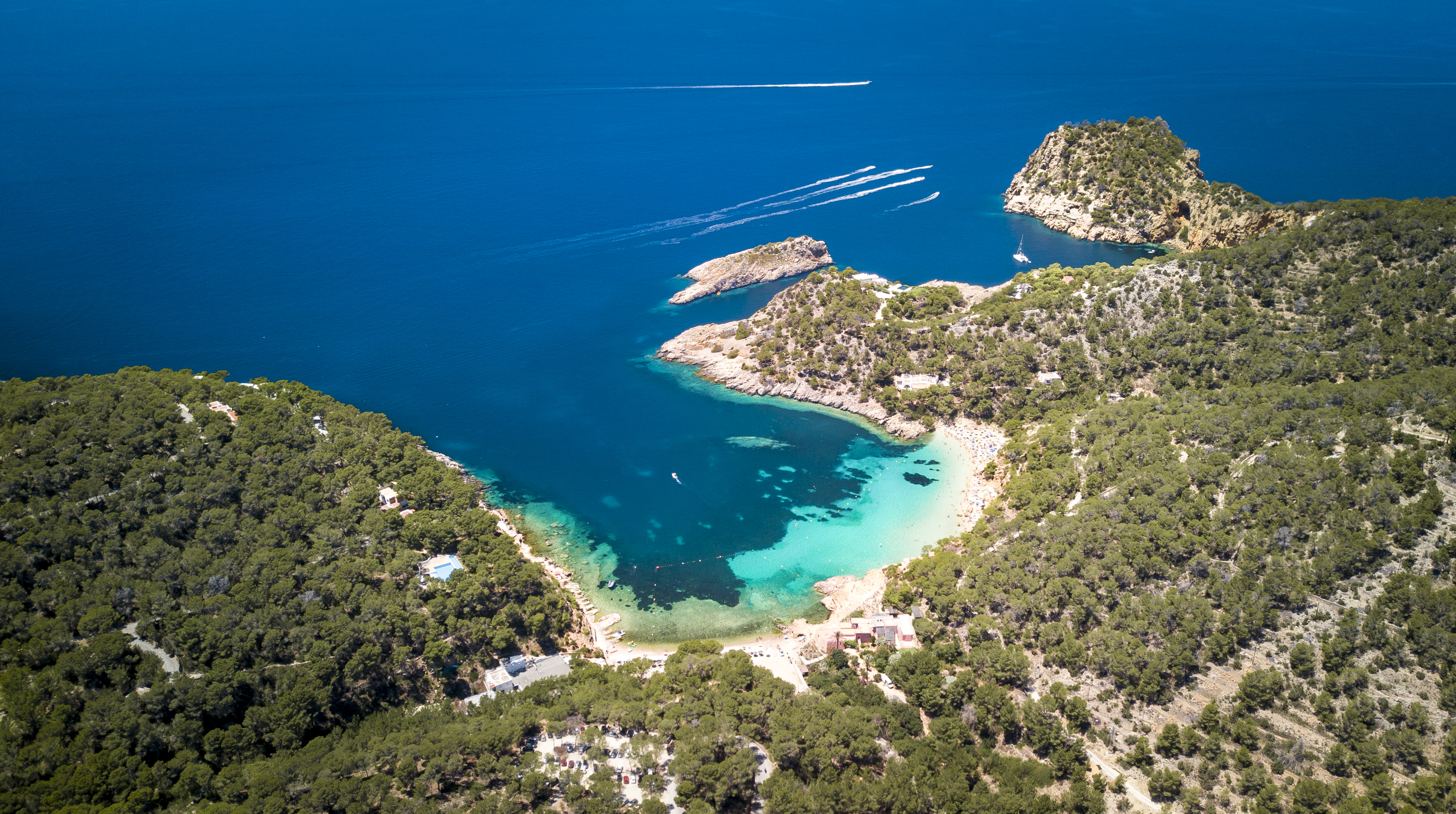 Cala Salada
Cala Salada is a small cove in the north west of Ibiza, just above the town of San Antonio on the road towards Santa Inés. Cala Salada is a very popular beach with locals as well as tourists, which is why from June until the end of September the main access by car closes from 10 - 18 h and the only other access is either hiking down, taking a mini bus or a taxi boat from the port of San Antonio. There is a little restaurant called Cala Salada which serves delicious sea food dishes as well as cold drinks and snacks. The beach is ideal for adults and families alike: the sandy beach and shallow sea bed with crystal clear waters make it an ideal place for the little ones to play, while the adjacent rocks make for a perfect getaway for those who seek a bit more privacy.
Beach Clubs in San Antonio de Portmany
There are some great ways to spend a sunny afternoon in San Antonio de Portmany and chilling out at a beach bar has to be one of the best! The area has some of the best spots on the island:
Restaurants in San Antonio de Portmany
If you want to be spoiled for choice in all that is the culinary, San Antonio de Portmany is definitely the place to go. All year long you can find a huge variety of restaurants in the town itself, but also in its nearby surroundings.  A variety that is a true reflection of the personality of Ibiza in which different trends are mixed to achieve a more attractive whole. If ever in doubt, try one of these:
Shopping in San Antonio de Portmany
Nightlife and Entertainment in San Antonio de Portmany
Interesting places in San Antonio de Portmany
Among the most popular sights to see in the area of Santa Eulalia we highlight the following:
Property for Sale and Rent in San Antonio de Portmany
FINCA LIRIA
San Rafael
Beautiful authentic finca surrounded by nature
From €10,200 Weekly
Promoción Sunset Cala Gracio
Cala Gració
New development in the first line of the sea near Cala Gracio
€409,500
Apartamento Sa Calma
Cala de Bou
Fully equipped two-bedroom flat with sea views
€320,000
Casa Los Pinares San Rafael
San Rafael
Quiet country house in the centrally located village of San Rafael
€2,500,000
Finca Campo Can Germá
Can Germá
Authentic Ibicencan finca with pool and beautiful gardens
€2,590,000
Villa Can Germá
Can Germá
Modern 4-bedroom villa with sea views on the top of the mountain in Can Germá
€2,200,000
CAN ALGAR
San Rafael
Charming 2 bedrooms country house that inspire for total relaxation
From €3,900 Weekly
Can Massa
San Rafael
A very nice holiday villa situated in the center of the island
From €6,300 Weekly
Duplex S'oli Mar Primera Linea
Cala de Bou
Modern duplex penthouse in first line of the sea with spectacular sunsets
€575,000