The Municipality of Sant Antoni de Portmany (aka San Antonio Abad or simply San Antonio) spans the West and North-West coasts of Ibiza and borders all four other municipalities on the island. The area occupies 126.80 km2 with an estimated population of 25,779 (of the total island population of 147,914). 
In addition to its prominent tourism industry, Sant Antoni is known for its beautiful beaches, magnificent sunsets, vast countryside and vibrant nightlife. As well as being famous for tourism, Sant Antoni de Portmany has many other versatile and relatively less-known aspects. There are three beautiful rural villages with traditional white churches, Sant Agnes (Santa Inés), San Mateo, and San Rafael, and some of the island's most secluded beaches.
The community, culture, and style of Sant Antoni de Portmany are incredibly diverse, with locals and international residents of all ages and lifestyles residing here throughout the year, including many ex-pats from the UK and Europe. Buying a property in San Antonio offers many opportunities for families, singles, couples, and retired clients. San Antonio provides many outstanding properties with various authentic charm, modern contemporary architecture, newly-built apartments, private communities and luxury lifestyle options.
Home buyers looking to buy a property in San Antonio can be typically sub-categorized into four distinctive areas; the Town, West Coast (Cala Salada, Cala Gracio, Punta Galera), North (Santa Inés and San Mateo) and the Interior (San Rafael, Buscastell, Benimussa).
Living in the town of Sant Antoni de Portmany (San Antonio, Ibiza)
Houses for sale in San Antonio appeal to a broad range of buyers and attract families, retirees, singles, young couples, and people who seek second homes for holidays and tourism. It is not uncommon for buyers looking for properties for sale in San Antonio to be attracted to the area's proximity to local amenities, nearby beaches, restaurants, and cosmopolitan lifestyle with many restaurants, bars, beach clubs, accommodation, music, and superb sunsets.
The town alone has been central to the island's tourism for more than 50 years. It powerfully entices many young visitors from all over Europe every year to experience Ibiza's most iconic electronic house music and sunset venues. Mambo Cafe, Cafe del Mar, Savannah and Mint Lounge, strategically placed along or close to the main promenade known as Sunset Strip, are among its top hotspots. San Antonio's West End also comes alive day and night where superclubs, such as Es Paradis, Eden, O Beach Ibiza and Ibiza Rocks Hotel, host world-class DJs and great pool parties.
Whilst San Antonio's nightlife might sound a little overwhelming, July and August are the primary two months out of the year to be mindful of crowds. Otherwise, evenings spent strolling the promenade and enjoying the vibrant town outside of the 'party scene' are embraced by many different age groups, families and cultures during the rest of the year.
The main beach of San Antonio Town is located along the promenade. The 6km long central coast leads down to the Marina Port, ideally situated for those looking to buy or rent a villa (or apartment) in San Antonio town, where walking distance is essential. There is also easy access to the beach and Marina Port for families and those with disabilities. Here, the waters are settled and safe for young children, are filled with water sports and boating opportunities, and are conveniently just a stone's throw away from anywhere local in the town.  The town centre, of course, features supermarkets, typical local shops, fashion retail, beach essentials, pharmacies, souvenir shops, medical centres, hair and beauty salons, and almost every type of global cuisine imaginable.
Clients considering buying San Antonio villas and apartments for holiday rentals will find consistent revenue as these properties are always in high demand, especially during high season and within walking distance of the main sunset strip and town amenities. The town of San Antonio offers a wide selection of older Ibicencan-style homes with authentic charm, as well as brand new apartment builds and smaller detached homes at an affordable price (compared to other municipalities on the island).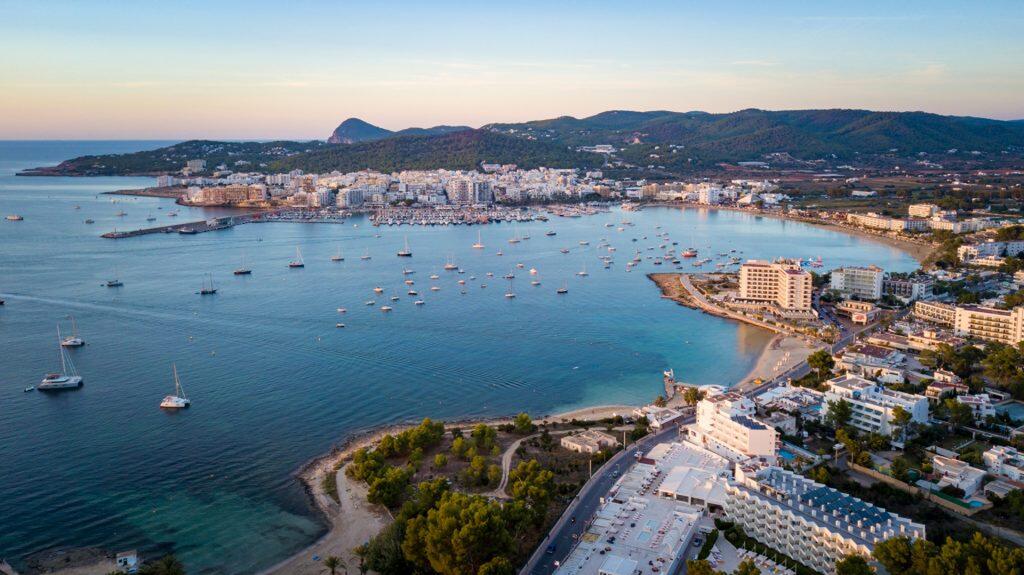 Living in San Antonio West Coast, Ibiza
On the West Coast of San Antonio, houses for sale appeal primarily to retired couples, families, young couples, and lifestyle holiday home buyers and investors. Unlike those seeking property for sale in San Antonio town, this clientele group is drawn to coastal beauty and the awe of nature. A wide range of villas and properties can be found along the West Coast of San Antonio, close to the most popular yet secluded beaches. In contrast to San Antonio Town, properties for sale on San Antonio's West Coast are situated in a more relaxed and authentic environment with outstanding sea views.
You can find stunning contemporary and exclusive modernised Mediterranean-style villas along the West Coast at Cala Salada, Cala Gracio, and Punta Galera (the area's main beach hotspots) with direct access to unspoiled countryside, fishermen's beaches, and the most famous sunsets in Ibiza.
Properties in Cala Salada & Cala Saladeta, Ibiza
Located just 10 minutes from San Antonio Town, Cala Salada is one of Ibiza's most beautiful and regularly visited coves. Because the small cove is so beloved, San Antonio authorities have restricted parking access during the summer to keep crowds low and maintain its tranquillity. Cala Salada, while very close to San Antonio Town, offers unparalleled natural beauty and crystalline waters, perfect for diving, snorkelling, and swimming, which altogether feel worlds away from the bustling town. Cala Saladeta, an even more secluded cove, has golden sand and crystal clear waters that you can reach via the rocky paths that lead down from Cala Salada.
Villas in Cala Salada offer unparalleled opportunities to observe spectacular sunsets and enjoy uninterrupted sea views surrounded by nature. Homebuyers and residents in Cala Salada love the hidden beauty but appreciate the convenience of being close to town and nearby villages within minutes.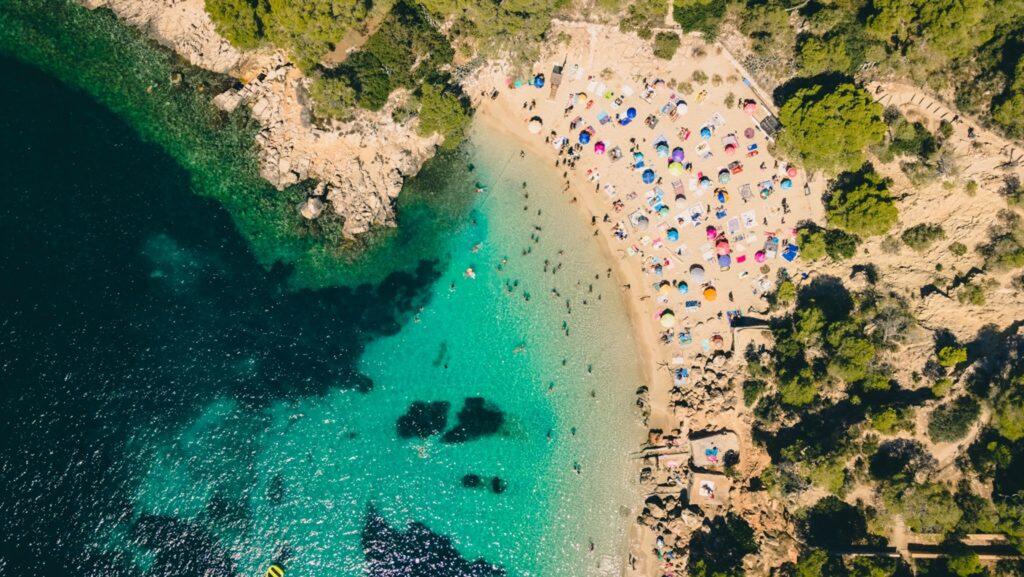 Punta Galera, Ibiza
Just north of Cala Salada lies the infamous smooth rock and several flat terraces of Punta Galera. There is no other place on the island with a staggering cliff edge that can offer such a serene and picturesque beauty. This rocky terrain is void of sand and amenities and is inaccessible by traffic or parking. This is the perfect spot for those who value nature and appreciate less human interaction on the beach. The water is at least two meters deep and mostly crystal clear. Just be ready to jump a little off the shore edge.  The rocky terrain at Punta Galera is a peaceful and respected place where silence is upheld by all visitors, which is why many people practice yoga and meditation there.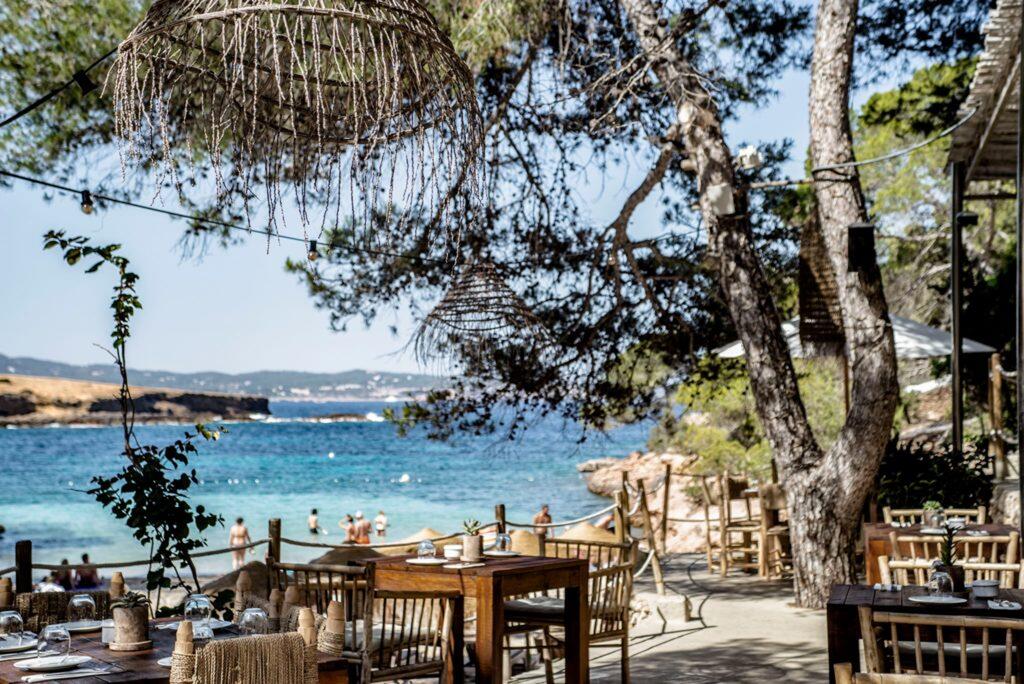 Properties in Cala Gració, Ibiza
Cala Gració is another attractive and favoured beach cove close to San Antonio's main town. The fine white sands and the natural pool-like waters are so appealing that many people elect to rent a vacation villa or buy a property there. The surrounding area is filled with pine-clad hills and enthralling landscape views. Next to Cala Gració main bay, is Cala Gracioneta. Cala Gracioneta is of typical Ibizan style, which is family-friendly with an incredibly chilled atmosphere and home to the renowned boho-chic Cala Gracioneta Chiringuito. The beach bar and restaurant, owned by the island's famous Mambo Group, is the perfect spot to enjoy good quality Mediterranean cuisine and watch the surrounding beauty.
It is hard to find a property in Cala Gracio that doesn't offer sweeping sunsets, sea views and the luxury of peace. All three spots here are extremely popular with visitors, year after year, so if you are considering purchasing a property in Ibiza for investment and touristic rentals, Cala Gracio, Cala Salada, and Punta Galera are highly recommended.
Properties in the north of San Antonio, Ibiza
A property in the north of Sant Antoni, especially in Santa Ines (Santa Agnes de Corona) and San Mateo, offers an entirely different environment, community and style than the town or the west coast. The picturesque countryside of the San Antonio municipality boasts wide open, mountainous and vast landscapes, where clients can find high-profile and exclusive hillside villas and traditional finca farmhouses.  
Santa Ines and San Mateo Property options include authentic and renovated contemporary farmhouses (Finca) and modern-style villas.  Often, these idyllic homes offer stunning views of unspoiled countryside and fascinating sunset skies. In addition to being favourite buy-to-rent investment properties, Santa Ines and San Mateo properties are ideal for nature lovers.  
Like many other agricultural and small village locations in Ibiza, villa rentals in Santa Ines and San Mateo are becoming increasingly popular.  A villa vacation in the Ibiza countryside is a popular option for families, large groups, or unique events, primarily as they are located away from the crowds, from where it's easy to access all the local hot spots, beaches, and amenities.
Properties in Santa Inés, Ibiza
Properties for sale in Santa Agnes are rare and are always in high demand. Located around the central white church of Santa Inés, the village is a unique land with only a few authentic houses. Its captivating beauty is well-known among tourists and photographers in Ibiza, who merely visit the area to marvel at its gardens.  Known for its acres of almond trees, Es Pla de Corona and its cliff top walks high above the pine forests overlooking the "Gates of Heaven" (a couple of sporadic islets in the middle of the Mediterranean Sea), Santa Inés is a true paradise.
In Santa Agnes, properties are as prized as the land they sit on. Despite the small local community and two bars directly in front of the church, this area provides a quality of life that is nothing short of luxurious. Around February, the blossom trees bloom into beautiful sheets of pink and white almond flowers. Undoubtedly, the land is an exceptional sight that attracts the attention of locals and tourists alike.  Property in Santa Inés offers clients an unspoiled, traditional island part untouched by tourism.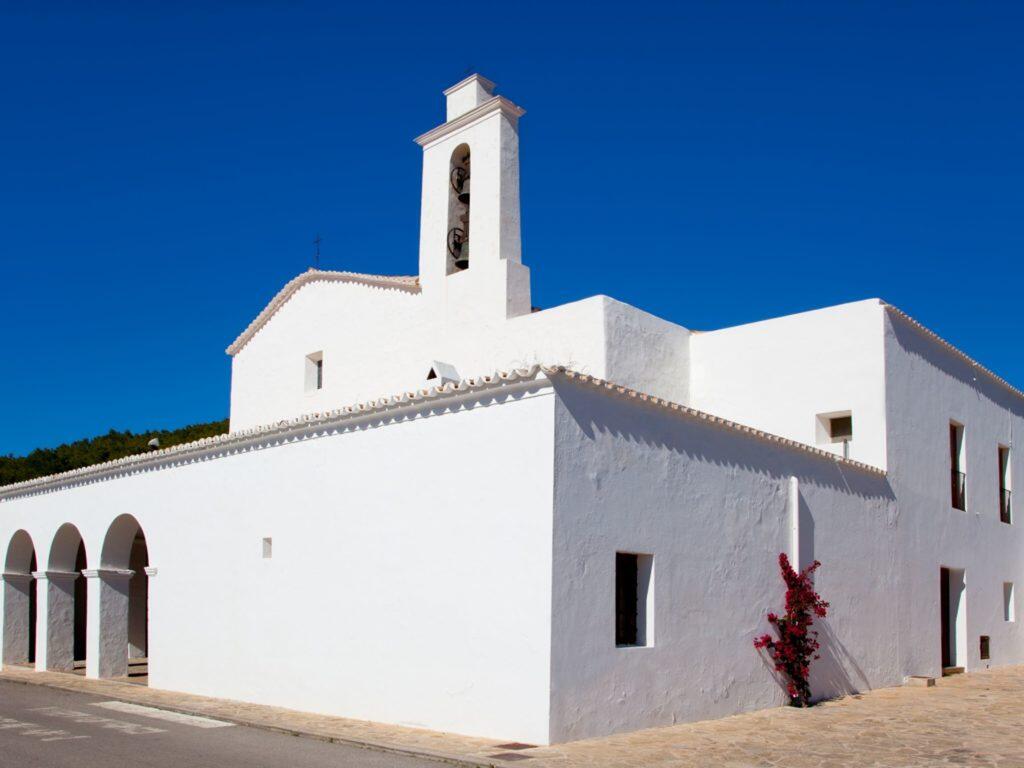 Properties in San Mateo
The village of Santa Inés sits close to the village of San Mateo.  San Mateo is a small, quaint and beautifully kept village.  The area, Es Pla de Sant Mateu, is filled with beautiful authentic charm and architecture with spectacular surrounding countryside cultivated and abundant with blossoming fruit trees.  
San Mateo is a beautiful place to seek a property for sale.  Long hikes around the Es Pla de Sant Mateu (almond trees, vineyards and miles of orchards with locally grown grapes, olives, oranges and lemons) with afternoons spent enjoying the hillside views from the local authentic restaurants and bars make San Mateo a residence of peaceful and traditional living. Naturally, the area is always in high demand with a much lower supply than demand, with more sizable housing and land, which is therefore reflective of the higher price bracket observed in this area.
Properties in the interior countryside of San Antoni de Portmany, Ibiza
In a similar manner to Santa Inés and San Mateo, the interior of San Antonio de Portmany offers clients and visitors a charming rural lifestyle. This clientele group shares a love of the great outdoors and nature walks, and is incredibly keen on buying fincas, renovated farmhouses, and modern hilltop villas in San Rafael and Buscastell. Several homes for sale in the interior region of San Antonio offer a quiet country-style home to retreat to, with vast landscapes, farmland, and personal agriculture opportunities. Although these internal spots are relatively low in demand compared to other rural areas on the island, they are still ideal for quick access to various countryside locations, charming villages, beauty spots, restaurants, and beaches.
Properties in Buscastell, Ibiza
Buscastell is a small village near Sant Antoni's main town and San Rafael. Known as Es Broll de Buscastell, this area is over 4.5 km, and the landscape is formed by valleys that follow the flow of a stream. It contains wetlands and springs for water, and Ibiza's largest winery, Can Rich. 
A property near Buscastell offers clients a relaxed community atmosphere with a humble ambience. Besides a small local store and a popular bar and restaurant, the village consists of a single white church and one small local store.
Properties in San Rafael, Ibiza
San Rafael is a small yet vibrant village only 8km from Ibiza Town and San Antonio town.  Although small, buying a property close to the village of San Rafael offers a wide range of outlets for day-to-day living, such as a pharmacy, bakery, hardware store, petrol station and several restaurants.
San Rafael hosts a selection of highly recommended island restaurants to choose from and enjoy.  Can Pilot and Es Tancó Pizzeria are very popular and often bustle with locals and tourists regularly, both in and out of season. San Rafael village is also a unique "Area of Artisan Interest ".  The village is home to the best potters on the island, who have practised modern and traditional pottery methods for hundreds of years.
Looking to buy a Villa in San Antonio, Ibiza?
The region of San Antoni de Portmany is incredibly diverse and possibly less tourism-oriented than clients may initially believe.  Despite the lower demand for luxury and exclusive properties, there is still a great deal of opportunity to maximise value by looking beyond the more well-known places. If you are considering buying a villa in the San Antonio area, why not browse our available exclusive properties?  
Our team is always ready to help you along your buyer's journey and ensure you discover your dream home with Prestige Properties Ibiza – contact us today.