History of Ibiza Tourism
Ibiza is renowned globally as a destination for music lovers, clubbers, and party-goers alike. In the early 1970s, Ibiza began to see its first influx of tourism, and alongside tourism came the opening of many new nightclubs.
During the 1980s the night scene rocketed, with the emergence of 'House Music' by the 1990s. This led to Ibiza becoming one of the most desired travel destinations for music and nightlife.
This increase meant opportunity. Many local fishing towns started to see major developments, with brand new hotels, restaurants, bars, supermarkets, and other amenities rapidly establishing to cater to the demand, and profit from the tourism industry.
The Development of San Antonio de Portmany
San Antonio was one of these local fishing villages. The development of San Antonio quickly went from being a 2000-year-old fishing village and authentic port, to a leading holiday destination and large resort.
In turn, this placed incredible value on the area, with expats, particularly from Britain during the 80s and 90s making the dream move to the very 'trendy' San Antonio Ibiza.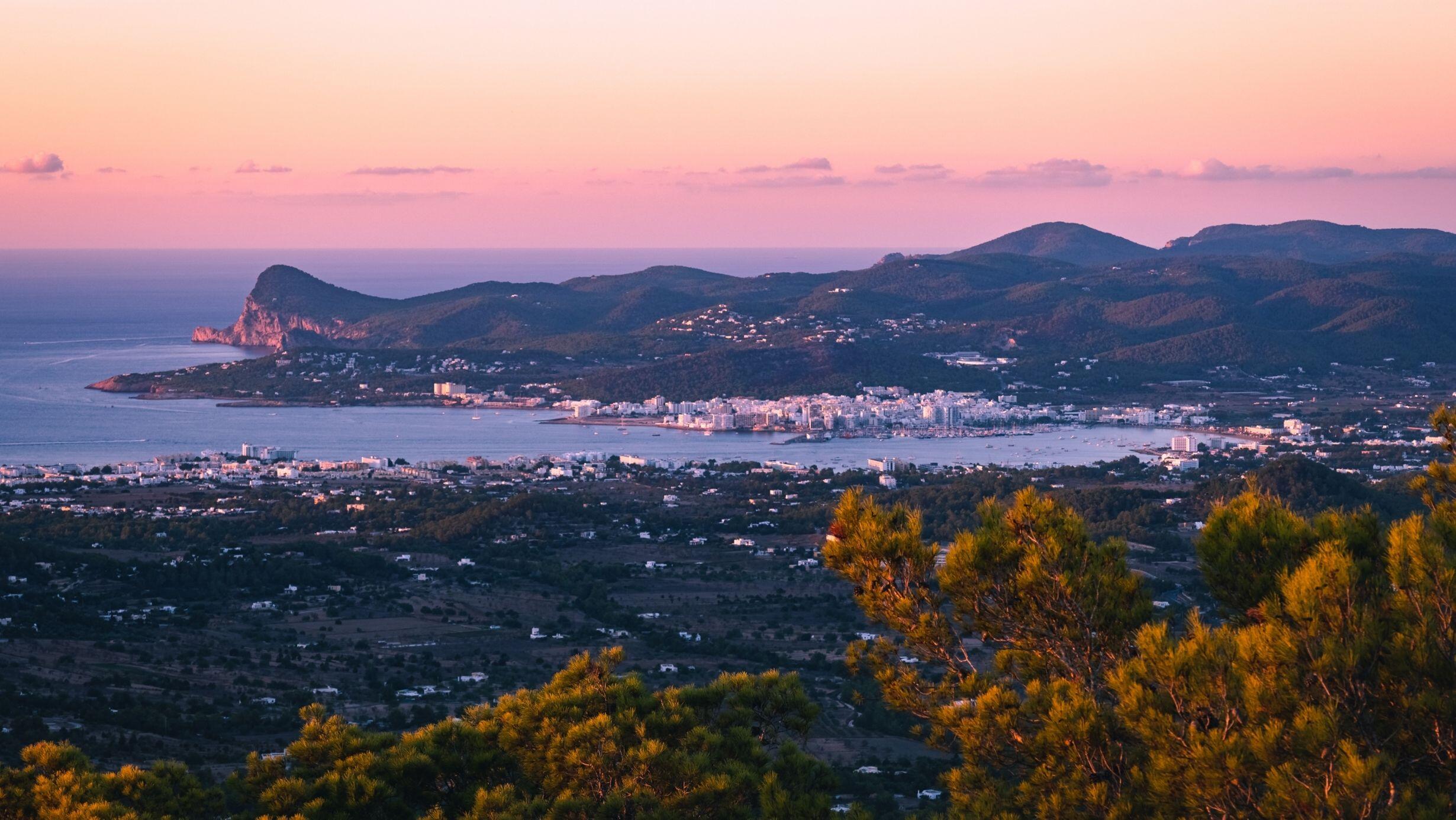 San Antonio's Misconception
San Antonio soon became the island's point of reference for its lively nightlife, and over the past few decades, unfortunately, San Antonio Town has encountered many issues with hedonistic crowds during the height of the season. Effective action of curbing unwanted tourism and behaviour in the town has been taken very seriously, and over the last few years, local authorities have implemented policies to effectively minimise the nuisance of its nightlife.
San Antonio Town's passionate 'party-culture' has therefore led to many misconceptions about the entire San Antonio Municipality, leaving a disloyal and inaccurate label on the area. It's easy to be swayed and influenced by the reports of San Antonio's party scene. However, alongside this very small element of San Antonio, sits a wonderfully rich history, spectacular beaches and coves, a family-friendly atmosphere, local Ibicencan culture, and the island's most majestic sunsets. The area is so deeply laced with beauty, it is no wonder San Antonio was highly sought after by initial tourism during these early days.
Discovering the municipality of Sant Antoni de Portmany is guaranteed to leave a lasting impression and ultimately debunk the false notion on the area once and for all!
Discover the municipality of San Antonio
Sant Antoni de Portmany is incredibly diverse, with a wealth of opportunity to discover the real Ibiza.
San Antonio Social & Culinary
The town alone strongly attracts many visitors to experience well-known music venues like Mambo Cafe, Cafe del Mar, Savannah, and Mint Lounge. However, San Antonio is also filled with culinary excellence and an array of global cuisine restaurants that are well worth visiting.
Can Pujol is a typical Ibicencan restaurant located directly on the seafront, specialising in seafood and fish stew rice dishes. La Patisserie is a colourful French 'Tea Room' serving pastries, breakfast, light lunches, and wonderful homemade plates. It is a great spot for families, especially for those with smaller children, as they have a designated play area, so the adults can relax over brunch.
Es Tragón, an awarded Michelin Star restaurant (the only one on the island), naturally offers guests a gastronomical experience to remember at the hand of their executive chef, Alvaro Sanz Clavijo, whilst Sa Capella boasts history, authentic charm, romance, and great traditional cuisine from its 16th Century converted church.
There are endless possibilities to spend summer evenings outside of the 'party-scene'. Top hotspots like Kumharas Street Food Restaurant and Cocktail Bar, which also offer outdoor yoga classes with a wonderful sea view, Hostel La Torre, and the 5-star luxury Amare Beach Hotel Ibiza with their spectacular sunset rooftop terrace, all boast a relaxed and elegant atmosphere to enjoy the miraculous San Antonio sunsets, away from the hustle and bustle of the main Sunset Strip and San Antonio's West End.
For fun for the whole family, Cine Regio is San Antonio's quirky, local cinema, which is wonderfully still true to its original style, with one large screen, red velvet seating, and grand front draw-curtains. There is also a fantastic aquarium for those looking for some extra activities for the children.
Beaches in San Antonio
The beaches of San Antonio are an oasis of natural gems, with hidden coves of white sand, winding coastal paths, glistening waters, and bewitching sunsets. Although difficult to define a top few, these three secluded beaches certainly have something extra special to offer.
Cala Salada
Cala Salada is unparalleled with natural beauty and crystalline waters, perfect for diving, snorkeling, and swimming; which altogether feels more than two worlds apart from the vibrant town. It's sister cove, Cala Saladeta, along the rocky paths leading down from Cala Salada, offers an even more secluded cove and a completely preserved area.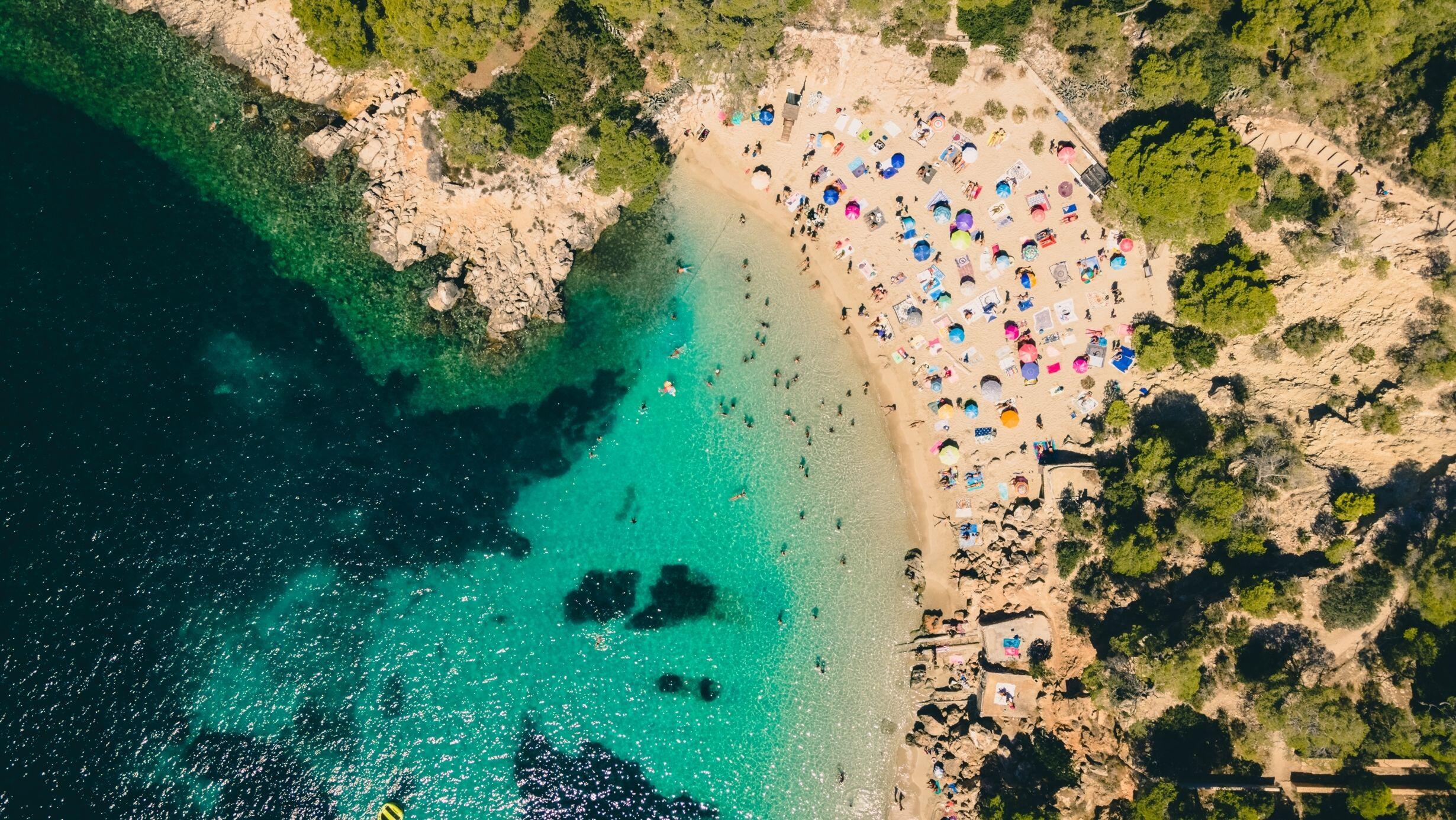 Punta Galera
Just south of Cala Salada lies the infamous, smooth rock and several flat terraces of Punta Galera. The staggered cliff edge allows for peaceful and picturesque beauty, which is nowhere else to be found on the island. The rocky terrain is barren from sand, amenities, and is accessible by walking only. The ideal spot for those who cherish the art of nature and appreciate less human gatherings whilst at the beach. It has to be seen to be believed.
Cala Gració
Cala Gració is another very attractive beach cove close by to San Antonio's main town. With fine white sands and natural pool waters, the area offers a unique sense of privacy and seclusion filled enthralling landscape views. Next to Cala Gració main bay is Cala Gracioneta. A smaller and even more authentic version of Cala Gració. Cala Gracioneta is typical Ibiza style, family-friendly with a relaxed atmosphere, and home to the renowned boho-chic Cala Gracioneta Chiringuito.
Countryside and Villages in San Antonio
The stunning countryside and villages of San Antonio boast wide open and vast landscapes, where much high-profile and exclusive hillside villas reside with unlimited views of unspoiled countryside and fascinating sunset skies.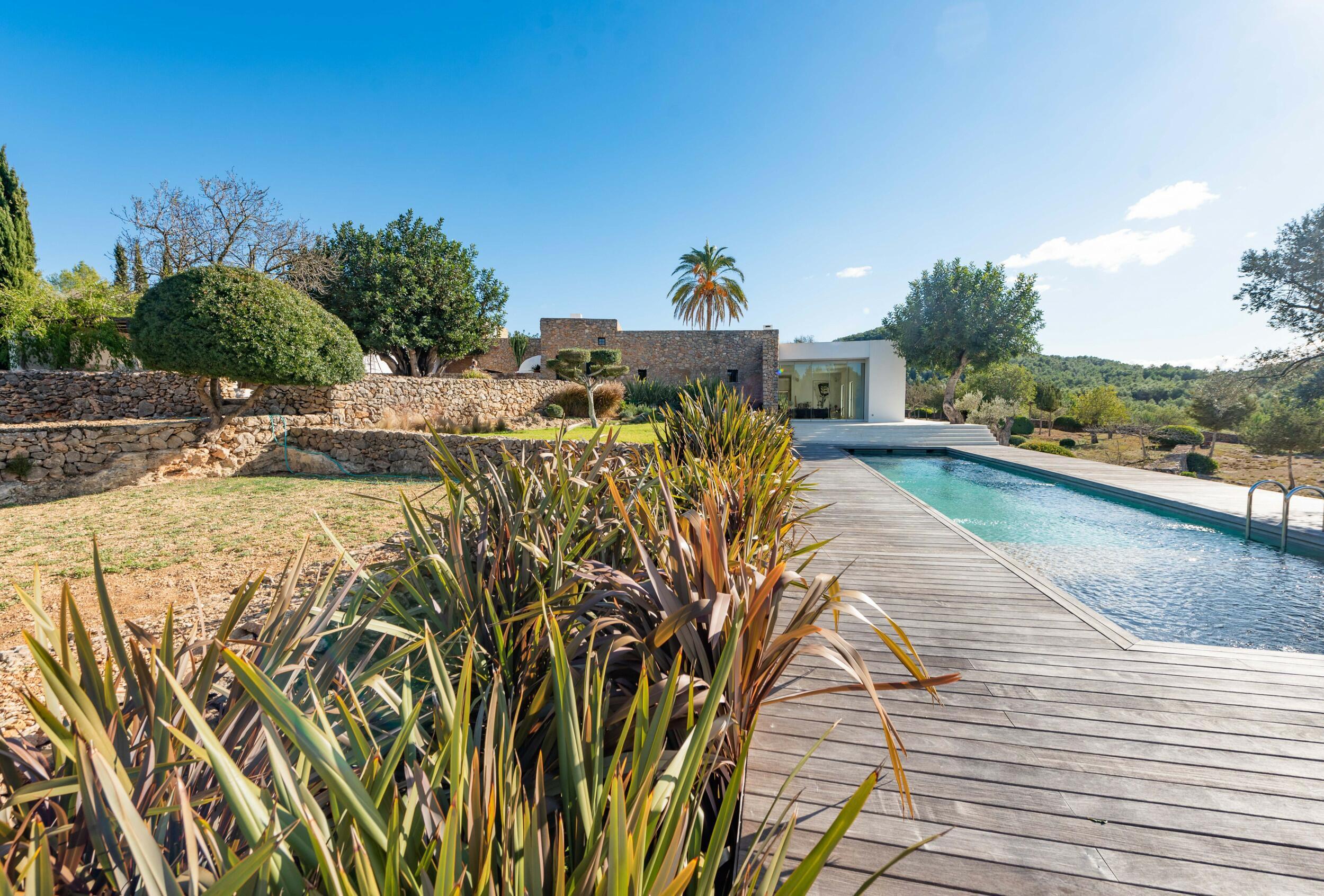 Santa Inés Ibiza (Santa Agnés de Corona)
The village of Santa Inés is a unique land with captivating beauty and is famous among photographers. Laced with cultivated acres of almond trees, known as Es Pla de Corona, and fascinating cliff top walks overlooking the Islets of Ses Margalides, (a couple of sporadic islets sat in the Mediterranean Sea), Santa Inés is recognised as a true haven. Sunsets from the clifftop are truly spectacular, with an infinity of open waters and a view like no other on the island. June until September is mostly recommended to visit here for sundown, and whilst the rest of the major sunsets spots like Es Vedra are busy and filled with groups of people, this unique place is often overlooked and incredibly secluded.
Around February the almond trees bloom into beautiful sheets of pink and white almond blossoms. The land is an exceptional sight and draws plenty of attention from locals and tourists alike, completely untouched by tourism. Here, Bar Cosmi is a locally renowned restaurant known for the "best tortilla" in Ibiza.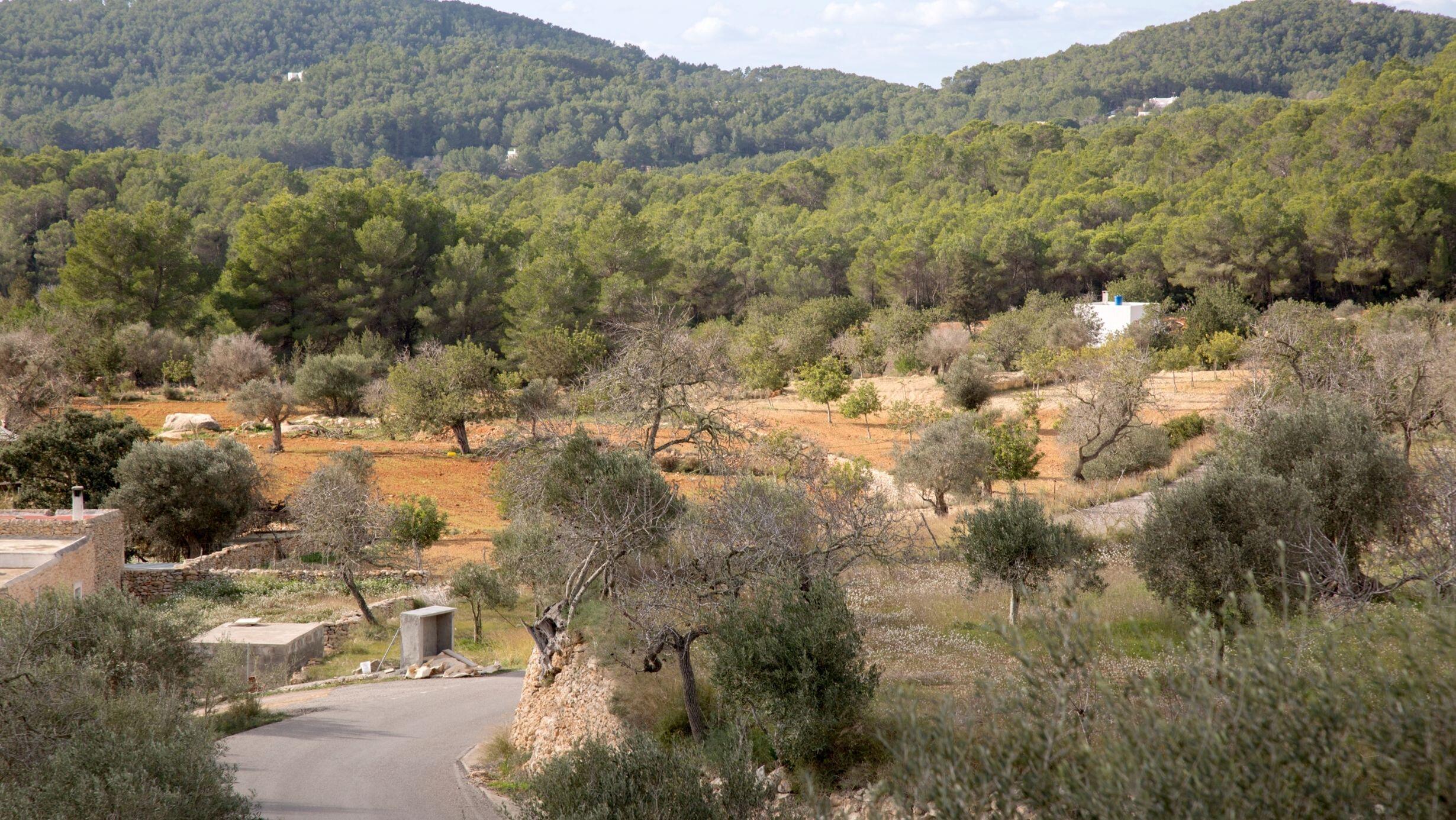 San Mateo
San Mateo is a small, quaint, and beautiful village, which is filled with beautiful authentic charm and cultivated countryside. Long hikes around the Es Pla de Sant Mateu, with its array of almond trees, vineyards, and miles of orchards with locally grown grapes, olives, oranges, and lemons, offer a calm and traditional ambience, perfect for nature-lovers. To the left of the village church, past a remote house situated on the right, a dirt road leads down to a small square for parking. Here, a rocky steep trail leads down to the hidden spot, Cala Aubarca (Cala d'Albarca), where many hikers often venture to view the spectacular sights on offer.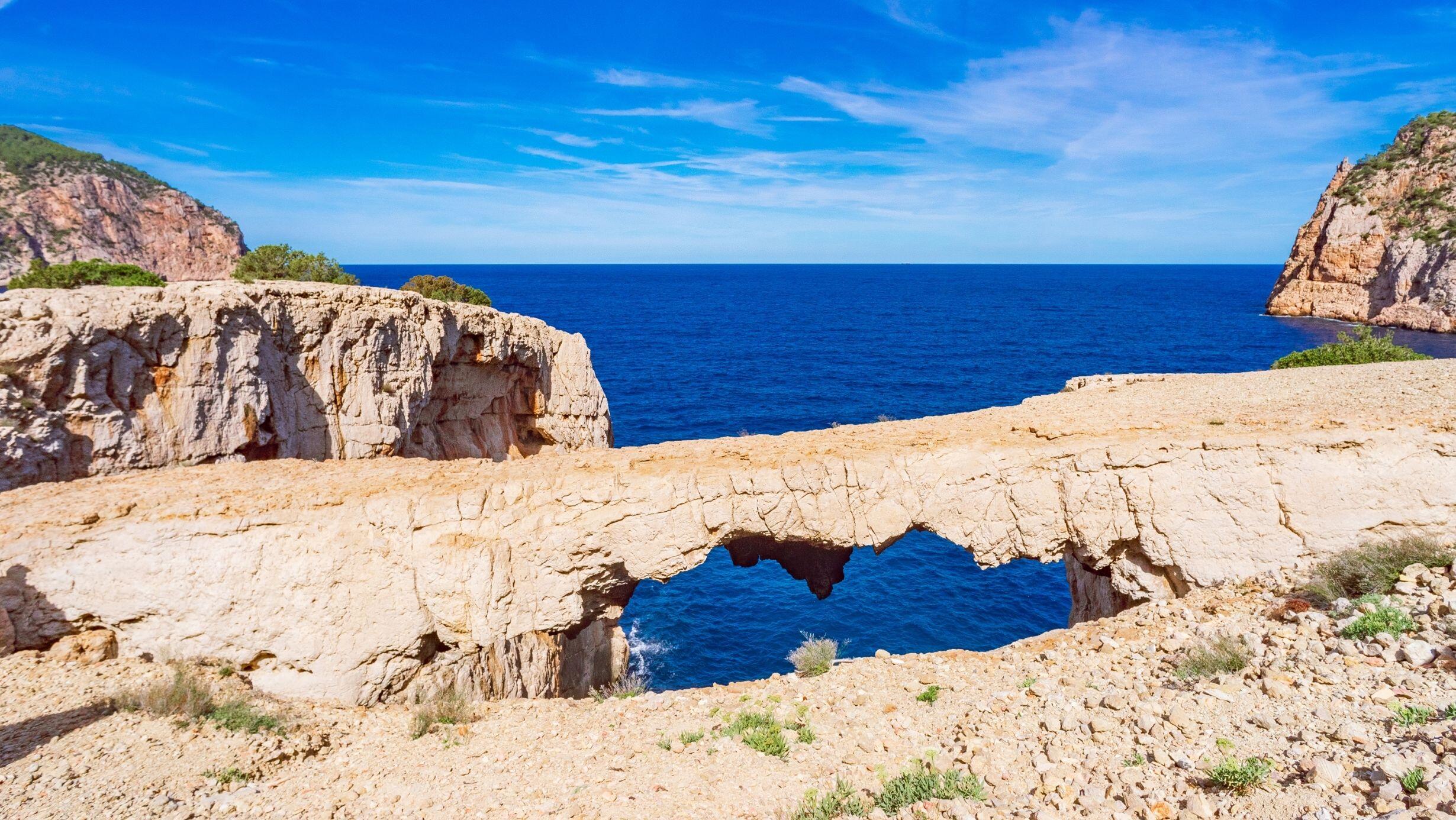 Buscastell Ibiza
Buscastell is a small village, known as one of the most agricultural areas of the island which hosts wetlands and springs for water, as well as Ibiza's largest and most productive winery, Can Rich. The area may be considered as one of the biggest wetlands on the island, known as Es Broll de Buscastell. Es Broll de Buscastell is one of the most unique landscapes to visit and is not often known by tourists whatsoever.
San Rafael Ibiza
San Rafael is a very small yet vibrant village and hosts almost a small town selection of highly recommended island restaurants to choose from and enjoy. Can Pilot, Can Fresco, and Es Tancó Pizzeria are all very popular and more than often bustling with locals regularly. San Rafel village is also known as a unique "Area of Artisan Interest ". The village is home to some of the best potters on the island, who have practiced pottery in Ibiza for hundreds of years.
Holiday Villas and Properties for sale in San Antonio, Ibiza
Despite San Antonio's 'party-label' the area, including the town itself, is a tranquil and beautiful location, offering something for everyone, making it a very special place to vacation and reside in. It's a great area for investment also, since property prices in this area tend to be the lowest in Ibiza. The area offers a wide range of outstanding properties with a variety of authentic charm, modern contemporary architecture, newly built apartments, and luxury lifestyle living.
Prestige Properties Ibiza has a vast listing of villas for holiday rental and properties for sale in the area of San Antonio.
Check out our villas for holiday rental and properties for sale in the area of San Antonio here…
and our in-depth guide to exclusive properties for sale in San Antonio (Sant Antoni de Portmany)