Our guide to exclusive properties for sale in San Antonio (Sant Antoni de Portmany)
The municipality of Sant Antoni de Portmany is located on the North central coast of Ibiza and borders all four other municipalities on the island. The area occupies 126.80 km2 with an estimated population of 25,779 (of the total island population of 147,914).
The municipality of San Antoni typically characterised by its prominent tourism, is famous amongst visitors and residents alike for its glorious sunsets, beautiful beaches and vibrant nightlife.
However, much aside from it's tourism popularity, San Antoni de Portmany also has many other versatile and relatively less well-known aspects, including three very beautiful rural villages, all marked with traditional white churches, which include Santa Agnes, San Mateo and San Rafael, as well as some of the islands most secluded beach hotspots.
The culture, community, and style of the municipality of San Antonio is incredibly diverse, with a variety of age groups and lifestyle cultures among both locals and international residents, including many expats from the UK and Europe residing throughout the entire year.
Buying a property in San Antoni de Portmany offers many opportunities for families, singles, couples, buy to rent and retired clients. Although the municipality hosts less private communities and exclusive villas in private secure urbanisations, the area still offers a wide range of outstanding properties with a variety of authentic charm, modern contemporary architecture, newly built apartments and luxury lifestyle living.
Currently, Prestige Properties Ibiza has 26 properties on the market in Sant Antonio, with a vast listing of villa rentals for tourism purposes.
Home buyers looking to buy a property in San Antonio can be typically sub-categorized into four distinctive areas; the Town, West Coast (Cala Salada, Cala Gració, Punta Galera), North (Santa Inés and San Mateo) and the Interior (San Rafael, Buscastell).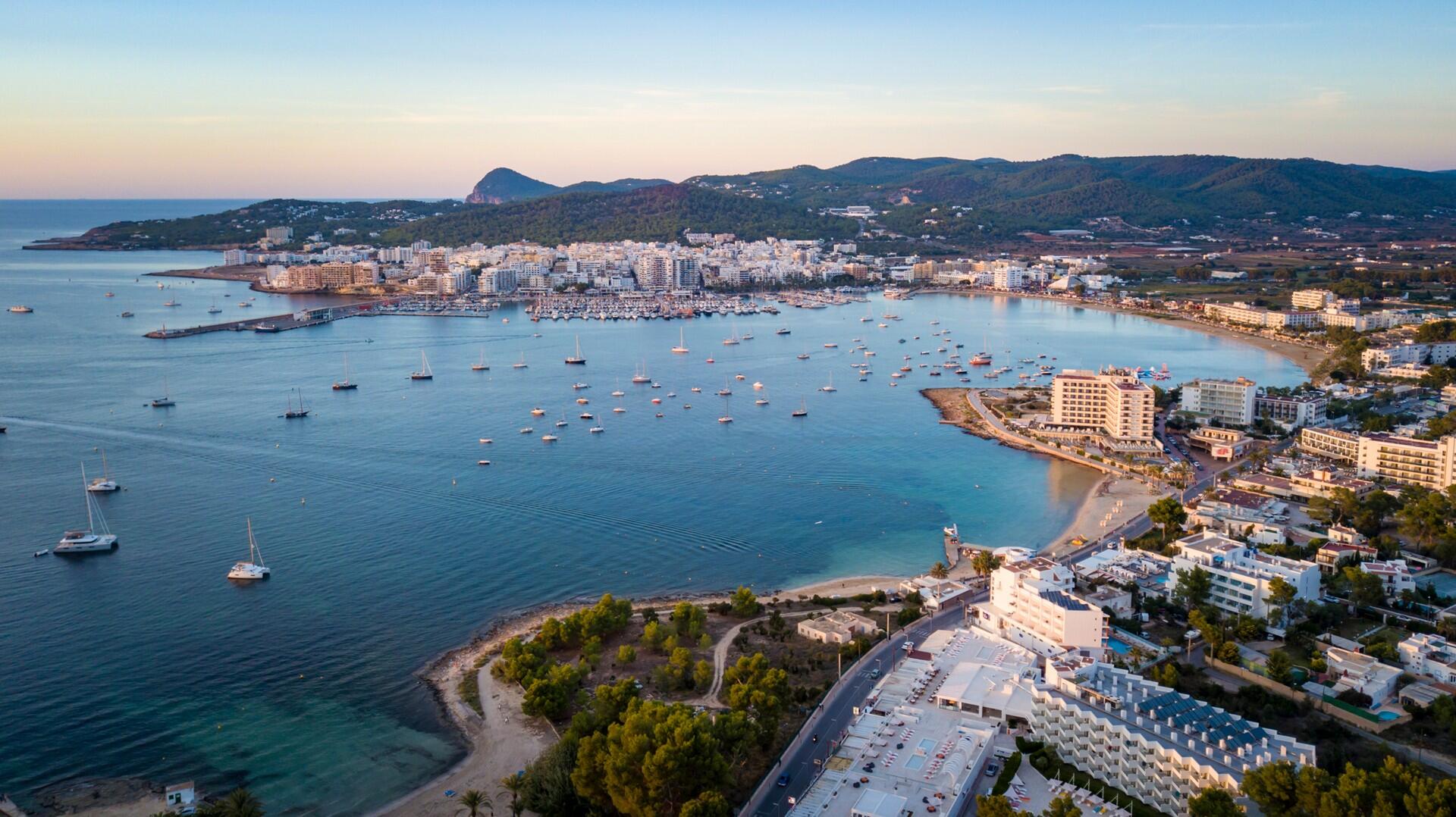 San Antonio – Town
Houses for sale in the town of Sant Antonio appeal to a multi-faceted clientele group. Those pursuing permanent and long-term family friendly homes, retired couples, singles, younger couples and those seeking a second home for both luxury holiday visits and tourism rentals.
Those seeking properties for sale in the town of San Antonio are usually drawn to the area's quick access to the local amenities, surrounding beaches, restaurants, family-friendly spots and the overall atmospheric culture during the summer season.
Buying a property in Sant Antoni town or seeking a holiday rental villa in San Antonio Bay offers a highly cosmopolitan lifestyle with a multitude of gastronomic outlets, bars, beach clubs, accommodation, music and magnificent sunsets spots. The town alone has been central to the islands tourism for more than 50 years and strongly attracts many young visitors from all over Europe every year to experience Ibiza's most iconic electronic house music and sunset venues like Mambo Cafe, Cafe del Mar, Savannah and Mint Lounge, all of which are strategically placed along or close to the main promenade, known as Sunset Strip.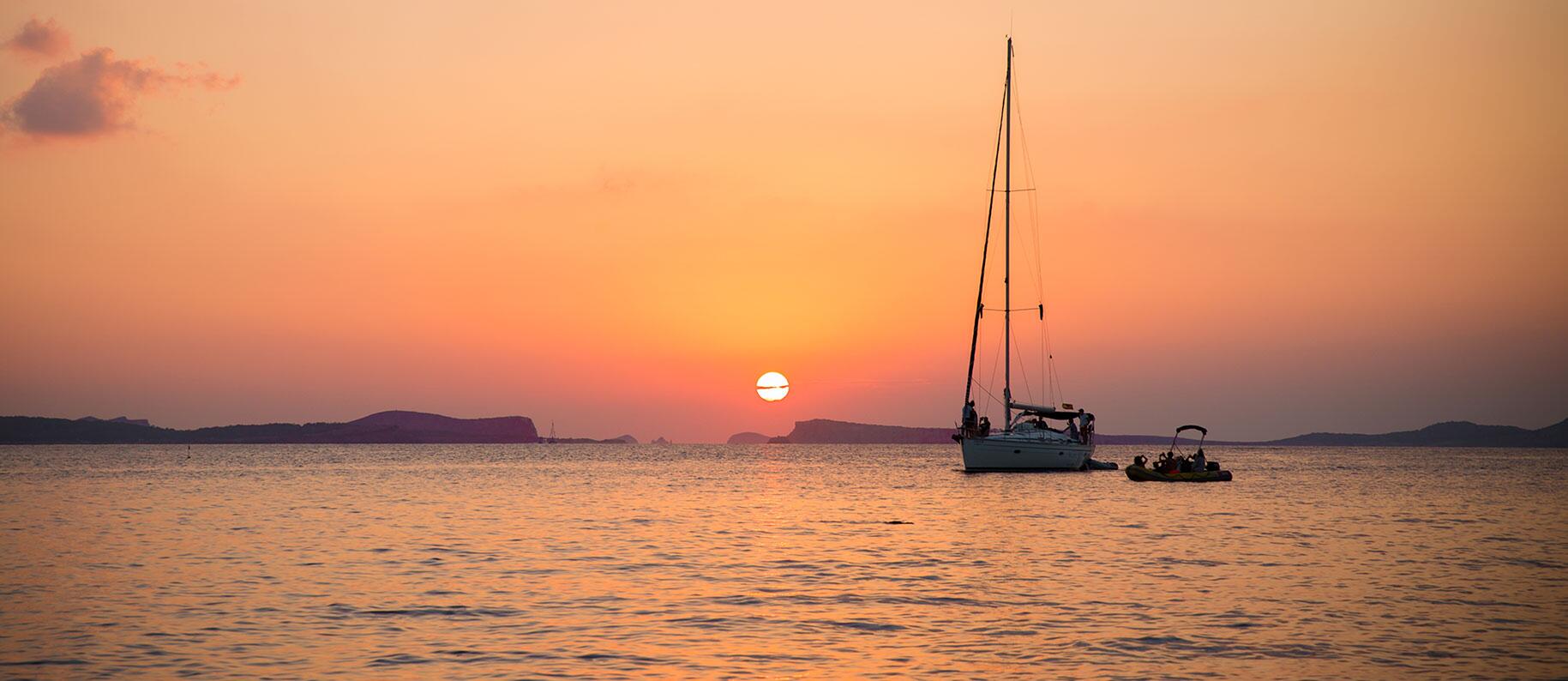 San Antonio's West End also comes alive both day and night where superclubs, such as Es Paradis, Eden, O Beach Ibiza and Ibiza Rocks Hotel host world class DJ's and outstanding pool parties.
Whilst San Antonio's nightlife might sound a little overwhelming, July and August are the main two months out of the year to be cautious of crowds after sun down. Otherwise, evenings spent strolling the promenade and enjoying the dynamic town outside of the 'party-scene' is more than possible and embraced by many different age groups, families and cultures during the rest of the year.
Along the main promenade is a long stretch of white sand and the main beach of San Antonio Town. This 6km long central beach leads down onto a beautiful Marina Port and is perfectly located for anyone looking to buy or rent a villa (or apartment) in San Antonio town whereby local walking distance is an ultimate requirement.
The beach and Marina Port are both easily accessible for families and those with disabilities, which is not always easy to find in Ibiza. Here, the waters are settled and safe for young children, are filled with water sports and boating opportunities, and is conveniently just a stone's throw away from anywhere local in the town.
The town centre has everything from an array of supermarkets, typical local stores, fashion retail, beach essentials, pharmacies, tobacconists, souvenir shops, medical centres, hair and beauty salons and almost every type of global cuisine imaginable.
Clients considering to buy a property in San Antonio for holiday rentals will find consistent revenue as villas and apartments in San Antonio for tourism are always in high demand, especially during the height of the season and when within close walking distance to the main sunset strip and town facilities.
Properties for sale in the town of Sant Antonio can typically represent older Ibicencan style homes with authentic charm. However, property in San Antonio can now also offer a wide selection of brand new apartment builds and smaller modern detached homes, which is perfect for clients seeking a vibrant and exciting Mediterranean lifestyle home, at a more affordable price (when compared to other municipalities across the island).
On average, properties in San Antonio town for sale sit around 3.500€ per m2 and average 350,000€. There is a notable lower demand for San Antonio Town property in general when compared to the rest of the island, however a fantastic array of opportunities are available, especially for those looking to buy as an investment option.  New Bahia San Antonio complex is a residential building originally designed by one of the island's most respected architects and is currently under construction, to the highest quality standards. It is located in a quiet pine forest near the bay of San Antonio de Portmany and consists of a total of 32 apartments.
The residential complex has community gardens and a swimming pool, ideal for enjoying and sharing special moments with family and friends.
San Antonio – West Coast
Houses for sale on the West Coast of Sant Antonio equally appeal to a similar clientele group, consisting of retired couples, singles and younger couples, as well as lifestyle holiday home buyers and property buyers in Ibiza for renting purposes. However, unlike those seeking properties for sale in the town of San Antonio, this clientele group are strictly drawn to the awe of nature and coastal beauty as their fundamental requirements.
The West Coast of San Antonio offers villas and properties within close proximity to the most popular yet secluded beaches favoured by 'A' list celebrities and boating enthusiasts. Properties for sale on San Antonio's West Coast boast of a more relaxed and authentic environment with outstanding sea views, away from the crowds and bustle of San Antonio Town.
Buying a property on the West Coast of Sant Antoni or choosing a holiday rental villa in Cala Salada, Cala Gracio or Punta Galera (the main beach hotspots of the area), offers stunning contemporary and exclusive modernised Mediterranean style villas with direct access unspoiled countryside, fishermen beaches and the most spectacular sunsets known to Ibiza.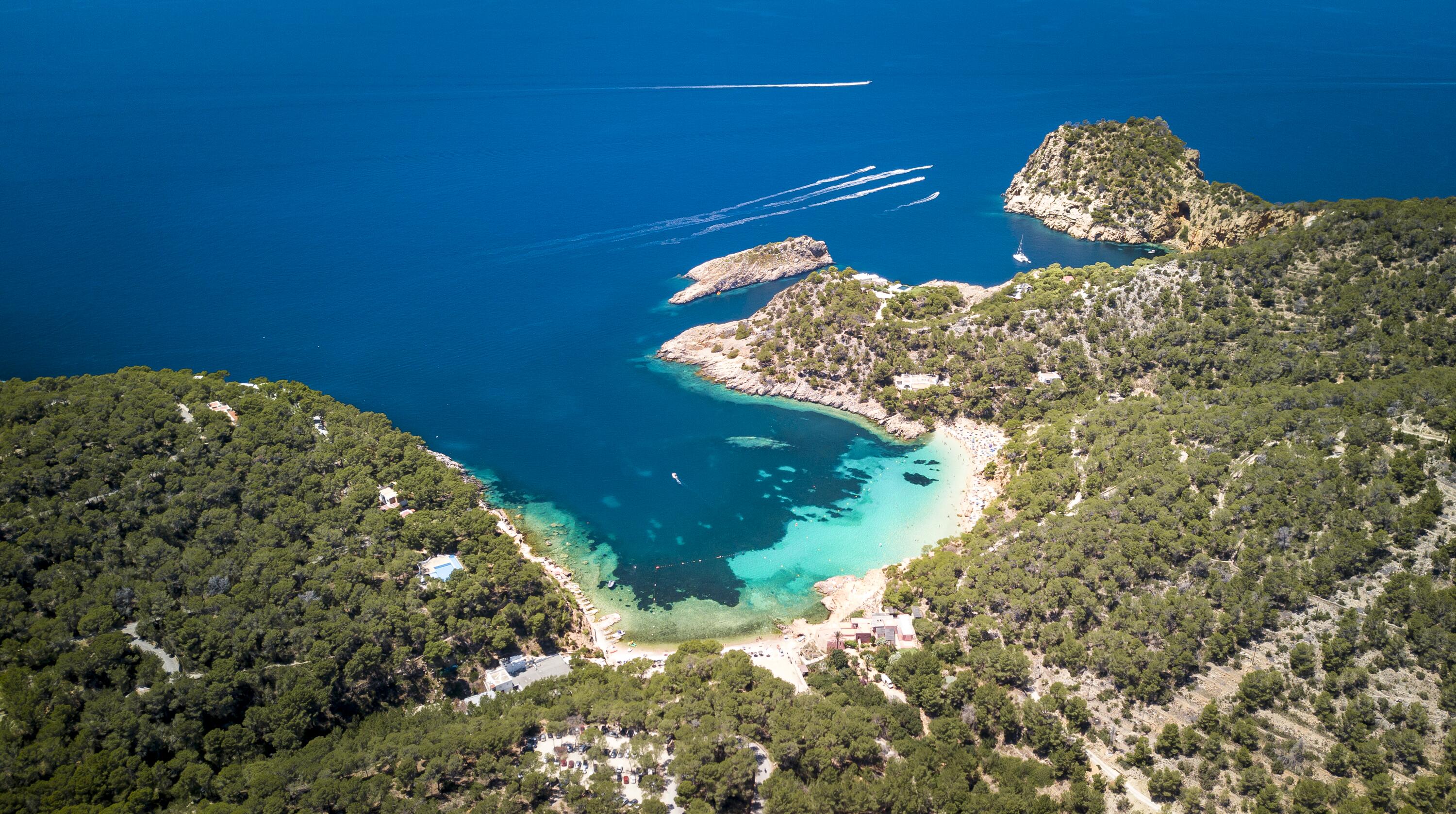 Cala Salada
Cala Salada, only a 15 minute drive from San Antonio Town, is one of the most beautiful and regularly visited coves in Ibiza, by both tourists and locals. In fact the small cove is so fondly appreciated that the San Antonio authorities have reduced parking access during the summer in order to keep the crowds safely at lower numbers and maintain its unique tranquility.
Buying or renting a holiday villa in Cala Salada, although very close to San Antonio Town, offers unparalleled natural beauty with crystalline waters, perfect for diving, snorkelling and swimming; which altogether feels more than two worlds apart from the vibrant town.
A second, almost identical cove with golden sands and clear waters, is Cala Saladeta. Follow the rocky paths leading down from Cala Salada, to the even more secluded cove and its completely preserved area.
Buying a villa in Cala Salada or renting a vacation villa offers unparalleled opportunities to observe fantastic sunsets and obtain a home with outstanding sea views surrounded by uninterrupted nature.
Many clients looking to buy or stay in a home in Cala Salada are fond of the secluded beauty, yet the convenience of being close enough to pop in and out of town and surrounding villages within a moment's drive.
Villa Calypso is an exclusive property, for sale with Prestige Properties which has been completely renovated in 2019. The highlights of this property include the fabulous views of the sea, the sunsets and the hills of ​​Cala Salada.
This 2,884 m2 plot with a construction of 329 m2 is distributed on three levels with a southwest-facing orientation, which guarantees many hours of sun and all year sunsets. It is located just 6 minutes (by car) from the beaches of Cala Salada and Cala Gracio, 20 minutes from Ibiza and 24 minutes from the Airport.
Punta Galera
Just north of Cala Salada lies the infamous, smooth rock and several flat terraces of Punta Galera. The staggered cliff edge allows for a peaceful and picturesque beauty, which is nowhere else to be found on the island.
The rocky terrain is barren from sand, amenities and accessibility from traffic or parking. The ideal spot for those who cherish the art of nature and appreciate less human gatherings whilst at the beach.
Swimming is not a problem, the waters are at least two metres deep and mostly crystal clear, you just have to be prepared to jump a little off the shore edge. Punta Galera is a quiet and respected place, where silence is upheld by all visiting, hence why many will attend the rock terrain for yoga and meditation practice.
Cala Gració
Cala Gració is another very attractive and favoured beach cove close by to San Antonio main town. With fine white sands and waters that are better identified as a natural pool, it really is no wonder many opt to rent vacation villas or purchase a property in the charming area of Cala Gració.
The area offers a unique sense of privacy and seclusion much like Cala Salada, yet is still close enough to head into town with ease. The surrounding area is filled with pine-clad hills and enthralling landscape views. Properties on the market in Cala Gració guarantee sweeping sunset and sea views with the luxury of peace and quiet, pretty much wherever properties are located.
Next to Cala Gració main bay, is Cala Gracioneta. A smaller and even more authentic version of Cala Gració. Cala Gracioneta is of typical Ibizan style, which is family friendly with an incredibly chilled atmosphere and home to the renowned boho-chic Cala Gracioneta Chiringuito.
The beach bar and restaurant, owned by the island's famous Mambo Group is simply the perfect spot to enjoy good quality Mediterranean cuisine and watch the beauty that surrounds.
Property in Cala Gració, Cala Salada and Punta Galera are highly recommendable for clients looking to purchase a property in Ibiza for investment and tourism licencing; all three spots here are incredibly popular for visitors, year after year.
On average, properties on the West Coast of San Antonio for sale sit around 5.000€ per m2 and around the 1,500.000€ mark. Although the area is still much lower in demand when compared to the coastal areas in San Josep de sa Talaia, the area offers impeccable landscape views and holds great value for money compared to the island's general property market of this standard.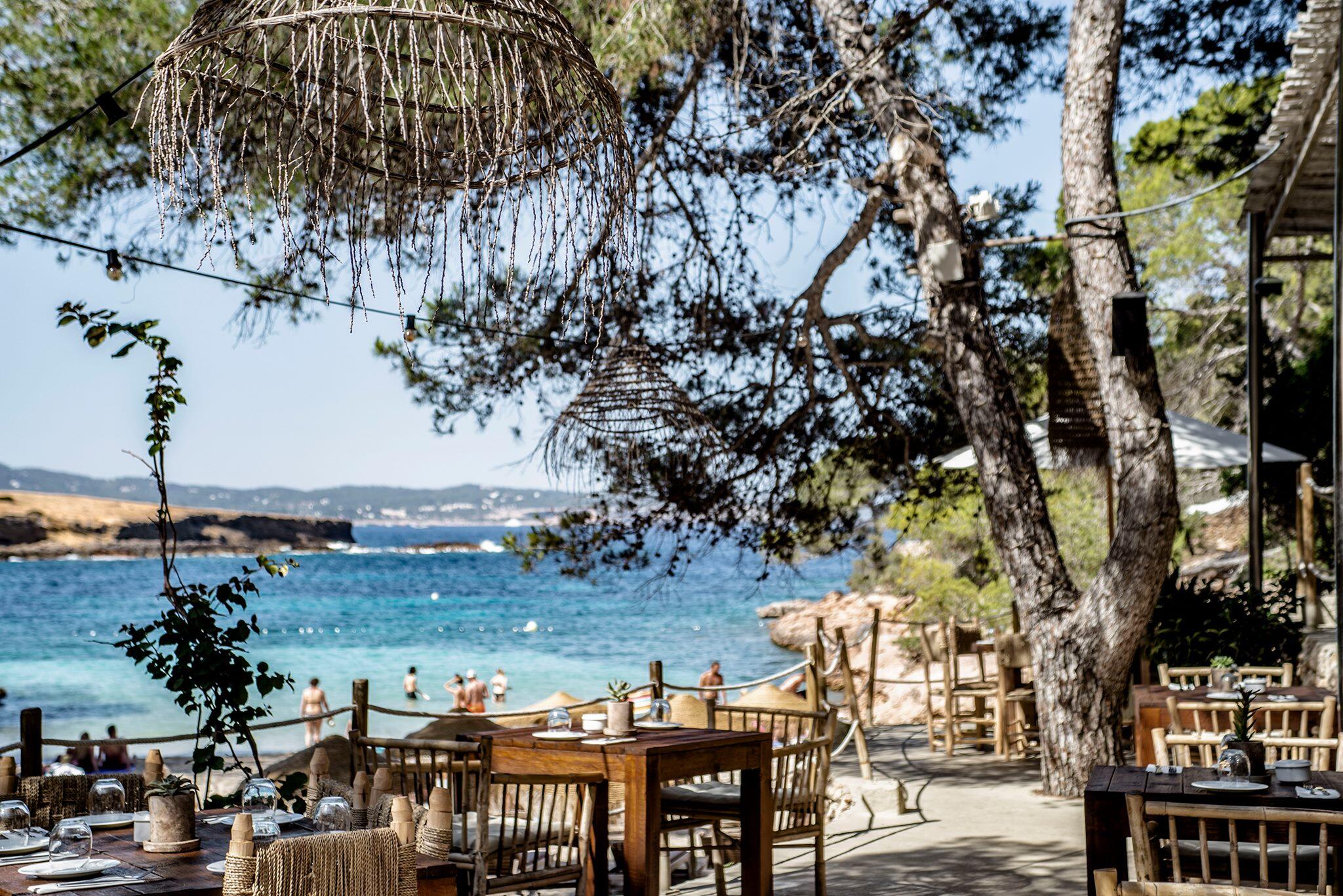 San Antonio – North
Buying a property in the North of Sant Antoni, particularly in Santa Inés (Santa Agnès de Corona) and San Mateo, offers a completely different contrast of environment, community and style compared with both the town and west coast.
These stunning countryside areas boast of wide open and vast landscapes, where clients will find high profile and exclusive hillside villas on the market within the Sant Antonio municipality.  Properties for sale both in Santa Inés and San Mateo boast of grande authentic and renovated contemporary farmhouses, as well as modern contemporary style villas. These idyllic homes are often situated with unlimited views of unspoiled countryside and still offer fascinating sunset skies.
Both Santa Inés and San Mateo properties for sale provide the ultimate spot for nature lovers and are a particular favourite for buy to rent clients seeking investment property in Ibiza.
Villa rentals and agroturismo stays in the area of Santa Ines and San Mateo are becoming increasingly popular, much like many other agricultural and small village locations in Ibiza. Many families, larger groups of travellers and special private events prefer the privacy of villa vacations in the Ibiza countryside, away from the crowds with an exclusive home to rest in spectacular beauty and tranquility, especially where there is easy access to all the local hotspots, beaches and amenities on offer.
Santa Inés (Santa Agnès)
The village of Santa Agnès de Corona is a unique land comprising a mere few authentic houses situated around its central white church. Needless to mention, properties for sale in Santa Agnès are barely in the property market and always in high demand.
Its captivating beauty is famous among tourists and photographers in Ibiza, who visit the area simply to marvel at its sanctuary of gardens. Laced with cultivated acres of almond trees, known as Es Pla de Corona and fascinating cliff top walks high among the pine forests overlooking the Gates of Heaven, (a couple of sporadic islets sat in the middle of the blue Mediterranean Sea), Santa Ines is recognised as a true haven.
The village of Santa Agnès provides incredibly high value properties that are every part as prized as the land they reside on. The area provides a small local community with only two bars directly in front of the church, but nothing short of a luxurious quality of life.
During the late winter, early spring, around February the blossom trees bloom into beautiful sheets of pink and white almond flowers. The land is an exceptional sight and draws plenty of attention from locals and tourists alike. A property in Sant Ines offers clients a truly preserved part of the island and a traditional location, untouched by tourism.
San Mateo de Albarca (Sant Mateu d'Albarca)
The village of Santa Inés sits closely to the village of San Mateo. Sant Mateu d'Albarca is a small, quaint and beautifully kept area. The area within the village, known as Es pla de Sant Mateu, is filled with beautiful authentic charm and architecture with spectacular surrounding countryside cultivated and abundant with blossoming fruit trees.
San Mateo is a wonderful place to seek a property for sale. Long hikes around the Es Pla de Sant Mateu, (almond trees, vineyards and miles of orchards with locally grown grapes, olives, oranges and lemons) with afternoons spent enjoying the hillside views from the local authentic restaurants and bars makes San Mateo a residence of calm and traditional living.
On average, properties on the North of San Antonio for sale in the area of Santa Inés and San Mateo sit around 7.000€ per m2 and average round the 2,500.000€. Naturally, the area is always in high demand with a much lower supply than the town with more sizable housing and land, which is therefore reflective of the higher price bracket observed in this area.
San Antonio – Interior
Similarly to Santa Inés and San Mateo, the interior of Sant Antonio de Portmany offers clients and visitors the simplicity of a charming rural lifestyle.
This clientele group share a love for the great outdoors, nature walks and are incredibly keen buyers of fincas, renovated farmhouses as well as more modern exclusive hilltop villas in the San Rafael and Buscastell area. Many homes for sale or on offer as rental villas in the interior area of San Antonio offer a quiet country lifestyle home to retreat too, with vast landscapes and opportunities for farmland and personal agriculture.
Average property prices per square metre for a property in San Rafael and Buscastell sits around 6.000€ per m2 with a 2/2.5M€ cost per home. Although the area is relatively low in demand compared to other rural areas on the island, these interior spots are compelling and still optimal for quick access to a variety of countryside locations, charming villages, beauty spots, restaurants and beaches.
Buscastell
Buscastell is a small village, situated close to both San Antonio main town and San Rafael. It is known as one of the most agricultural areas of the island which hosts wetlands and springs for water, as well as Ibiza's largest and most productive winery, Can Rich.
The area may be considered as one of the biggest wetlands on the island, known as Es Broll de Buscastell. The landscape formation of valleys, follows the course of a stream and extends over 4.5km. Es Broll de Buscastell is one of the most unique landscapes to visit and is not often known by tourists whatsoever.
Buying a property near the village of Buscastell offers clients a relaxed community atmosphere with a humble ambience. The village itself consists of one small local store and a traditional, yet popular bar and restaurant in front of its central white church.
Finca Lirio located close to the village of Buscastell, is a magnificent original estate, built in 1790 and located a few kilometers from Buscastells and San Rafael. The first expansion reforms were carried out in the 70s and since then, more modern improvements and maintenance have been made.
The property in Buscastell has a total land of 2,916 m2, with several areas surrounding the main house, such as an orchard, a beautiful pool and a rest area. The main house of 611 m2 is distributed across two different floors. A beautiful property near the beautiful village of Buscastell with lots of authentic and original Ibizan charm.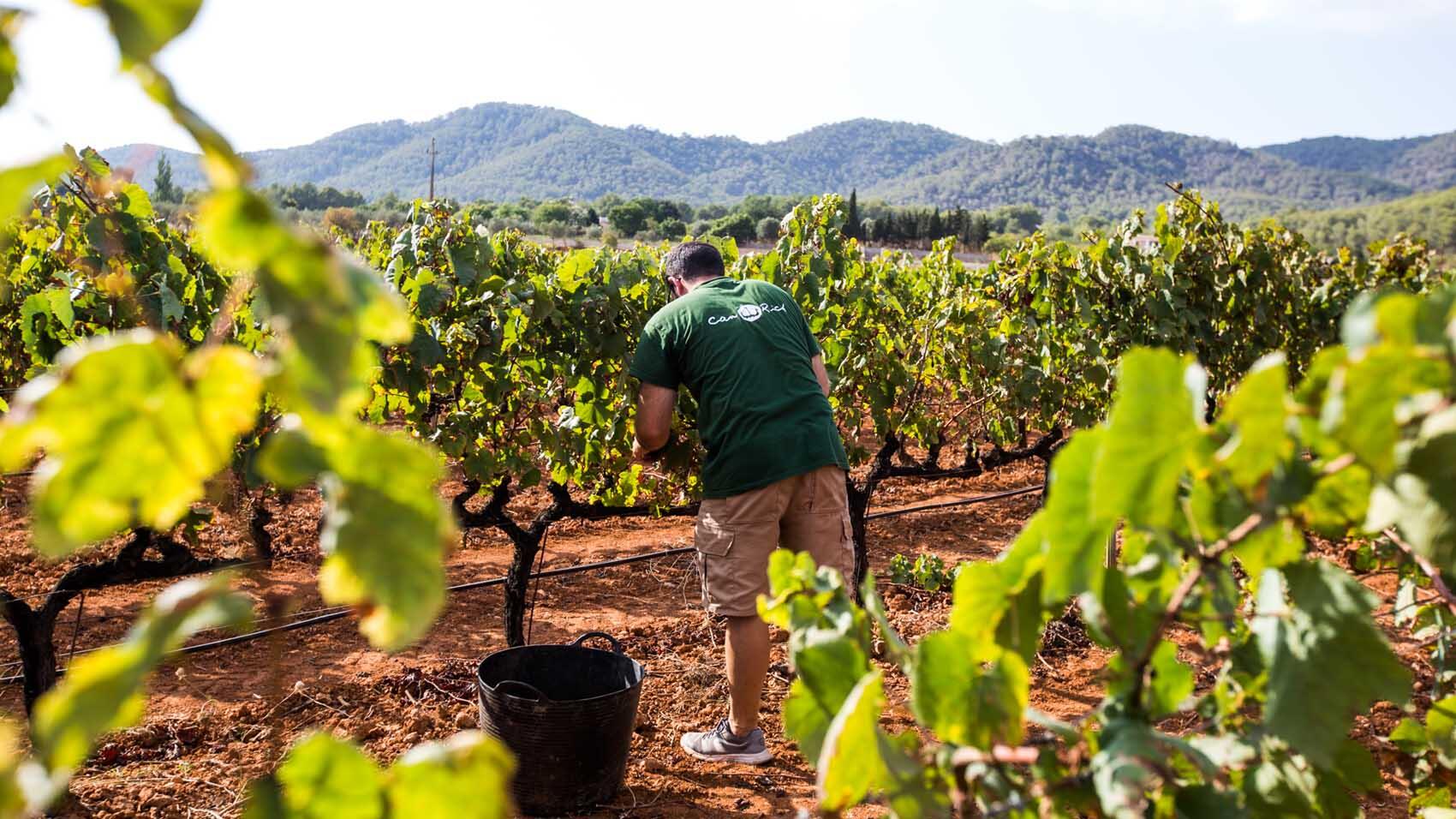 San Rafael (Sant Rafel)

San Rafael is a very small yet vibrant village only 8km from Ibiza Town and vica versa to San Antonio town. Although small, looking to buy or rent a property close to the village of San Rafel actually offers a wide range of outlets for day to day living, such as a pharmacy, bakery, hardware store, petrol station and several restaurants.
In fact, San Rafael hosts almost a small town selection of highly recommended island restaurants to choose from and enjoy. Can Pilot, "Chuletón", and Es Tancó Pizzeria are all very popular and more than often bustling with locals and tourists on a regular basis, both in and out of season.
San Rafael village is also known as a unique "Area of Artisan Interest ". The village t is home to some of the best potters on the island, who have practiced pottery in Ibiza for hundreds of years and now also teach ceramics, both with modern and traditional methods from their very own pottery school.
Casa Autonoma is a wonderful property located just moments away from San Rafael village and 15 minutes from Ibiza. The unique house has been designed by the architect Roberto Ercilla Abaitua and has a unique distribution, with modules that generate multiple spaces.
It has one floor, with a ramp at the entrance and a covered outdoor dining area with a fireplace, as well as an open living room with kitchen and dining room, 4 bedrooms, a study and three bathrooms. In the beautiful garden there is an orchard with a seedbed of 150 fruit trees of more than 30 different species The beautiful pool has saline electrolysis (without chlorine) is lined with stone and fully integrated into its natural environment. A thoughtfully designed villa located in the heart of San Rafael.
Are you considering to buy a villa in Sant Antoni de Portmany?
The area of Sant Antoni de Portmany is incredibly versatile and perhaps less tourism orientated than clients may first assume. Although the area is often in less demand than some other highly sought after areas, potential home buyers are often encouraged to look beyond the more well known places of interest and investigate other possibilities and opportunities to maximise value, where exclusive and luxury properties are often more widely available and still of top calibre.
Here are our current exclusive properties available in the San Antonio area. Our team is always ready to help you along your buyers journey and ensure you discover your dream home with Prestige Properties Ibiza – contact us today.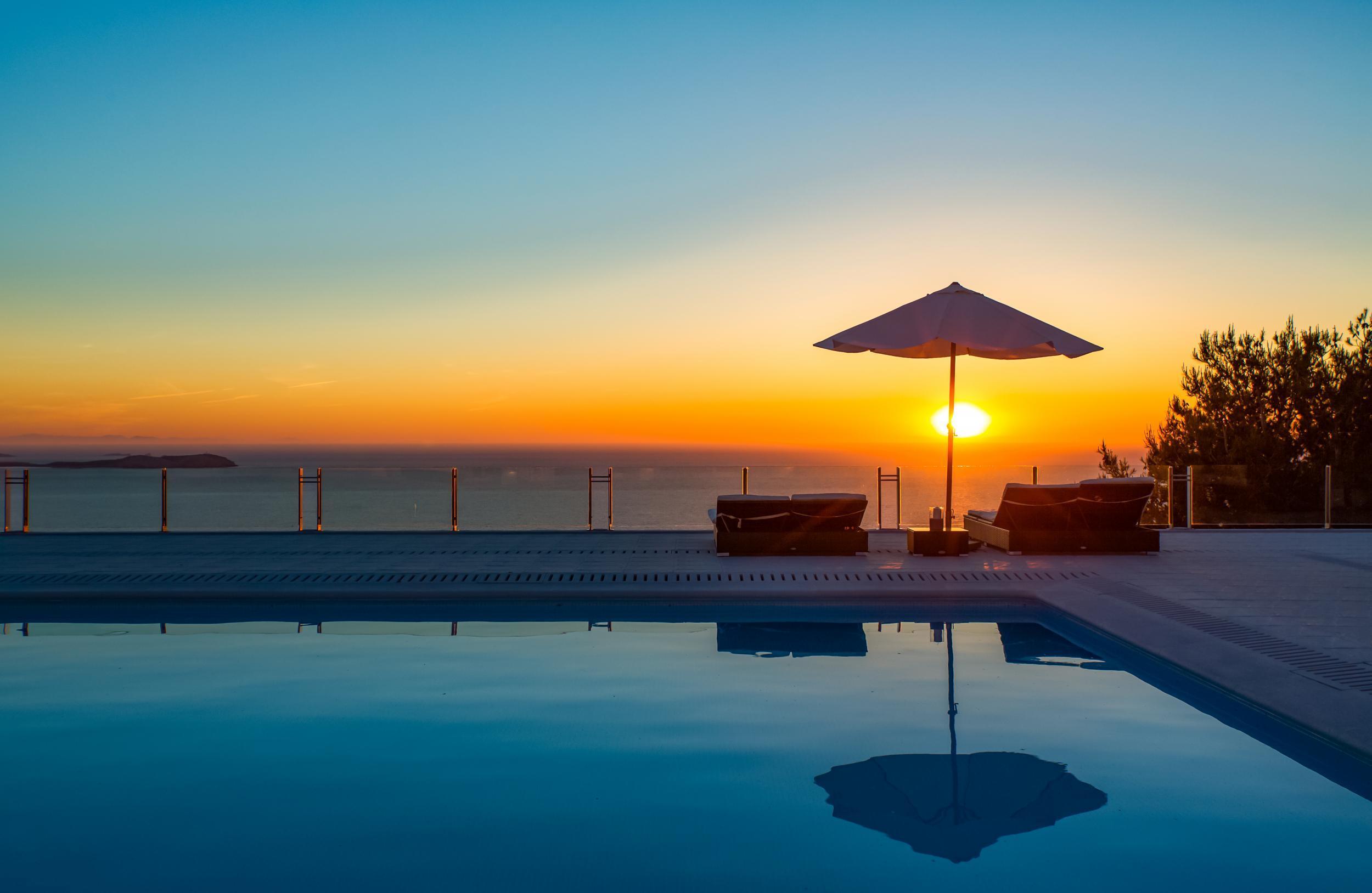 Our vacation villas have recently expanded. Book your Ibiza holiday Villa with us in the spectacular municipality of San Antonio are readily available for your 2020 / 2021 Ibiza vacation. Take a look at what is on offer below:
Can Frare is a magnificent old renovated finca located in Buscastells on the top of a hill. It consists of 6 bedrooms and 5 bathrooms. It has been tastefully renovated while preserving its authenticity, combining modern comfort with the charm of the old. An excellent way to share unforgettable moments with family or friends.
Casa de la Luc is the perfect holiday villa located on the hill of Cala Salada with beautiful views of the sea and the sunsets. Great for families or friends who want to enjoy and disconnect in a spectacular environment. Spend a dream vacation in a villa with all the modern comforts of everyday living and beyond.
Can Flores is a lovely dream vacation house with sea views, a pool, jacuzzi and large terraces in Cala Salada. Fully furnished for up to 8 people on the west coast of Ibiza. Ideal for families, couples and friends who are looking for peace and quiet and want to enjoy the sun until sunset. The courtyard is a central place to rest and relax with outdoor living, sunbathing and stunning dining facilities.
Can Mateus is a beautiful holiday villa in peaceful surroundings which is centrally located, between Santa Gertrudis, San Rafael and San Mateo. Designed by renowned architect Blackstad which has been recently redecorated and refurbished. A perfect villa for families in the countryside, with comfort and tranquility.