San José (Sant Josep de sa Talaia), located in the west of Ibiza, is renowned for its incredibly authentic and tranquil repose. Anyone looking for a prime location to buy a property, or embark on a short-term tourist visit, will be pleasantly surprised at this unique Ibicencan village. 
Sant Josep (as it is called in Catalan) offers spectacular surroundings, plenty of traditional charm, a local community and family-friendly atmosphere, with vast mountain landscape views, direct access to Ibiza Town, and quick accessibility to many of the encompassing beaches of the municipality, such the renowned hotspots like Cala Jondal, Sa Caleta, Cala Molí and Cala Tarida. 
The traditional village is known as the 'capital' of the Sant Josep de Sa Talaia municipality, which sits perfectly at the foot of Sa Talaia, the island's highest mountain, measuring 475 meters high. The beautiful main street and adjacent cobbled alleyways are complete with a central white church, a wealth of desirable restaurants, bars and cafés, a handful of boutiques, and a local craft market held each week throughout the entire year.  
Although the area has become a high attraction to many new visitors and international clients, San José village is still very much a traditional corner of Ibiza, which is perfectly knitted together with old and new.
San José (Sant Josep de sa Talaia): The Church
Every village and town in Ibiza is marked with a traditional parish church at the centre, however, the San José Church is somewhat unique when compared to other villages. The whitewashed building is of an exceptional height with a façade next to the belfry bell tower, a wide portico, a sundial, three frontal arches, and a large separate entrance to the rectory. 
The church is a regular tourist attraction for those cultured visitors on the island due to its magnificent interior design and artworks. Although many of the original works of art were damaged during the Spanish civil war in 1936, restoration took place in the late 18th century, making San José Church an incredibly beautiful and interesting visit.
The church of Sant Josep is still very central to the local townspeople with regular faith gatherings and early morning ringing of the bells throughout the village, where the monumental landmark stands as a proud symbol watching over the local Ibicencan community here.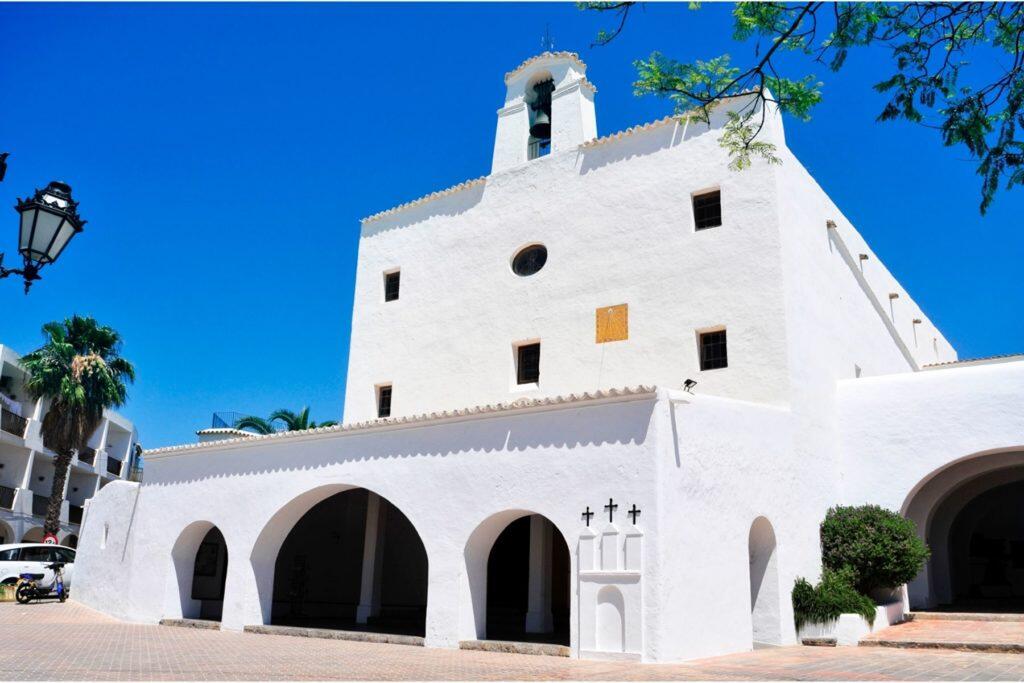 San José (Sant Josep de sa Talaia): The Culture
San José village has gracefully held on to much of its original community spirit and historical architecture and is one of the few places left on the island where time seems to have stood still. The area is notable for locals regularly scattered, sitting on café terraces, hosting daily 'meet and greets' as part of everyday life under the shade of the village trees. San José is widely recognised as a village where locals outnumber tourists most of the year.
However, during the height of the season, Sant Josep also has a very inviting ambience and a casual yet vibrant evening life that openly welcomes tourism into its quaint traditional setting, which is perfect for indulging in some great gastronomic eateries and enjoying some fantastic live music.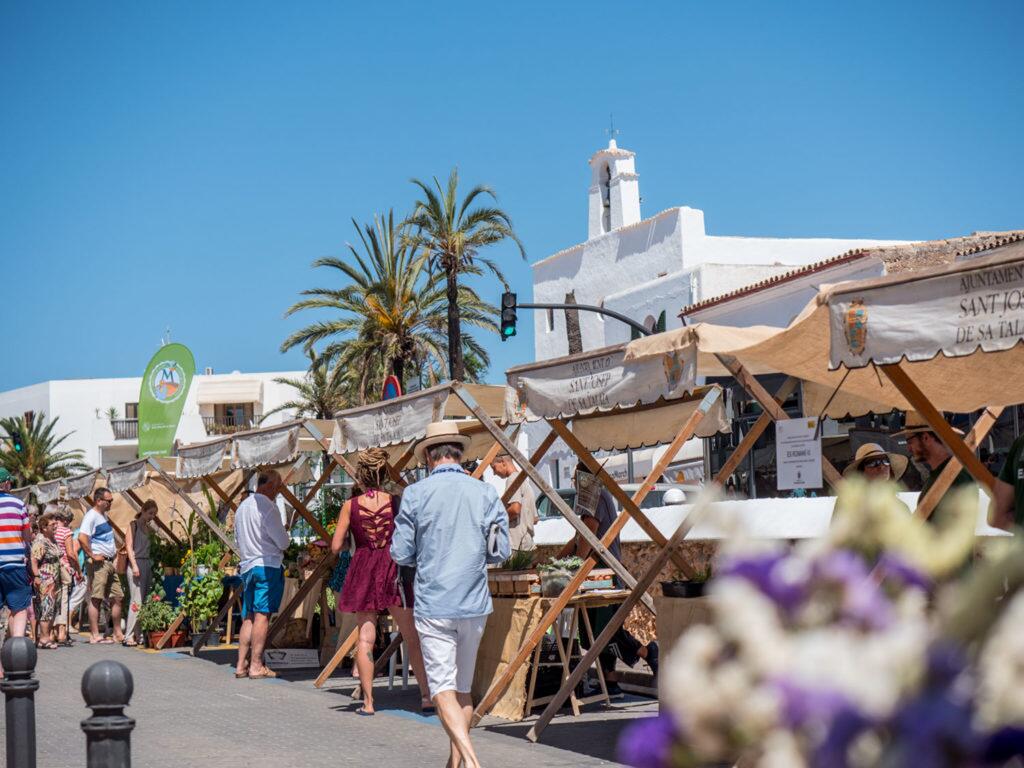 San José (Sant Josep de sa Talaia): The Amenities
There are several supermarkets, a fishmonger, a butcher, two patisseries, various banks and a pharmacy, as well as plenty of smaller independent shops and boutiques to browse around during your San José visit, including many handmade ceramics stores, local fashion, home decor and artisan souvenir shops. 
For such a traditional town, Sant Josep also offers a bounty of choices for gastronomy, from up-market eateries to pizzerias and local bars where you'll appreciate extraordinary cocktails and live music. Look out for Raco Verd Ibiza serving healthy breakfasts through to afternoons and evenings of Spanish tapas and homemade Mexican cuisine. The beautiful bar and restaurant are set in a picturesque finca farmhouse garden, offering regular live music from both local and visiting artists, from Acoustic Rock, Jazz, Blues, and Bossa Nova through to authentic Flamenco Dance Shows.
Although not directly in the town itself, Can Domingo also comes highly recommended. A garden filled with the scent of wildflowers and tables nestled amongst the canopy of mature olive and fruit trees. Can Domingo is a pleasant dining experience with a menu presenting true Italian contemporary fine dining with a touch of tradition, reflecting the abundance of high-quality local produce and the providence of the Can Domingo organic garden. 
Destino is located in the center of the village with a large outdoor terrace, directly in front of the church. Its cuisine is based on small tapas bites and an original menu, that come highly recommended among the local crowds. The owner, Claudio Radke, is of German and Moroccan origin, which translates into a varied, authentic and tasty cuisine. 
Restaurant Es Galliner offers a typical Ibizan menu with plenty of Spanish classic dishes. The cozy, yet no-frills family-run restaurant has been open for over 14 years and still uses Mama's secret recipes for their desserts, including their well-known Ibizan Mint Cheesecake (the flaó).  With great reviews on Tripadvisor and a popular hang-out among locals, Es Galliner is one of the most frequented restaurants in the village.  From morning breakfast through until lunch and dinner, the restaurant hosts an incredibly reasonably priced menu and a wide variety of plates to choose from.  
Can Jeroni Cultural Centre is the main cultural centre located close to the village town hall.  Here the local community and visitors alike can enjoy a trip to the town cinema and enjoy the regular shows and numerous cultural activities on offer throughout the year.  Keep an eye out for their regular updates on their cultural calendar here.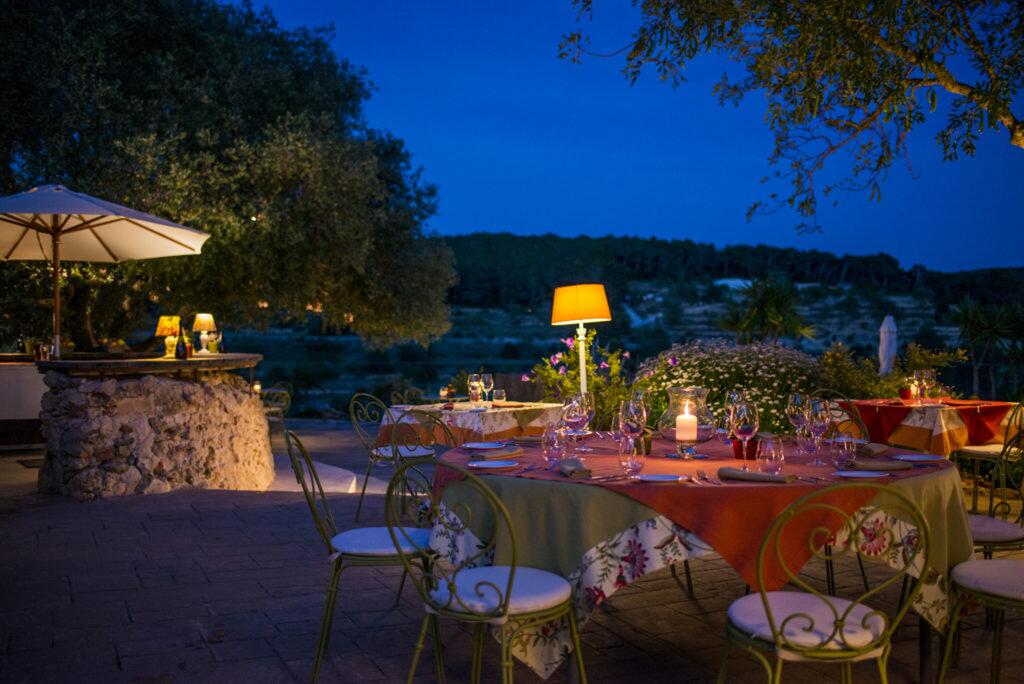 San José (Sant Josep de sa Talaia): Ecological Food and Craft Market
San José offers an inviting and atmospheric weekly market, held every Saturday, throughout the entire year promoting the local artisan and ecological products of the island.
The 'market-meeting-place' overspills onto the streets and offers a wide variety of local farmers' produce, street food, handcrafted artisan gifts including traditional wicker baskets, jewelry, local organic baked goods, leather goods, children's soft toys, typical bohemian fashion, and plenty of local art.
San José Fiesta
Each town celebrates its own patron saint day with festivities and celebrations to mark the occasion. Usually set across an entire week, a program of cultural, gastronomic and musical events is organised through different associations and the local City Council. Every year around the 19th of March, Sant Josep hosts their patron day. A spectacular festival consisting of music concerts, a Flower Power party in the church square and plenty of traditional folklore performances. There's always plenty of markets, food stalls, children's entertainment and regular family activities to get involved in. 
Properties for sale in San José (Sant Josep de sa Talaia), Ibiza
Those looking to buy a property in the San José (Sant Josep de sa Talaia) area are typically attracted to the authenticity of Sant Josep Village. This authenticity is mirrored by the type of properties for sale in the area.  Homes are often of a classic Ibiza design with lush Mediterranean-style gardens and offer a certain warmth to their homes or villas.
If you are looking to buy a property in the area of San José then why not take a look at our in-depth guide on the Sant Josep de Sa Talaia Municipality here. 
Our team is always ready to help you along your buyer's journey and ensure you discover your dream home with Prestige Properties Ibiza – contact us today.
Check out our villas for holiday rental and properties for sale in the area of San José (Sant Josep de sa Talaia) here:
and our in-depth guide to exclusive properties for sale in San José (Sant Josep de sa Talaia)