There is much to love about Ibiza, not just for its trendy tourism, cosmopolitan lifestyle, A-list hotspots, amazing restaurants, and beach clubs – but also due to its spectacular beaches and natural surroundings. It's really no wonder that the real estate market and popularity of buying second homes on this Balearic Island, especially in the luxury housing sector, has skyrocketed in the past decade as Ibiza becomes one of Europe's top destinations. 
Having your dream home or villa in one of the island's most sought-after areas and coveted locations could not be more appealing. We invite you to explore our premium locations and exclusive homes and villas for sale near some of the best beaches in the south of Ibiza –– read on to discover what's on offer.
What are the prime locations to buy a property near the beach in the south of Ibiza?
Most people associate the south of the island with its vibrant Mediterranean culture and luxury lifestyle. The area is home to a stunning coastline, exciting nightlife, a vibrant capital, VIP celebrity hotspots, and Ibiza's most extravagant port. So, what are some of the top prime locations to consider buying an exclusive home or villa near the beach in the south of Ibiza?
Properties for Sale in Marina Botafoch and Ibiza Town near the Southern beaches, Talamanca and Es Figueretas.
Living in the city centre, old town (Dalt Vila), its extension or in the Marina Botafoch and Paseo Maritimo area offers nothing less than being in the centre of it all with close proximity to some of the area's best beaches, socialite spots and, of course, the airport. This area tends to attract buyers of all kinds –– particularly those who appreciate historical architecture and life in the centre of the city's vibrant culture, especially during the height of summer.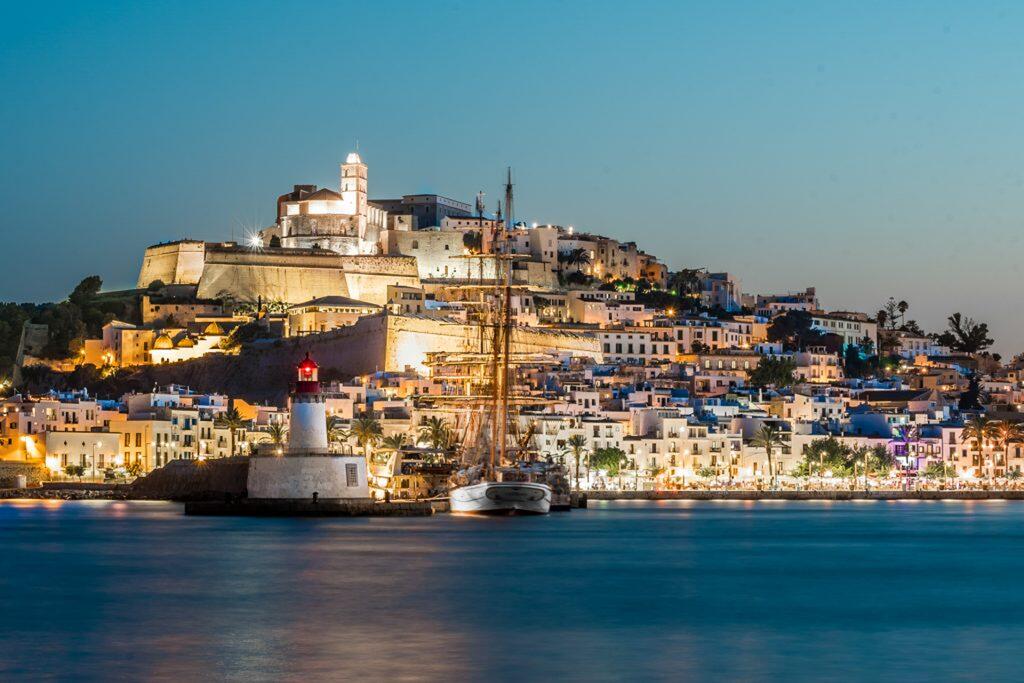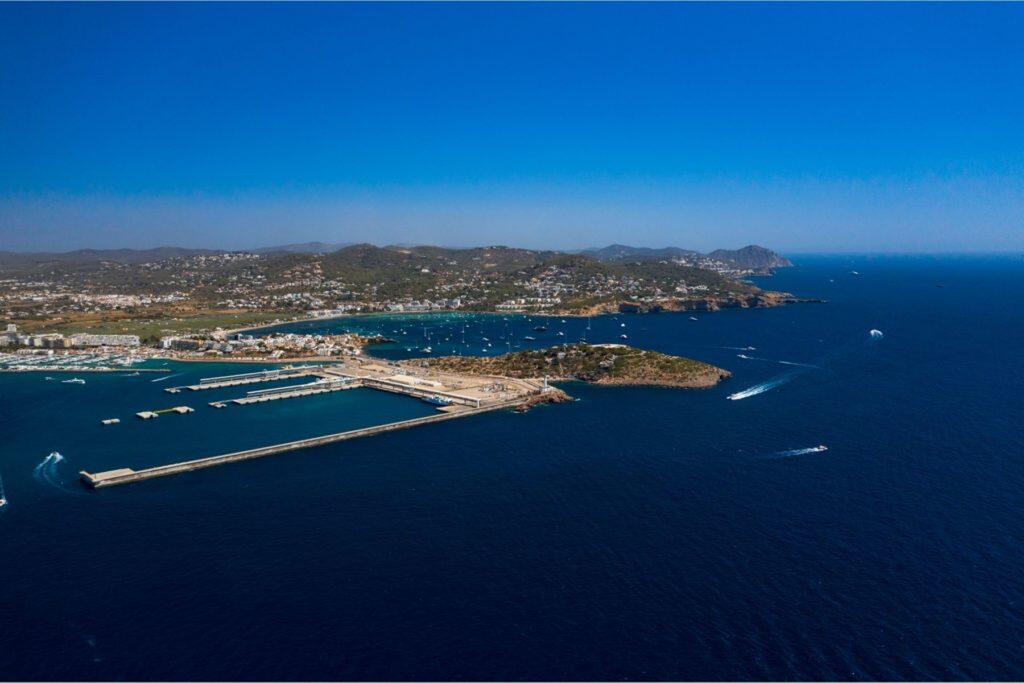 Areas such as Marina Botafoch and the Old Town (Dalt Vila) are very popular but pricey, which tend to suit a higher-profile and cosmopolitan clientele, particularly second-home buyers and investors. Specifically, Marina Botafoch has become a highly sought-after socialite hotspot with an international nightlife scene and some of Ibiza's most luxurious apartment buildings right in front of the island's main Marina Port. Close to here is where you will also find residential communities like Vista Alegre, which is home to the most spectacular newly built villas on the island, designed by world-renowned architects.
Ibiza Town's and Marina Botafoch's closest beaches are Talamanca and Ses Figueretes. Here, you get the best of both worlds: living close to the trendy city, the marina, beach life, and a family-friendly young community.
Talamanca offers several contemporary Mediterranean villas and new apartments, while Figueretas caters more to young couples and families seeking more reasonably priced vacation homes.
Read our recent blog here for more on buying a property in the area of Ibiza Town 
Properties for Sale near the south's best beaches in the area of Jesús, Ibiza
Jesús offers an undeniably chic and cosmopolitan lifestyle in a convenient and refined island setting. Despite being in the municipality of Santa Eulària des Riu, the village is close to Eivissa, the main town, and the airport as the popular beach of Talamanca as well as the numerous tourist hotspots of Marina Botafoch, Destino, and Pacha. Jesús is an excellent location due to its direct access to several island destinations, a chic village and a sophisticated lifestyle. The properties available to buy and rent tend to be exclusive, modern, contemporary villas in the surrounding countryside or private urbanisations. This naturally offers its residents and visitors plenty of upscale living. 
Jesús is conveniently located near all the best beach hotspots previously mentioned, and both Talamanca and Es Figueretas in the Ibiza Town and Marina Botafoch area.
For more on the area, visit our blog life in Jesús.
Properties for Sale near the south's best beaches in Ibiza – Ses Salines, Es Cavellet and Cala Jondal
The most popular area in the south for second-home international buyers to invest is undoubtedly Ses Salines, Es Cavellet and Cala Jondal. These up-market locations all offer easy access to the unspoiled countryside, Ibiza Town, and the island's most popular beaches, as well as fashionable bars and restaurants frequented by A-list celebrities like Sa Trinxa and El Chiringuito, the famous Blue Marlin Ibiza Beach Club. These southern Ibiza spots are considered the finest and most attractive places for lifestyle vacationers to enjoy exclusive VIP status.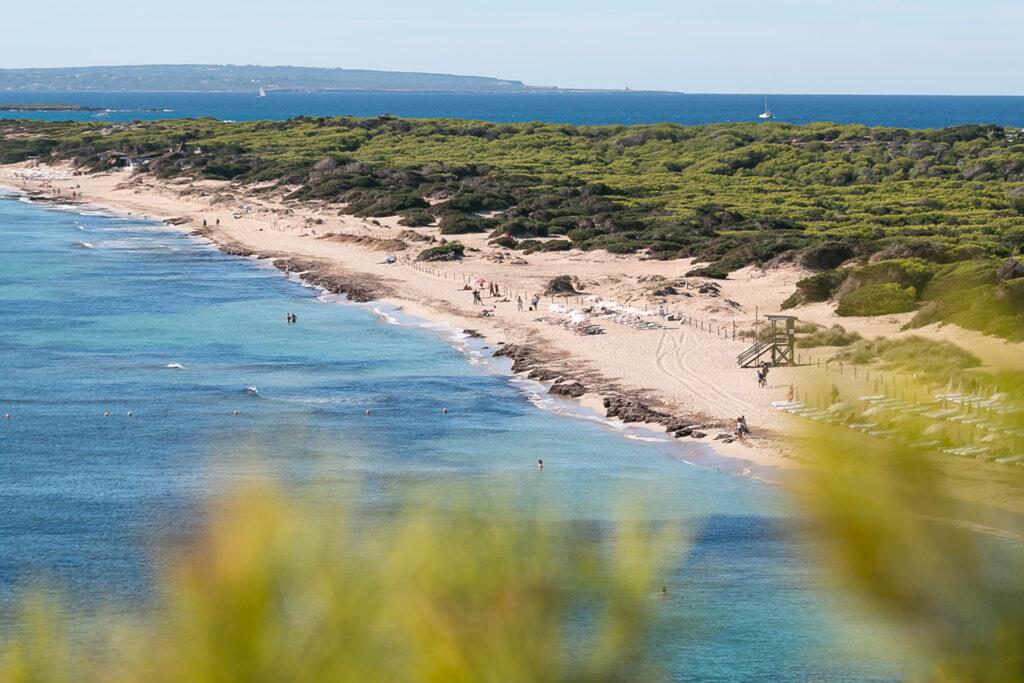 There are only a few villas present in Cala Jondal, Es Cavellet and Ses Salines, so finding a property for sale here is a rare commodity. Despite its low supply, this spot in the south is always in high demand – with a demand for spectacular cliff top villas and modern architecture. Those who find a home in these areas are incredibly lucky to reside in an unbeatable up-market and affluent area.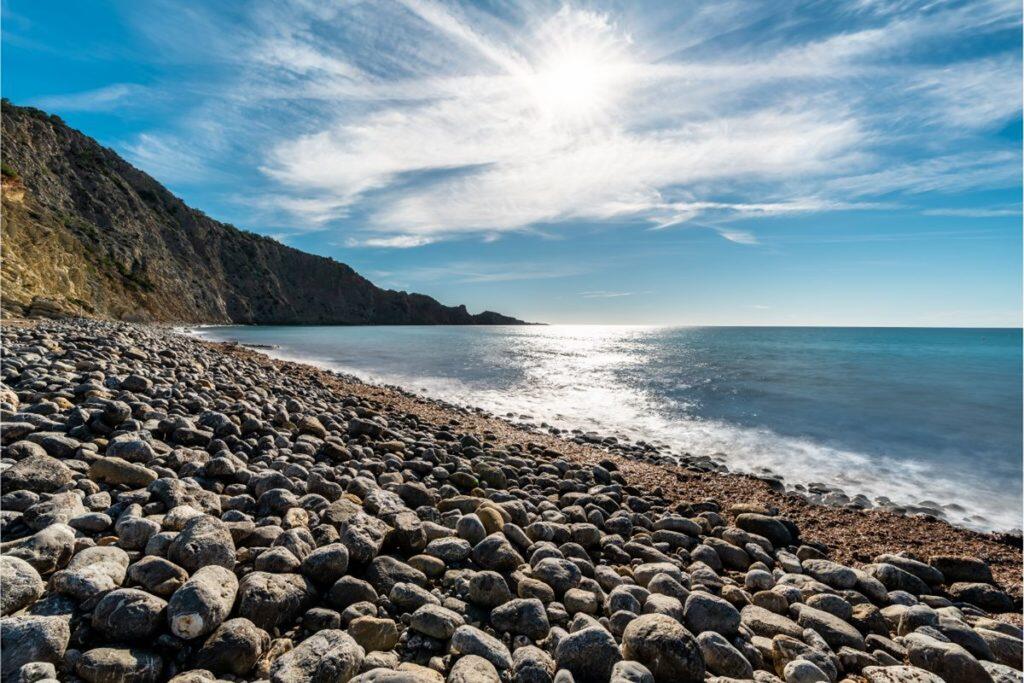 Ibiza's most popular tourist resort, Playa d'en Bossa is also one of the best beaches in the south, with its long sandy beach (3km!) and many fashionable beach clubs aimed at young and affluent guests. Although Playa d'en Bossa is primarily considered a summer destination, local residents often visit and reside in the area and is deemed a prime location for those looking to buy an exclusive home or villa near the beach in the south of Ibiza.
Villas for Sale near the Best Beaches in the South of Ibiza, Es Cubells
Es Cubells is one of Ibiza's smallest villages. Besides its white Ibicencan church, which is beautifully located on the edge of the cliff, there are only a couple of local bars making up the entirety. Located at the foot of striking cliffs typical of this area are three little coves separated by rock formations. The pebbled beaches and crystal waters entice one to bathe among the rocky sea bottoms where divers can discover countless interesting corners. Es Cubells' cliffs are renowned among hikers and nature lovers for its spectacular views from the top.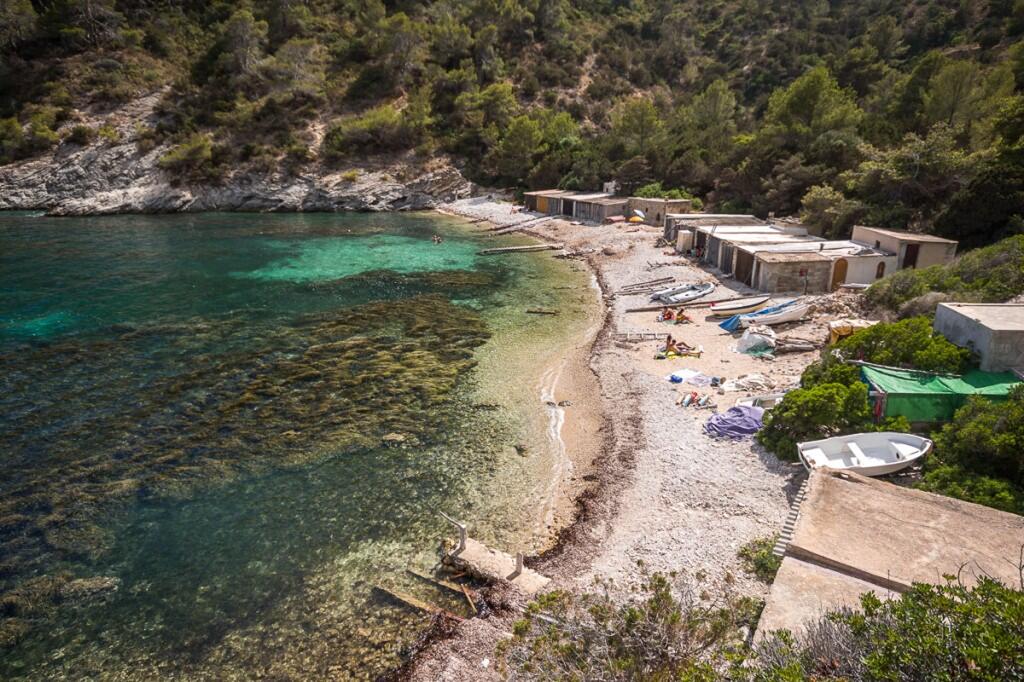 Es Cubells offers miraculously peaceful and unparalleled surroundings combined with the most authentic local fishermen beaches and coves like Ses Boques, Cala Llentrisca, Es Torrent, Porroig, and Cala d'Hort Natural Park. Buying a property near the beach in Es Cubells is hard to come by –– but when found they tend to offer expansive landscapes and grounds with sweeping, south-facing sea views.
For more on the area, visit our blogs, buying a property in San José.
Let's Help you Find your Perfect Property for Sale near the Beach in the South of Ibiza
Let's talk about finding the right investment property for you. We'd love to hear from you! 
Whenever you see a property that meets your needs, we strongly recommend you contact us. Investing in Ibiza is a great option, and demand is almost always higher than supply, so properties often sell quickly –– especially for exclusive homes and villas for sale near the beach in the south of Ibiza.
Take advantage of the opportunity to make an appointment to visit any of our properties mentioned above or others we currently have on the market with us today. We also offer virtual tours upon request.