Jesús undeniably offers a trendy and very cosmopolitan lifestyle in a convenient and refined island location. Although it belongs to the municipality of Santa Eulària des Riu in the southeast of the island, the village itself is close to the main town of Eivissa and is easily accessible to the airport, the popular beach of Talamanca and the many attractive tourist hotspots such as Marina Botafoch, Destino and Pacha. In fact, luxury tourism is very popular in Jesús due to its good location, chic village and sophisticated lifestyle. The properties available to buy and rent tend to be exclusive, modern contemporary villas located in the surrounding countryside or in private urbanisations, which naturally offers its residents and visitors plenty of upscale living.
Jesús (Ibiza): The Village
The village of Jesús is arranged around its beautiful whitewashed church, believed to house the most important artistic heritage of all the churches of the Pitiusas, and has been a popular spot for locals and long-term residents for many years, making it full of life, international diversity and atmosphere. 
It is a relatively small village, like most other main villages on the island, consisting of detached authentic whitewashed houses, and a number of fantastic bars and restaurants with a wide range of culinary offerings, from new modern cuisine to local traditional bars. Opposite the church, one of Ibiza's oldest restaurants, Bon Lloc is bustling with life and entertainment where many locals flock to socialise and dine over their traditional tapas on offer. 
Looking beyond bars and restaurants, Jesús offers many small independent shops, delicatessens and fashion boutiques, as well as a central children's playground and all the amenities needed for everyday living.   
On September 8, the village of Jesús celebrates in style the annual festival of the local patron saint. The fiesta of the village patron saint Our Lady of Jesús (Mare de Deus de Jesús) begins with a traditional Mass held in the church (Nostra Mare de Jesús), followed by a parade with fan fares and drums resounding through the streets whilst offering fresh fruit to Our Lady Jesus.  The celebrations continue with a street party filled with magnificent fireworks that can be seen from afar and celebrations over plenty of food and drink that naturally continue well into the night throughout all the local bars and restaurants.
Jesús (Ibiza): The Beaches
Jesús location near Ibiza Town allows easy access to many of the south's A-list beaches, including Playa d'en Bossa, Es Cavellet and Ses Salines. However, when referring directly to the closest beaches to Jesús, Talamanca, is the most frequented beach, characterised by its international and predominantly adult character. With its long curves, soft sands, clear waters and wooden promenade that runs the length of the bay, you will find an excellent selection of bars and restaurants, including beach bars, beach clubs, Mediterranean restaurants and the most exclusive hotel restaurants on offer.
S'Estanyol beach is a small cove, hidden a little off the beaten track, making it perfect to escape the crowds during high season. The entrance to the sea is rocky, but if you walk via the small wooden jetty, there is a small strip of sand where the seabed becomes smooth and the water is crystal clear. Here the beautiful beach restaurant Cala Bonita has a lovely natural eco-chic decor with wooden tables reminiscent of the surrounding rustic fishing huts of the cove. The food is of quality traditional cuisine using fresh local ingredients. The restaurant also offers rented umbrellas, sun loungers and comfortable mattresses, perfect for long beach days with comfort and luxury.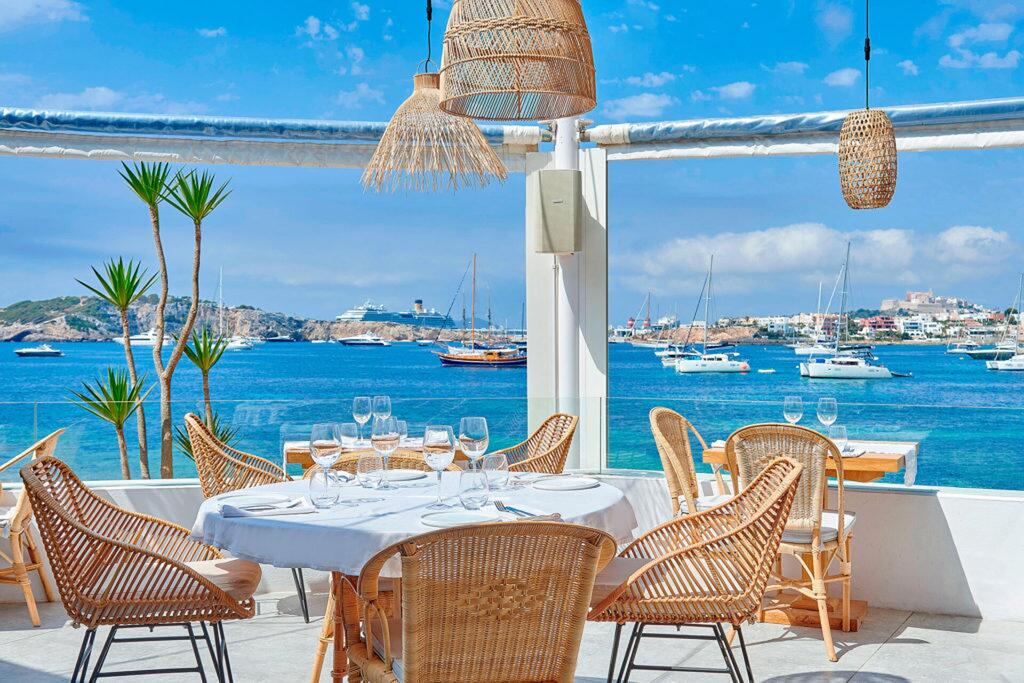 Jesús (Ibiza): Recommendations
There are many high-class gastronomic and social scene opportunities in the area of Jesús. Restaurant venues such as Sa Punta fine dining Mediterranean Restaurant, Patchwork Lebanese Rooftop Restaurant, Ginger Rooftop Asian Bar, Chambao at the luxurious Nobu Ibiza Bay Hotel are to name a few of the most sought-after dining experiences on offer local to the area.
In fact, the Chambao restaurant at Nobu Ibiza Bay Hotel comes as a top recommendation from us personally at Prestige Properties. Offering a relaxing beach restaurant Chiringuito which is ideal for a long lunch or early dinner, guests can literally dine with their toes in the sand to enjoy the laissez-faire atmosphere by the sea. Specialties include grilled fish, authentic Valencian paella, healthy salads, beautiful cocktails and a carefully selected wine list.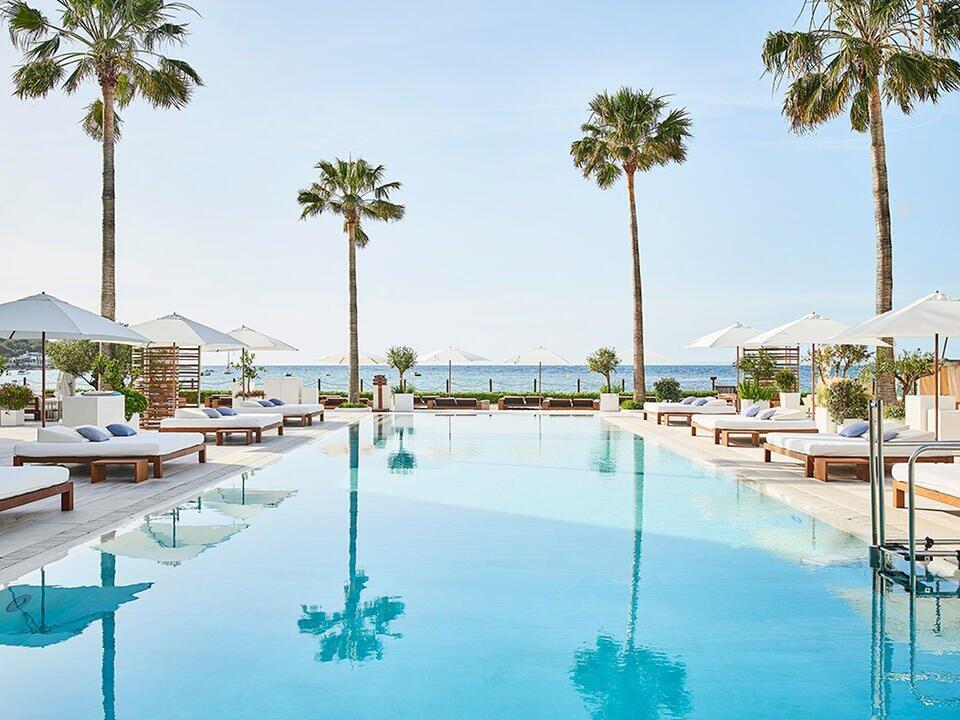 Jesús (Ibiza): Private Urbanisations 
Properties for sale in Jesús present many luxury exclusive homes set up high, overlooking the beautiful bay of Talamanca, Dalt Vila and the city of Eivissa. Buying a luxury exclusive home in Jesús often encompasses three of the five private communities within the Santa Eularia des Riu municipality, which include the secure urbanisations of Cap Martinet, Can Rimbau and Can Pep Simó. 
Jesús (Ibiza): Cap Martinet
Cap Martinet is one of the most exclusive areas to buy property in Ibiza and is known for welcoming VIPs and top clients from all over the world. The exclusive villas, apartments and luxury homes situated here are known to be in a prestigious league of their own. Being close to Ibiza Town, the homes often offer a private location overlooking the beautiful Talamanca beach and Dalt Vila. Here, there is also a secluded beach, Cala Roja, which is only accessible by a small path, so guests and homeowners will find a hidden spot to spend a relaxing day on the beach without the hustle and bustle of the rest of the world.
Jesús (Ibiza): Can Pep Simó
Can Pep Simó is an incredibly peaceful place for those looking for a harmonious property for sale in Jesús. Just minutes from Ibiza's old town, properties in Can Pep Simó are conveniently located, authentic and family friendly. Located in the wide open countryside these beautiful houses (mostly designed in the 1970s by the well-known architect Erwin Broner) guarantee spectacular, unobstructed views of Puig Manyá, San Rafael and Formentera.
Jesús (Ibiza): Can Rimbau
The private residential complex Can Rimbau is located very close to Ibiza Town. Like most exclusive urbanisations in Ibiza, the properties in Can Rimbau are highly sought after and it is rare to find properties for sale in this exclusive area. The home here offers magnificent architectural gems and high quality modern built villas in the area have a prime location, tucked away in the mountains, overlooking the World Heritage Site of Eivissa, Dalt Vila and stunning panoramic views of the Mediterranean Sea. The area has earned its secret name as the Beverly Hills of Ibiza and is home to many high profile business clients, celebrities and exclusive buyers.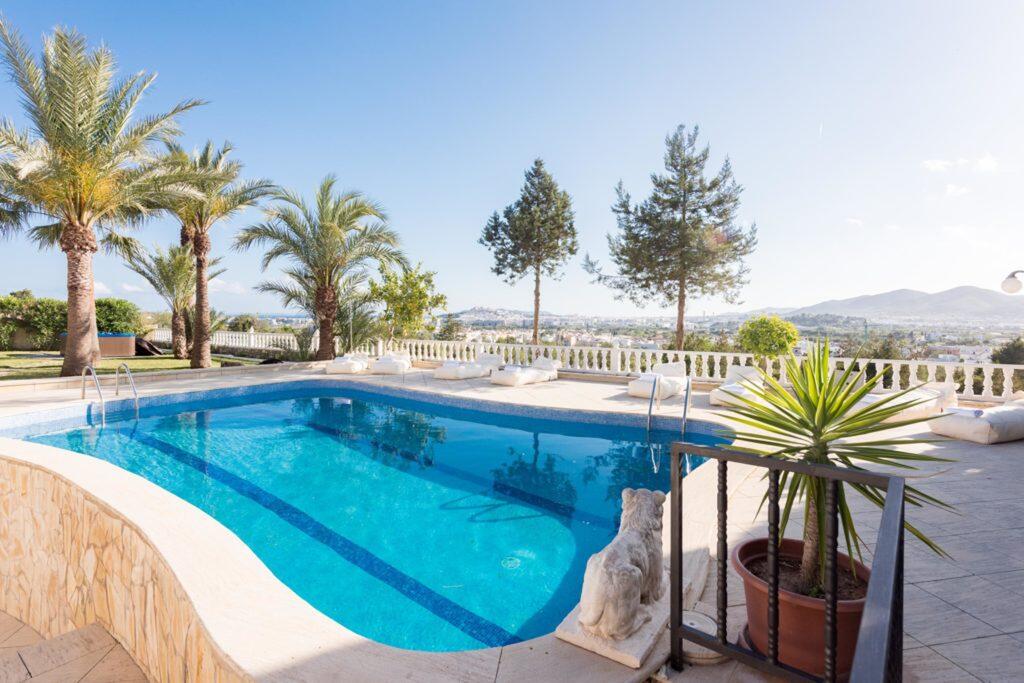 Properties for sale and rent in Jesús, Ibiza
Jesús is particularly fashionable for all year round living and incredibly popular for regular high/profile tourism. The demand for authentic modern villas and contemporary style homes within private locations, situated in the midst of the surrounding vast landscape with panoramic sea and city views is why Jesús is one of the leading areas in the Ibiza property for sale and villa rental market. Why not read our article on Santa Eulalia which highlights Jesús and the municipality's property opportunities in more detail and find out which area suits your preferences with our informative guide.
Our team is always ready to help you along your buyer's journey and ensure you discover your dream home with Prestige Properties Ibiza – contact us today
Thank you for staying updated with us at Prestige Properties. We hope to see you soon!