Living in Ibiza Town (Eivissa City Centre) – An Overview
Eivissa's capital offers a vibrant Mediterranean city lifestyle. Its rich Phoenician history, gorgeous architecture, stunning beaches, and exciting nightlife makes for one of Europe's most popular real estate markets. 
Ibiza Town consists of two major parts. Dalt Vila, the old part of the city, is situated at the top of a small mountain overlooking the sea, whereas Eixample, the extension below, is where the modern part of the city resides. Close by is Marina Botafoch, well-known for its yachts, motorboats, and affluent lifestyle. Lastly, two main beaches, Talamanca and Figueretas, are popular with tourists.
Ibiza's capital city is a great place to purchase a property for families, couples, retirees, singles, and clients looking for a high-profile home. Here we'll explore each sub-area in more detail, focusing on the client appeal and property style. 
Buying a property in Dalt Vila, Ibiza Old Town
There is no doubt that Dalt Vila is Ibiza's top tourist attraction. Listed as a World Heritage Site, the Old Town is home to beautiful historical architecture, castle grounds, and the central Roman Catholic Cathedral, Santa Maria d'Eivissa. You can reach Dalt Vila by the old stone drawbridge, which leads directly onto Plaza de Vila, with its winding cobblestone streets, bars, restaurants, and boutiques. The journey to the mountaintop offers plenty of authenticities and beautiful views, encompassing the town below, La Marina, Ses Salines, and even Formentera.
The real estate market in Dalt Vila is very competitive. Depending on size and renovation status, apartments or triplex homes here are exceedingly expensive compared to the modern extension. The area has some beautifully state-of-the-art authentic properties with interesting novel-like architecture and interiors. Dalt Vila buyers tend to be those who appreciate historical architecture and life in the centre of the city's vibrant culture, especially during the height of summer. Along with the gorgeous town and distant views of the blue sea, buying a property in the old town will allow you to take full advantage of the city's best attractions.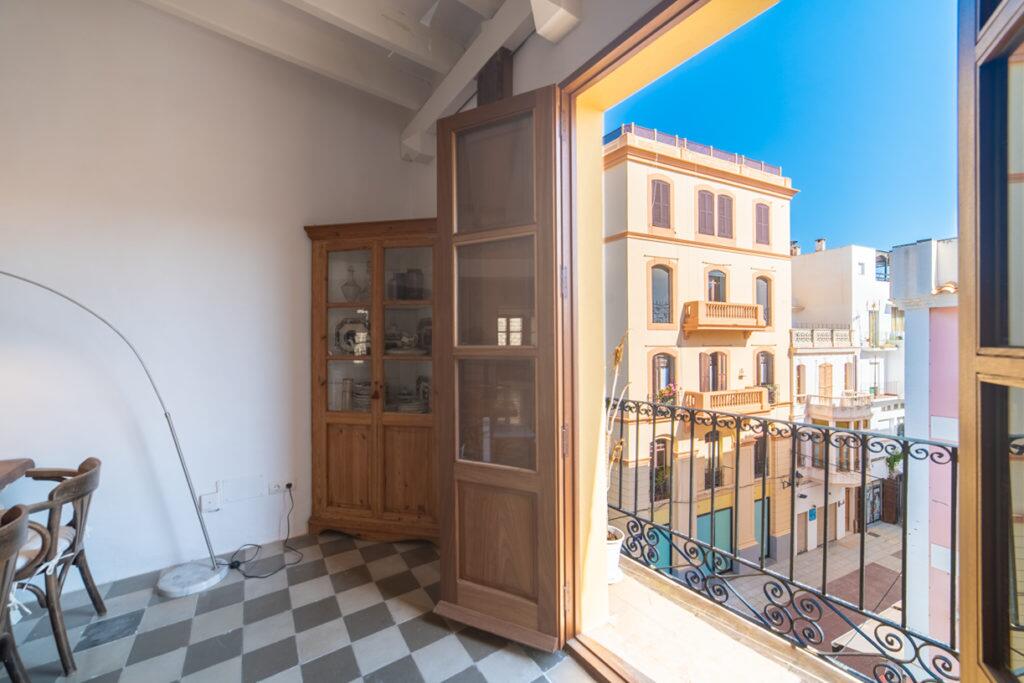 Buying a property in the modern extension of Ibiza Town & Can Misses
In Ibiza Town (extension), you will find a central square called Vara de Rey, the Marina harbour-front promenade, authentic whitewashed buildings, and row upon row of bars, restaurants, and shops. There are plenty of stores, banks, pharmacies, grocery stores, and anything else you might regularly need within walking distance. 
Most properties in Ibiza Town are apartment complexes, both old and new. The town centre of Ibiza offers more opportunities for apartment buyers than other parts of the city, especially older buildings. Most properties in the city centre extension are sought by couples or singles who are already residents, usually island workers that require an affordable, convenient and quickly accessible property.
Can Misses is a part of Ibiza Town's city centre, specifically the northwest outskirts surrounding the city extension, adjacent to the highway. This location is ideal for those who wish to be close to the city centre. Apartments here are an excellent choice for those looking for a peaceful environment away from all the tourist noise.
Buying a property in Marina Botafoch & Paseo Maritimo, Ibiza
Only a few minutes' drive away, you'll find the VIP area of Marina Botafoch, complete with motorboats, yachts, and an incredibly luxurious array of apartments and penthouses. With a total of 428 moorings, Marina Botafoch also consists of a large boathouse, a gas station, and a stunning port with various upmarket restaurants and designer shops. 
Whether permanently or for vacation, Marina Botafoch has become one of the most exclusive places to reside on the island, renowned as a socialite hotspot with an internationally recognised nightlife scene. Many VIP clientele on the island call this neighbourhood their home. Marina Botafoch has some of the most luxurious apartment buildings in Ibiza, so it attracts a broad range of clients looking for rentals and for-sale properties, especially high-profile families and individuals seeking security and concierge services. Penthouse properties here can start at around 1 million euros upwards.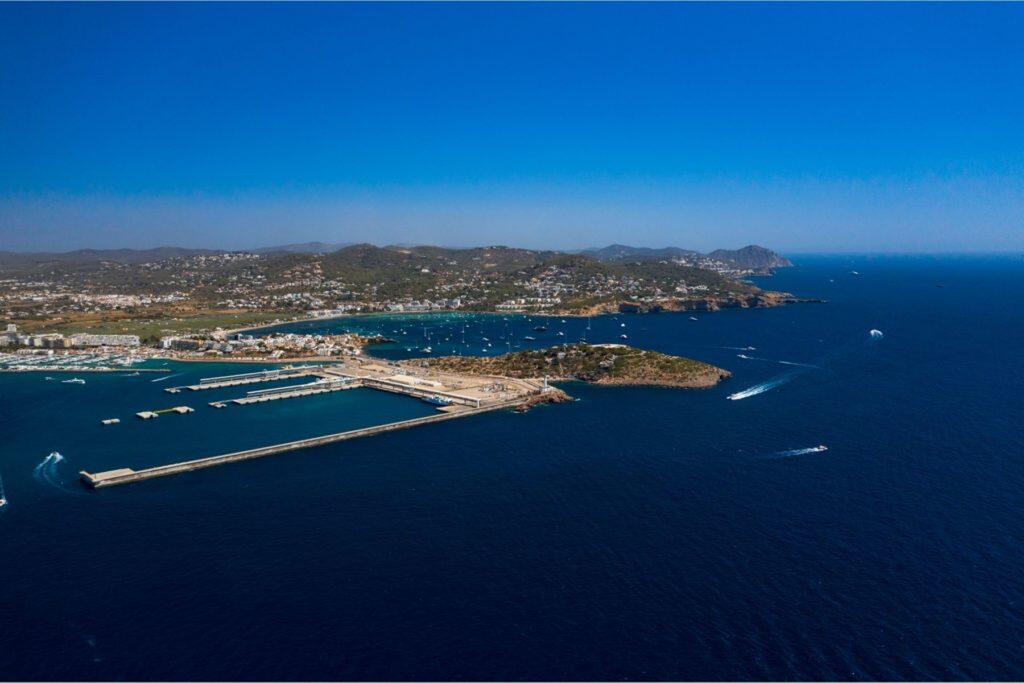 Buying a property near the beaches of Talamanca & Figueretas
Talamanca is a small resort near the centre of the city which offers a cosmopolitan and trendy lifestyle to both tourists and long-term residents. Specifically, Talamanca Bay is the most popular beach in Ibiza Town. Talamanca is home to several contemporary and authentic villas in a Mediterranean style, as well as several new apartment complexes. The most desirable larger-scale villas for sale or rent typically have breathtaking sea views and appeal to the lifestyle holiday home and buy-to-let market. Talamanca also appeals to those looking for family-friendly apartments near the beach, with easy access to nurseries and schools while still within easy reach of the city's conveniences like coffee shops and eateries.
Ses Figueretes, Ibiza Town's second most famous beach, offers a recently renovated promenade and a vibrant resort close to Playa d'en Bossa. There are a variety of hotels, bars and restaurants in the area, as well as regular ferries to Ibiza Old Town during the summer. Figueretas is most popular with young couples and families looking for properties for sale or vacation homes at a more affordable price (compared to Talamanca). With a great local community atmosphere, it is easy to feel at home in a small city resort like Figueretas.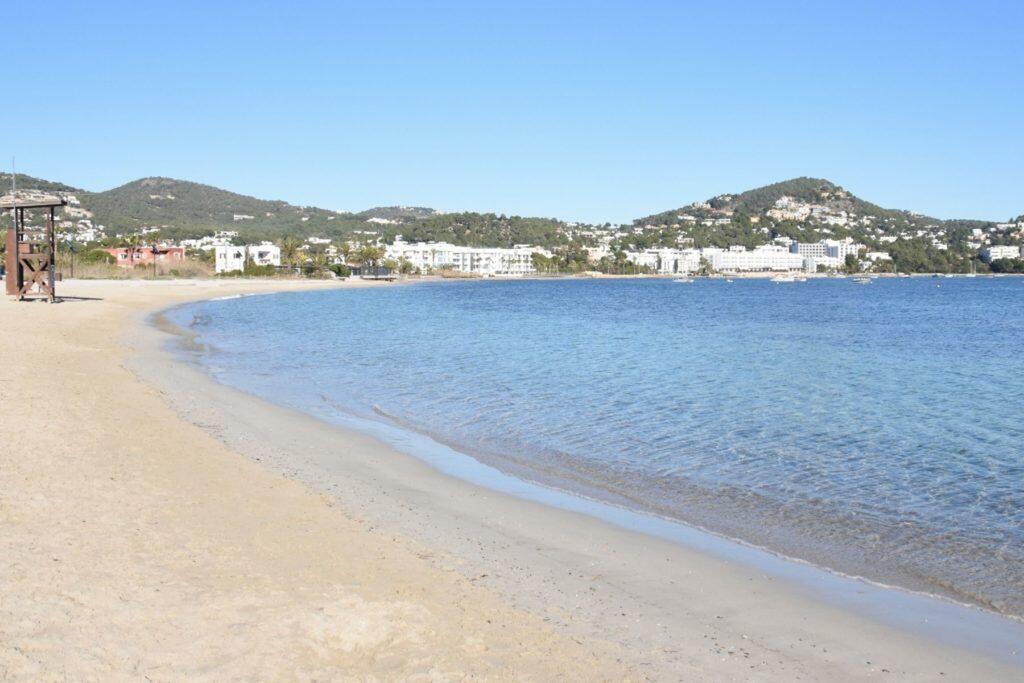 Buying a property in Ibiza Town – Overview
In summary, Ibiza Town extension, Can Misses and Figueretas offer plenty of opportunities for young couples and locals alike to find an apartment reasonably, although property prices are rising. Those areas such as Marina Botafoch, Talamanca and the Old Town are both popular but pricey, which appeal to a higher-profile and cosmopolitan clientele, particularly second-home buyers or investors in buy-to-rent apartments.  
If you are considering buying a property in Ibiza Town, why not browse our current exclusive properties available.  
Our team is always ready to help you with your buyer journey and will ensure you discover your dream home with us, so why not contact us today. 
For a more detailed overview of life in Ibiza Town, read our in-depth article here