Our guide to exclusive properties for sale in Ibiza (Eivissa Municipality)
Ibiza Town, otherwise known as Eivissa is the smallest of the five municipalities on the island and is located on the south east coast, bordering Sant Antoni de Portmany, Santa Eulalia and Sant Josep de Talia. The Capital City occupies 11.14 km2 with an estimated population of 49,727 of the total island population of 147,914.
The municipality of Ibiza Town is divided into two main parts, 'The Old Town' called Dalt Vila (literally meaning upper part), which is located at the top of a small mountain overlooking the sea, and the modern extension, Eixample (literally meaning extension). For local Ibicencans the city is often referred to as Vila d'Eivissa or more simply Vila (meaning town).
The area of Dalt Vila (The Old Town) is listed as a World Heritage Site and boasts of beautiful historical architecture, monumental castle grounds and a central Roman Catholic Cathedral, known as Santa Maria d'Eivissa. The Old Town offers winding cobbled streets with a multitude of cultural spots for tourism with bars, restaurants and boutique shops, as well as some beautifully renovated housing and little pockets of aged authentic homes, which have evidently belonged to Ibizan families for many generations.
Ibiza Town (extension) hosts a beautiful main square known as Vara de Rey, a harbour-front promenade, authentic whitewashed buildings and cobbled streets with a variety of retail stores, restaurants, cafes and bars, all attracting a cultural mix of both residents and tourism.  A more modernised high street sits slightly further a field leading along from the Port, which offers those more well known European stores, banks, pharmacies, food markets, homeware stores and everything you need for everyday modern living.
The streets are almost always bustling and vibrant with the majority of retail and food outlets open most of the year round. Come summer, when the tourists officially arrive, the city takes on a new dynamic and enjoyable atmosphere of its own. The area's nightlife comes alive with clubbers, celebrities, high profile clients, yacht enthusiasts and fashion influencers from all over the globe.
Just a few moments drive away sits the VIP area of Marina Botafoch where an array of super motor boats, yachts and an incredibly affluent front row set of luxury apartments and penthouses reside.
Additionally, Ibiza Town has two main beaches known as Talamanca and Figueretas. Both are beautiful and incredibly popular spots, both with regular tourism, offering a wide variety of local and luxury hotels plus many rentals villas, as well as drawing local residents all year round.
Between the cities Mediteranean history, ancient architecture, seafront scenery, beaches and cosmopolitan nightlife (including some of the islands most famous nightclubs), Eivissa is one versatile place to live.
Buying a property in Ibiza Town offers many opportunities for families, lifestyle holiday home buyers, young and retired couples, singles, buy to rent clients and those looking for high profile and secure grounds properties.
Home buyers looking to buy a property in Eivissa can be typically sub-categorized into six distinctive areas; Dalt Vila Old Town and the surrounding city centre including Ibiza Marina, Marina Botafoch (Paseo Maritimo), Talamanca (Illa Plana), Figueretas (Los Molinos) and Can Misses.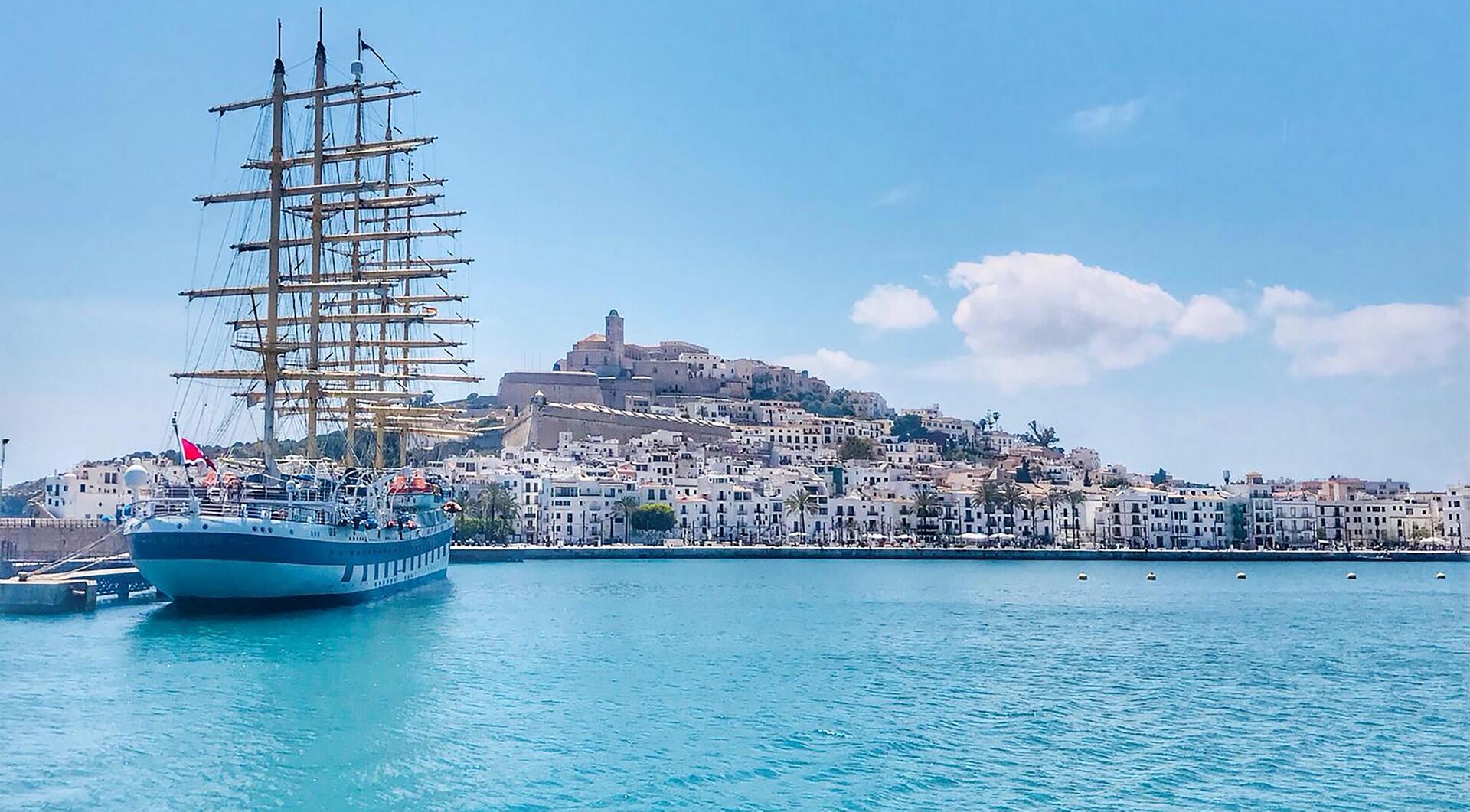 Dalt Vila (Old Town), City Centre and La Marina

Dalt Vila, located on a little mountain known as Puig de Vila is without a doubt Ibiza's greatest tourist and cultural attraction. The spectacular walled city demonstrates an archive of different civilisations that have passed throughout the island's history and is marked by its distinctive mountain top Cathedral.
Dalt Vila is the only fully preserved Renaissance fortress in the whole of Europe, together with the enclosure of Valletta on the island of Malta, becoming a World Heritage Site in 1999.
There are two entries into The Old Town, the most commonly used offering an old stone drawbridge, up a steep gradient, through the Portal de Ses Taules and directly onto the Plaza de Vila.
This main square is paved with beautiful cobbled streets and filled with al fresco style restaurants with street seating, unique boutiques and artisan shops. The other entrance leads to the islands Contemporary Art Museum where the remains of an ancient Phoenician home are underground and accessible for visitors to see.
The city offers a narrative of its own. Travelling up to the mountain top offers exhibitions of historical architecture, memorial statues and past Phoenician inhabitants, which is now very much a part of picturesque and modern, contemporary city.
At the very top, outstanding panoramic views of the island overlook the town below, the marina, Ses Salines, expansive island landscapes and over to Formentera. Although the journey up is a sturdy and steep walk, the experience is unforgettable and a recommended must visit in Ibiza.
Prestige Properties Ibiza currently has a total of thirty properties for sale in Dalt Vila or close by at the Marina Port directly below.
Properties for sale in the old town, lower city centre those modern converted apartments, like the 20th century town houses situated on the main strip of Vara de Rey, sit around 6.000€ per m2 for apartments with an average price of 700.000€. The average apartment price compared with the city centre doubles in market value. However, the area is filled with history, unique architectural design, outstanding sea and city views and a wonderful authentic charm. The area primarily attracts high profile clientele, including luxury holiday and buy to rent buyers.
A typical property to buy in Dalt Vila would be Adosado Pere Dalt Vila. More than 200 years old and recently renovated in 2011, this home extends over two floors and offers a total of 140 m² of living space. The entrance area is characterized by a four meter high wooden beam ceiling and original terracotta tiles. The roof terrace offers magnificent panoramic views, as do all the balconies or terraces on each floor with sensational views over the old town, cathedral and the harbour.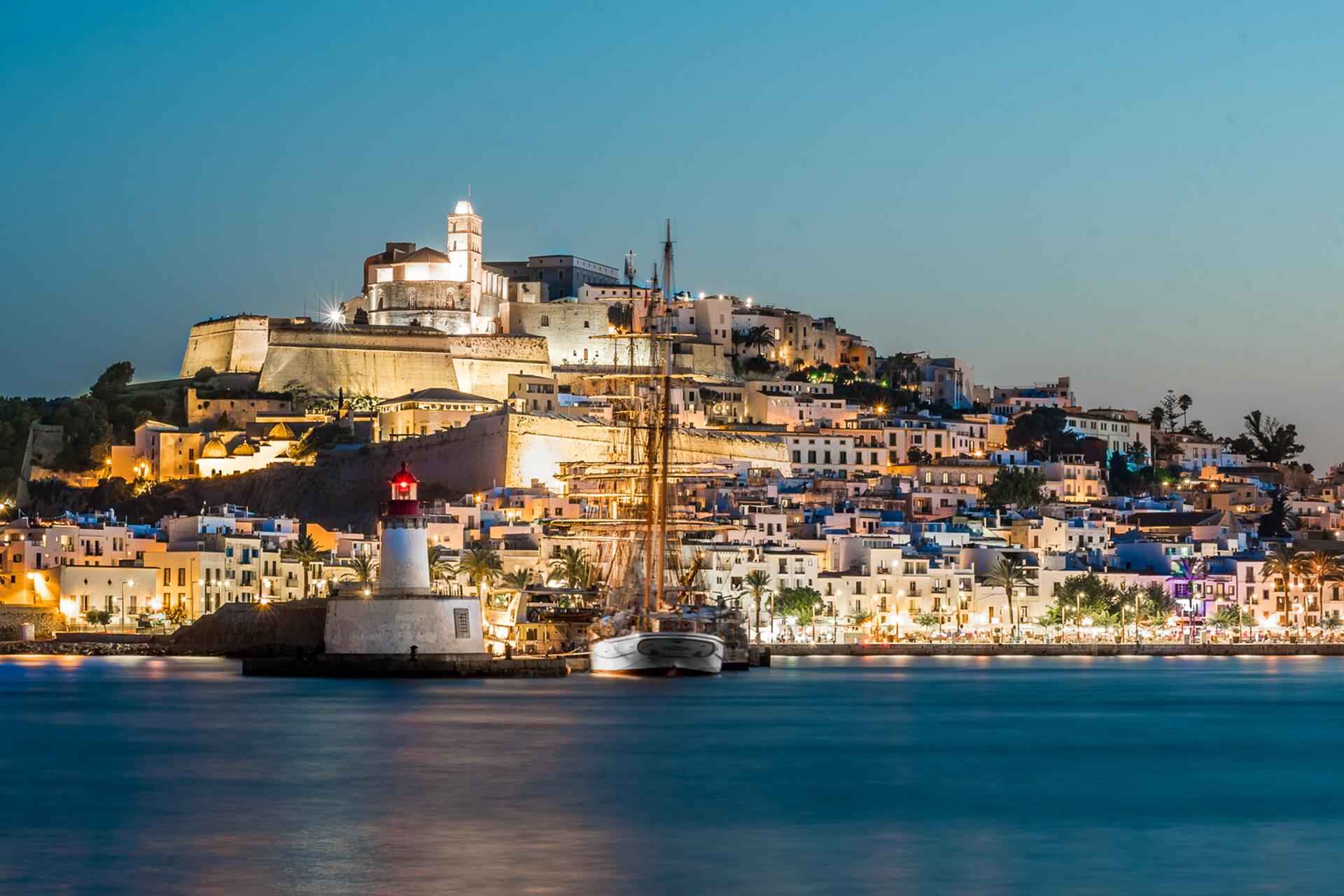 Marina Botafoch (Paseo Maritimo)
One of the most visited areas of the city is Paseo Marítimo, a long strip in which multitudes of both locals and tourists take leisurely strolls, skate, run, cycle or simply pass through on the way to Marina Botafoch.
The luxury five star hotel, Ibiza Gran Hotel, Ibiza's Casino, Hotel Pacha (next to its famous Pacha Ibiza) and Heart Ibiza nightclub are staggered along one side of the stunning promenade, opposite to the clear views of Dalt Vila, across the mouth of the Mediterranean Sea. Marina Botafoch is home to much of the VIP clientele on the island and encounters many upmarket restaurants, cafes and bars, like Blue Marlin, Lio and IT Restaurant.
Hosting some of the most beautiful luxury apartment buildings overlooking Dalt Vila and the harbour, all within a short walking distance to Ibiza Town and Talamanca Bay, this area attracts almost all clients from across the board, looking for both properties for sale and long term rental apartments, especially for those high profile families, individuals and lifestyle holiday home buyers preferring secure grounds and concierge serviced homes.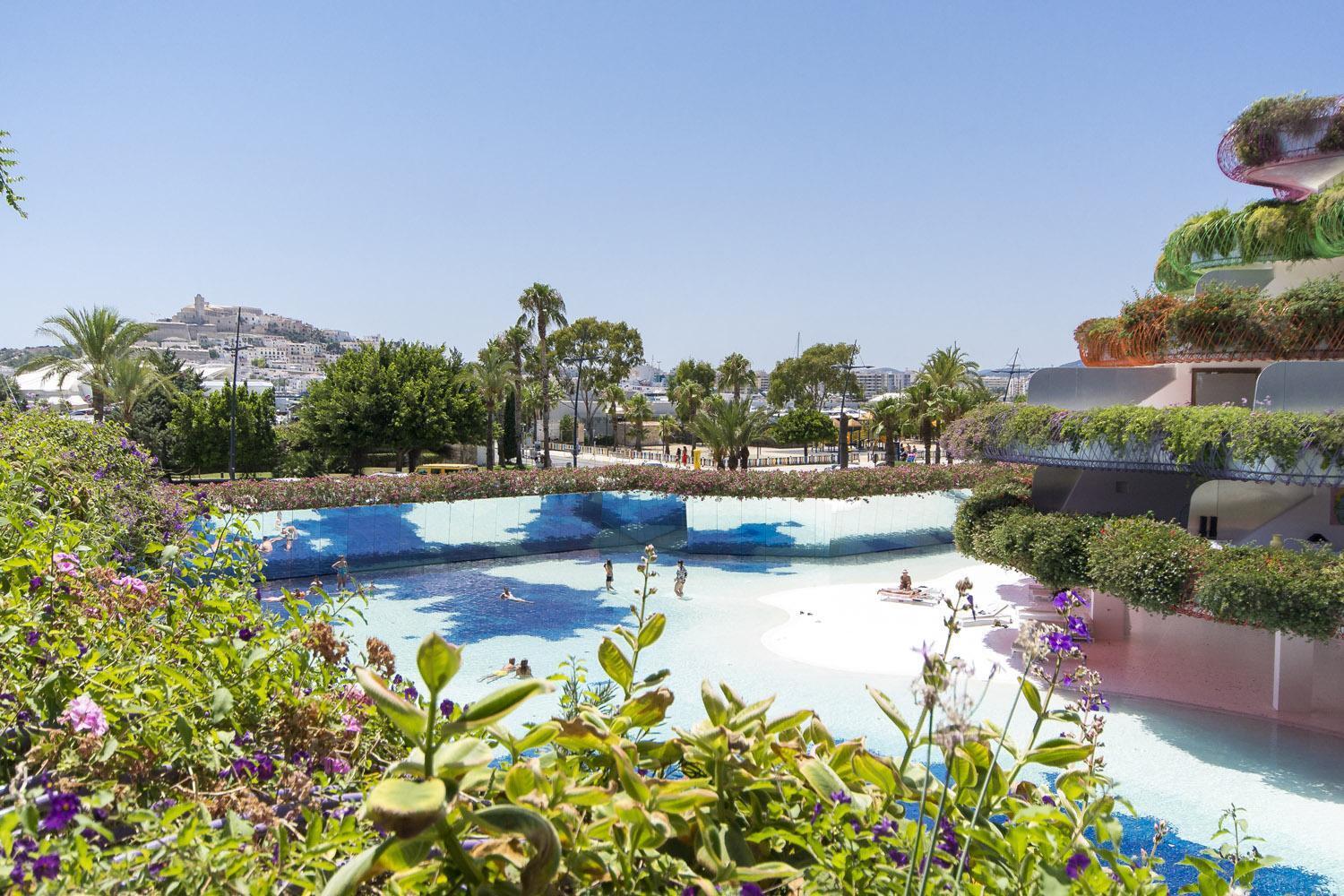 Properties for sale in Marina Botafoch sit around 7.000€ per m2 for apartments with an average house price of 950.000€. A typical property to buy in Marina Botafoch or Paseo Marítimo would be similar to Apartamento Las Boas Dalt Vila Vista , a large three bedroom apartment of 285 m2, distributed in a living area of 185 m2 and a terrace of 105 m2. This apartment is located in one of the most striking buildings of Ibiza, signed by the prestigious architect Jean Nouvel. Its incredible location, with a community swimming pool and large surrounding gardens.
In the last decades, Marina Botafoch has become one of the most exclusive spots on the island, home to the most prestigious and famous socialite spots, with a globally recognised nightlife on offer and plenty of rental apartments for long stays.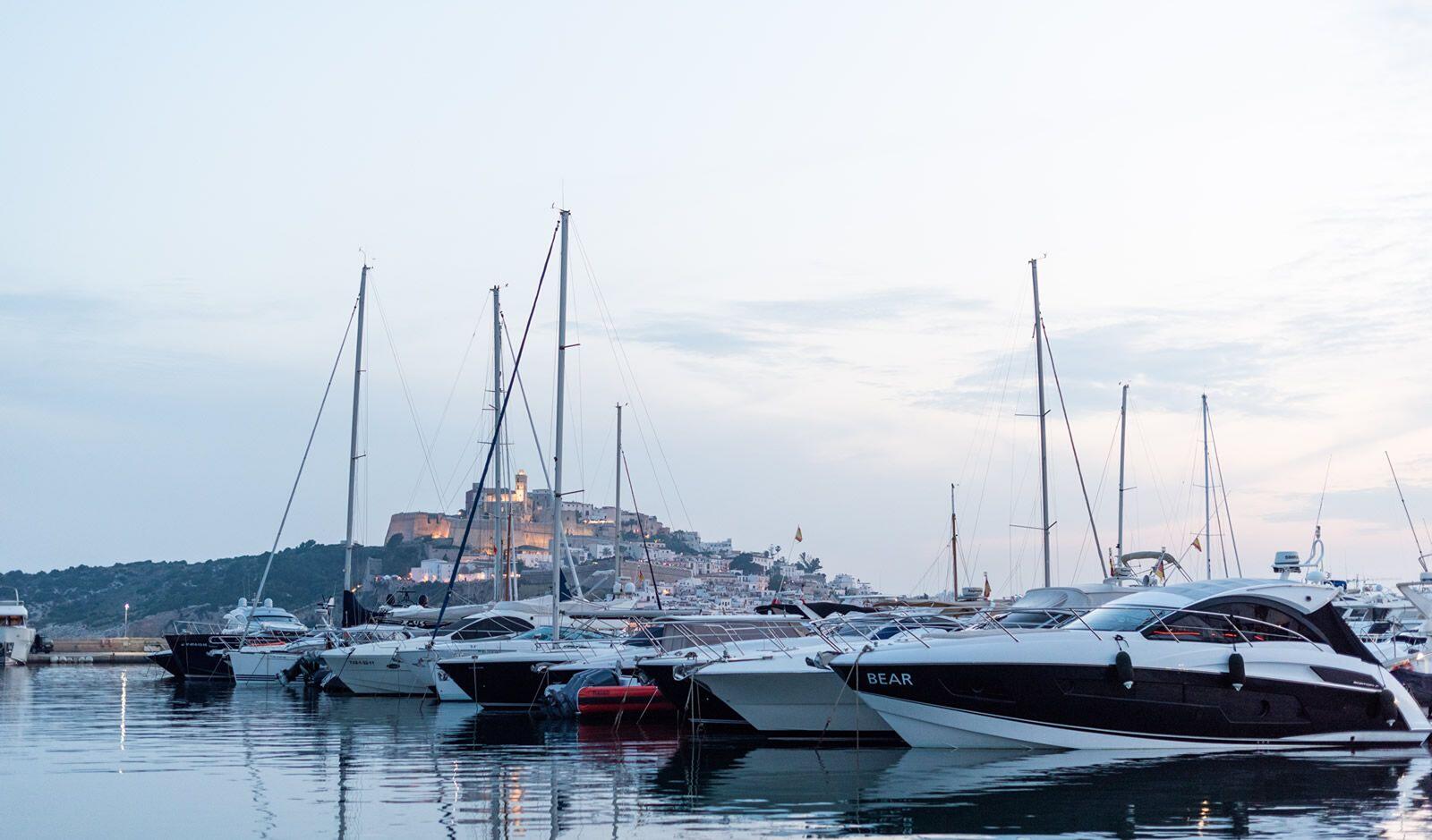 Talamanca (Illa Plana)
The stunning resort of Talamanca is the most visited beach of Ibiza Town. Talamanca sits quietly aside from the centre, within a short fifteen minute walk into the city of Ibiza Town and the Marina Botafoch area.
The bay of Talamanca is a long and wide beach that offers both visitors and locals a popular yet versatile environment with shallow, still clear waters and soft white sand.
During the height of the summer, Talamaca beach is overspilled with sun worshipers and cosmopolitan lifestyle visitors, yet the area remains unspoiled and maintains its authentic bohemian presence, with less high rise buildings overlooking the beach than you may expect.
Talamanca hosts a range of very good bars and restaurants that can be found spread across the length of the beach with many open all year round, making Talamanca also a very popular area for residents during the winter. Everything from beach shack chiringuitos to traditional Mediterranean restaurants offer both quality food menus, variety and a tantalising atmosphere.
The Fish Shack is a small, but very famous, rustic chiringuito that welcomes visitors to dine a truly authentic Ibizan experience, with a very basic and no frills locally caught 'fish of the day' menu, directly on the beach. Here, many locals and famous DJ's boast of it serving the very best fish the island has to offer.
The recently built hotel overlooking the bay of Talamanca, Nobu Hotel Ibiza, has been subtly and perfectly designed to match its surroundings and offers a luxury resort of natural wood and artisan ceramics to reflect the island aesthetic, which attracts a number of guests that extend the high profile status of the Marina Botafoch area.
In the area of Talamanca sits Illa Plana, an old island once isolated from the mainland of Ibiza but with nature's way, later adjoined. Illa Plana separates the port itself from Talamanca Beach.
After uniting with the island of Ibiza, Illa Plana became more accessible and during the second half of the 20th century houses began to be built. Nowadays, Illa Plana is completely urbanized and is a spectacular place to live offering a fantastic variety of exclusive cliff top properties and villas to rent in the Talamanca area.
The area is incredibly popular among those wishing to find a property for sale near Ibiza Town, with quick access to a variety of unspoiled countryside, beauty spots and beaches that offers a blend of a family friendly atmosphere and a local community with all the perks of a highly trendy spot to spend the summer months.
Talamanca provides many outstanding contemporary and authentic modernised Mediterranean style villas with a wide amount of new apartment complexes currently under construction for the near future.
Naturally, many of the larger scale villas available for sale or villa rentals in Talamanca come with outstanding sea views and typically appeal to those lifestyle holiday home and buy to rent clients, with more singles and retired clients seeking properties in this part of Ibiza Town than its other counterparts.
Properties for sale in Talamanca sit around 6.500€ per m2 for apartments with an average price ranging between 700.000-1M€. A typical property to buy in Talamanca would be similar to Adosado Maspalomas Illa Plana, a three bedroom townhouse located on the seafront in Illa Plana. The 185m2 home comes complete with a garage, solarium and an outdoor garden of 120 m2. Prestige Properties currently has seventeen properties on the market in the Talamanca area.
Figueretas (Los Molinos)
Figueretas Beach (Ses Figueretas) is perhaps the second most popular beach of Ibiza Town, which offers a recently renovated promenade and vibrant resort within close proximity to the main city centre and the popular Talamanca Bay and Playa d'en Bossa.
The beach and lengthy promenade overlooks the stunning mountainside of Dalt Vila and Ibiza Old Town with an array of local hotels, bars and restaurants to enjoy, as well as water sports and regular ferries to hop into town during those summer months.
During the height of the season the area has lively artisan market stalls and a family friendly atmosphere. Figueretas provides everything a small resort needs to make feel completely accommodated for.
This area mostly attracts young couples, families and buy to rent clients due to the local community ambience on offer. Those looking for properties for sale in Figueretas should expect values around 5.500€ per m2 for apartments with an average price usually sitting between 500.000 – 700.00€.
Prestige Properties Ibiza currently has nine properties available on the market in Figueretas. A typical property to buy in Figueretas would be Casa Broner. This property is a beautiful townhouse in Los Molinos with panoramic views over the sea, the mountains and the city. The house, of 105 m2, was designed by the prestigious architect Erwin Broner, so its iconic Bauhaus style is very present throughout.
Currently the property is divided into two duplex apartments and an independent annex. The top floor has spectacular views. The duplex apartments have an equipped kitchen, a living room, a bedroom and a bathroom. The studio annexe has a kitchen and an independent bathroom.
Ibiza Eixample (extension)

The main city centre is predominantly taken up by couples or single home buyers who are already local residents on the island. Here we find clients who are typical workers, and are seeking to buy a property in Ibiza which is easily accessible and convenient within a highly cosmopolitan area – all at an affordable price.
The majority of properties sold in the City Centre of Ibiza Town commonly represent apartment complexes both old and new. Prestige Properties Ibiza currently has a total of nine properties on the Ibiza housing market within the city centre. There are often more opportunities to buy an apartment in Ibiza Town center, particularly older buildings, than the other sub categorised areas of the city.
Properties for sale in the extension of the city centre of Ibiza sit around 4.500€ per m2 for apartments with an average price of 350.000€. A typical apartment on the market would be like Apartamento España Uno which is located in the eixample centre of Ibiza Town, only a few minutes walk from the Boulevard Vara de Rey and the old harbour. Ideal for a young couple or single people who love city life. The 80 m2 apartment has recently been renovated and modernized just a few months ago with two bedrooms and two bathrooms, one of them en-suite.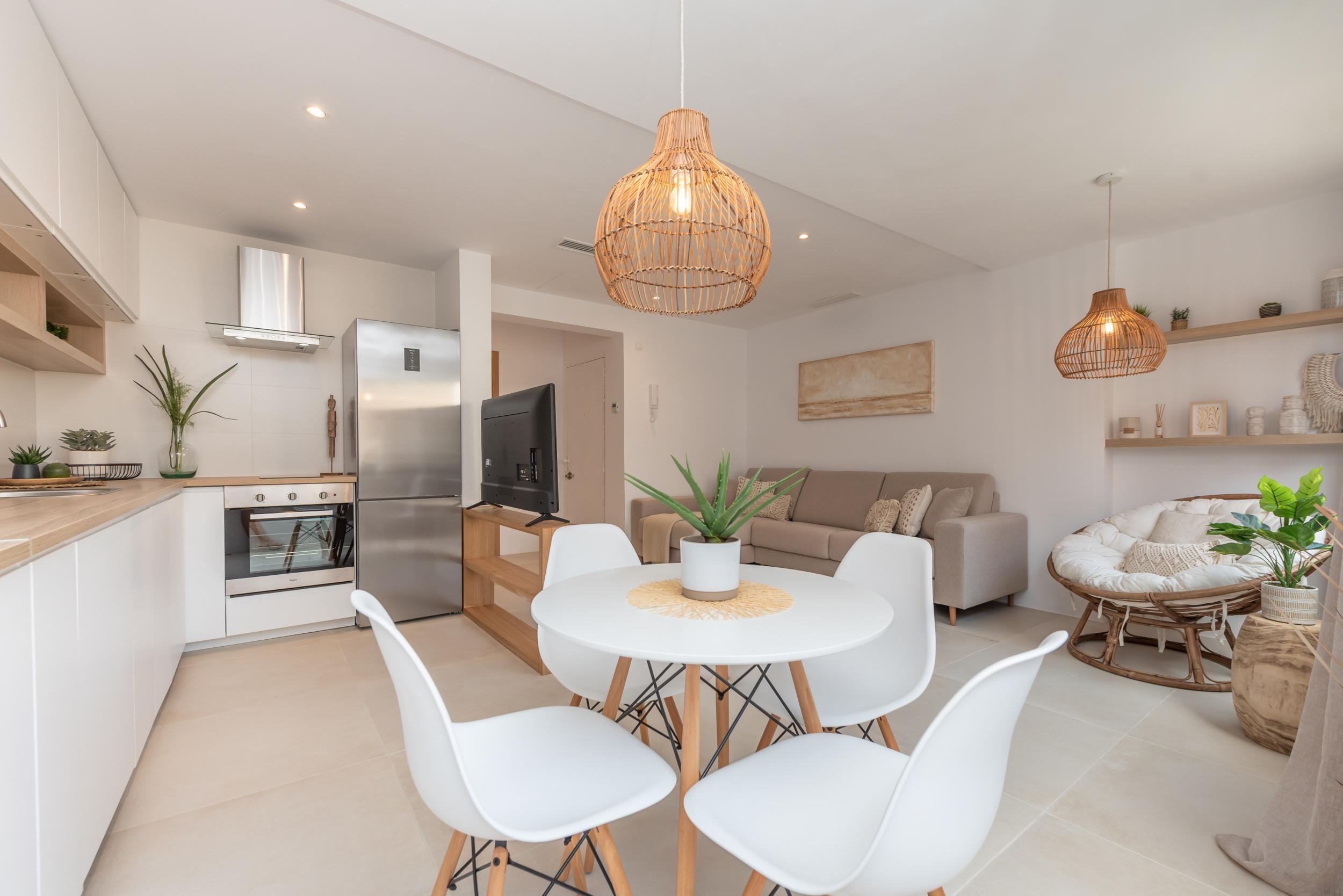 Can Misses

Can Misses is essentially part of the city centre of Ibiza Town, or more specifically the north-west outskirts surrounding the extension of the city, next to the main highway. Can Misses is an ideal location for those wishing to be close enough to walk into the city centre, but wish to avoid the traffic jams and find quick and accessible routes to the rest of the island as well as the unspoiled countryside, beauty spots, restaurants and beaches.
Clients looking for a practical location for easy all year living, or for a holiday apartment in a residential area away from all the touristic hustle and bustle, Can Misses is the perfect choice to find a property to buy.
The local community and buy to rent clients take up the majority of the market within the Can Misses area, with properties sitting around 6.200€ m2 and an approximate value of 700,000€ for apartments and 1.5- 2M€ for villas. Currently Prestige Properties has only 1 property on the market in the Can Misses area.
Apt. Planta Baja Can Misses is a modern, three-storey building in the Can Misses area where we find this lovely, warm and beautifully decorated two-bedroom apartment. The building, the surrounding gardens, the community pool, the entrance halls and the apartment itself are all outstandingly well maintained, clean and inviting.
Are you considering to buy a villa in Ibiza?
Both the city centre of Ibiza Town, Can Misses and Figueretas offer plenty of opportunity for young couples and local residents alike to find an apartment at a reasonable price, although property market prices are quickly on the rise.
Marina Botafoch and the Old Town are both popular and pricey, which attracts those more high profile and cosmopolitan clientele, particularly those luxury second home buyers and those investing in buy to rent apartments.
Many families opt to look at Talamanca, which is filled with large family-friendly apartments, all within close proximity to the beach and convenient for accessing local nurseries, schools and still have the pleasure of city life and casual coffee shops and eateries.
Although the entire city is in high demand and demonstrates a strong market presence, the city centre tends to have more flexibility but of course is not to everyone's criteria. In general, like most cities across Europe, Eivissa has something on offer for everybody.
If you are considering buying a property in the Ibiza Town, then why not take a browse at our current Ibiza exclusive properties available.
Our team is always ready to help you along your buyers journey and ensure you discover your dream home with Prestige Properties Ibiza – contact us today.
Our vacation villas have recently expanded. Book your Ibiza holiday villa with us and we can show you around interesting properties for sale during your stay. And, if you're keen to stay in one of our spectacular villas in the municipality of Ibiza Town for your 2020 / 2021 Ibiza vacation. Take a look at what is on offer below:
Villa Ambre is ideally located in the exclusive luxury area Can Besso, just outside of Jesus with open views of Ibiza Old Town, Talamanca Bay, Marina Botafoch and Formentera. The villa has a comfortable living space and an impeccable outdoor area, perfect to enjoy lazy afternoons and evenings with friends and family.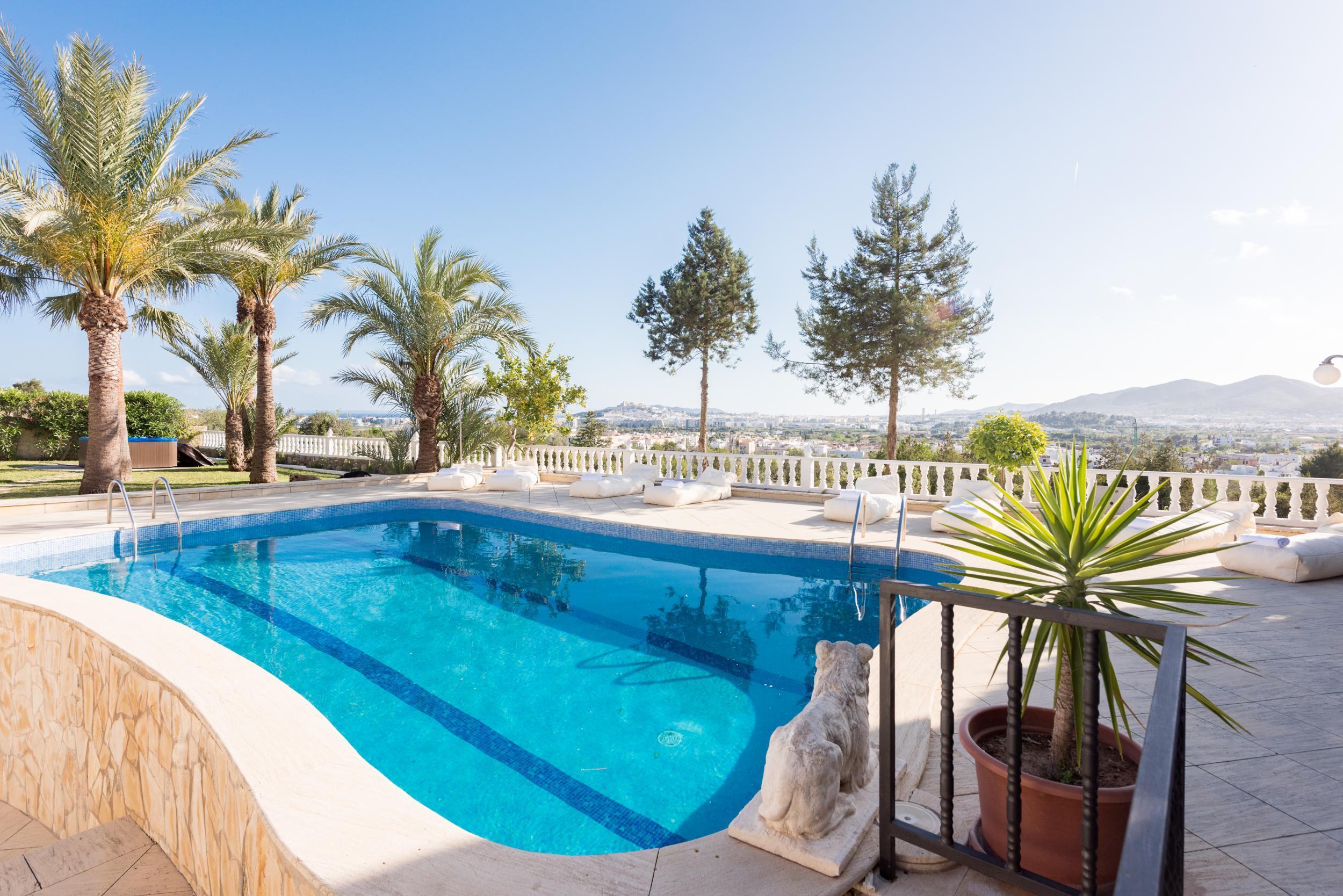 Can Rebecca is a modern holiday architect-designed house, located in the countryside in Jesús, not far from Ibiza on the road to the Golf course. South orientated with views of Ibiza town and the sea in the distance. The villa is on the ground floor with large spaces open to the outside.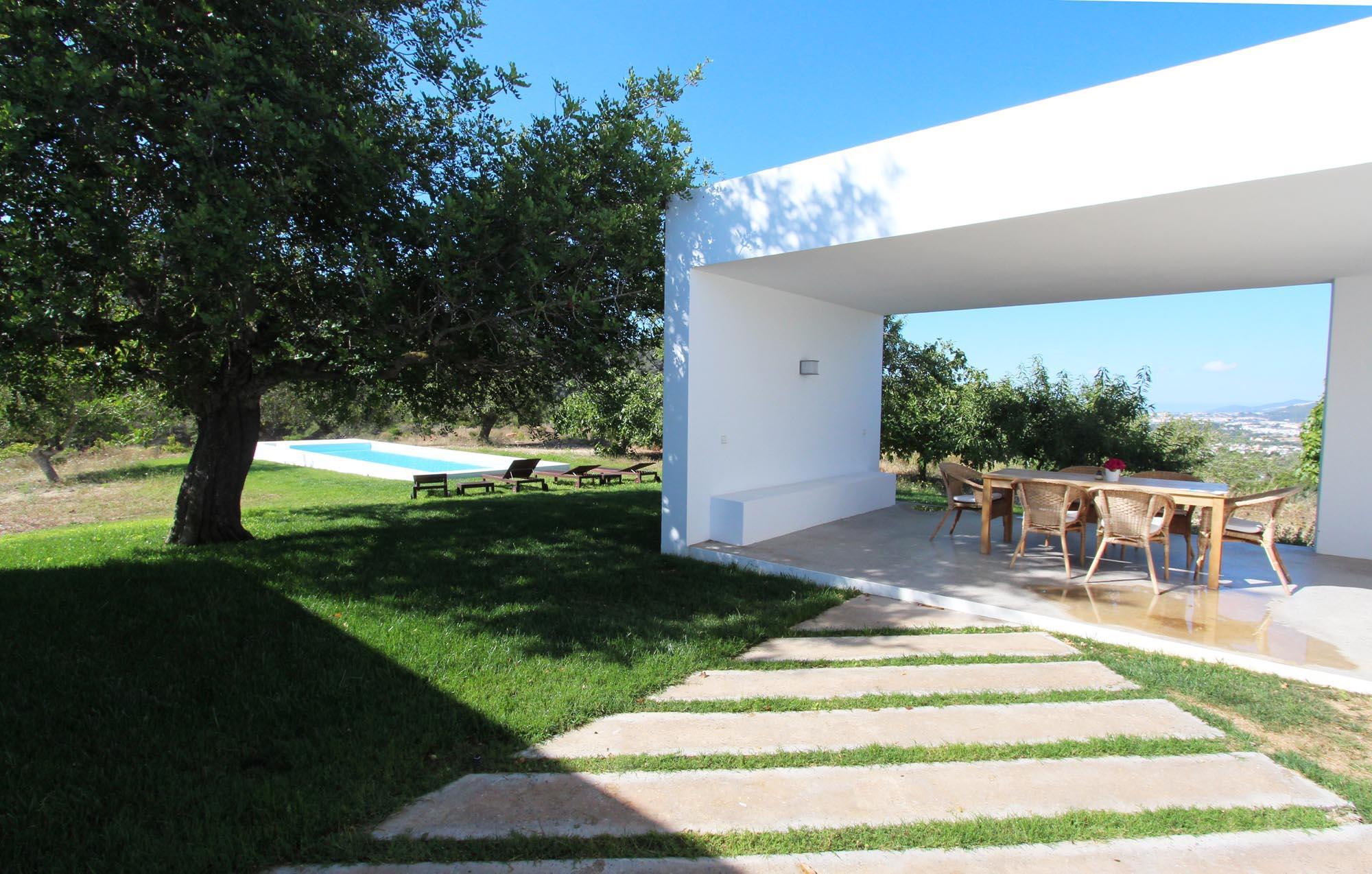 Can Diana is a beautiful little holiday house in Talamanca, with an excellent location on the seafront. The terraces and balconies facing the sea allow you to enjoy the spectacular surrounding views. The house is very well equipped and bright.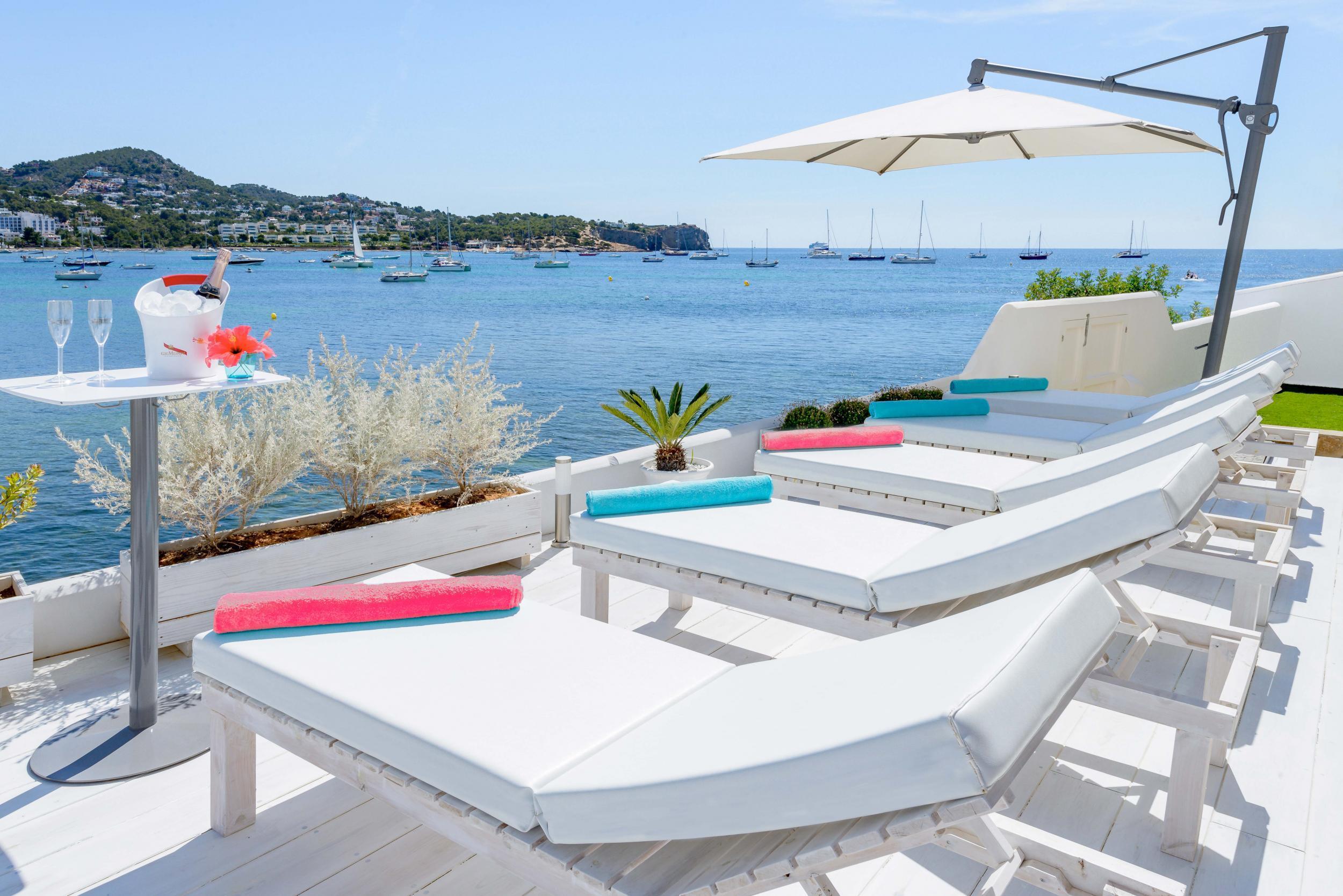 Thank you for staying in contact. We hope to see you soon and the very best of luck with purchasing your new home here on the magical white island of Ibiza.
Need to know more about the municipality of Sant Josep de Sa Talaia – Check out our recent article on the area.