We impact our environment every single day with the choices we make, from the food we choose to eat to the cars we choose to drive. Thankfully, many of us here in Ibiza and across the globe understand that we must work together and live intentionally in order to protect and preserve our island (and the planet).
IbizaPreservation acts to ensure the protection and sustainability of Ibiza and Formentera through various NGO's such as Plastic Free Ibiza, Ibiza Produce, Ibiza Posidonia, the Marine Forum, and Ibiza Sustainability Observatory. As proud contributors and supporters of the fund, we aim to help reduce carbon emissions and tackle some of our local environmental issues alongside them.
Yet, even as tourists and visitors, you can also make small yet effective changes to lessen your environmental impact during your stay by limiting your energy consumption, using eco-friendly products, and taking deliberate steps to be environmentally friendly. 
So, let's get started with our latest guide to the best practices for eco-conscious tourists and visitors.
Energy Efficiency in Ibiza
Be mindful of your Water Consumption
Using water efficiently can help lower your environmental impact. Even while washing dishes or brushing your teeth, simply turning off the tap can actually save over a litre of water within a 20-seconds timeframe alone. Given how much we complete such daily tasks, wasted water can add up very quickly. The same goes for requiring many showers during the hot weather and beach season. Be mindful and do your best to save water where you can.
Check out the 5 golden rules to save water in Ibiza here: http://ibiza.travel/en/2019/08/five-golden-rules-for-careful-use-of-water-in-ibiza
.
Minimise your Electricity in your Ibiza Villa
Make sure you do not leave your electronics on all day long. Electrical appliances should be turned off when not in use, and only turned on when necessary. For example, avoiding plugging in your mobile phone overnight can save a considerable amount of energy as charging only takes a few hours. Also, consider using high-energy appliances at night, such as dishwashers and washers, and always use the natural heat and light to dry laundry outside, rather than using a dryer.
Be sure to maintain a comfortable temperature and airflow in your home by utilising your surrounding natural resources. Use the shades and open windows to keep your villa cool during the warmer months rather than racking up energy via air-con appliances. However, when the air-cons are in use, don't leave the windows open. Where possible, turn off the lights and use natural light instead.
.
Recycling and Refuse in Ibiza
In accordance with IbizaPreservation, the following points are to be considered in relation to waste and recycling when visiting:
Before buying, think twice – buy only what you really need.
Avoid excessively packaged items
Refuse plastic bags – bring your own bag or basket to the grocery store (ask your Prestige agent for one of our cotton "Prestige Going Green" reusable bags!)
Refuse throwaway plastics – choose reusable products
Refuse plastic straws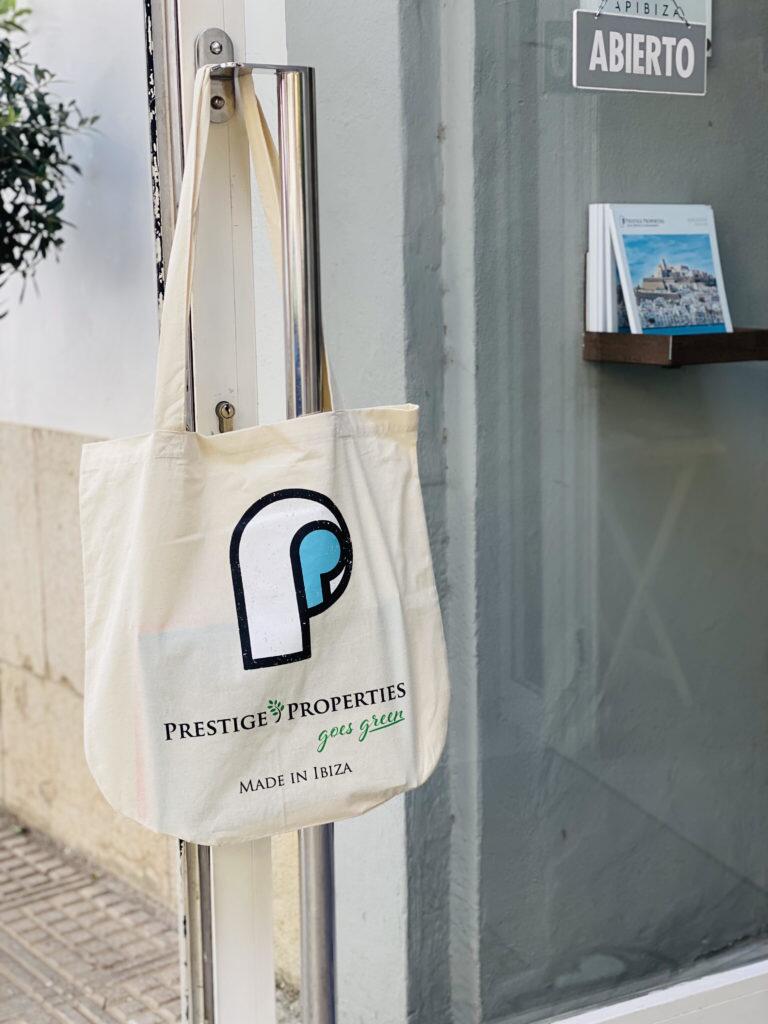 .
Caring for the Environment & Nature in Ibiza 
Our island depends heavily on tourism and visitors for its economic well-being. Nevertheless, every year in Ibiza, we are inundated with both luxury and leisurely activities that contribute to pollution and make it difficult to conserve and sustain our ecosystem. You can make a difference in many ways with these simple tips.
It's important not to throw cigarette ends in the street or in nature, especially in our forests and woodland nature trails. Without even considering the risk of forest fires, our beaches, and natural surroundings should be respected. Although designated bins may be hard to find outside of urbanised areas, every tobacco store sells heat-proof ashtray wallets. These can be used to store cigarette waste which can then be disposed of properly alongside the rest of the day's waste. 
Don't take souvenirs from our Posidonia and marine life, e.g. when sailing or visiting a beach, leave stones, shells, plants, and animals as they are in their natural habitat. Select an eco-friendly sunscreen that will protect your skin while not damaging marine life, collect your waste after you visit, don't throw anything in the sea, and moor your boat in the right spot: Anchoring in Posidonia meadows is prohibited. Furthermore, jet-skiing and other high-pollution activities can also be avoided.
Try walking or biking to your destination rather than driving if it's close enough – it's healthier and better for the environment. Another way to reduce greenhouse gas emissions is by taking public transportation or if you must drive, maximise every person per car to ensure less transport is on the road. Land-based activities that produce high levels of pollution should also be considered minimally, like safari tours and quad biking.
.
Select Conscious & Local Businesses in Ibiza 
Try and shop for products and services from local businesses and those who advocate for sustainability, eco-friendly products, fair trade, or have Corporate Social Responsibility as part of their business ethos. Even those businesses that make sure their employees have the right contracts and protections – such as insurance – as well as pay taxes are helping the Ibizan community and the environment. 
Go to this google maps to see all the eco-shops available on the island.
---
Every action we take will make a difference. The most important thing to remember is that our actions will result in a cleaner, greener island, both now as well as in the future.
Why not take a look at our 2022 rentals for your next summer vacation with us at Prestige Properties Ibiza.
Our company, Prestige Properties is fully committed to promoting energy efficiency here in Ibiza as a firm supporter of green living. If you are an eco-conscious warrior you may also be interested in our recent publication "Energy Efficient Homes: A Guide for Homeowners in Ibiza" article and "Energy Efficient Homes: A Guide for Home Owners Part 2" aimed at encouraging property owners and buyers to create energy-efficient homes.  
---
.
Resources & Further Information
Solar Energy:
https://ibizapreservation.org/green-info/support-solar-energy
https://ibizapreservation.org/esp/actua-en-verde/apoya-la-energia-solar
Saving Water:
https://ibizapreservation.org/green-info/save-water/
https://ibizapreservation.org/esp/actua-en-verde/ahorra-agua/
Reduce waste:
https://ibizapreservation.org/green-info/reduce-waste/
https://ibizapreservation.org/esp/actua-en-verde/reduce-residuos/
Preventing Forest Fires:
https://ibizapreservation.org/green-info/prevent-forest-fires/
https://ibizapreservation.org/esp/actua-en-verde/evita-los-incendios-forestales/
Energy-Efficient Homes:
https://ibizapreservation.org/green-info/energy-efficient-homes/
https://ibizapreservation.org/esp/actua-en-verde/viviendas-eficientes-energeticamente/
Thank you for staying updated with us at Prestige Properties. We hope to see you soon!