Energy efficiency is now considered the gold standard for all modern and newly built homes. It is important that as homeowners we take action and commit to conserving resources, saving money, and helping the environment through less waste and energy preservation. It does not matter whether your home is brand new, undergoing a renovation, or is very old. Property energy efficiency can be achieved by all with the simple strategy of applied knowledge and effective changes.

Prestige Properties is committed to promoting energy efficiency and green living here in Ibiza. In light of this, we have developed our very own "Energy Efficient Ibiza Homes: A Guide for Homeowners in Ibiza" article to encourage Ibiza property owners and future buyers to create energy-saving havens! So, without further ado, please take a look at our guide below for all property owners in Ibiza wishing to make a difference right from their very front door.
Insulation & Draught Proofing your Ibiza Property
When considering the energy efficiency of a property, insulation and draught-proofing are two main primary concerns. Due to Ibiza's high levels of humidity throughout the year (especially during winter, despite our mild temperatures), poorly insulated homes can still experience consequent dampness. Additionally, the high season can be extremely hot, increasing electric consumption necessary for cooling. Property buyers and new owners should always review the architectural design and overall construction of a house to ensure good insulation and low energy consumption.
Those who are investing in new property in Ibiza, or are looking to build or remodel a home are advised to carefully examine such factors as roofing and roof drainage systems, property orientation, and design (considering the sun's natural light and energy for heating and cooling), solid walls, ventilation, thermal bridges and insulation, water tightness, damp-proofing, sealing, and double glazed windows.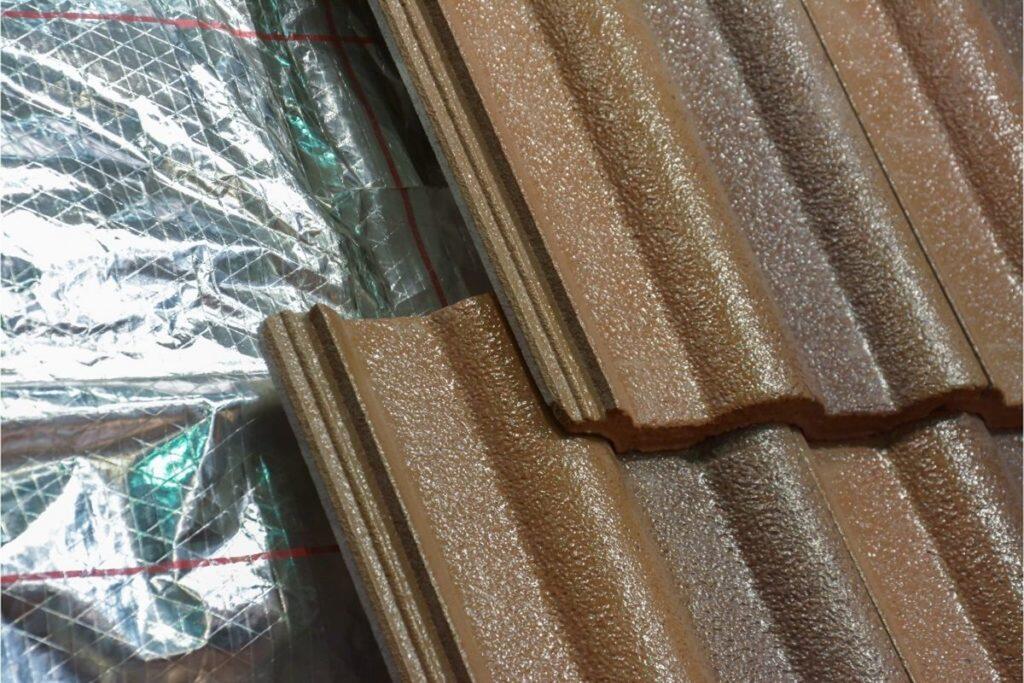 Building with Eco-Friendly Materials in Ibiza
In traditional construction, earth bricks, concrete, and wood are typically used. This means the continued destruction of trees for timber, and mining for cement to bind sand, gravel, and bricks together. Thankfully, the construction industry today has started to adopt new processes and green alternative building materials to build properties with more energy-efficient and sustainable means. Materials such as bamboo, hempcrete slabs, rammed earth, and reclaimed wood and steel, are now widely used among the top 'green' building materials. If buyers or owners are planning on building or renovating a property in Ibiza, be certain to investigate the philosophy and green sustainable practices of construction companies, architects, and workers on the island. ​​Energy-intensive materials should only be used in moderation, or when they have been recycled.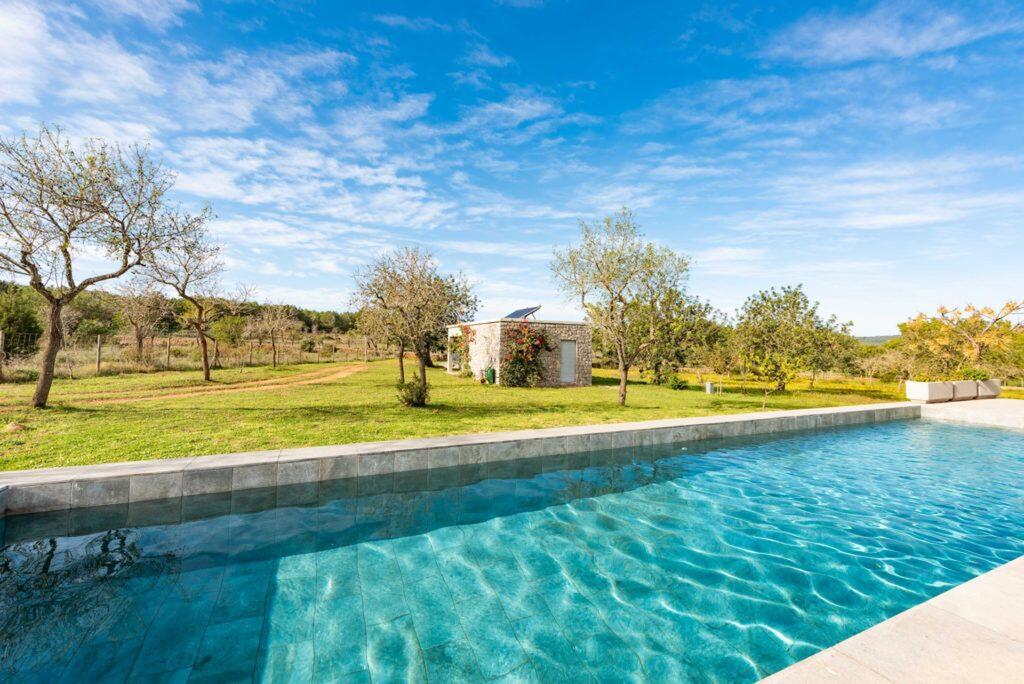 Solar Power Panels in Ibiza
Installing solar panels to collect solar energy from the sun's radiation which can then be converted into electricity or heat comes highly recommended for green living. The good news is solar energy is abundant and free. Thanks to advancements in technology, we can now harness even more of this renewable electricity! And, with 300 days a year of sunshine here in Ibiza, there is no other energy source that has a less negative environmental impact than the use of solar power. The process of solar energy does not produce any greenhouse gases, nor does it pollute the environment. What's more, generating your own electricity means consuming less energy from your utility provider which will immediately translate into substantial savings on your household bills. For more information on solar power systems in Ibiza why not visit Westphal Solar for solutions, services, and projects.
Upgrading your Boiler in your Ibiza Property 
Approximately half of your energy bills are attributed to your boiler. An inefficient boiler is not only a major factor contributing to high home energy costs, but when boilers are old and not operating at an efficient level, they waste more energy than they need and leak unnecessary sources of excess carbon into the atmosphere. Today, more than ever it is becoming increasingly important to have an energy-efficient boiler. If your property hasn't had a new boiler within the last 10 years, we would highly recommend considering replacing it with a newer model. In Ibiza, all new builds are now required to supply hot water via solar panel energy.  These 'Hot Water Solar Systems' are becoming increasingly popular and those replacing old boilers or remodeling older properties are also seeking these alternative and energy-efficient installations.
Indigenous Landscape Gardens
Landscapes and property gardens are important features of any property that can not only enhance its aesthetic appeal but can also reduce energy usage by protecting the property from both wet and windy winters, as well as the heat of the summer sun. For example, well-placed trees, shrubs, and vines can provide shade, serve as a windbreak, and provide a natural air exchange, which prevents mildew and humidity problems. In addition, native and natural landscapes work well for conserving water, reducing pesticide usage, requiring less fuel and electricity for maintenance, as well as reducing noise and air pollution. Furthermore, natural indigenous landscapes also provide food and wildlife habitat, and they naturally clean the air because they absorb carbon dioxide and release oxygen. 
To design and maintain an energy-efficient landscape, it is highly recommended that property owners in Ibiza consult professional and reputable landscape designers, tree surgeons, as well as a wildlife-biologist or ecologist. Also, remember to take into account landscape water consumption and recycling. Energy efficient and green living home-owners can for example make simple and effective decisions for saving water by building a rainwater storage device that can be used to water the garden during the hot summer months.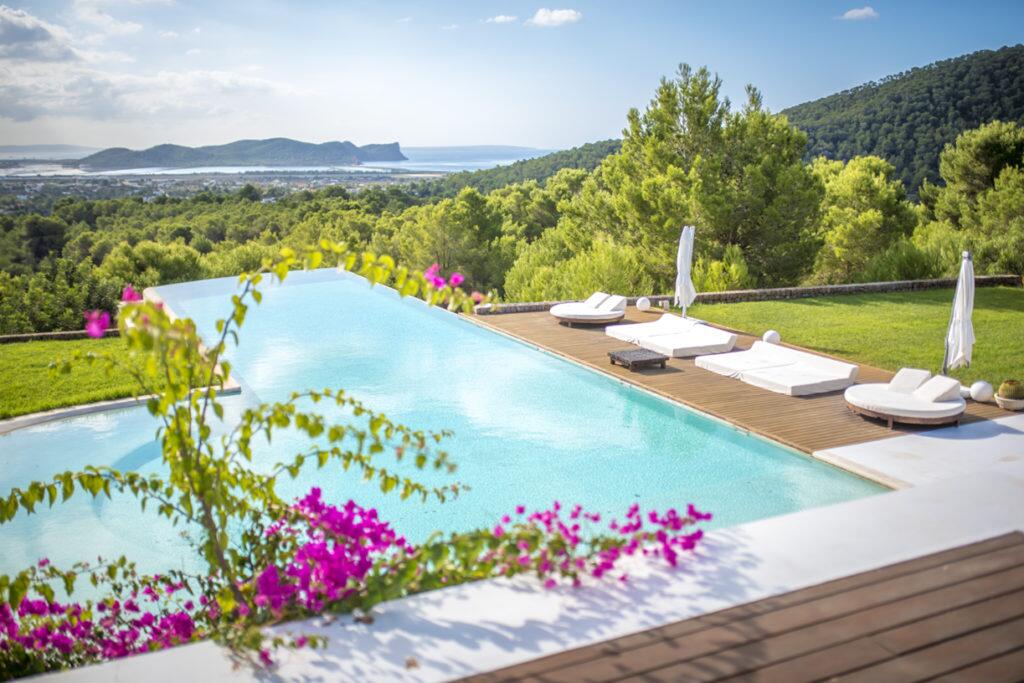 Use Local Ibiza Companies and Workers
Seeking local architects, designers, construction workers, and landscape gardeners that advocate and use locally-produced materials, will save transportation costs involving both money and energy, and support the local labour market.  Ideally, landscaping materials should be biodegradable, recycled, and low energy-consuming materials that are produced locally. We highly recommend selecting conscious businesses with good ethics, local staff, and workers with official contracts and insurances who are paying the correct taxes. 
Keep an Eye on the Little Things
In order to utilise energy efficiently, we need to learn to accomplish the same daily tasks with less consumption by being aware of how energy is used, where it is wasted, and how we can make better use of it in our daily routines. Small simple actions carried out by the majority can make a significant difference to our carbon emissions and environment. Changing to LED lights, sealing cracks, replacing filters, encouraging shade, natural sunlight, and heat, setting a thermostat, monitoring temperature controls, turning off the lights, and dressing appropriately for the weather are all small yet compelling practices that can help towards better household sustainability and energy efficiency.
Final Thoughts for Ibiza Property Owners
If you are investing in a property in Ibiza, you may feel that prioritising energy-efficient construction in your new home is complex and expensive. However, such projects do not usually require greater complexity than conventional construction and are well-known to save financially too, in the long run. Additionally, very simple improvements can be made, such as LED lighting and shading, which aside from being environmentally friendly will also reduce the electric bill.
Regardless of how small a contribution you make, every single action does contribute to the whole. The important thing to remember is, living in an energy-efficient, well-insulated home, will not only reduce your household bills and increase the value of your property, but it will also contribute to a cleaner, greener island in the long run.
---
Resources & Further Information
Solar Energy:
https://ibizapreservation.org/green-info/support-solar-energy
https://ibizapreservation.org/esp/actua-en-verde/apoya-la-energia-solar
Saving Water:
https://ibizapreservation.org/green-info/save-water/
https://ibizapreservation.org/esp/actua-en-verde/ahorra-agua/
Reduce waste:
https://ibizapreservation.org/green-info/reduce-waste/
https://ibizapreservation.org/esp/actua-en-verde/reduce-residuos/
Preventing Forest Fires:
https://ibizapreservation.org/green-info/prevent-forest-fires/
https://ibizapreservation.org/esp/actua-en-verde/evita-los-incendios-forestales/
Energy-Efficient Homes:
https://ibizapreservation.org/green-info/energy-efficient-homes/
https://ibizapreservation.org/esp/actua-en-verde/viviendas-eficientes-energeticamente/
Thank you for staying updated with us at Prestige Properties. We hope to see you soon!