Renovating a property in Ibiza can be a very rewarding experience! A perfect opportunity to create your dream home with character and a style all of its own. If the planning and renovation process is done properly, the investment can also pay off with an impressive return.
However, serious property renovations can also be very challenging. A lack of effective planning, previous analysis and project management can cause renovation projects to eat up money and cause a lot of unwanted stress. 
For us at Prestige Properties Ibiza and for our clients, we feel the benefits far outweigh the risks. With the right knowledge and team behind you, renovating a property in Ibiza, be it a traditional finca farmhouse or restructuring an entire villa property, can be an incredibly exciting journey that is definitely worth the effort and the final result.
So, if you are looking to buy a new house in Ibiza with a view of renovating, then check out our guide below on Renovating a Property in Ibiza – Everything you need to know! which contains everything you need to know about renovating a property in Ibiza.
Property Renovations in Ibiza – Initial Considerations
When considering any aspect of the property market in Ibiza, it is important to be fully informed. Renovating a home can be a complex process that can lead to unforeseen problems and costs, so being well prepared is key to any successful renovation project. 
Properties in need of a renovation can usually be found and bought through local real estate agencies. However, finding a property with the right renovation potential in the right location through a trusted agent is the first step.
If you go any further than a replacement of installations and paintwork, our first (and, as you will learn, ultimate) recommendation is to seek the advice of a qualified, local architect. Despite popular belief, an architect in fact optimises and economises the costs of a renovation (moreover of guaranteeing the quality of the work) and unifies the management of trades and suppliers (masons, plumbers, electricians, builders, suppliers, carpenters, etc.). He is the central figure in the renovation puzzle who will analyse the legal status and the current state of construction of a property and based on this, estimate the legal and material possibilities and average costs of intervention respecting the town's planning regulations.
So, before you begin your renovation and get started on your project, here is an overview of the different steps you need to consider, ideally in this very order:
Legalities: 
Analysis of the property's current legal status: if it has an original building licence from the Town Hall, if there are any "non-registered" parts and if so, what can be done with them depending on their nature (year of construction, etc.). This is a very important step to avoid problems further down the road.
Analysis of the possibilities: the potential of the house in view of the urban planning regulations. Degree of intervention to be performed, maximum of m2 to be extended according to local and regional laws. 
Effective Planning: 
Analysis of the current physical state of the property: state of the structure, state of the installations, watertightness, etc…
Definition of the renovation and proposal for improvements.
Permits and licences: communicating with the Town Hall and applying for the necessary permits
Estimation of total costs 
Simulation of planning and runtime of project
Execution and Control: 3, 2, 1… Action!
Execution of the works. Checking that the works are being carried out to satisfaction on a technical level. More extensive renovations will also require on-site management: coordination of the trades, control of the work carried out and the execution according to deadlines.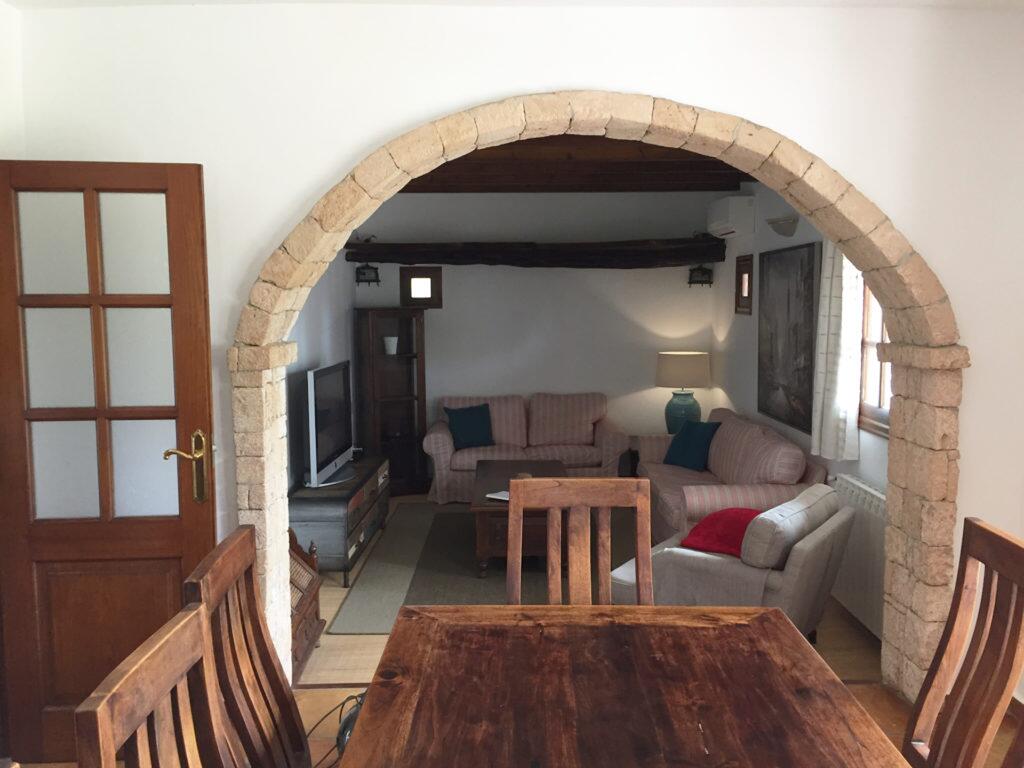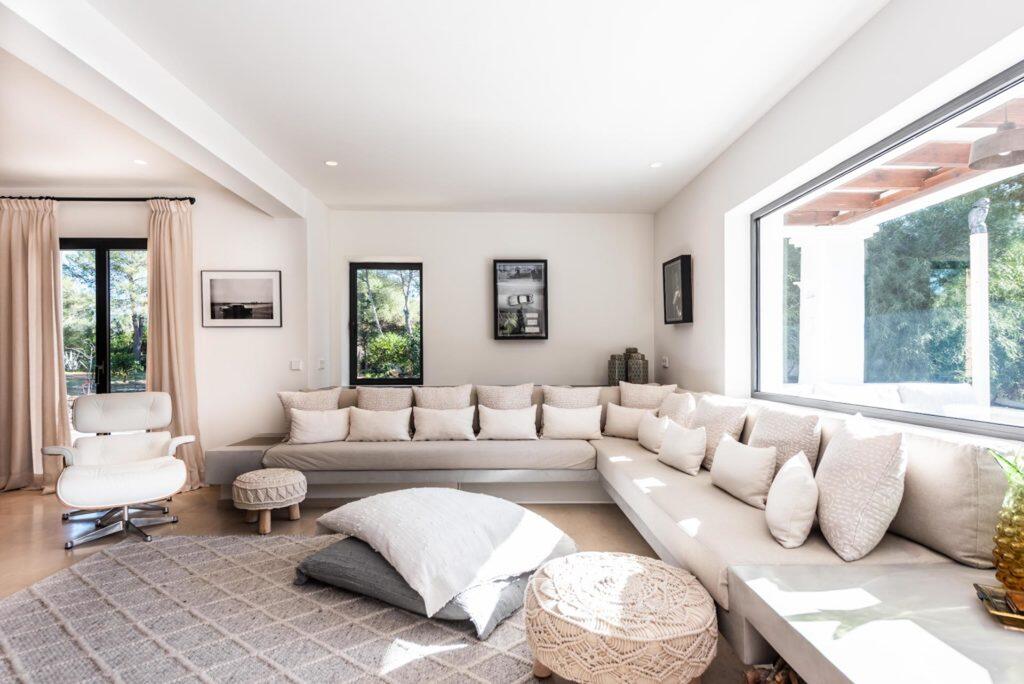 1. Planning your Ibiza Property Renovation Project Effectively
"Before you begin with any physical works, it is vital to have the big picture and a long-term vision in place. Taking the time in the beginning and creating a really detailed and well-thought-out plan will help with getting accurate building costs before you start the renovation, it will eliminate the need to make rushed (and possibly bad or regretful) decisions, and at the end of your renovation, you will (hopefully!) end up with a consistent look and feel throughout your home that is every bit what you imagined it would be!" – Robin van Den Driessche – Architect & Founder at RVdD Arquitectura
Renovation & Construction Works and Construction Surveys
Often it is not possible to get an accurate idea of the cost or extent of renovation until the property has been acquired and a proper evaluation of the structural integrity and foundations of the existing building has been made. 
It is advisable to obtain a full building survey at the time of purchase to gain a better understanding of the structural and superficial works that need to be considered.
This information can then be used by architects and construction workers before carrying out the necessary work, when renovating your home.
Remember that there is almost always a solution to most structural problems. While these may cause an increase in your renovation budget, identifying them early will allow you to plan better and make the right future decisions.
In Spain it is usually an architect or a technical architect (Arquitecto Técnico) that can carry out the necessary Construction Surveys.
Choosing the Right Architects and Contractors
As mentioned in the introduction, the use of an architect is an invaluable asset to any renovation project and should not be regarded as an optional "extra". The reality is that many of those direct client-builder renovations without an architect or project manager end up with legal problems (extensions without a licence, fines), with construction problems due to poor execution (without a technician to supervise), with cost overruns (without economic control and hidden commissions). Apart from their role in literally managing and overseeing the entire renovation project from start to finish, their experience and training gives them the unique ability to see things from the widest possible perspective. A recommended architect like RVdD Arquitectura can make a real difference to the project, focusing on the finest details while keeping in mind the larger impact of the entire design. Additionally, under the Spanish building regulations and laws, an architect is initially responsible for ensuring that all safety measures are followed during renovation projects. 
To choose a suitable architect or builder, it is advisable to ask for demonstrable references such as photos and plans of renovations already carried out, and if possible ask for photos of before and after the renovation. In them you will be able to see the architect's ability to transform spaces, and the quality and level of detail of the builder. If they also come recommended by someone you trust (a family member or friend who has already worked with them), it will be a great advantage and a sign of confidence on which to rely.

Extra Tip from Robin:

To carry out a quantity survey of the work is essential in order to be able to compare quotes from different builders. Without them, extra work will appear as you go along and the final budget will go up, which could have been avoided with a more accurate forecast.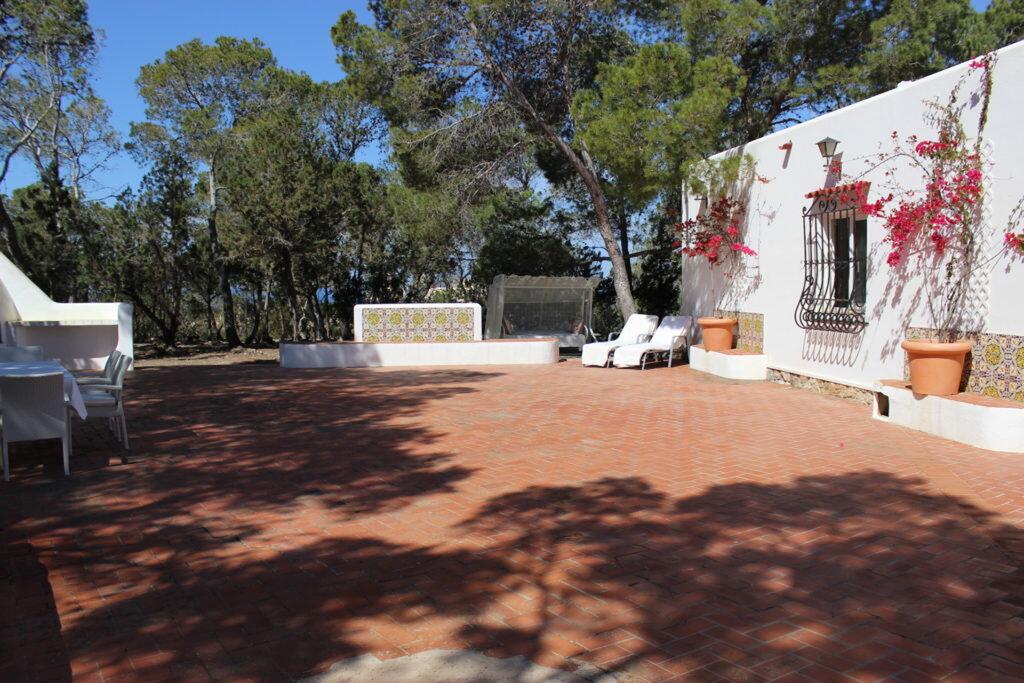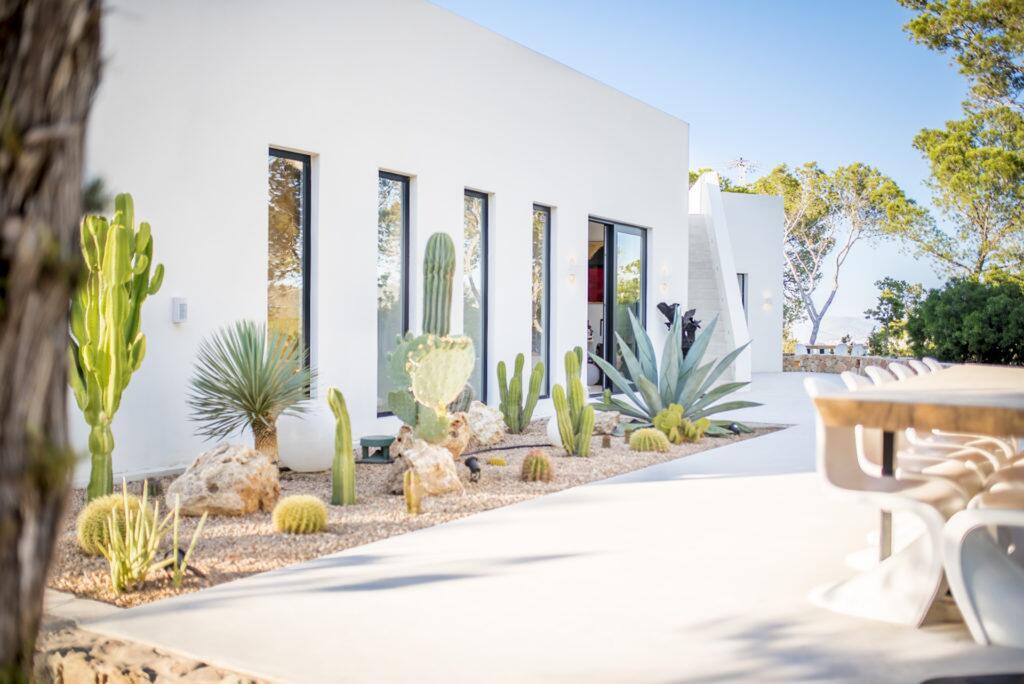 2. Creating an Efficient Timeline 
A typical renovation schedule depends on the type of project and on the location of the property. To estimate a deadline and create an overall timeline, three things should be taken into account.
Management of Permits and Licences in the public administration
The management of permits and licences with the public administration varies according to:
Type of renovation: If it is a simple renovation (change of interior partition walls, coverings and materials) with a "Previous Communication" (Comunicado Previo) it can be started at the same moment of notifying the Town Hall. If it is more complex (modifying the façade, habitability and number of bedrooms, or touching something structural) then an Urbanistic Licence must be applied for, and it can take from months to a couple of years.
Type of land category. If it is urban, the concession of a license is quicker than in rustic land, as in the latter the applications go through more public bodies (Consell Insular, Patrimonio, Recursos Hídricos). In urban land, for extensions, it is usually 1 – 2 years. In rustic, for extensions, 2 – 3 years.
That is why good technical/legal advice from an experienced professional is necessary from the very beginning.
Design Time 
For renovation works that go beyond changes of coverings and installations, the Town Hall requires an architect's technical project upon which the license will be based. The estimated time an architect needs to create this project will vary depending on the complexity of the renovation, for a design of a complete renovation of a house of 200-300m2, it could be around a month.
Execution Time
The final timeline of execution will always depend on the complexity of the work. As an example, for a complete renovation of a 200-300m2 property, it could take around 6-8 months.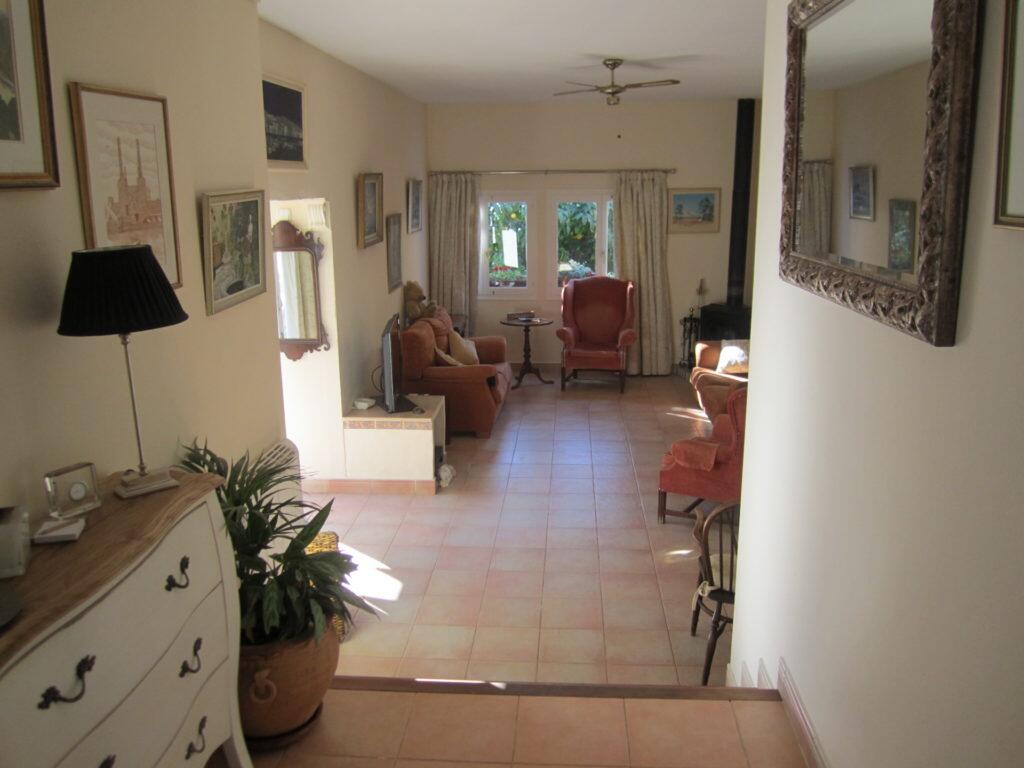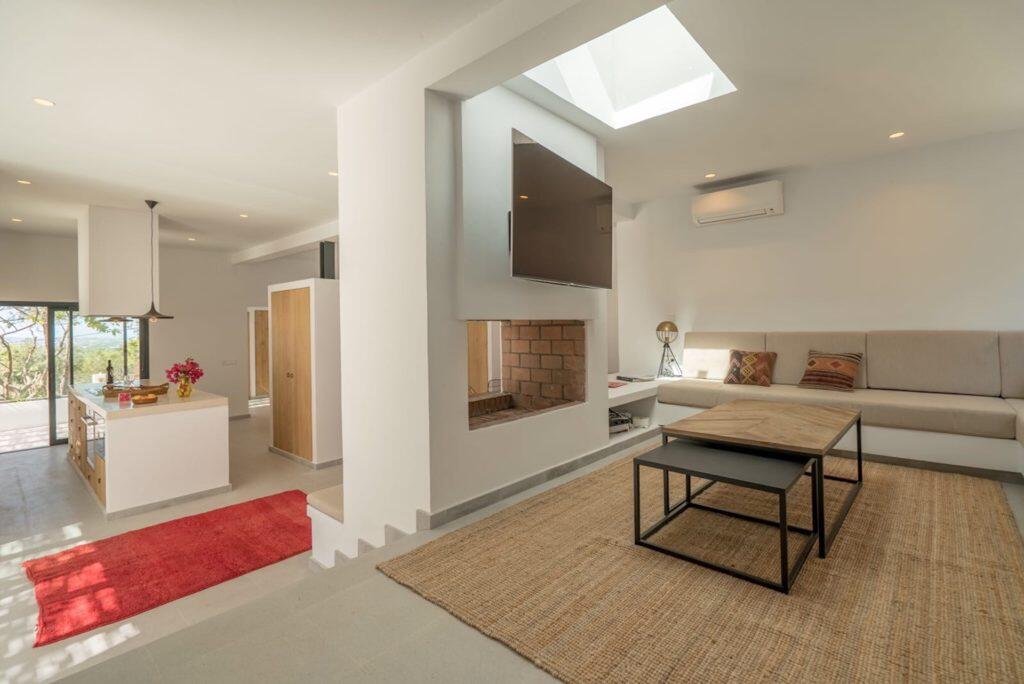 3. Property Renovation Costs
"Renovations often cost more than expected. In most cases buying a second-hand home means that essentials like structure, façades, and installations need a full overhaul. These are costs that are often forgotten as the focus tends to be on the more "beautifying" aesthetic changes you envision for your new home. Here your architect should thoroughly assess your property's bare necessities and provide you with a detailed list of recommended works and associated costs. This way, you have a clear idea of how much of your budget is left for the more "superficial" changes that you envisioned." – Robin, Architect & Founder at RVdD Arquitectura
Accurate Idea of Initial Costs  
It's so important to consider all the possible costs involved. Of course, the cost of renovating a house in Ibiza is harder to estimate than the cost of a new build, because until you start, you don't always know what you're up against.
An accurate idea of the cost of the renovation can initially be estimated by professionals, however, often it can only be gained once the work has already started, and you can properly assess the structural integrity and foundations of the existing building.
Ongoing & Extra Cost 
Regardless of your budget, you should always allow for a margin for unforeseen items that will not become apparent until after the work has begun.
When obtaining estimated costs, consider site preparation, foundation, professional fees, finishes, installations, landscaping, garden, pool, and taxes. 
Always clarify whether it is a fixed price for a clearly defined task, or an estimate based on currently available information (which may increase dramatically as the actual scope of the project becomes clear). Before you take the plunge, keep in mind that aside from the work involved in renovating a home, there are many additional costs that you should factor in.
4. Legal Information: Local Laws and Regulations for Renovations in Ibiza
"Before embarking on your home renovation journey in Ibiza it is absolutely essential to familiarise yourself with the local urbanistic laws and regulations. Especially here in Ibiza, where even small works require prior declarations or building permits from the town hall. Consult with your architect, in order to be fully informed and aware of possible limitations that might affect your design ideas." – – Robin, Architect & Founder at RVdD Arquitectura
Legal Information: Licenses & Permits
If you are looking for a property to renovate in Ibiza, you must make sure that the local authority Town Hall (Ayuntamiento) has issued the relevant permits. 
In some cases, your chosen architect will need to provide detailed plans for the building project. 
Permits and licenses are required for the following projects:
For a simple renovation (coverings and installation replacement), you do not need a license and with a "Previous Communication" (Comunicación Previa) you can start works immediately.
For any other type of renovations that include changing the interior layout, structural modifications and façade modifications, an Urbanistic Licence will be required.
Since the COVID-19 pandemic, to try to facilitate the administrative procedures, if the renovation is on urban category land, in existing buildings that are legal, the architect can present a "Declaration of Responsibility" (Declaración Responsable) together with the technical project, and start the works immediately (similar to the "Previous Communication"). In this case, the architect assumes and justifies that the renovation complies with the regulations, and can therefore start immediately.
In order to understand the possibilities and limitations of the renovation in question, you (or your chosen architect) must understand and analyse the scenario based on the urban laws and regulations that apply. Each of Ibiza's five municipalities has its own rules, a "PGOU" or "Normas Subsidiarias". Then there are specific rules within each municipality with Partial Plans, Areas of Action and Detailed Studies that affect some specific areas, which are specific rules only for those areas. And above all, there is the "PTIE" which is a regional regulation of the Consell that regulates above all the rustic land and protects the landscape.
Apart from that there are other state or regional regulations on agricultural land, coastal areas, etc. that also need to be taken into consideration.
In terms of urbanistic laws and regulations it might be fair to say that Ibiza is one of the most complex regions in the whole of Spain. On order to analyse and understand the existing scenario you need to have an experienced professional at your side who understands all the intricate levels on which these laws and regulations operate. Therefore, we would like to reiterate how strongly we recommend working with a trusted, local architect. 
Extra Tip from Robin:

Ensure that both the architects and the contractors have their own insurance in place before they start work on your project. Not only for safety and to protect yourself from personal liability, but also because if you are financing the purchase and the renovation through your bank, only approved tradesmen in Spain are allowed to carry out building works (this ensures they have the correct insurance).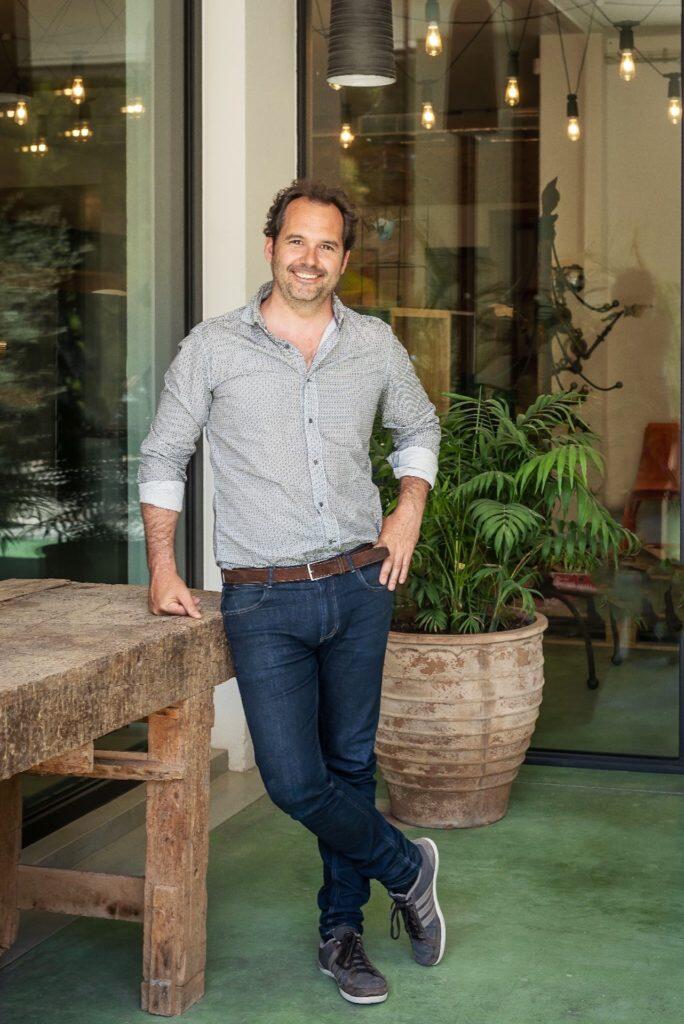 Prestige Recommends: Local Ibiza Architect RVdD Arquitectura
We would like to give a very special thank you to Robin, founder of RVdD Arquitectura for taking the time and sharing his knowledge on this subject with us and our readers. Robin is of Franco-Belgian origin but was born and raised in Ibiza. He graduated from the Val de Seine School of Architecture in Paris and set up his studio "RVdD Arquitectura" on the island in 2011. He specialises in renovations, as well as new-builds, landscape design, consulting, and project management. Over the years he has worked on numerous renovation projects for both international second-home buyers, local residents, and investors. All images featured in this article are examples of some of his works.
---
Are you looking to Buy and Renovate a Property in Ibiza?
Our team is always ready to help you along your buyer's journey and ensure you discover your dream home with Prestige Properties Ibiza – contact us today
Thank you for staying updated with us at Prestige Properties. We hope to see you soon!