Each Christmas, Prestige Properties Ibiza takes pride in supporting a local charity and contributing to the well-being of those less fortunate in our community. In 2018, we decided to choose a campaign that was both close to our hearts and also directly linked to our workplace, through our colleague Nina Negru, the 4th Edition of 'One Toy, One Smile', organised by Food for Ibiza.
The "One Toy, One Smile" Campaign
Christmas is a time of hope and compassion. Children who live in poverty often experience Christmas very differently from what the seasonal retail marketing narratives would have us believe, and also often very different from their friends and peers. 
Sharing and receiving a small gift, in the form of a toy has the ability to change a child's entire perspective, value, self-worth, and simply send a small message of hope.
"One Toy, One Smile" is the perfect addition to offering food to families in need at such an incredibly special time of the year. As well as giving toys, each family also receives a €25 coupon per head to be spent on their own personal Christmas menu at their nearby supermarket. Making everyone feel loved and cared for. At Prestige Properties, we were overly happy to be part of such a wonderful project. 
The event was marked by the element of surprise and overwhelming emotions, brought by a simple goodwill gesture to those who needed it most. We are very grateful to the team at Food for Ibiza for their incredible dedication, and for taking responsibility for the success of these initiatives here in Ibiza. 
About 'Food for Ibiza'
Since 2014, Food for Ibiza, a non-profit organisation, has been actively campaigning and helping to improve the quality of life for people in Ibiza, by fighting hunger and supplying some of the island's poorest families with food and those basic necessities that we often take for granted. 
The organisation solely runs on the support of volunteers and is dependent on the generosity and donations made by the local community, like other businesses, supermarkets, hotels, restaurants, and private household contributors. 
The volunteers from 'Food for Ibiza' primarily drive to collection points across the island to pick up donated groceries, such as dried foods like rice, lentils, beans, pasta or canned meat and fish, oil, coffee, cocoa, and cookies and bring them to their warehouse where items are stored, sorted and the packages are prepared for delivery based on every family's particular need. They are then distributed to the registered families once a month. 
We are very proud to be working with one of the founding members of Food for Ibiza, our colleague Nina Negru, as part of our team of sales agents. Nina is a great professional in the real estate market who felt she needed to contribute more directly to alleviating some of the difficulties faced by those struggling to keep up in an economy progressively geared towards luxury and exclusivity.  
Fundraising with 'Food for Ibiza'
In September, Food for Ibiza held its annual fundraising event at the famous 'Children of the 80's' Party at the Hard Rock Hotel:  to enter the party you simply had to bring 3 kilograms of non-perishable food. 
Nina Negru stated that the collection at this event proved essential in helping low-income families from the island during the winter ahead.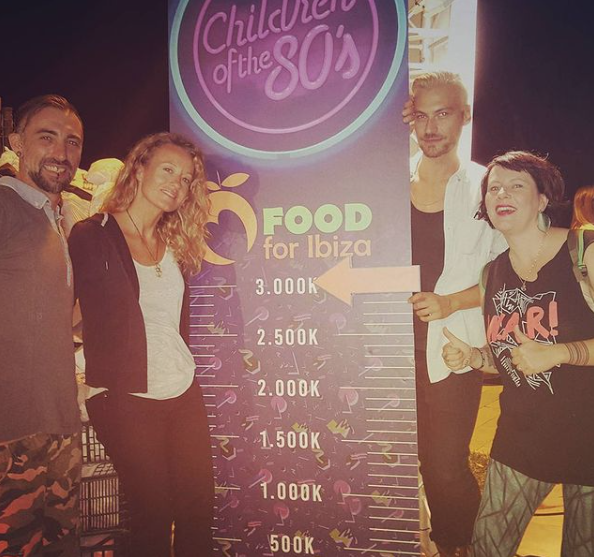 Poverty in Ibiza – The Facts
We live on an island that is known for its wonderful surroundings and its affluent and privileged lifestyle. It is often difficult to believe or even notice that some people experience very difficult and extreme situations of poverty and desperation. Some people have very little income, food, are homeless, or have few resources and opportunities.
From Prestige Properties Ibiza, we want to bring visibility to some of the charity initiatives that are organised by different associations of Ibiza. It is paramount we see the island as a whole and with equal opportunities for all, and where there are inequality and needs, we desire to stand together to make a difference and create long-lasting improvements for the health and well-being of our local community. 
If you want to volunteer your time or get involved, check out the links below. Your support and help will be greatly appreciated by those who are struggling to care for themselves. 
Food for Ibiza:
https://www.facebook.com/foodforibiza
https://www.instagram.com/food_for_ibiza
No time to spare? Donate!
Paypal: nina.foodforibiza@gmail.com
Or via Bank Transfer: OPENBANK
IBAN: ES67 0073 0100 5505 0541 8480
SWIFT CODE for a donation from abroad: OPENESMM