This Ibiza Property Market Report has been researched and provided by Prestige Properties Ibiza summarising trends over the past 15 years, utilising statistics and impressions from both external and internal sources.
The analysis draws upon data and figures of property sales and pricing received between 2004 and 2019, and covers house pricing monitored over the course of 2019.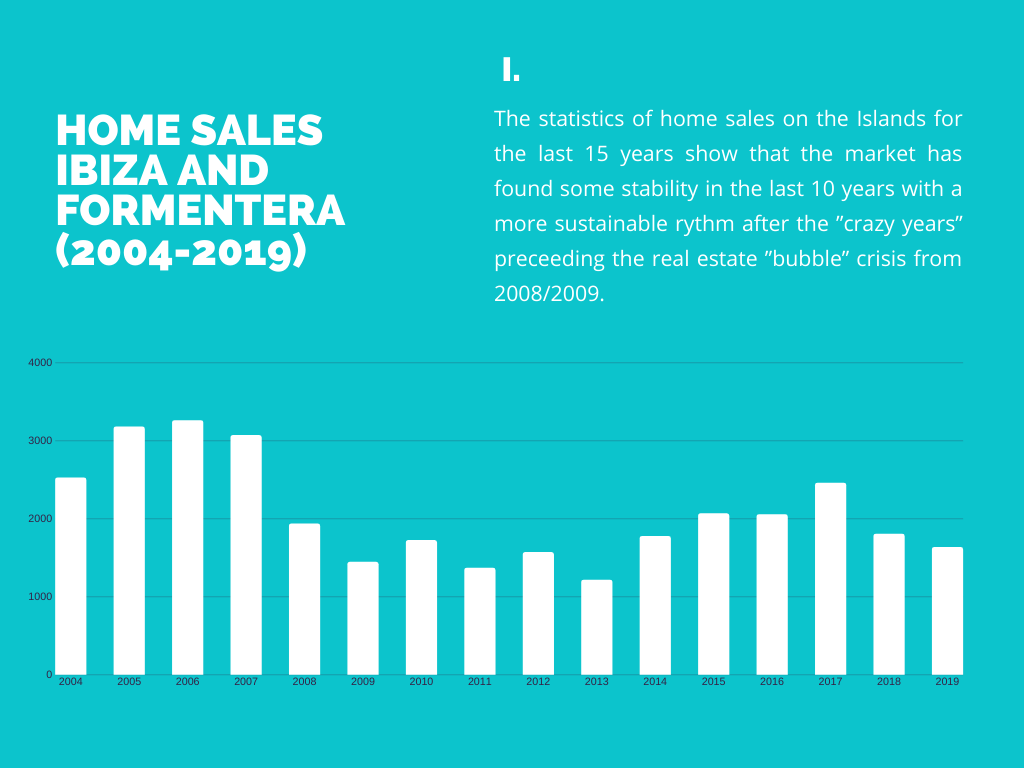 Ibiza Property Market Price Curve
The real estate market in Ibiza has demonstrated a durable and stable rhythm in both consumers and house prices over the past 10 years. Following the 2008 financial crisis, Ibiza by comparison to anywhere else in Spain and much of Europe, has exhibited an impressive recovery and a steady increase of both sales and prices.
However, over the past two years, Ibiza has observed a slight decline in sales. This decline is reflective of recent developments within the newly established planning permission laws here on the island.
Regulations are now set to ensure all new properties are built under 320sqm in non-urban areas with new build licenses often proving quite hard to obtain and processes being lengthy. Previously built properties on the market can often present legal issues and similar restrictions. While these developments are very positive for the preservation and beauty of Ibiza, it generally leaves a lack of available products. With the strengthening demand for properties, we inevitably find an occurrence of a low supply versus a high demand.
Opposed to any real estate crisis emerging, the Ibiza Property Market is seeing the value of existing luxury homes stamped as a rare product and even with a dip in sales, the unwavering price curve continues to rise. Therefore, a more mature and sustainable market with long term stability, growth and strength is notable, which indicates a positive future market to come.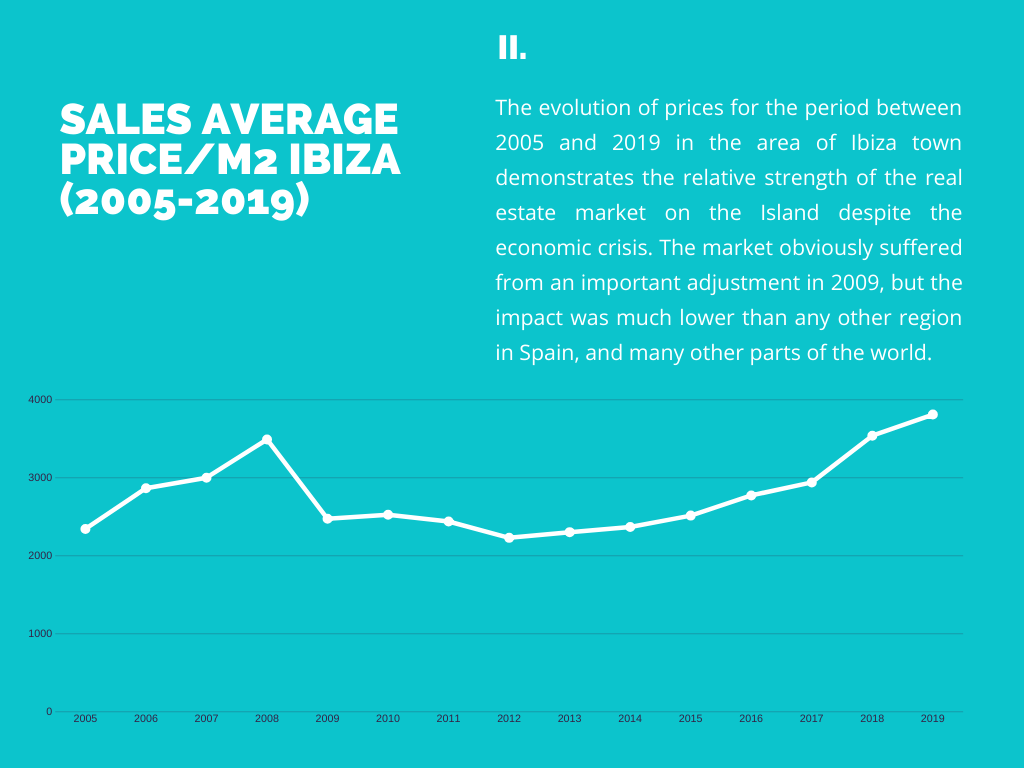 Nationalities in the Ibiza Property Market – 2019
The island of Ibiza has an exceptionally diverse culture attracting many communities predominantly from across Europe as residents, businesses, tourists and investors. International visitors accounted for almost 80% of the total guests in Ibiza during 2019.
The continuation of international visitors and buyers is the driving demand in Ibiza real estate, proving to raise property values overtime and inevitably improve the overall infrastructure and stability of the property market both in Ibiza and Spain.
Although statistics for exact nationalities in the Ibiza Property Market are hard to assess, inevitably the British, French and German are incredibly strong, with a marked increase in Belgium and Dutch nationals investing more in property over the past 10 years.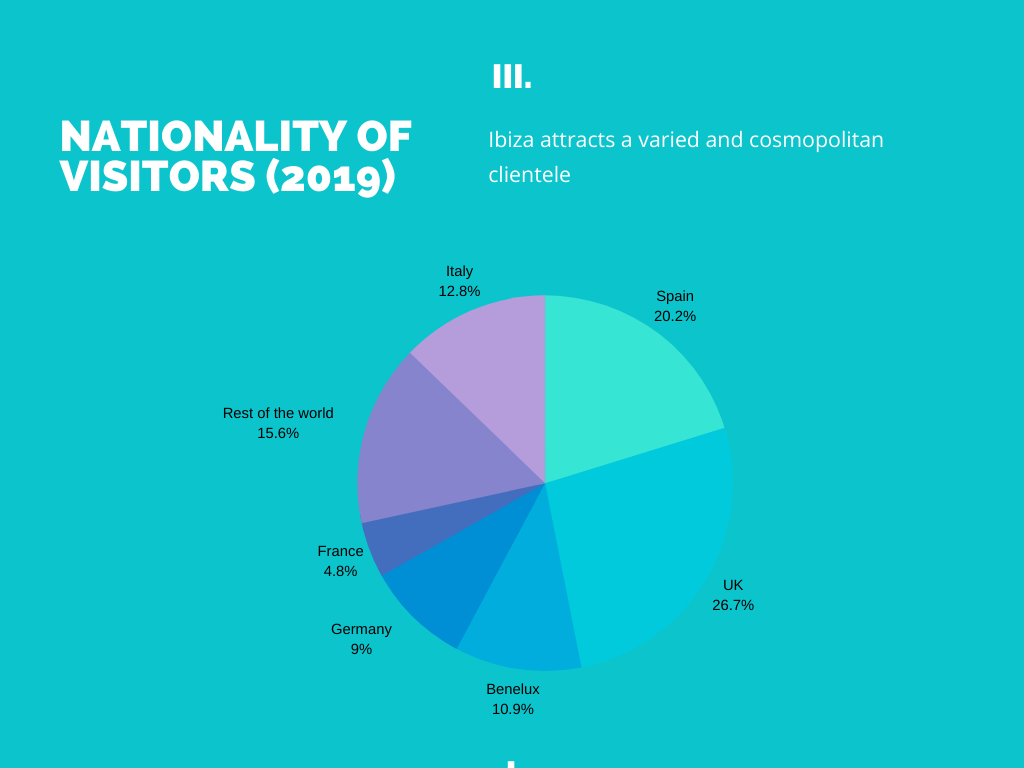 Prestige Properties Market 2019
Ibiza is distinguished by many exclusive and high-end properties. In 2019 the Ibiza Property Market with Prestige Properties Ibiza calculated an average price per sqm of 6.665€.
The housing market between each municipality naturally varies depending on the style and size of the property, the facilities, surrounding land, panoramic views and the cultural environment of the area.
The area of San Jose demonstrates the highest demand with a multitude of modern, contemporary and luxurious villas which fulfils many property requirements from international buyers with an average house price of 2.200.000€.
Eivissa and San Antonio attracts buyers looking for apartments and terrace style housing which can range between 500.000€ – 1.000.000€, whereas in the north, a largely ecological area with a very specific housing style average a price of 2.900.000€. The family friendly area of Santa Eulalia, would average 1.700.000€ for a 250m2 villa with a pool.
Typical Properties Per Municipality
| | | | |
| --- | --- | --- | --- |
| Area | M2 | Average Price | Type |
| San Jose | 300 | 2.200.000€ | Villa |
| Ibiza Town | 100 | 500.000€ – 1.000.000€ | Apartment |
| Santa Eulalia | 250 | 1.700.000€ | Villa |
| San Antonio | 150 | 660.000€. | Town House |
| North | 500 | 2.900.000€ | Country Home |
Conclusion and forecast
The observed international interest on the island has resulted in an occurrence of a low 'supply versus high demand', rendering the Ibiza property market incredibly safe with extremely attractive values on a global scale.
Following the recent international outbreak of COVID-19, global markets may adopt a 'wait and see' approach in the short term. However, although it is difficult to make predictions for the future at this early stage, demand has remained stable during this unprecedented crisis and clients remain positive.
Recent studies have predicted a potential drop in the Spanish Real Estate market between 5 and 10%. Some areas in the Spanish property market will inevitably be strongly affected by the current crisis.
However, exclusive locations like Ibiza, are least likely to be moved and we expect to see a year with increased opportunities, some swift sales, yet stable prices for the market in general.
During the Covid-19 period, we have noticed an overall increase of enquiries and demand for properties on the island via our adapted digital e-working system and new website.
Here's an interview with Victor, Partner & Sales Director of Prestige Properties Ibiza, regarding the impact of Covid-19 on the Ibiza Property Market