The west coast of Sant Josep de Sa Talaia is one of the most sought-after areas to buy property in Ibiza, with an equally golden demand for tourism. It is hardly surprising the west coast draws so much attention with its fantastic white-sanded beaches, family-friendly and chic atmosphere, and spectacular surrounding landscape and sunset views. Just to name a few of its first-class attributes.
Here lies the resort of Cala Tarida. Situated between the island's third largest town, San Antonio, and the charming village of Sant Josep, Cala Tarida is a haven of peace and tranquility. Its beautiful location offers great lengths of pure white sand and clear bottomless turquoise waters. Apart from its natural beauty, the area's tranquilizing atmosphere, thoughtfully developed hotels, trending restaurants, and local bars make Cala Tarida a paradisal spot for fashionable and returning clientele.
Nearby blue flag beaches, such as Cala Bassa, Cala Comte, and Racó d'en Xic offer a relaxed boho-chic environment. Cala Molí is known as a great snorkeling location and kayaking spot. Here visitors can hire Kayaks for a daytime adventure exploring all the local surrounding beaches, coves and islets of the Cala Tarida bay.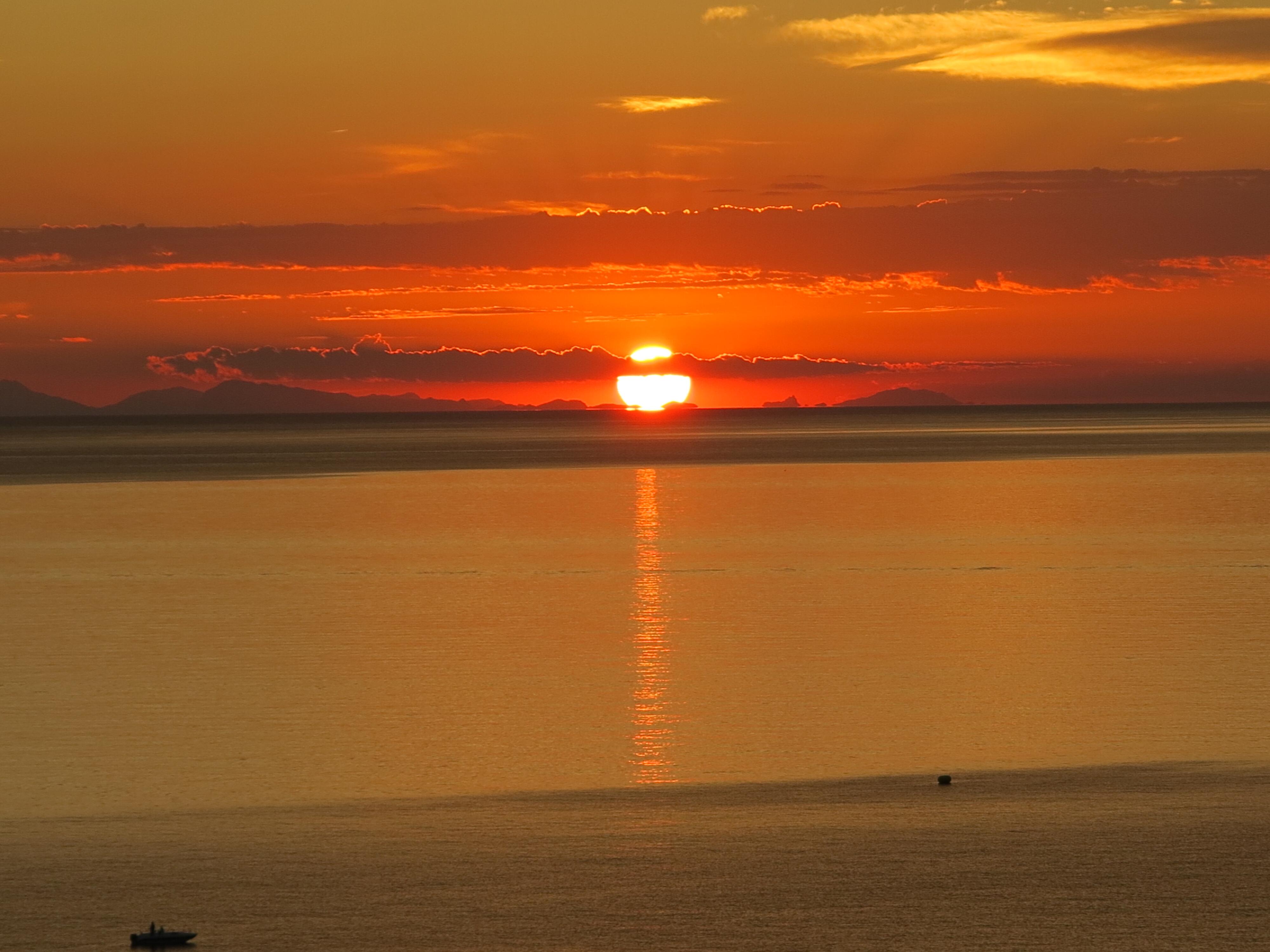 Insider Knowledge and Recommendations from Cala Tarida
Sabina Estates is the very first ecological villa estate and clubhouse with luxurious five-star facilities in Ibiza. The seventeen-hectare private estate was developed by eighteen architects and designers from across the globe.
To say the Cala Tarida development offers incomparable living and wondrous beauty is an understatement. Sabina Estates sits with the uninterrupted sea, countryside, and sunset views from any position within its grounds and offers the complete lifestyle package.
Aside from its spectacular 1920's styled members-only clubhouse, Sabina Estates boasts a once-in-a-lifetime culinary experience at the hand of Head Chef, Prasuna Coppini. La Paloma Restaurant, offers exciting cuisine in the form of fresh, vibrant, and nutrient-dense dishes. An absolute must visit if you get the opportunity.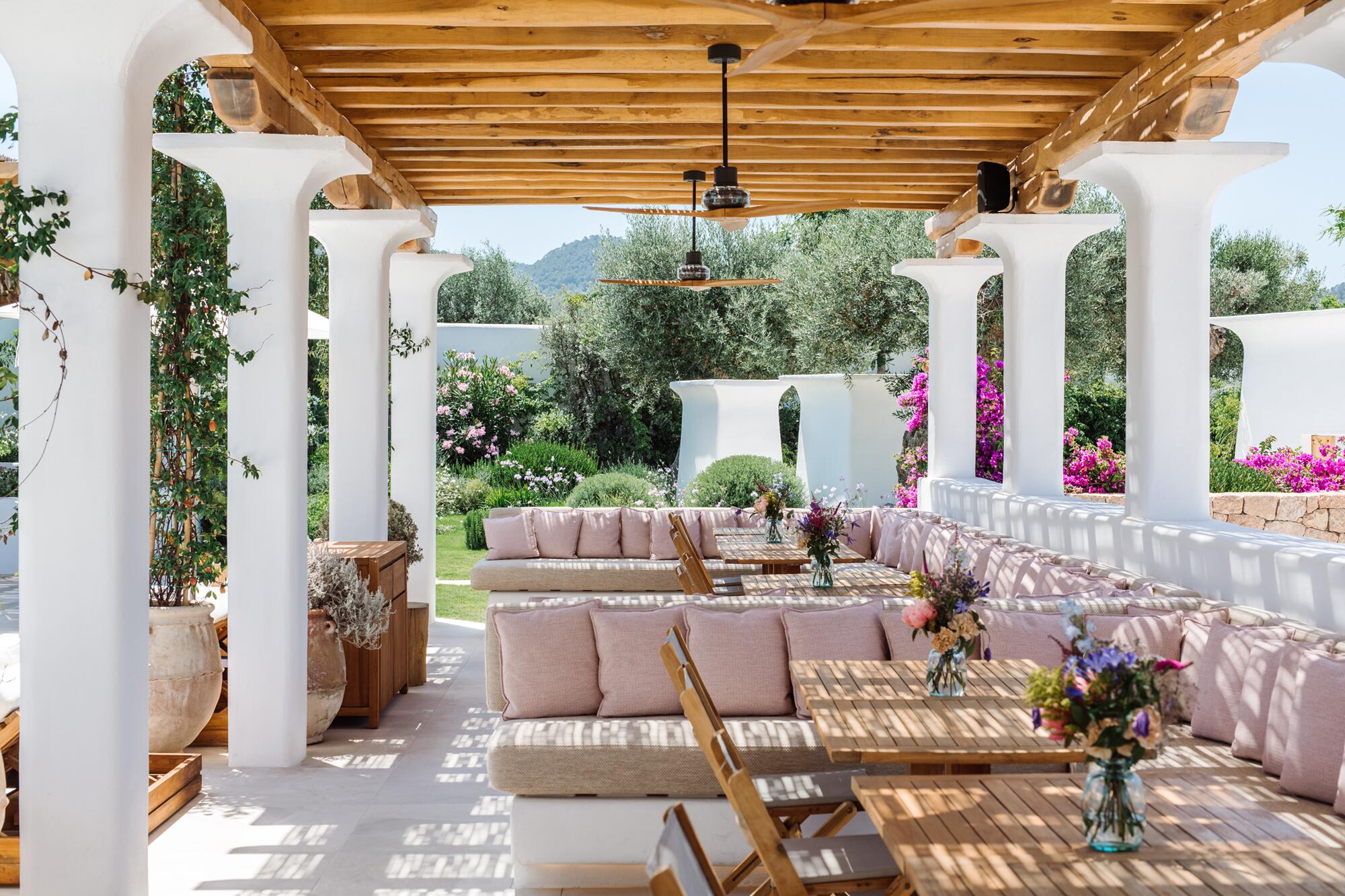 Hotel Insotel is situated on the beachfront of Cala Tarida, offering fantastic sea and sunset views. Recently refurbished, the 5-star hotel is the ultimate day-experience, especially for those who enjoy leisurely activities, sports, and the luxury of Spa days.
A day out at Hotel Insotel offers the luxury of six swimming pools and four swim-up pools, including a designated adults-only swim, an exclusive poolside cocktail bar, water games, a hydromassage pool, and countless Balinese daybeds to relax and enjoy.
Just a brief 5 minute walk (500 metres) away, the hotel offers a Prestige Spa, with state of the art thermal rooms and spectacular treatments, otherwise known as 'The Retreat'. The Retreat also boasts an excellent array of sports facilities including a dance studio, aqua gym, water polo, football pitch, archery, and tennis courts. A day pass here will certainly satisfy those hungry for a few hours of relaxation and an afternoon of prime facilities.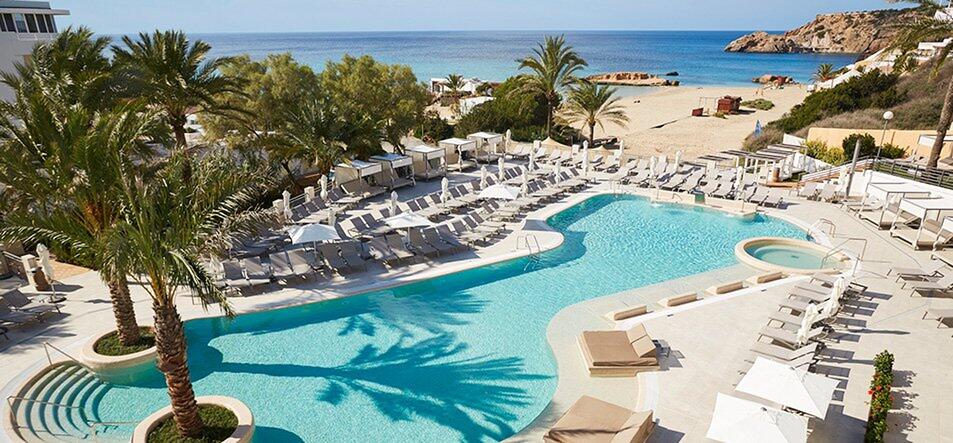 Cas Milá directly overlooks the beach of Cala Tarida with marvelous views of the Mediterranean Sea. This delightful family-run restaurant, now in its second generation of the Milá family, has been open since 1987. The warm and humble restaurant offers an authentic ambiance, with a typical Ibicencan style and a delicious menu of fresh fish, seafood, traditional rice dishes, and meats. Restaurante Cas Milá is a renowned venue for regular special occasions such as Birthdays, Weddings and Engagements. Be sure to confirm any table booking before you turn up to secure a spot at this beautiful restaurant.
Restaurante S'Espartar was opened over twenty years ago by Pepe, his mother, and aunts. The quality of their local fish, preparation and outstanding Cala Tarida mountain top views, make Restaurante S'Espartar one of the most unique restaurants on the island. Specializing in traditional dishes like "Bullit de Peix" (fish stew), "Sofrit pagés" (fried potatoes, pork, peppers, garlic), and lobster stew, S'Espartar will completely satisfy the palate whilst enjoying the panoramic view of the sunset from their open terraces.

Puerto Deportivo Coralmar is a beautiful port, quietly located in the area of Cala Corral. Cala Corral consists of a small cove of fishermen's huts with shores of granulated sand and amazing crystal-clear blue water. There are no restaurants on the port itself, however, many local Spanish restaurants can be found only a short distance away. Here it is possible to moor a small personal boat, especially if you are located nearby and wish to explore the area on water for the day.
Cala Codolar is one of the quietest beaches in Ibiza, with turquoise waters, beautiful enclosing pine trees, and large grey stones lining the beach shore. This unique Chiringuito offers beautiful Balinese decor and beach beds, with a simple, yet appetizing menu of sandwiches, burgers, meats, tapas, and fresh fish. A typical beach bar venue with outstanding mojitos, caipiriñas, and daiquiris.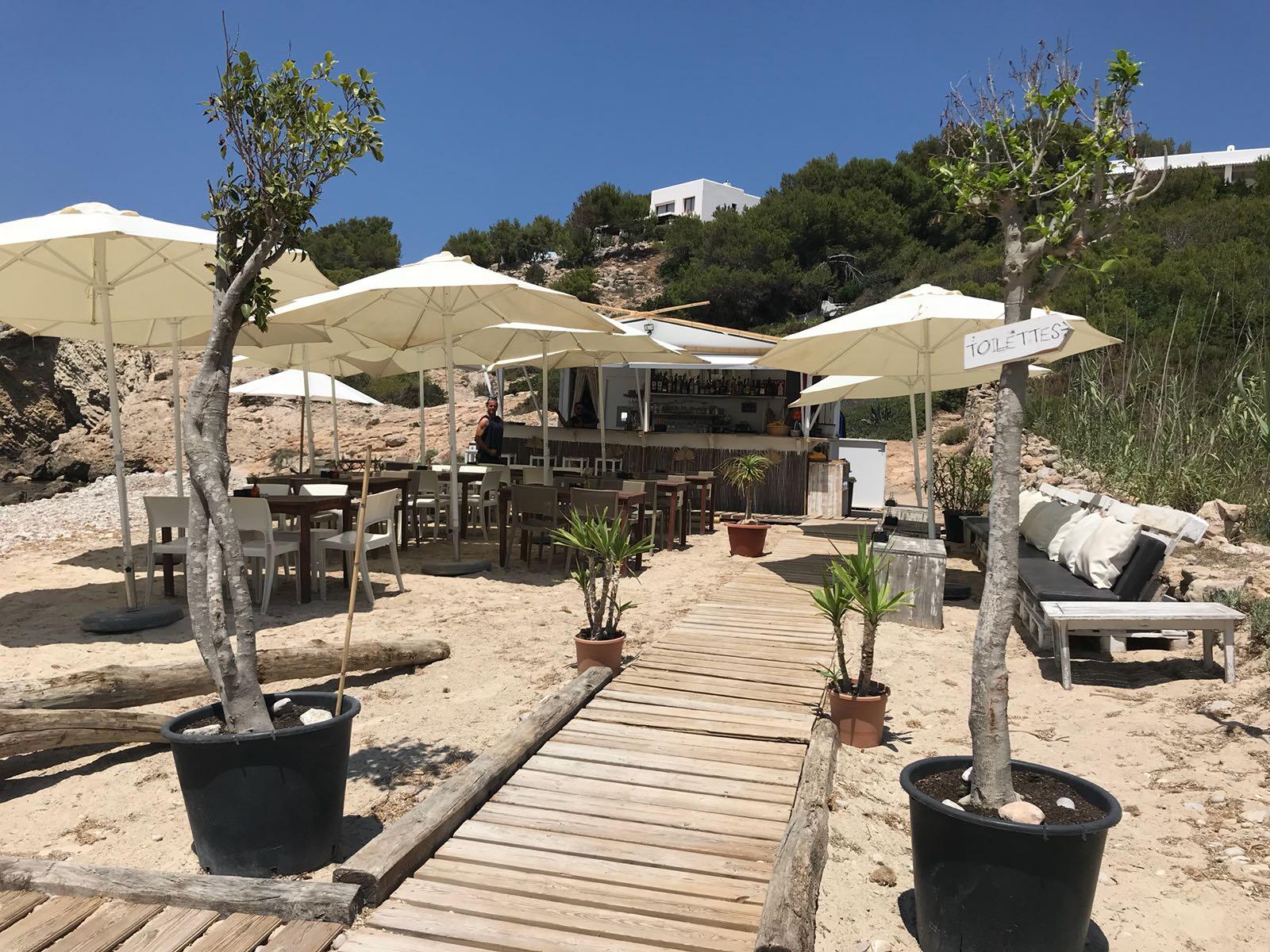 Located directly on Cala Tarida Beach, the famous VIP attraction, Cotton Beach Club, is an incredibly sophisticated spot to dine. Decked with white-chic furnishings, overlooking the outstanding views of the Mediterranean, Cotton Beach Club boasts a first-class restaurant. The restaurant serves a wide variety of cuisine from Mediterranean dishes, sushi, à la carte, and an aperitivo style buffet. The venue is perfectly suited for exclusive clients, culinary enthusiasts, private events, and weddings.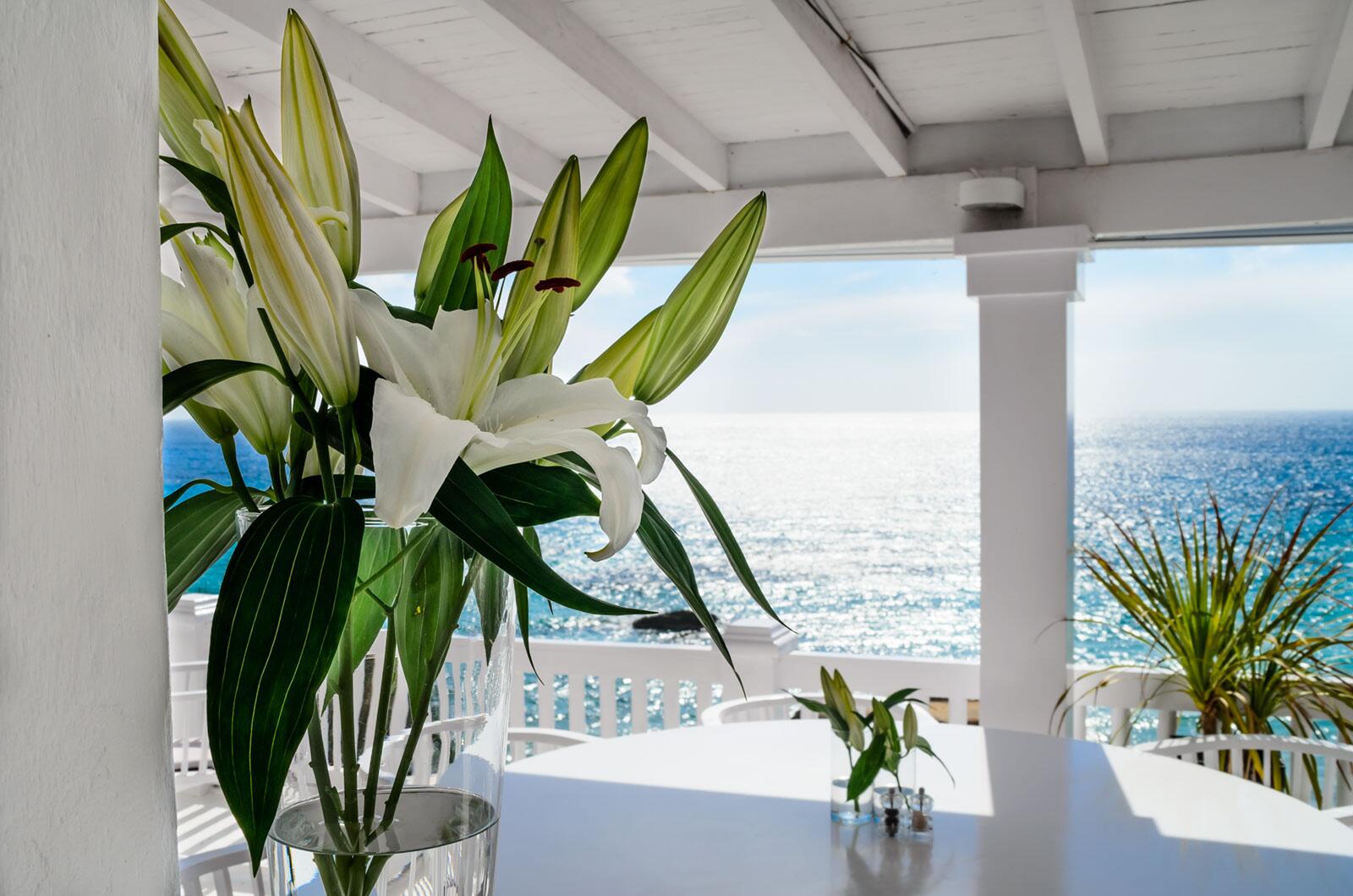 Cala Tarida is the perfect spot for those who love to immerse themselves with the beauty of nature, yet have the privilege of modern, contemporary lifestyle activities. If Cala Tarida sounds like the perfect location to buy your holiday home or to rent a villa for your next vacation, then why not check out our current property portfolio in the area of Cala Tarida here.
Properties for Sale and for Rent in Cala Tarida
Interested in the Municipality where Cala Tarida resides, Sant Josep? Then check out our in-depth guide and property article here.