Is Ibiza a good place to buy a property? The property market in Ibiza has always been reliable. There is no denying that our island's real estate market has seen a significant influx of residents and foreign buyers, particularly in the luxury segment – and it has undoubtedly become one of the world's top property hotspots. 
Its idyllic location and high property demand have made Ibiza a safe investment for quite some time. As the current market stands, investing in a home in Ibiza makes for a secure return on investment, irrespective of whether it is residential, a second home, a villa for tourism rental purposes, or an early project phase property.
In light of Ibiza's vibrant property market, we are excited to share our latest market update showing why Ibiza remains a great investment.
The island of Ibiza is not only an attractive investment but also one of the most sought-after locations in the world. Known for its pleasant climate year-round, natural environment, and extraordinary lifestyle, our island has much to offer. Our island's picturesque beaches and sunsets, social networks, events, and laid-back lifestyle continue to attract many home buyers seeking a place in the sun where other international and cosmopolitan communities align. 
Moreover, our island draws in many remote workers and entrepreneurs who can work from anywhere – including those with children due to its quality schools, natural surroundings and level of safety.
Many visitors from afar are impressed by its increasingly easy international connection (not only direct from London, but direct flights from New York to Mallorca are now available, allowing you to reach Ibiza in approximately 8 hours), making travelling to and from Ibiza much simpler and more enjoyable.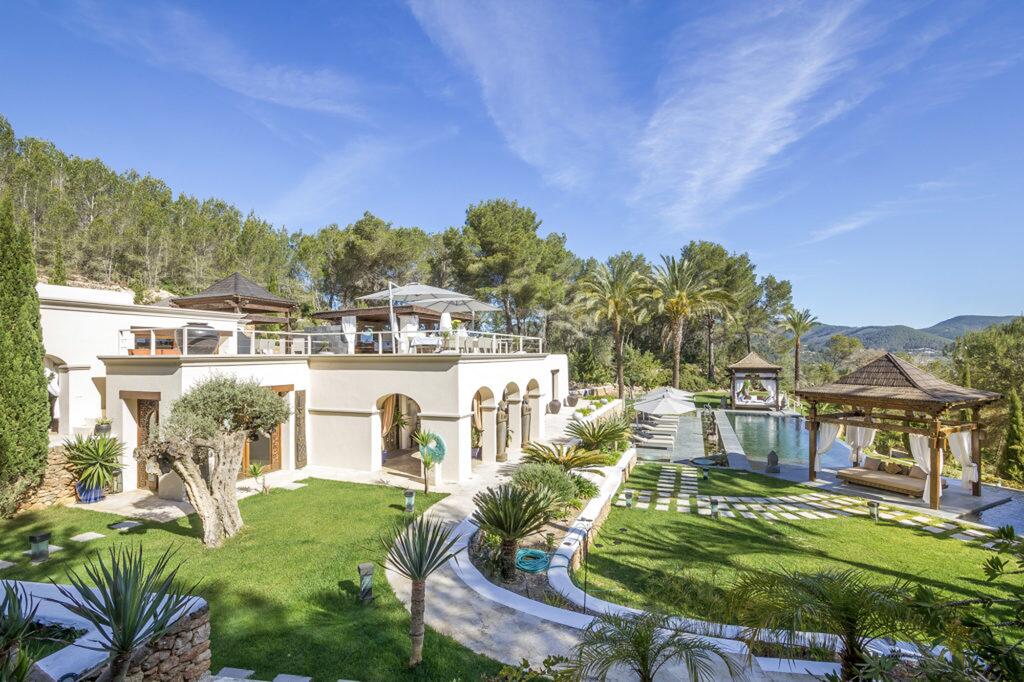 Prestige Properties presents Ibiza's Luxury Housing Market 2022/2023
Soon, we will be taking a look at the housing market statistics once again as we enter the last quarter of 2023. Yet, as far as we can predict and according to our internal insights, we have continued to rise since our previous audit. 
Our 2022 annual market report and 2023 forecast shows that Ibiza's real estate market has always been more resilient than our neighbouring Islands and Spain's mainland. Ibiza's luxury sector has experienced a considerable upturn since 2020 compared to our peers. 
Our Prestige Properties Ibiza's sales data for 2022 show the following:
An overall 10% increase in price per square metre between 2020 and 2022 across all areas on the island
Our sales volume doubled between 2020 and 2021 – and remained stable throughout 2022
An 87% rise in enquiries over the past two years
A drop of around 50% in (published) listings (suggesting a high demand versus low supply market)
58% of our buyers purchased a property as a second home
For our Full Market Report and more statistics, please visit our 2022 Annual Ibiza Property Market Report and 2023 Forecast.
Overall, following the main boom of 2021 (which saw even higher numbers than the pre-covid highs in 2017), the market remains steady and continues to rise. With fewer sellers on the market, property values are predicted to increase as the race against a low supply continues, making this a good time and Ibiza a good place to buy a property.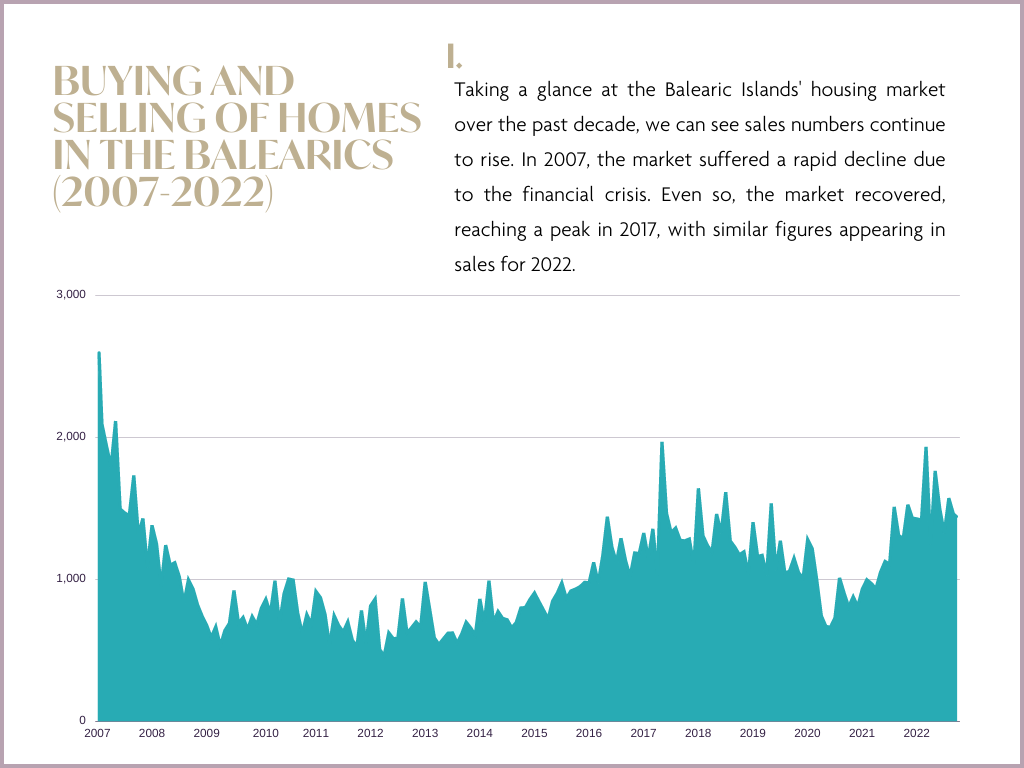 Ibiza Real Estate Properties for Tourism and Rentals
Ibiza generally continues to grow, especially in the hospitality and tourism sectors, making it a premium place to travel. Due to this growth, housing and infrastructure demand has also increased, making it a good destination for those looking to buy a property for tourism purposes.
Buying an Ibiza property with a current tourist licence is the ideal situation. The application process and legal certificate will already be completed, and, what's more, regular tourism customers are likely to return to this same property and book their holidays year after year. Buying a property for tourism is a win-win situation. This type of investment will likely be fully booked year after year as the tourism industry is booming and its prestige VIP status continues upward.
You can learn more about purchasing a property with a tourist licence or obtaining your own in our guide entitled How to Obtain a Tourist Rental License in Ibiza.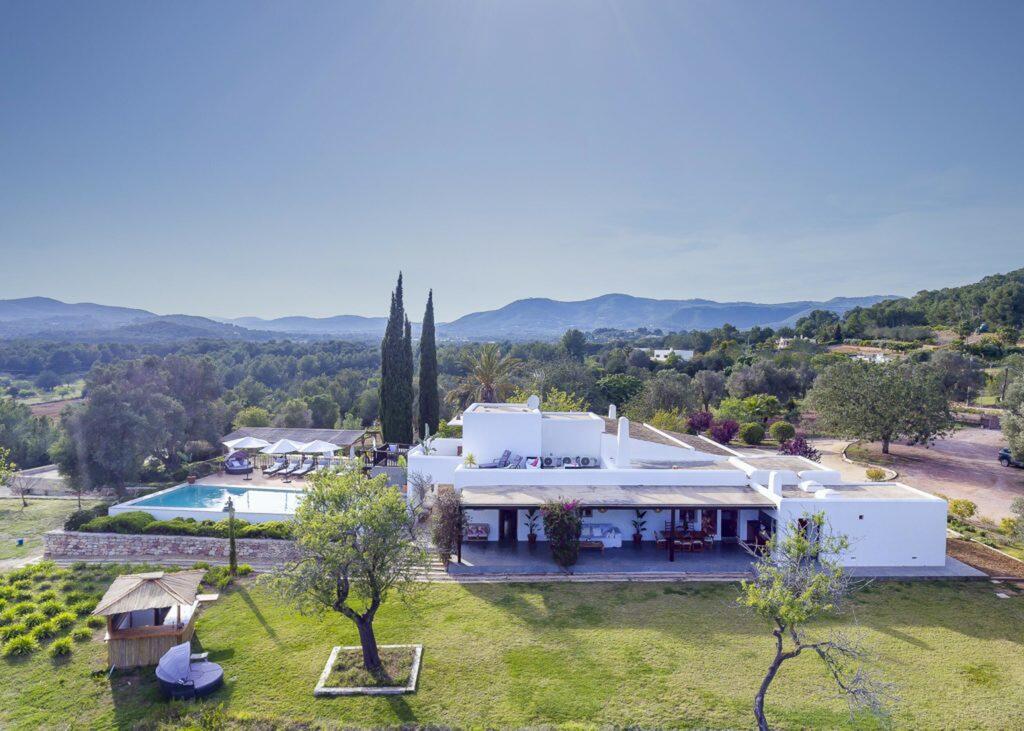 Ibiza's Real Estate Market for Long-Term Residents and Families
Our island's relaxed lifestyle and tranquil environment make it a popular destination for long-term residents, families, and professionals (young and old) who can work remotely. Those who can afford it will naturally prefer a purchased home over long-term rentals (which are also challenging to find). 
The island is experiencing a sensational rise in interest as internationals and families become more active in their purchasing journeys, resulting in an increase in prices, a decrease in supply, and an increase in demand.
So, is Ibiza a good place to buy a property and is now the right time?
Overall, one thing is for sure: You'll have a better chance of getting a decent return if you buy a property in a highly valuable location, highly sought-after and in constant demand. And, yes, Ibiza is most certainly one of those places!
Are you looking to buy a property or luxury villa in Ibiza? Well, now is a perfect time!. If you want to view our Buyers Guide or speak with an agent about the current market and investment opportunities, contact us today! 
We would be more than happy to talk you through Ibiza's Real Estate potential.