This report uses internal and external sources to present information on the property market in Ibiza and the Balearic Islands for 2022, along with its projected forecast for 2023.
According to the data and figures received, the analysis covers the following three topics of discussion:
The Balearic Islands Housing Market Summary 2022
The Ibiza Luxury Housing Market Report 2022 from Prestige Properties
Prestige Properties Ibiza 2023 Predicted Forecast 
1) The Balearic Islands Housing Market Summary of 2022
Taking a glance at the Balearic Islands' housing market over the past decade, we can see both sales and house prices continue to rise. In 2007, the market suffered a rapid decline due to the financial crisis. Even so, the real estate market has steadily recovered, reaching a peak in 2017, with similar figures appearing in sales throughout 2022.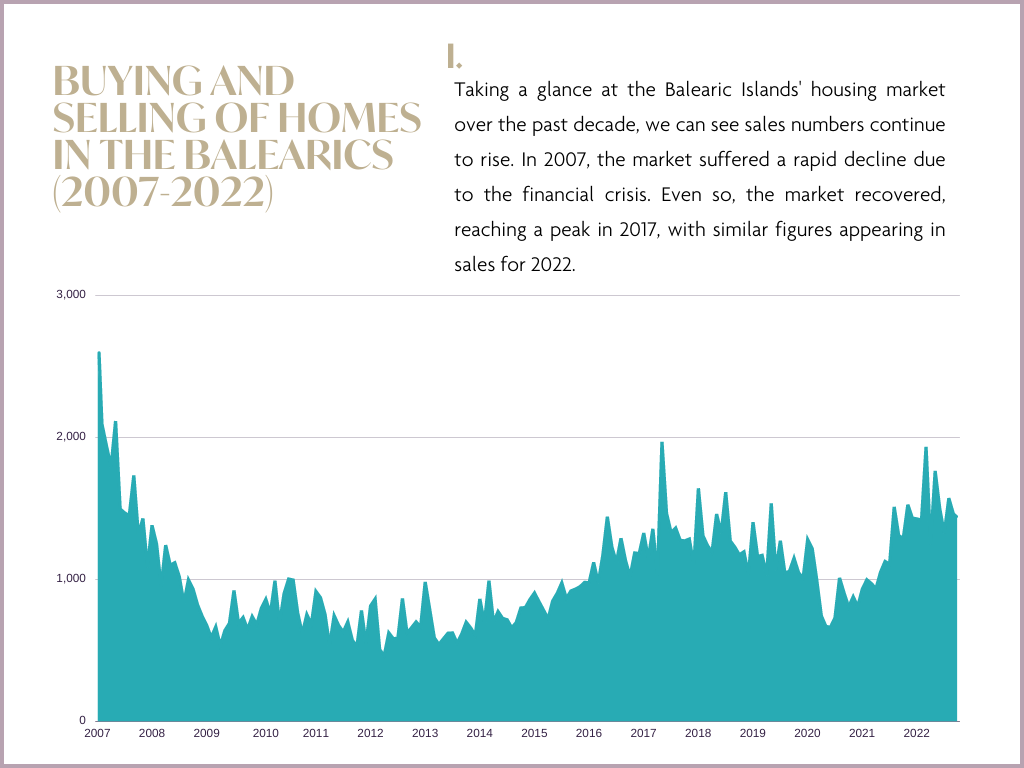 Since 2017, there has been a slight drop in sales from late 2018 through to early 2020 (suggesting the market was experiencing minor stagnation); however, it must be noted that during this period, the property market sector, like many others, started to experience less movement due to the uncertainty of COVID-19 that inevitably contributed to the decline in sales. Despite this, since the summer of 2020, buyers' activity has quickly rebounded and thrived again, with property sales continuing to rise across the Balearic Islands.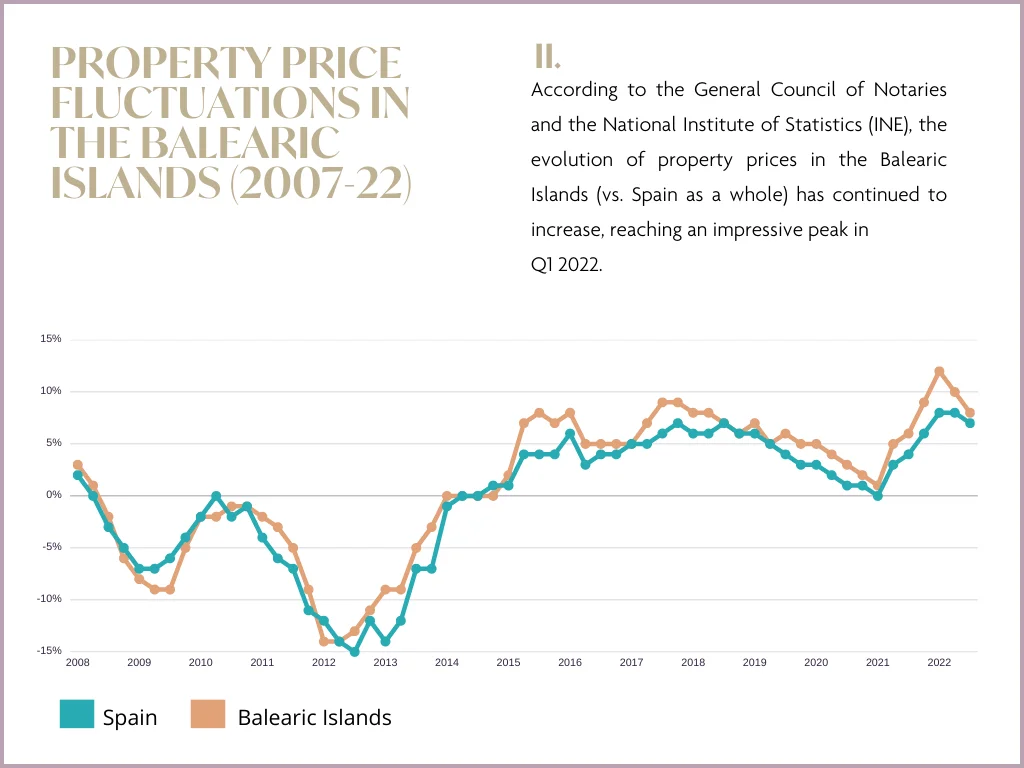 According to the General Council of Notaries and the National Institute of Statistics (INE), the property prices in the Balearic Islands have continued to increase, reaching an impressive peak in Q1, 2022.
2) The Ibiza Luxury Housing Market Report 2022 from Prestige Properties
It should be noted that Ibiza's luxury real estate market has always been more resilient than its neighbouring islands' and Spain's mainland, whereby setbacks or downturns have never been as severe.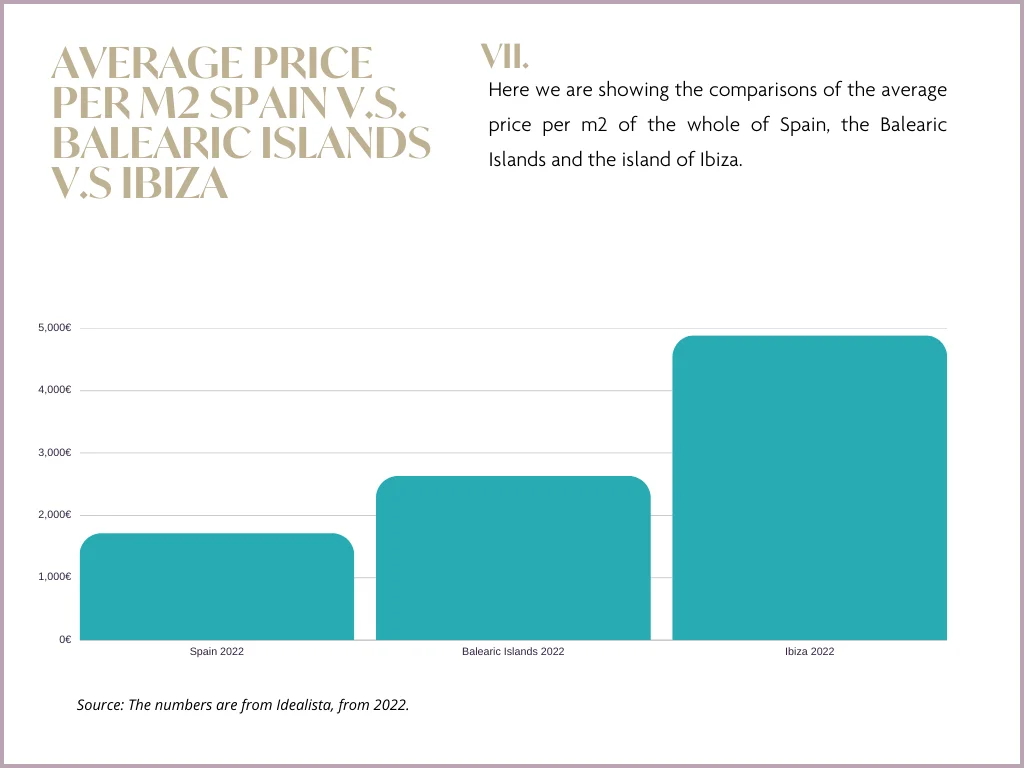 Despite the real estate market dip across the Balearic, the pandemic demonstrated a continuous positive shift in Ibiza's luxury market. For a more detailed analysis relating to the effects of the pandemic on the Ibiza real estate market, check out our end-of-year market reports for 2020 and 2021.
In fact, since the 2020 pandemic, Prestige Properties' enquiries, sales, and revenue have almost doubled in numbers.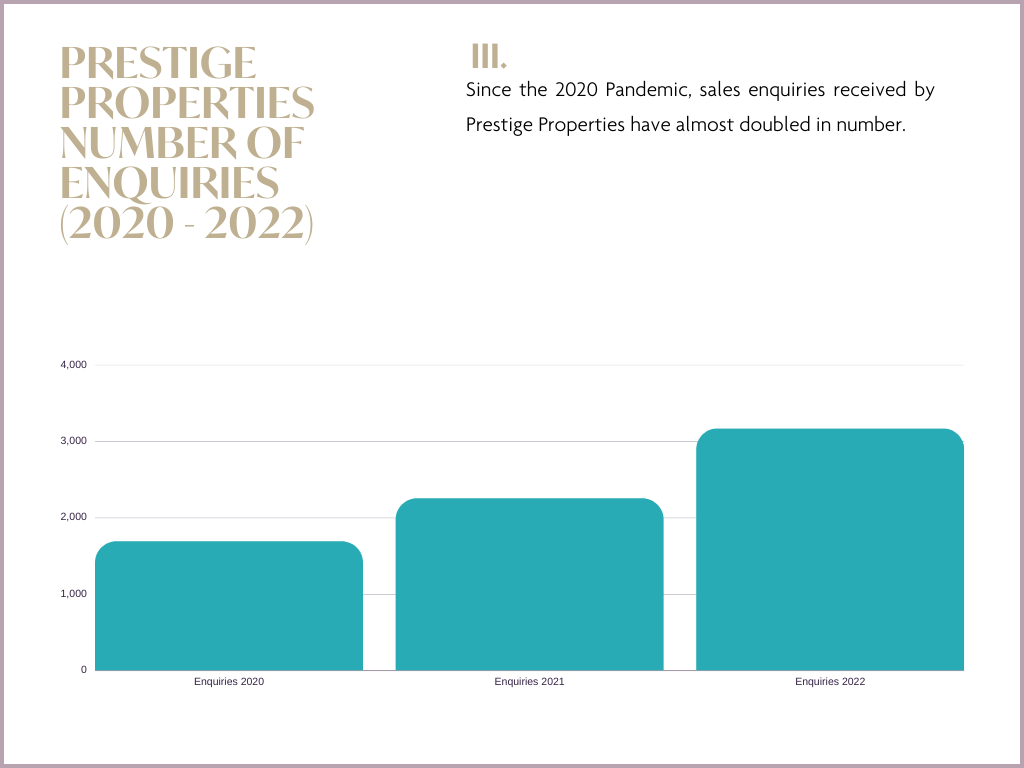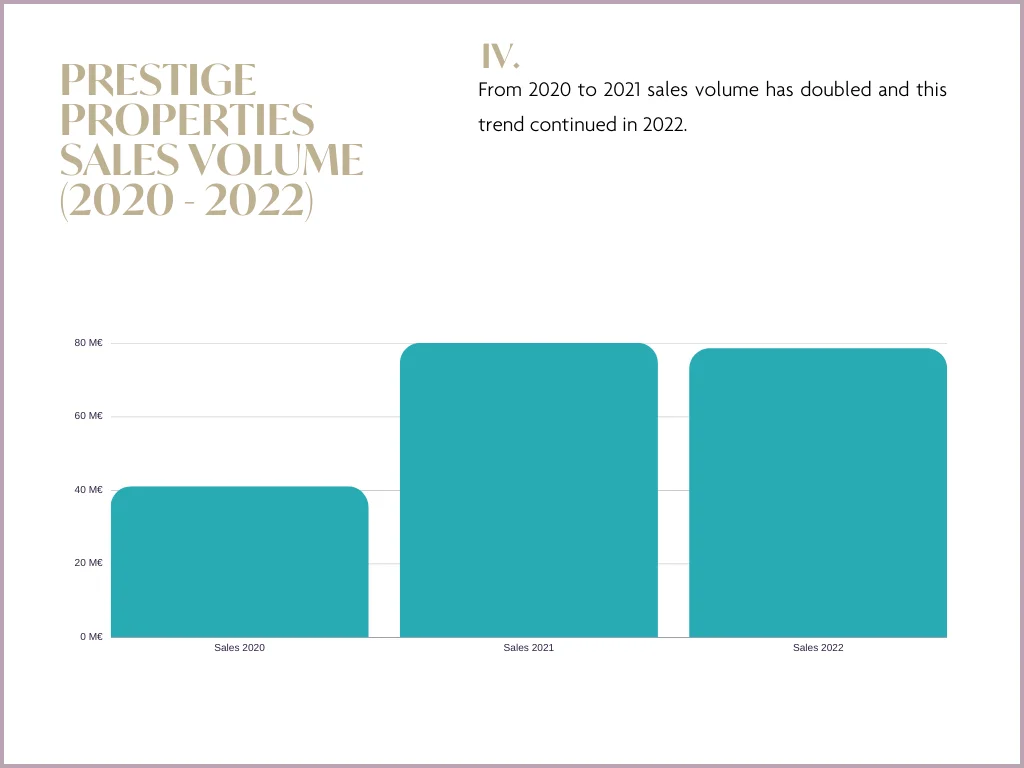 Average Price per Square Metre per Municipality in Ibiza
Our internal statistics from our sales database at Prestige Properties Ibiza calculated an average increase in price per square metre, from 7.281€ to 8.028€, approximately a 10% rise between 2020 and 2022.
In Ibiza's luxury housing market, most municipalities have shown price increases per square metre between 2020 and 2022.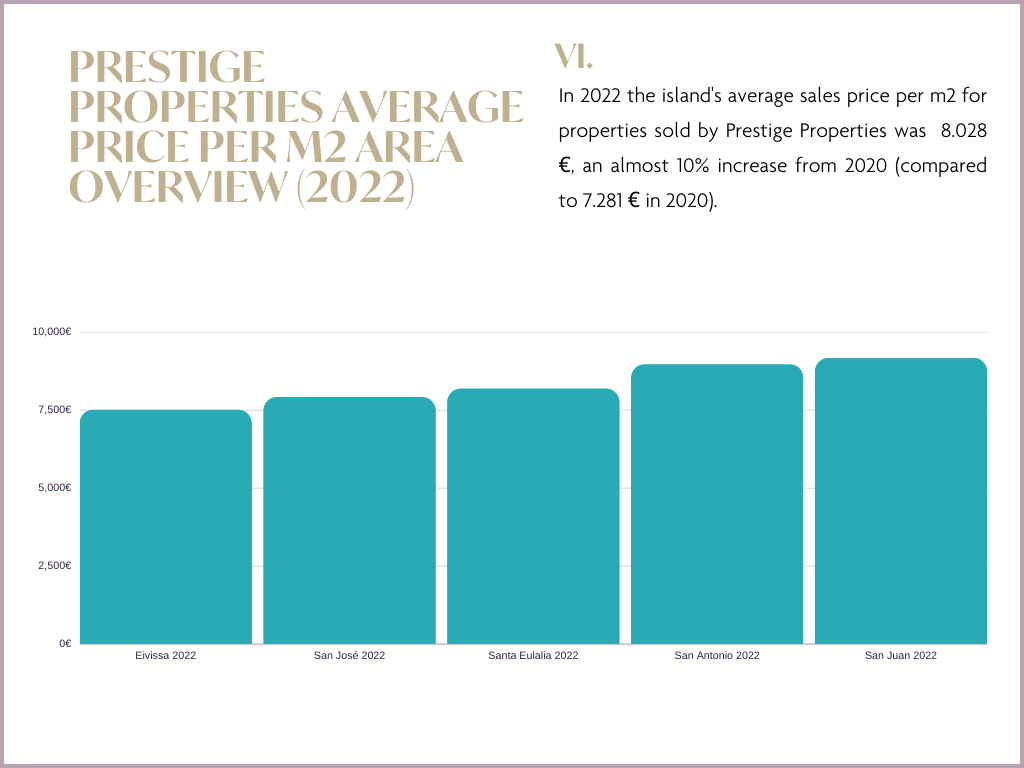 Eivissa – Average Price & Price per m2 
Overall, the city remains in high demand and demonstrates a strong market presence. As with most European cities, Eivissa offers something for everyone, and the city has gained popularity in line with the rest of the island. Eivissa has experienced a 1% increase in the price per square metre in the past year. Even though 7.503€/m2 is slightly below the island's average, the area still accounted for the majority of all our sold properties (of which most were apartments) at 55%.
Average Property Size: 95 m2
Average Property Price in Euros: 620.000€
San José – Average Price & Price per m2 
San José has always been high in demand among affluent luxury second-home buyers. Over the past few years, San José has been the municipality with the most stable prices, averaging 7.911€/m2. In addition, San José is the municipality with the greatest mix of types of properties sold this year, with Apartments, Fincas, Houses, Modern Villas, and Projects all being sold. Despite a 1% decrease in price per square metre since last year, San José has maintained a steady price per square metre overall.
Average Property Size: 172 m2 
Average Property Price in Euros: 1.300.000€
Santa Eulalia – Average Price & Price per m2 
In 2022, the average price per square metre in Santa Eulalia was 8.185€. This price is 14% lower than last year (2021: 9.553€/m2) but remains somewhat higher than the current average. However, even with this slight drop, Santa Eulalia has still seen an average of 34% increase in its price per square metre since 2020.
Average Property Size: 315 m2
Average Property Price in Euros: 2.600.000€
San Antonio – Average Price & Price per m2 
Compared to previous years, San Antonio's average square metre price has increased from 5.442€ in 2021 to 8.963€ – presenting a 65% increase year-on-year. There are two possible explanations for this. Most of the island's high-end new builds and off-plan properties are in San Antonio. Although they generally have a small surface area, they still offer prime locations (sea-front, sunset views, etc.), increasing the overall property value and price per square metre of the area. In addition, the Municipality's average square metre prices are significantly increased also by the sale of large Fincas in the northern parts of San Antonio (Santa Inés, San Mateo, Buscastell, etc.), which are far above the island average.
To give a more comprehensive view of this interesting development, the average square metre price in San Antonio can be broken down by property type giving a more accurate understanding of the average values: Apartment: 5,150€/m2 – Finca: 13,779€/m2 – House: 9,665€/m2.
Average Property Size: 225 m2 
Average Property Price in Euros: 1.800.000€
San Juan – Average Price & Price per m2 
San Juan de Labritja in the north of the island has an average price per square metre of 9.167€/m2. This is largely due to sizable plots, usually situated on rustic (protected) land, and the scarcity of sales properties in the north of the island, which contributes to its high square metre price. The price per square metre in San Juan has seen a 5% increase over the past year. 
Average Property Size: 600 m2 
Average Property Price in Euros: 3.000.000€
Average Sales Price of each Property Type in Ibiza
Besides a properties location, a property's average price per m2 and its final sales price depends largely on its type (category). Generally, apartments are marginally below the average market sales price, while modern villas, Fincas, and houses tend to exceed average prices.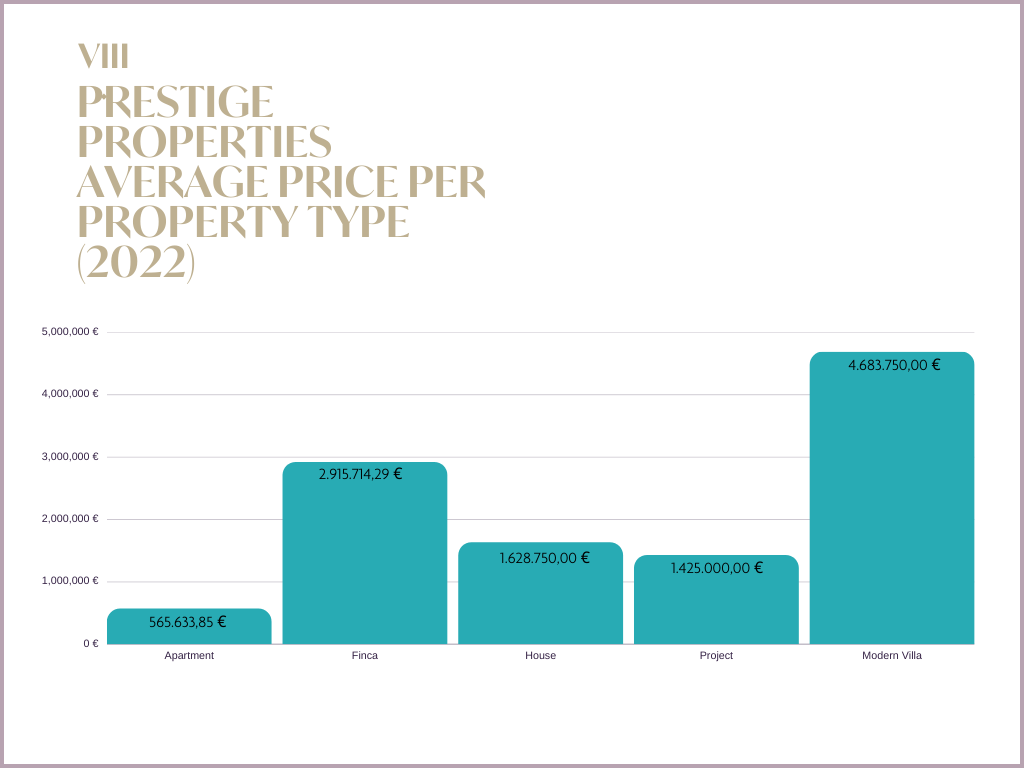 In 2022 Ibiza's average price of an apartment was around 566.000€, with a range in price from 320.000€ (low-end) to 620.000€ (high-end). While the average price of an authentic Finca in Ibiza was 3.000.000€, the state of a property and its location play a role in its final value. For example, San Juan de Labritja typically hosts a Finca value (around 5.5M) which is much higher than the average due to its natural habitat and surroundings. While Santa Eulalia has a lower typical Finca sales price (1.6M), considering that often the plots are smaller, areas are more urbanised, which means there may be more factors that affect the sales price, such as road noise.
The average sales price of a modern villa in 2022 was about 4.700.000€. However, those for sale in the municipality of Santa Eulalia were sold at around 6.000.000€, many of which are in fact situated in the most exclusive areas near Ibiza Town, namely in Can Rimbau, Can Pep Simó and Cap Martinet. 
Average Sales Prices of Properties that are "as new" vs "to renovate"
As Ibiza is primarily a reseller market, it is beneficial to examine the average sales price of properties that classify "as new" or "to renovate". The average sales price for a large-scale property "as new" sits around 1.840.000€, while properties requiring a renovation are often priced at around 1.000.000€. A difference like this is even more evident in San José, where a property "to renovate" costs about half as much as buying one categorised "as new" (860.000€ vs 1.700.000€). The differences in other municipalities are not very notable, which indicates that investment potential via renovations is highly variable and needs to be reviewed individually.
Reasons for Buying a Property in Ibiza
The reasons people choose to purchase a property in Ibiza can be divided into three main categories: first home, second home, and investment. It is noteworthy that first-home buyers purchase a property to serve as their primary residence, whereas second-home buyers will primarily use the property as a vacation home. Buyers who intend to use the property as a holiday rental property to generate a return on investment or who intend to renovate and resell the property have been categorised as investment buyers.
The luxury property market in Ibiza has become the preferred destination for many international buyers. This has resulted in nearly 58% of our buyers purchasing a property as a second home, over 27% buying a property primarily as an investment, and only 15% of the 2022 property sales were made by first home buyers. 40% of the first home buyers were Spanish nationals, and they generally invested in apartments.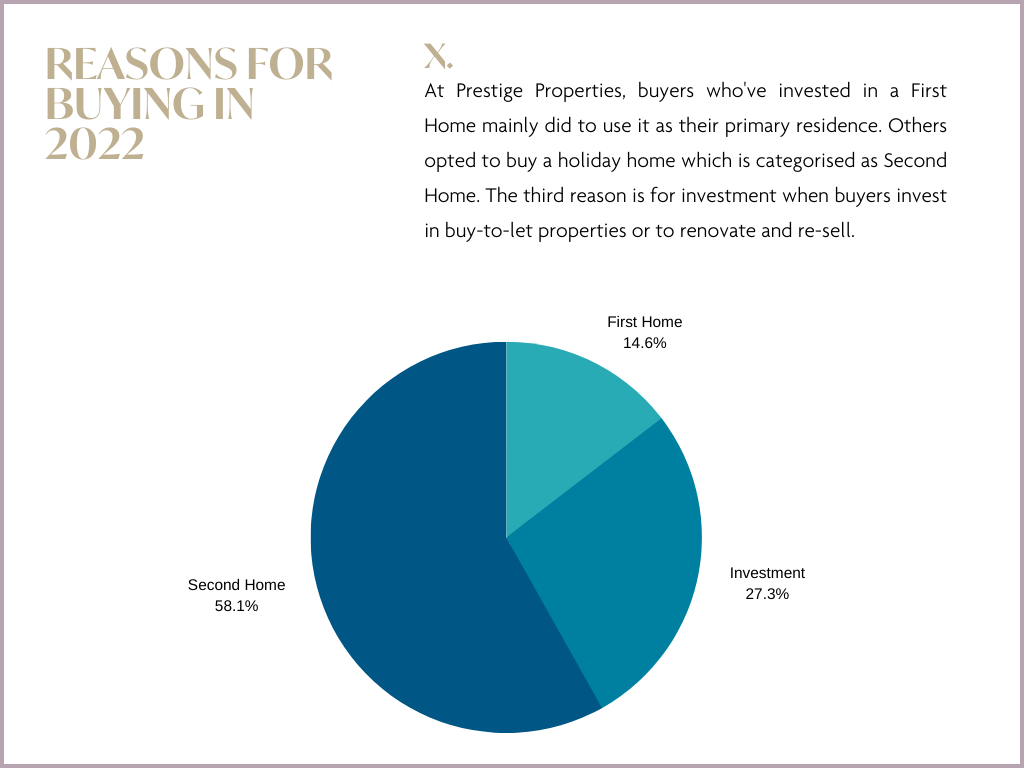 International Interest and Percentage of Nationalities Buying in Ibiza
UK buyers remained the largest group at Prestige Properties in 2022, followed by Italians, French, and Germans. These four nationalities together purchased approximately 60% of the total properties sold in 2022, whilst the Dutch, Spanish, and Swiss buyers comprise the second-largest buyer group (27%).
Interestingly, in 2022, we received more overseas enquiries than in previous years, resulting in purchases made by residents of the USA and Hong Kong.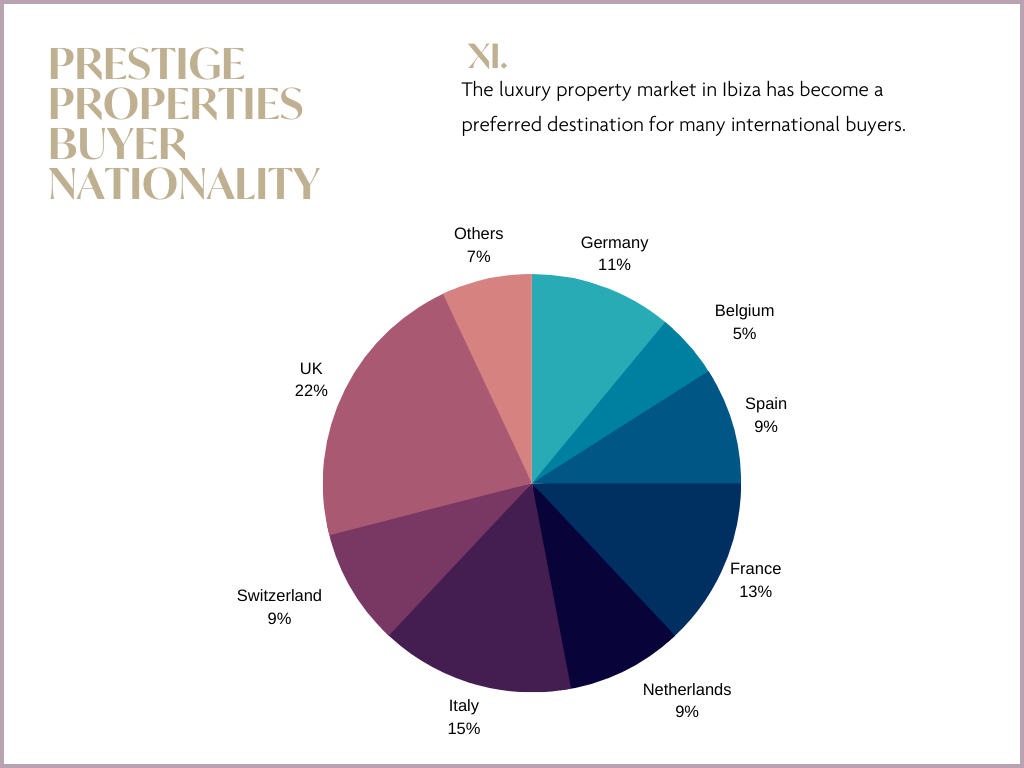 Popular Ibiza Municipalities by Buyer's Nationalities
Spanish and Italian nationals generally invest mainly in Ibiza Town, while German, Belgian, French and Dutch nationals invest mainly in San José. UK buyers tended to spread across the entire island, with numbers being evenly distributed between San Antonio, Ibiza Town, and San José. Most properties sold during 2022 were in San José (38%), followed by Ibiza Town (28%).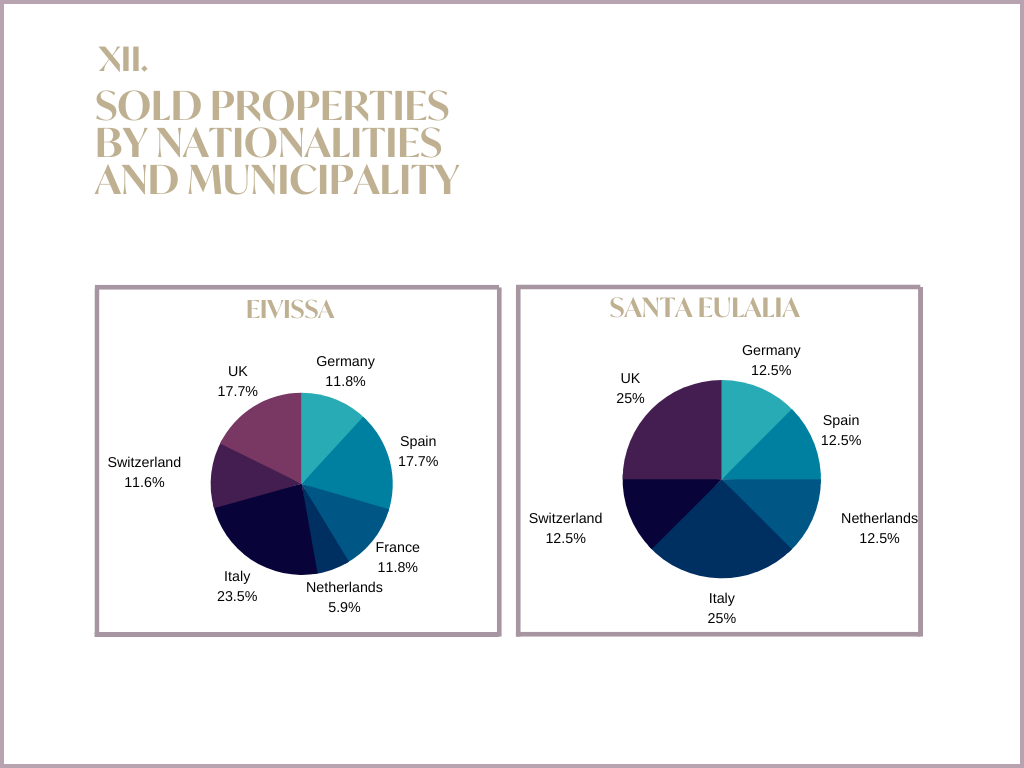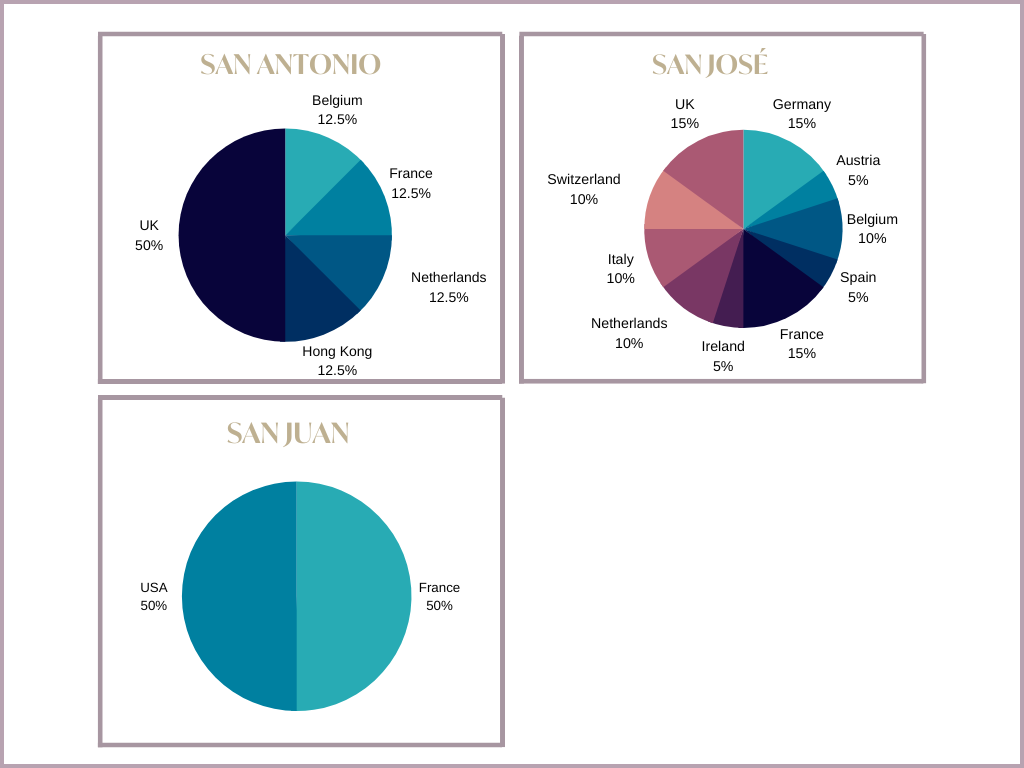 We can also observe an equal trend towards purchasing apartments (55%) and detached houses (41%, including Fincas and Modern Villas) during 2022, with construction projects accounting for only 4% of the properties sold. However, this is not surprising in light of the limited supply of development projects. In Ibiza, construction permits are difficult to obtain, and a great deal of protected land limits the authorisation of new builds and construction projects available for sale. 
In contrast to the general trend of buying an apartment in Ibiza, our clients from the UK and Belgium have a clear tendency towards buying a house. 
Prestige's Top-Selling Locations of the Year 2022
Based on the Sales Volume, the top-selling municipality in 2022 was San José, followed by Santa Eulalia and San Antonio. However, if we consider the actual number of properties sold, the order changes to: San José de Sa Talaia (38% of properties sold), Ibiza Town (28% of properties sold), followed by San Antonio (15% of properties sold), Santa Eulalia (15% of properties sold) and San Juan (4% of properties sold).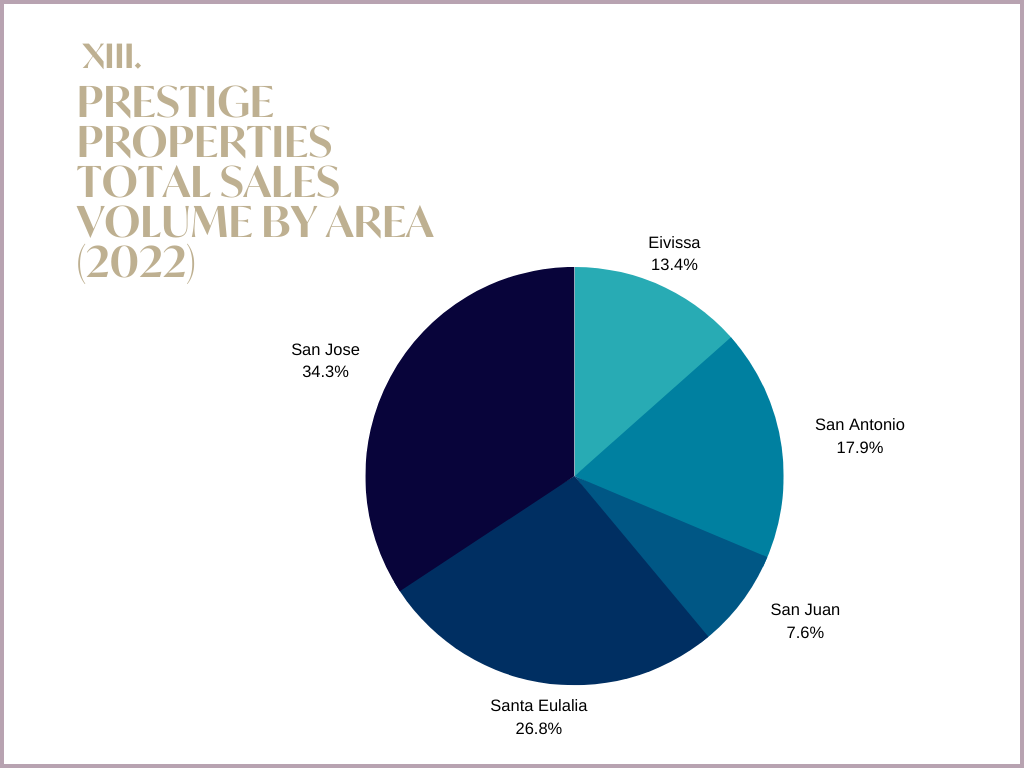 Long-Term Rental Interest: an indicator for potential buyers
Long-term rentals for larger properties have become increasingly popular, especially with families. People recognise that they can work efficiently from home, focusing on building their businesses and watching their families grow in an idyllic location is a real and achievable attraction and a noticeable change since the pandemic. While there is a high demand, the market in fact lacks long-term rental opportunities and therefore provides good investment possibilities for clients seeking buy-to-let properties in Ibiza. 
High Demand vs. Low Supply: the trend continues 
Throughout the past few years, the number of enquiries for properties has been continuously surging, with an 87% rise over the past 2 years. It is clear that demand is increasing, yet fewer properties are being placed on the market. Throughout 2022, Prestige Properties saw a drop of around 50% in (published) listings. As a result of Ibiza's increasingly restrictive building regulations, the number of newly constructed properties is also declining year after year. In this Prestige portfolio, 182 new properties were listed for sale in total throughout 2022. The lack of supply is one of the main reasons why the Ibiza Real Estate Market remains stable and properties consistently increase in value.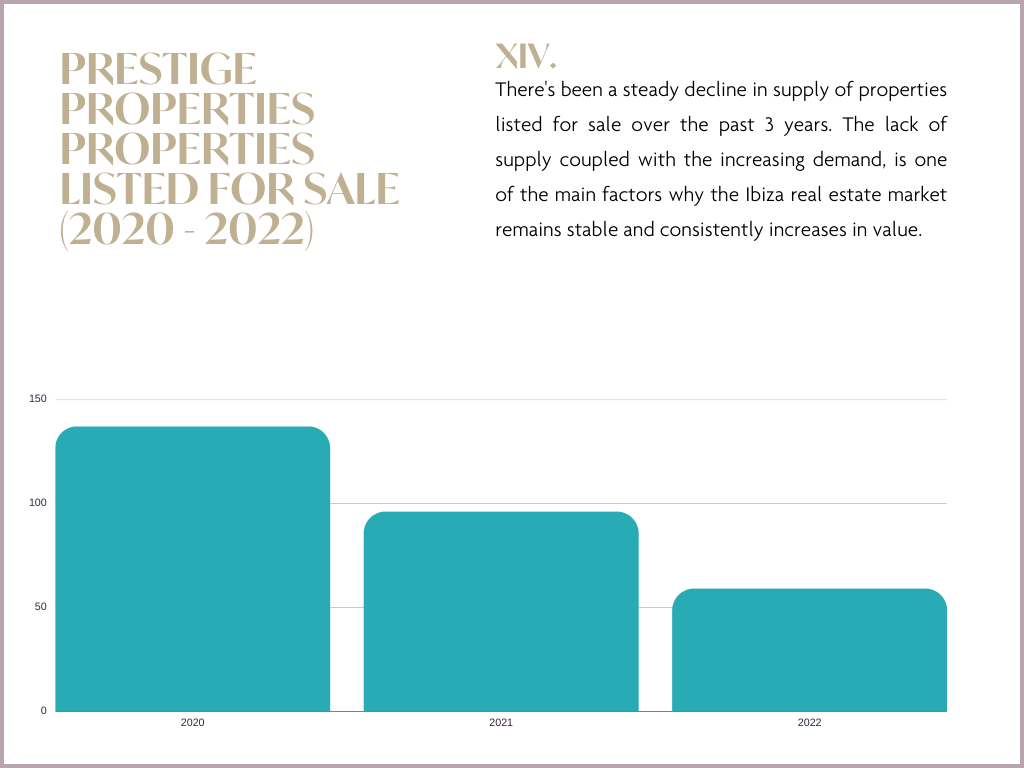 Conclusion: The Luxury Real Estate Market Ibiza 2022
The Balearic Islands are not only one of the most popular holiday destinations in Europe, but they are also among the leading real estate markets in Spain, especially Ibiza's luxury housing market, which continues to grow steadily. From the information and data above, we can see that the international second-home and investment market continues to flourish, with an increasing island-wide interest, particularly in the San José area.
Home sales, overall prices, and price per square metre in Ibiza are generally higher than in other Balearic Islands or Spanish mainland. According to Idealista's statistics, the average sales price per square metre in Spain is 1.929€/m2, whereas, in the Balearic Islands, it is around 3.690€/m2, and in Ibiza it is 4.879€/m2. Prices have slightly increased, quality supply dried up and demand has rocketed. International high net worth families continue to establish themselves on the island, diversity is expanding, and the infrastructure is gradually being improved.
3) Prestige Properties 2023 Predicted Forecast
According to the house price index (IPV) published by the National Institute of Statistics (INE), the Balearic Islands remained the Spanish region with the highest house prices in the third quarter of 2022. Prices here increased by 8.3% compared to the same quarter last year. The luxury property market in Ibiza is expected to rise steadily and consistently. In general, this speaks to Ibiza's upscale market, which is likely to continue to be attractive internationally well into 2023. As we leave 2022 behind and have started 2023, we anticipate a minor decline in sales. This is based on a global sentiment of general stagnation, but is also especially true in Ibiza since we are increasingly seeing a shortage of sellers on the market. However, growing in popularity as a trendy and desirable place to live, the island is generally experiencing continuous growth. Amidst Ibiza's boom in luxury and extravagance, Ibiza's main challenge will be maintaining its local charm and authenticity.
N.B. All data discussed above represents our internal data related to the luxury housing market in Ibiza and is solely taken from our internal database.