Ibiza's most Exclusive Villas and Luxury Homes
Ultimate luxury can often be associated with living or vacating in a lavish home that can offer exceptional quality to its guests. Whether we refer to a rare architectural gem, impeccable interior design and decor, large landscaped grounds, the authenticity, rarity and history of a house, or quite simply the divine location and the breathtaking views on offer; an exceptional property confidently guarantees an exclusive lifestyle opportunity.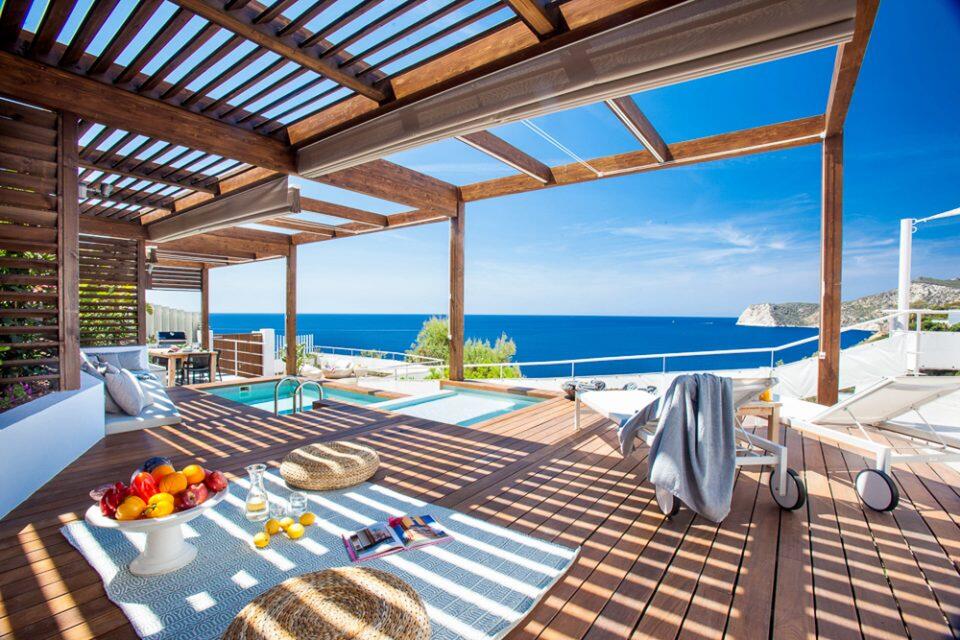 Defining Exclusivity & Luxury in Ibiza
When referring to the term 'luxury', 'exclusive', or 'prestige', we must account for the versatile considerations of the term itself. Defining such terminology is relative to the client in question and therefore may vary from person to person. What defines 'luxury' for one may not be the same for another!
However, when defining the exclusivity of properties here on the white island of Ibiza, we tend to refer to those homes that are at the very top of the property market, whether purchasing or renting. Those residences that hold in excess of a million price tag, offer expansive grounds, strike curiosity in style with high-end fixtures and furnishings or boast of phenomenal panoramic views of the island. These incredible residences prove 'luxury and exclusivity' are matched to rare sophistication, size, location and an expensive price tag.
Some of the most exclusive homes with luxury amenities will also often offer fully serviced property managers and household staff, to ensure the luxury of these properties goes beyond the villa itself. Thus, proving these homes are more than just unique and unparalleled when compared to the general market, but also require high levels of maintenance, care and hosting of its visitors or owners by skillful and trained personnel.
In terms of location, Ibiza is divided into five regions, Eivissa, Santa Eularia, Sant Antoni, Sant Josep and Sant Joan. Each one of these regions offer a different culture and this can be equally reflective of housing style and property values.
Although each area certainly provides a variety of luxury properties, the majority of higher-end properties on the market are predominantly located in the popular municipality of San Josep, quickly followed by Santa Eulalia, with San Joan boasting of the highest value per square metre, due to a very low supply versus demand scenario, when referring to sales.
Within the municipalities of San Jose and Santa Eulalia we find a collection of private urbanisations and secure gated communities such as Roca Llisa, Can Rimbau, Vista Alegre, Can Furnet, Cala Conta 33, Sabina Estates and The White Angel, where a vast majority of these status homes are to be found.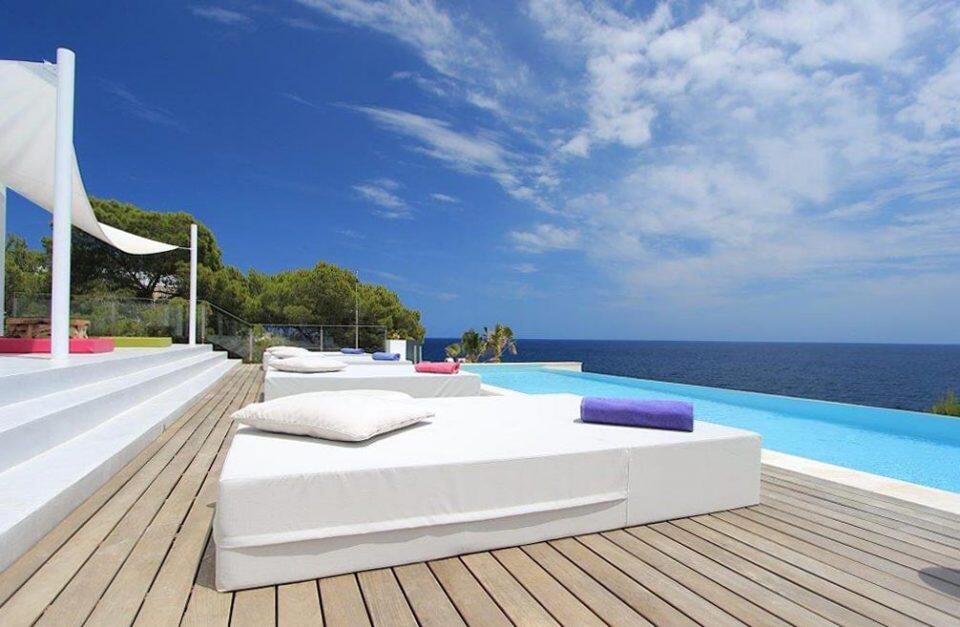 History of the Exclusive Property Market
The property and tourism market have swiftly developed over the past 50 years. Landing on the island during the late 1960's and early 1970's offered a more rural and humble environment, as the island of Ibiza began to see the very start of its real tourism.
As tourism moved into the late 1970's and early 1980's, Ibiza saw an influx of celebrity clientele. Famous artists like Freddie Mercury, George Micheal, Grace Jones and Jimi Hendrix frequented the island and were known to visit Pikes Hotel and Las Dalias regularly.
Ibiza adopted a clientele of artists, bohemian lifestylers and affluent youth looking for an alternate lifestyle. This significant tourism development, cultural change and visiting of high-profile celebrities, moved the island to reach a far higher standard than ever before.
By the late 1980's, Ibiza started to become a point of reference for the 'discotech' culture, where many travelled from across Europe for its lively nightlife and club scene. This was supported by the attraction for nautical activity, where motor-boats and super yacht chartering became a huge industry, and continued to push the travel economy into a first-class destination.
Spectacular beaches, great weather conditions, the surge of beach clubs and chiringuitos, regular DJ's, plus ever-evolving creativity and development continued to increase the island's global recognition; which in turn, bought even more luxury clientele by the mid 1990's and onwards, including footballer's, movie stars, high profile businessmen and influencers.
Ibiza has experienced nothing less than a tremendous transition from farmland, locals and many Arabic residents, to an island known across the globe for its beauty, exclusivity and innovative social and nightlife scene. Naturally, as the attractiveness of Ibiza increased and the island's potential skyrocketed, so did the real estate market, whereby generating exclusive holiday and second home properties was high on the agenda.
Land and property development opportunities quickly became available, where famous architects, investors and property agents set themselves in motion and established renovating old finca farmhouses into artisan vacation homes (for those affluent bohemian lifestylers), to building brand-new Miami standard, white complexes and contemporary exclusive homes (with the focus on the more fashionable and private luxury clients).
Ibiza Old Town later being declared a World Heritage Site by Unesco in 1999, and the 'Natural Parc de Salines' including much of Formentera also being listed as protected as a Natural Reserve, only added to the island's cultural and natural wealth, whereby property market values and the travel economy has been on the up ever since.
And, of course there are some pretty spectacular properties out there!
We take a look through the keyhole, inside some of the most exclusive villas in Ibiza.
Exclusive Villas with Ibiza Prestige
Villa Pearl
Villa Pearl is a stunning 6 bedroom holiday villa located in one of the most affluent areas on the island, Es Cubells. This south-facing property is known for its magnificent panoramic views, looking across the glistening Mediterranean Sea and out towards the Isle of Formentera.
Villa Pearl is designed and decorated with bright interiors which allow floods of natural light and the surrounding sea views directly into all of it's living spaces.
Grab a refreshing cocktail at the free-standing garden bar and watch the world go by from one of the many chill-out areas or directly from the large infinity pool. If you can manage to pull yourself away from this beautiful home, a brief 5 min walk leads directly down to the local sandy beach for an extra special private feature.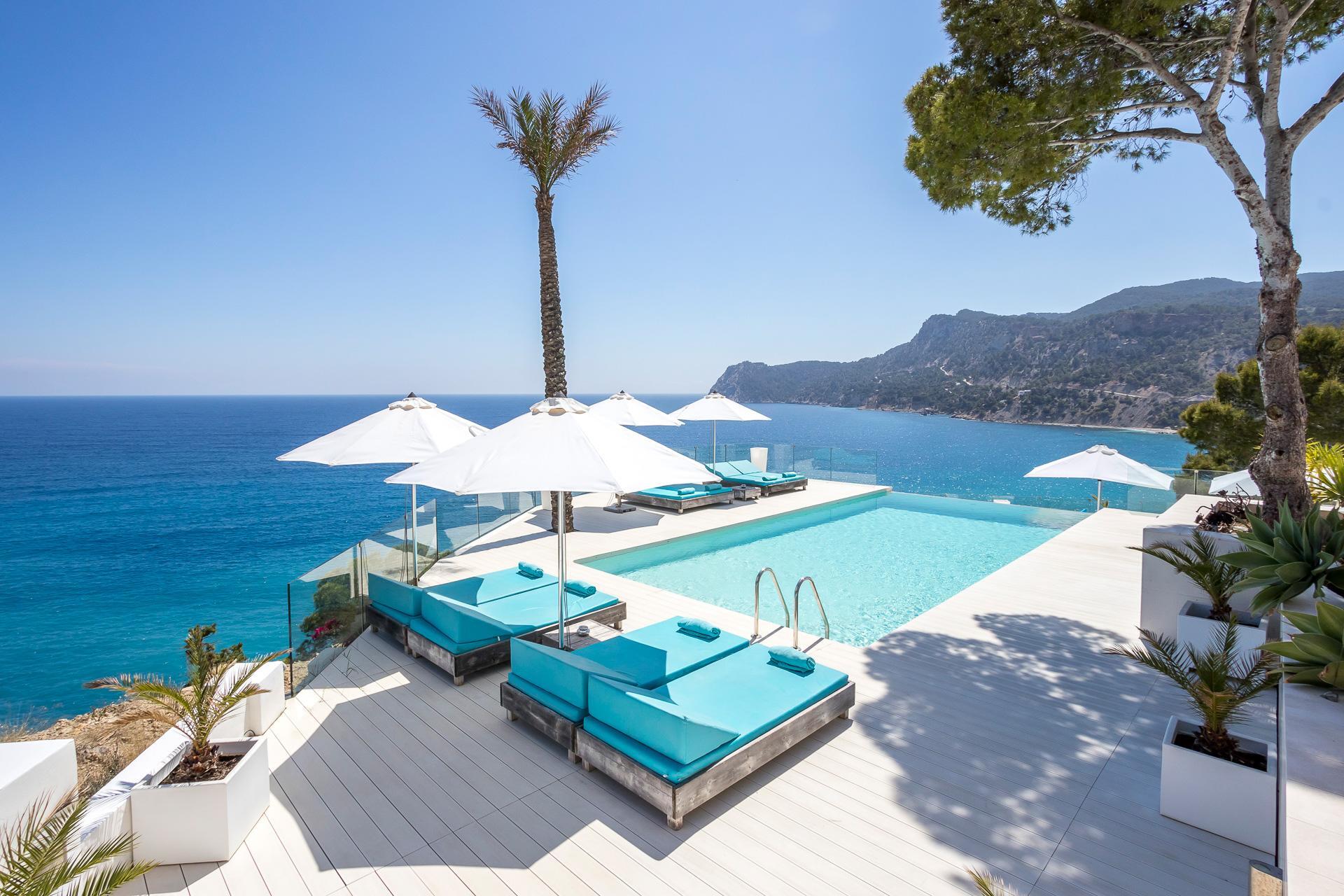 Can Rocas
Can Rocas is a magnificent 5 bedroom modern villa located between Ibiza and San José. This newly renovated home comes with stunning ethnic touches and a sober blend of design. The internal openings lead directly out onto the well-designed exteriors and surrounding lush gardens.
Relax in this secret haven of tropical gardens, hidden in the midst of a beautiful pine forest and be enticed to spend time lounging and soaking up the natural surroundings where you can let go of life's troubles under the heat of the summer sun.
Villa Unica
Villa Unica is a 200-year old, refurbished 5 bedroom finca farmhouse, with state-of-the-art features. The house embodies a clever mix between contemporary architecture with traditional insular constructions and offers breathtaking panoramic sea and countryside views.
This Gaudi inspired home is surrounded by 3 hectares of lush Mediterranean gardens, where fruit trees and colourful bougainvillea grow. Villa Unica features an extra special opportunity to engage in a full self-care retreat, with a fully equipped massage room from a mountain top peaceful location.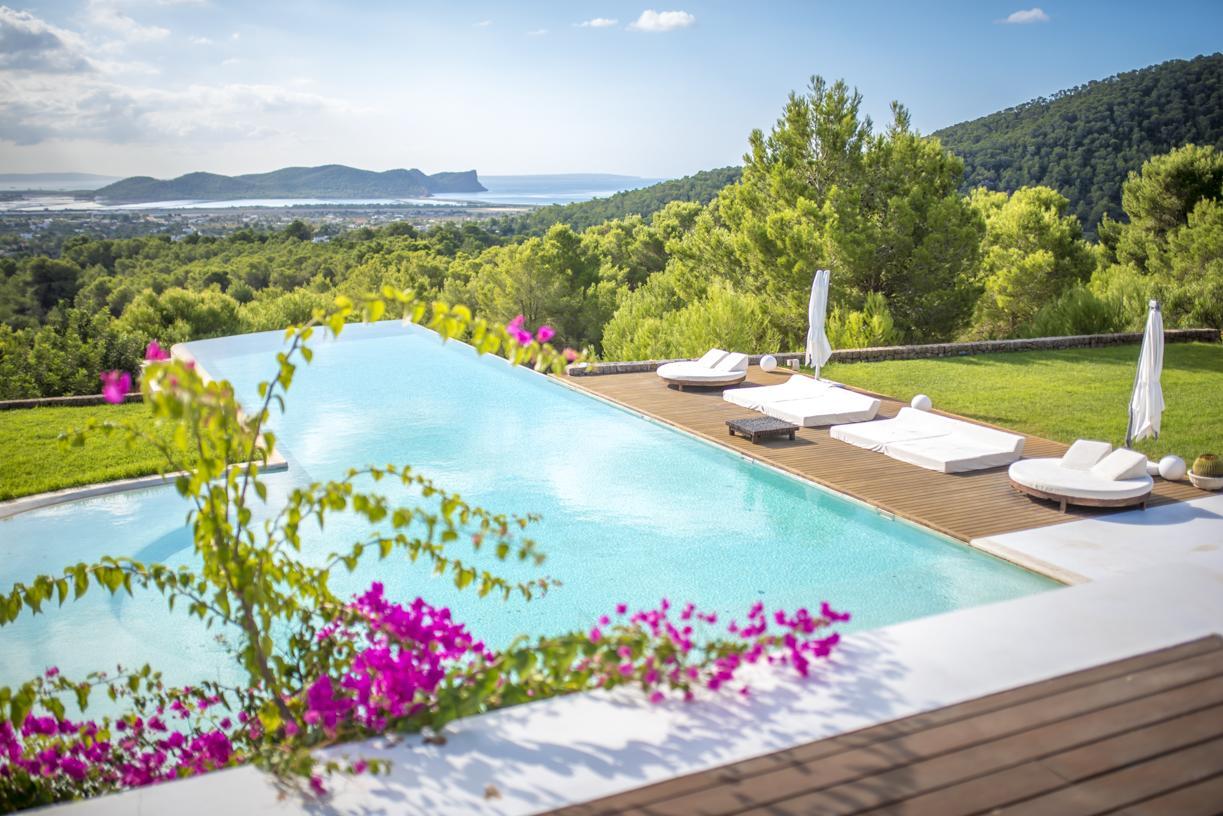 Villa Everland
Villa Everland is a spectacular 4 double bedroom villa consisting of a main house of and a separate 2 bedroom guest house, located at the top of a beautiful hill, in the Sant Josep de Talaia area.
The villa is oriented to the south with fantastic views overlooking Playa den Bossa, Salinas and Formentera. The properties elegant and fashionable interiors are contrasted with an outstanding exterior, boasting lots of authentic charm, lush palm-filled gardens with plenty of courtyard and entertainment spaces to create the perfect Mediterranean vacation ambience.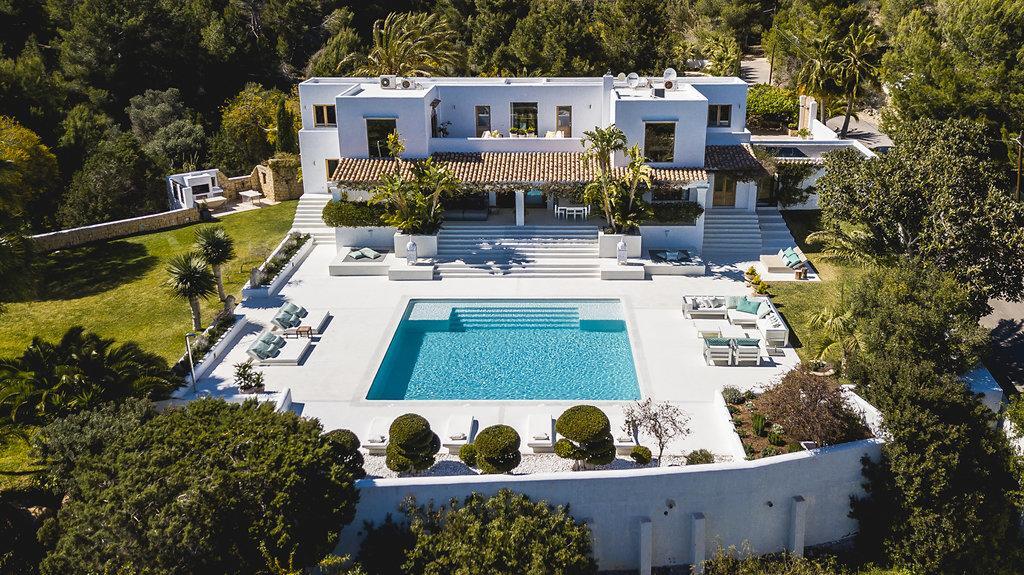 Sa Caleta Hills
Sa Caleta Hills is a beautiful 3 bedroom, located high in the mountainous hillside behind the bay of Sa caleta and Cala Jondal. This beautiful home is stylishly designed with the majority of furnishings custom made and specifically designed for the property itself.
Sa Caleta Hills offers luxury views of the sea and surrounding countryside, where outdoor living is an absolute dream from this lush Mediterranean garden, comprising an infinity pool with vast terraces, ample sunbathing options and shaded areas to relax and enjoy family and friends.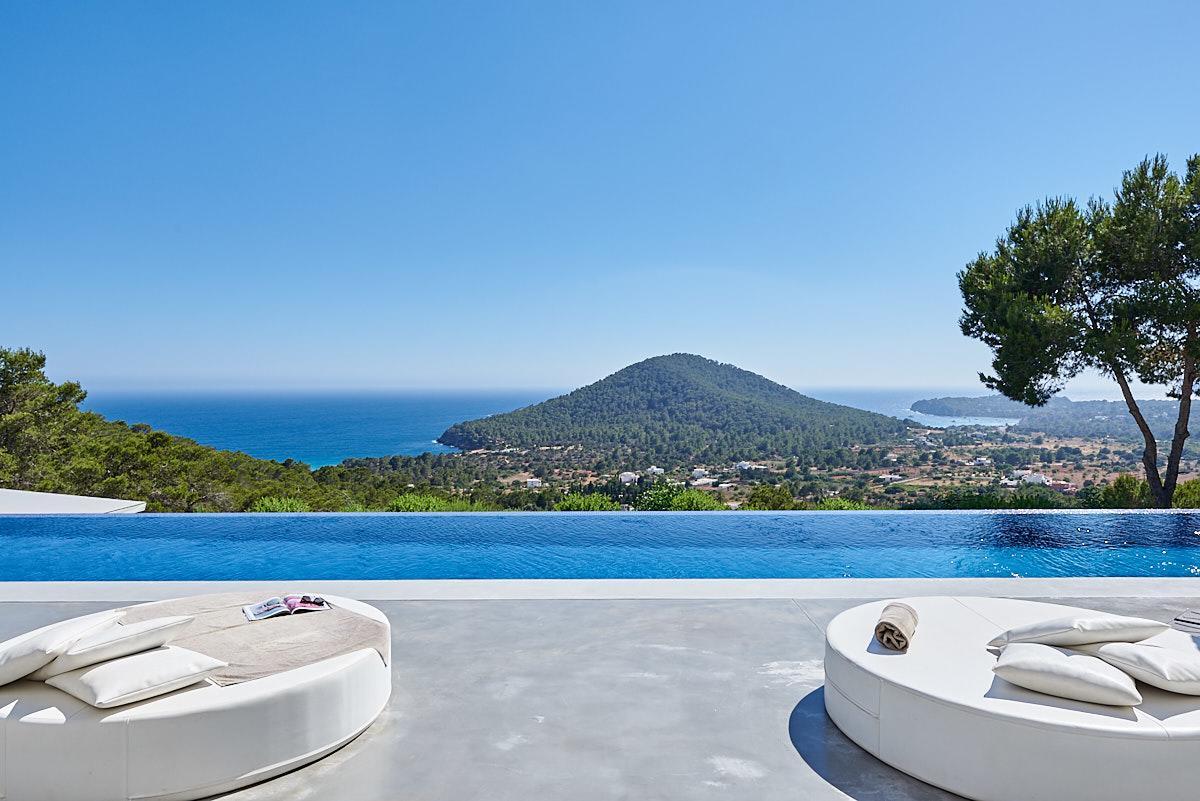 Ca Na Xica
Ca Na Xica is a truly stunning luxury holiday rental villa with spectacular views towards Cala Jondal. This 4 bedroom property, with an additional 2 bedroom annex homes with astonishing design, resort-like amenities, world-class arts, and amazing attention to detail that is guaranteed to impress. This spectacular villa is completed by a unique amphitheater cinema set around a private lake, and an oasis spa set within tropical trees.
In addition the exteriors offer a heated pool, beach volleyball court, petanque pitch, outdoor kitchen, al fresco dining area with a BBQ, plenty of chill out spaces and a jacuzzi. The complete Hollywood experience and a vacation home not to be forgotten.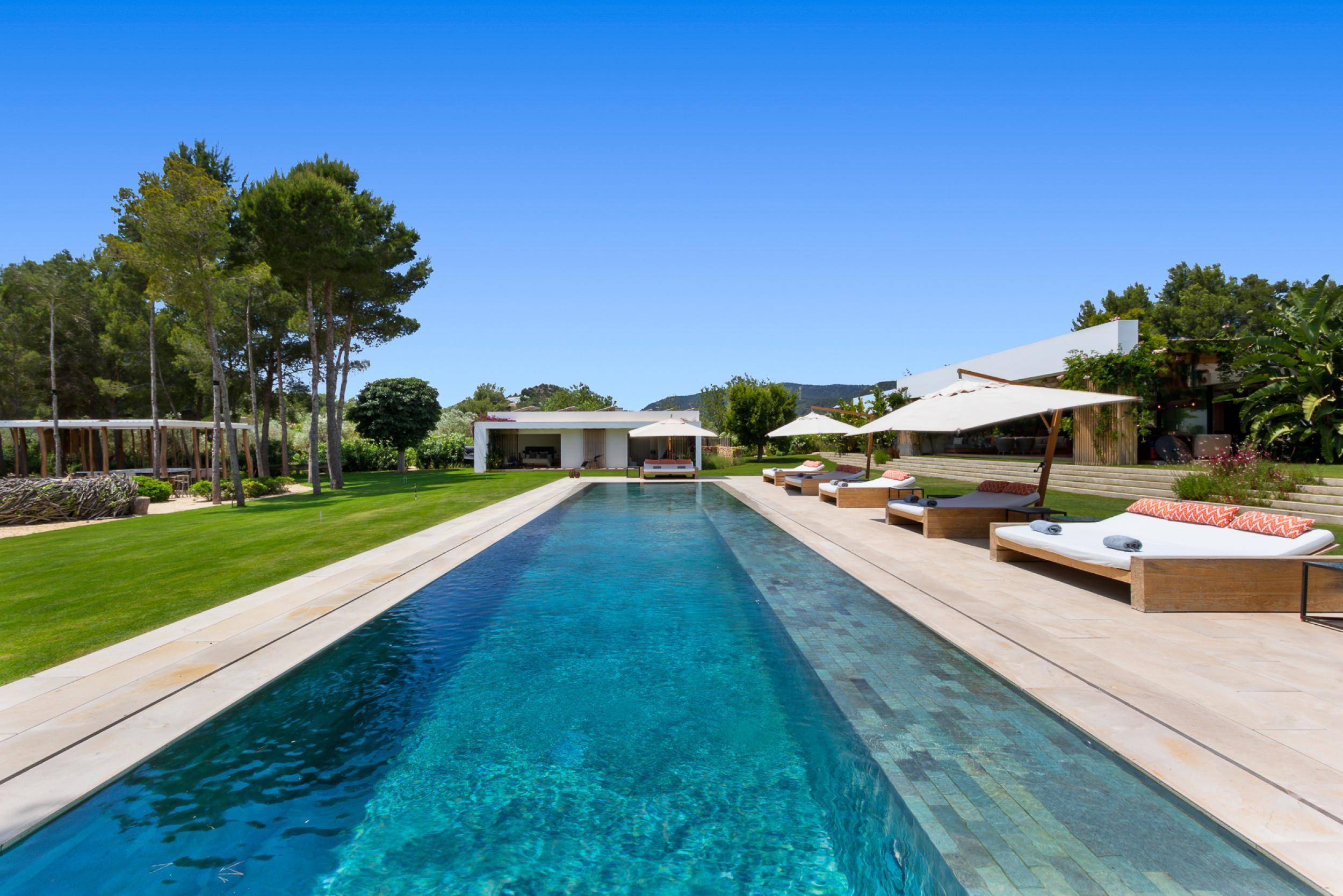 Villa Centello
Villa Centello is an impressive mountain-top property located on the San Jose Road, which is perfectly located for the beaches of the southwest and the nightlife of Ibiza Town. This six bedroom house offers two vast suites in addition to an annex accommodation, and boasts of some of the best southerly views over Salinas and Formentera.
Villa Centello, offers spectacular exteriors with an array of terraces, a salt infinity pool, various peaceful waterfall features and spacious chill-out zones to enjoy each and every aspect of the properties grounds. This house is managed by a property manager and is fully staffed, completing the entire 5-star hotel treatment.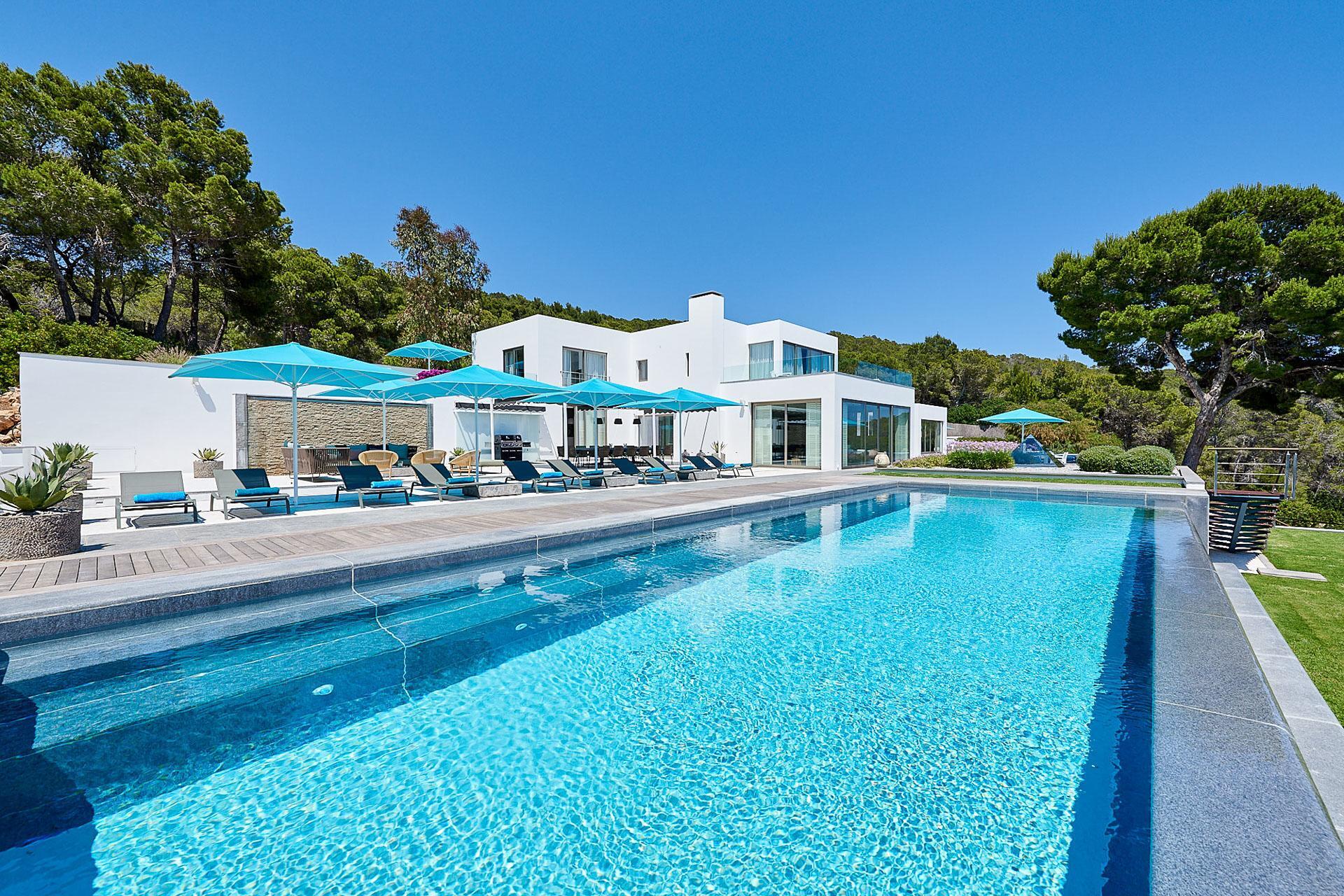 Casa Sun
Casa Sun is a magnificent holiday rental villa near the area of Cala Jondal. This 5 double bedroom property comes with breathtaking views of the surrounding countryside and Cap d'es Falcó in the distance.
The villa is built on several levels with a stylish approach to decor and hints of eastern worldly and oriental furnishings and art. With a large pool, many terrace areas, outside dining, bowling, jacuzzi and a gym; this home is filled with plenty of leisure activities and options to create a family, event or celebration holiday to remember.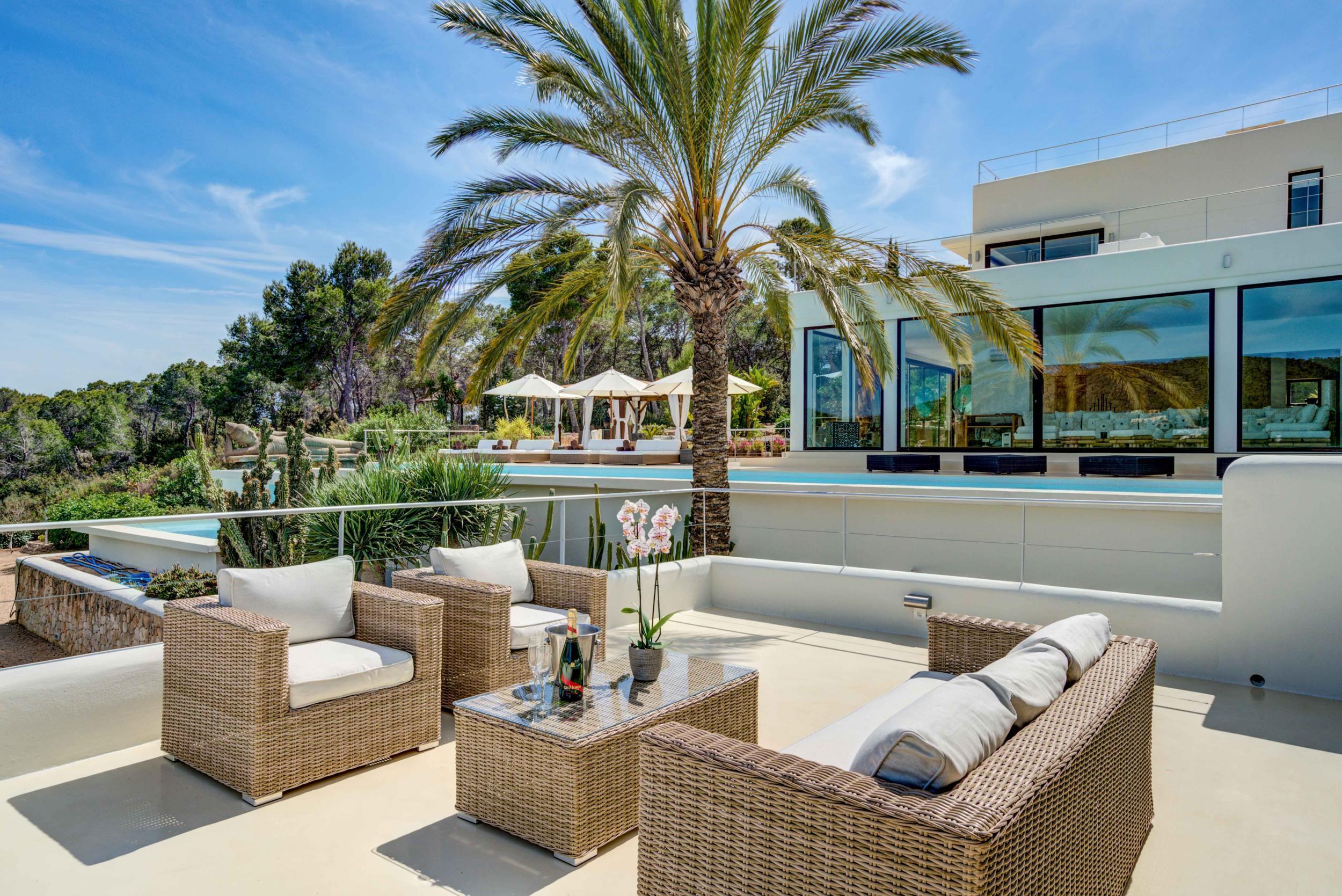 Villa Jumali
Villa Jumali is a modern, contemporary 6 bedroom villa located in the exclusive private gated community of Vista Alegre, close by to Es Cubells. Surrounded by picturesque landscapes and an exceptional view over Formentera and the Porroig Peninsula, this recently built home boasts of beautiful interior and exterior design.
The villa nestles among an oasis of tropical vegetation with several terraces, a large swimming pool, a 'beach area' for children, jacuzzi and a massage area, which perfectly blend a modern contemporary styling with a traditional Ibizan rustic ambience.
Why Choose Ibiza
Aside from the exceptional standard of luxury villas and immaculately restored rustic fincas on offer, the magical white Island of Ibiza perfectly resides in the midst of the turquoise waters of the Mediterranean Sea, with 300 days of glorious sunshine spreading across the entire year.
From the beautiful hills and rural countryside in the north, to the white sanded A-list beaches, or our rustic hidden coves and super yachts adorning the harbours, Ibiza offers visitors and locals alike everything from a relaxed bohemian vibe, nature trails, typical resort vacations, to a very up-market and trending atmosphere.
The towns and villages are laced with typical authentic white washed buildings, central churches, ancient history, artisan markets, boutiques and a multitude of global culinary experiences. Well renowned for hosting world-class DJs, as well as some of the largest and most creative nightclubs, Ibiza offers hundreds of thrilling nightlife opportunities from electronic music, summer clubbing, live performances, festivals and all day beach clubs.
For those who are passionate about nature and leisure activities, the island boasts of plenty of watersports, diving, snorkelling and golfing to enjoy. Boating enthusiasts pile to the Balearic Islands by the bucket full each year, where Ibiza has become a desirable destination for families, groups of friends, young and old, the rich and famous, and celebrities from around the world.
No matter your culture, vacating style or your budget, Ibiza has something on offer for everybody! Shop around and you'll be sure to find your dream holiday rental for an enjoyable vacation in Ibiza!
Our team is always ready to help you along your buyer's journey and ensure you discover your dream home with Prestige Properties Ibiza – contact us today!
Our vacation villas have also recently expanded. Why not, book your Ibiza villa with us for the season 2021.