Updated – March, 15th 2021
On Friday 12th March 2021, the president of the Govern, Francina Armengol, announced a continuation of a "slow" descaling of restrictions for Ibiza.
The descaling measures are highlighted below and are set to be reviewed again on April 9th.
Ibiza commences Phase 3 on Monday 15th until April 11th
Curfew is maintained from 22:00 hours to 6:00 in the morning
Bars and Restaurants can open their outdoor terraces up to a 50% capacity with a maximum of 4 heads per table, from 2 separate cohabiting households
Closing times for all hospitality premises is 17:00
Social gatherings may be held with a maximum of 6 people from 2 cohabiting households inside and outside, including beaches, and with masks
Shops remain open with a capacity of 50%, also now including larger-scale premises
Shops to close at 20:00
Visits to health centres and nursing homes can return to normal
Gyms can open again with a 30% capacity
From 26 March to 11 April, (Easter) to prevent "social relaxation", and a post-Christmas effect, only people from the same household can be inside a private property, four people from two households in public property and a maximum of up to 6 people from two households in the outdoors.
TRAVEL UPDATE:
From Monday 15th March 2021, Ibiza and Formentera will open their perimeters, which means that ports and airports will allow travellers to enter the islands without needing to prove "special circumstances".
This means movement between the Balearic Islands is relaxed.
Ibiza will accept international travellers, who will be asked to fill in an official health form via an online QR code as well as a negative PCR result from the previous 72 hrs.
To read the full press release please visit: Ibiza pasa a Nivel 3 hasta el 11 de abril: terrazas abiertas al 50% solo hasta las 17 horas – Nou Diari
We will endeavour to send out the latest Ibiza Covid-19 News Update when the current restrictions have again been reviewed.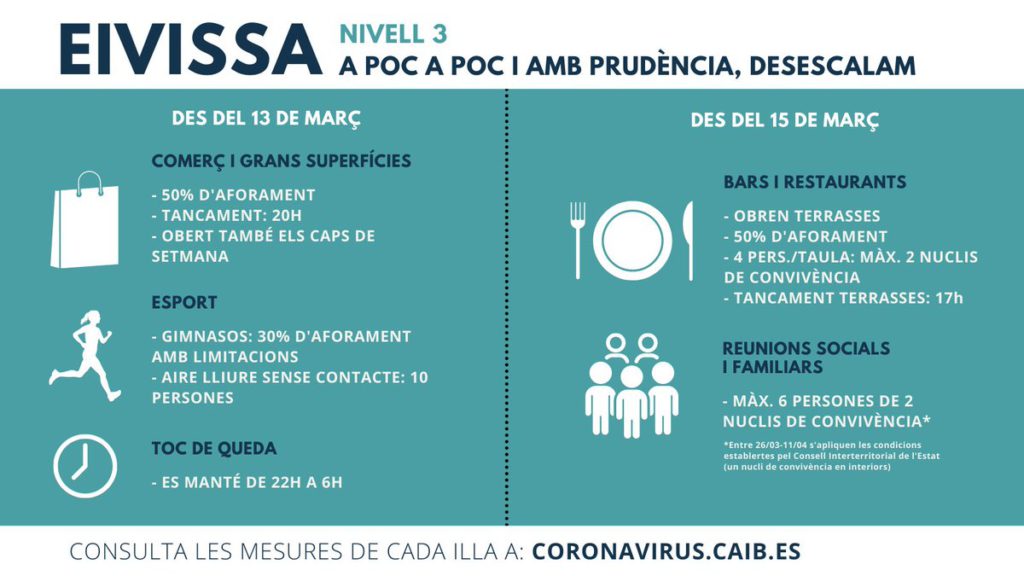 ---
Updated – February 12th, 2021
Dear readers,
If you are considering visiting Ibiza during the season of 2021, we would like to reassure both tourists and second-home visitors that Ibiza is set on a positive path and is looking to remain open and ready to welcome you.
Recently, there have been some unreliable news stories and rumours circulating regarding Spain being closed to tourists next Summer. This is due to a few controversial statements made by the government last month, which we would like to clarify.
In late January the Balearic government ordered the perimeter closure of Ibiza, meaning that travel to and from is restricted to those with justifiable reasons (work & health), which has been extended until March 1st. This is to ensure the island minimises all immediate risks and normal travel is planned to resume as soon as current Covid-19 numbers stabilise and/or decline.
While we can't confirm if travel restrictions will be extended in the coming weeks, official statements are all pointing towards unrestricted travel for Easter and the spring season. Travelling from within Europe will be possible with a negative PCR test, filling out a simple health form with a QR code at arrival and, naturally, respecting any safety measures and regulations in place.
The general expectation is that we will see a season similar to that of 2020, whereby everyone is welcome and able to enjoy their surroundings, with outdoor activities and social events, such as relaxing on beaches, swimming, sporting activities, eateries, including beach clubs, walking, and exploring the island, continuing as normal. The only main difference compared to pre-Covid-19 seasons, will be the closure of night clubs and large-scale overcrowded venues, including some hotels, which are likely to remain closed (which is what the government was in fact referring to when it made its statements regarding tourism in 2021).
We hope that this information has been useful and we will endeavour to send out an Ibiza Covid-19 News Update once a month, to keep you informed. For any more specific questions regarding travel or where to stay on the island; virtual property viewings or the virtual property purchase process, please do not hesitate to contact us!
For regular updates, recommendations, and experiences, be sure to keep up to date with our latest news via our social media pages and blog posts.
Please Note: All information given may be affected during the COVID-19 pandemic and current restrictions. Please ensure for any event or public activity that you are up to date and fully informed.