Our love for Ibiza knows no bounds. But, our love must exceed mere pleasure and enjoyment. Our commitment to the environment and love for the island has led to the rise of our GOING GREEN campaign, which we are very passionate about and strive to maintain.
Our role as a responsible company involves reducing our carbon footprint, participating in regular beach clean-ups, educating homeowners about energy efficiency, and supporting IbizaPreservation. In addition, it is a great honour and pleasure to announce that in 2022 we launched our brand-new initiative on the island – the first of its kind!
Our campaign, 'Campaña Escombro', has been developed in collaboration with Novaforma construction company to clean up illegal construction dumping on the island.
Read on to find out how to get involved, be part of the solution, and make a difference in keeping mother nature as she deserves.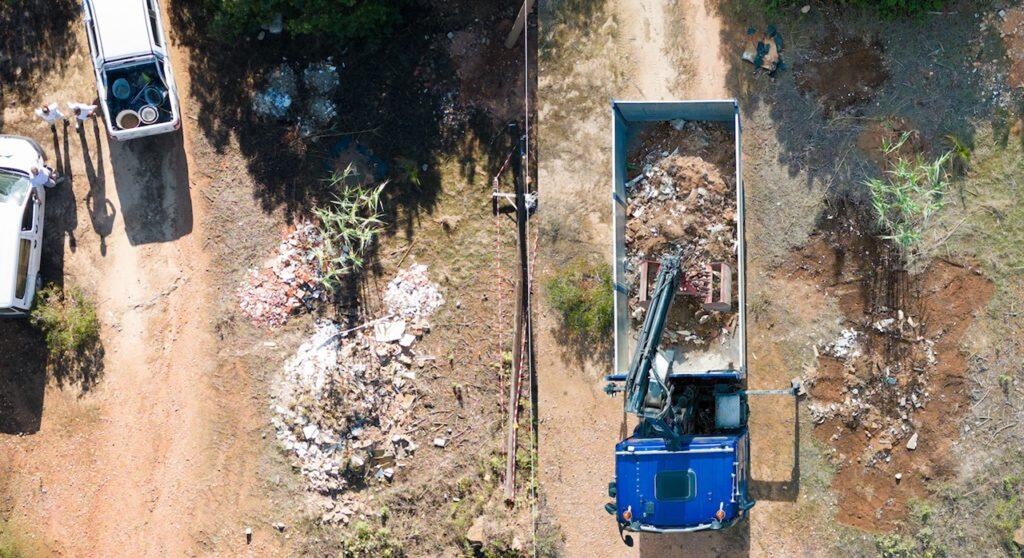 What is the 'Campaña Escombro' campaign?
Campaña Escombro aims to contribute to the solution of the problems caused by, the renovation of old properties, the influx of ongoing construction projects, and the explosion in tourism. We believe it was a logical step in the right direction for us to keep the illegal dumping of construction waste at bay and do our bit to try and preserve the island's pristine natural beauty 
Many of us have walked through the picturesque countryside only to be confronted with a pile of construction debris and rubbish waste materials. Together with Novaforma Constructions and Services Ibiza, we have introduced a process to clean-up some of these illegal dumping sites.
Anyone who sees one of these sites can report it to Prestige Properties Ibiza by contacting us with a photo and location pin. We will then work to remove the rubbish and separate it for proper disposal, with all costs covered and donated internally between the two companies. 
To preserve Ibiza's natural beauty, we encourage everyone, from our clients, collaborators, local businesses and island residents, to actively participate and join forces with us in "Going Green & Giving Back".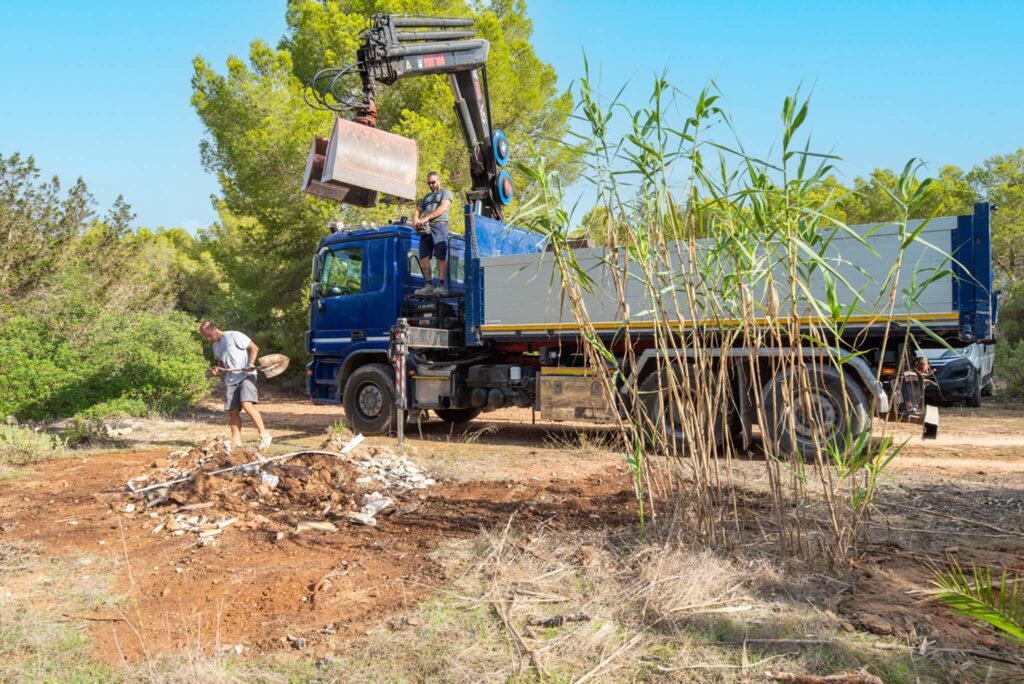 The scope of the problem: illegal dumping of construction materials in Ibiza
Unfortunately, the island has yet to have official statistics surrounding the illegal dumping of reconstruction waste materials.  In addition, no action has been taken to prevent or clean up construction debris dumped in nature. 
As well as being an eyesore, illegal dumping has severe impacts on wildlife and habitat. Chemicals and non-biodegradable materials contaminate groundwater and soil in the waste. It is also possible for domesticated animals and wildlife to die after consuming poisonous materials.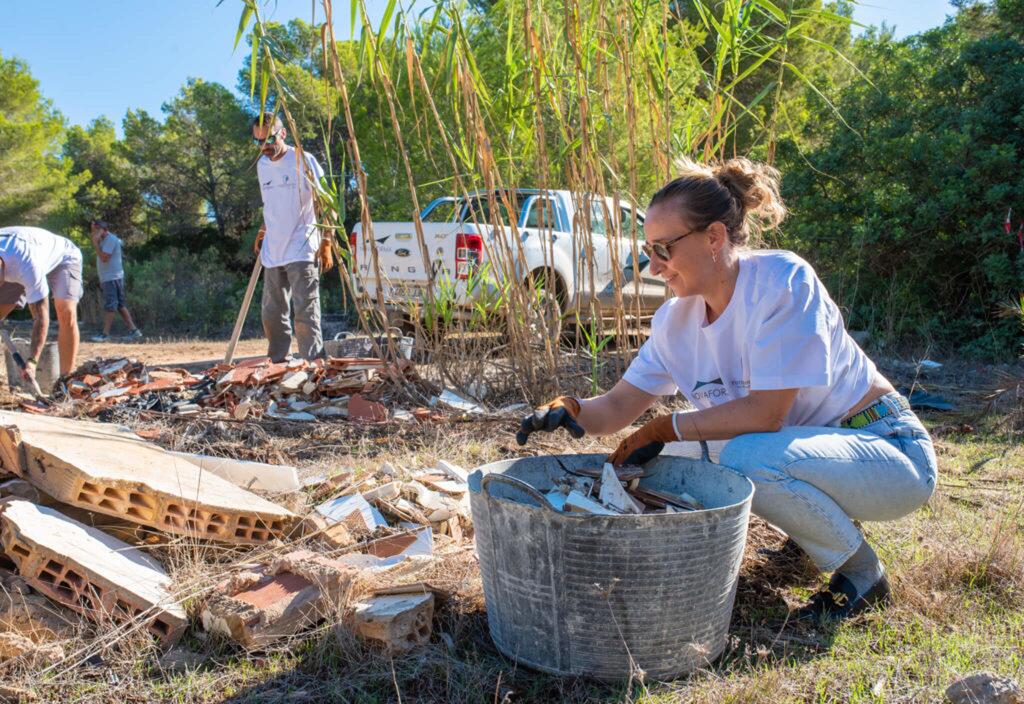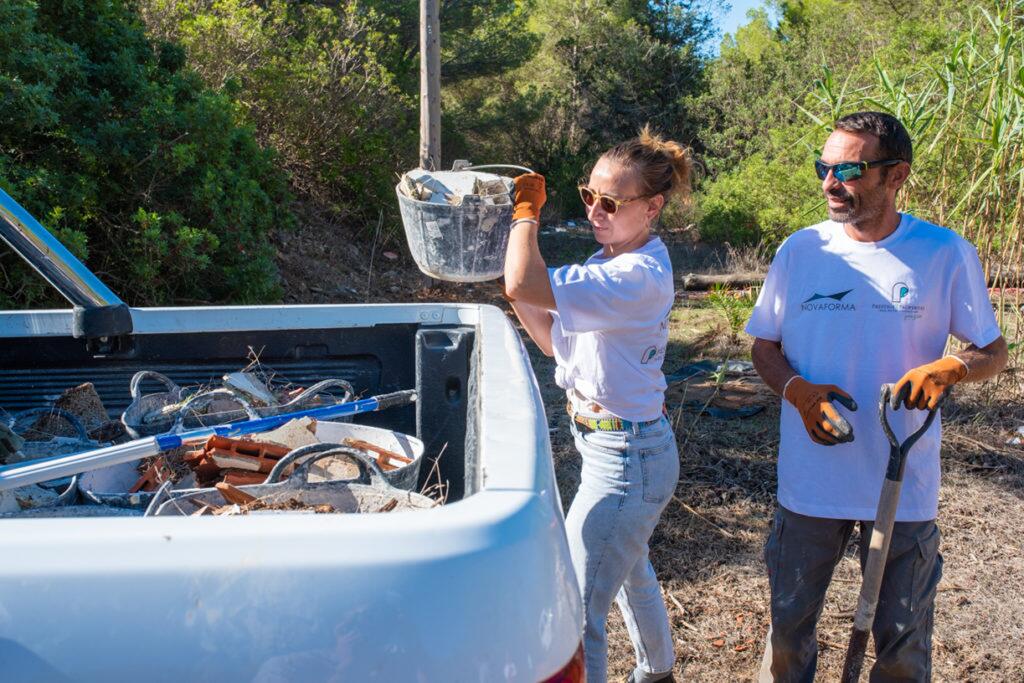 We need you to help us collect illegal dumping of construction waste in Ibiza.
Although it is still necessary to overcome bureaucratic obstacles (since we must move onto private land with permission), Prestige Properties Ibiza, alongside Novaforma, will collect construction waste from areas we are informed about by you, our fellow islanders.
Our first rubble heap was cleared near Cala Llenya in September. Along with Novaforma employees, we disposed of 9.5 tonnes of rubble. There is now a return to the natural state of the landscape, which is the most beautiful and rewarding experience.
People and families in Ibiza can benefit from social responsibility. Whether we donate to charitable causes, support environmental changes, or consider programs that help people from developing countries, our social responsibility as a community can make a difference in the lives, health, and environment of others. 
Our goal is to change the future outcome for our local communities and the planet in the years to come by taking one small step at a time.
We believe in Giving Back!
We believe in Going Green!
We welcome you to join us in this pursuit!