Es Cubells, in the municipality of Sant Josep de Sa Talaia (San Jose)
The municipality of Sant Josep de Sa Talaia (San Jose) is the largest of the five municipalities in Ibiza and upholds an incredible standard for exclusive properties for sale in Ibiza.
A few specific areas within the south of the region boast of substantially leading this exclusivity within the Ibiza property market, including the charming village of Es Cubells.
Es Cubells is an unparalleled area, with a unique history and spectacular landscapes. The area is one that literally blows away the rest of the Ibiza property market, with a steep price curve increase over the past five years that has barely stagnated and remains steady at the point of publication.
Many properties for sale in the south of Sant Josep, including the stunning village of Es Cubells, offer high profile secure community grounds, exclusive cliff top villas, vast landscapes, outstanding Mediterranean Sea or Es Vedra views and are ultimately of a modern and contemporary housing style.
Es Cubells Village
Es Cubells is one of the smallest villages in Ibiza. The drive to reach the village is a steep upheaval, yet worth every moment to discover the impressive, admirable candor and sweeping panoramic surrounding views that await. It really is no wonder villas for sale in Es Cubells define exclusivity.
Es Cubells entire structure is formed by its central white Ibicencan church, located on the edge of the cliff. Additionally, the square offers two subsequent local bars, a small grocery store, a humble cultural centre and a small children's park located directly next to the church.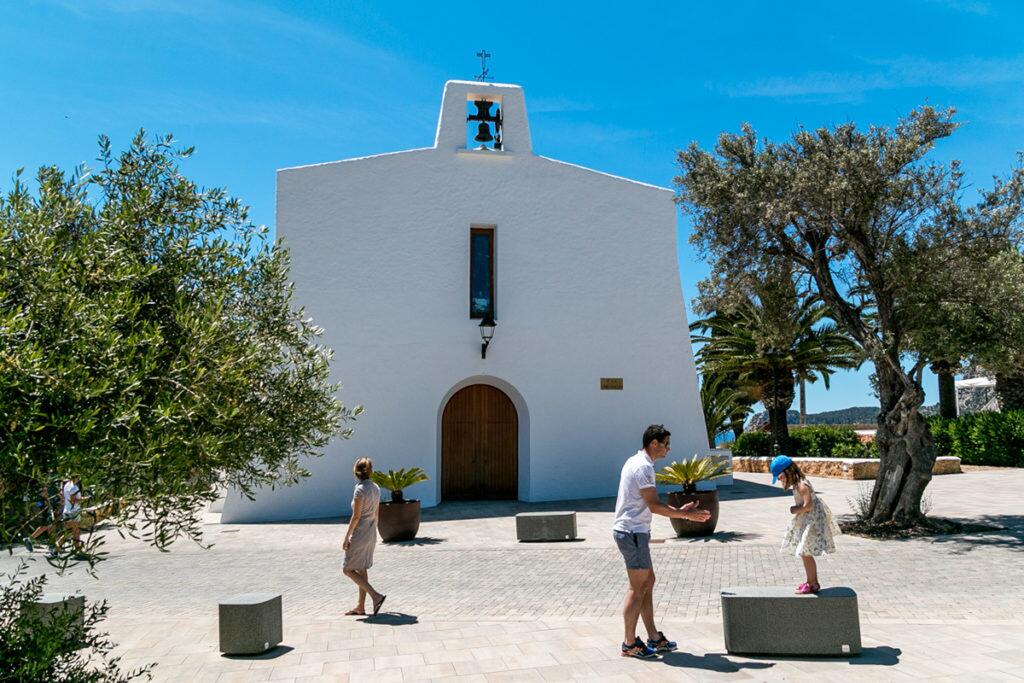 From the church, through the small square, the entire southern coast of Ibiza, from Cap Llentrisca to Formentera makes for the most extraordinary viewpoint. This novel-like village literally offers anyone looking to buy a property in Es Cubells spectacular sweeping views from any given location.
History of Es Cubells
The village of Es Cubells, was once an open space of wasteland. However, a unique point in history on the island changed its perspective. A Carmelite and priest, Francisco Palau (Pare Palau), who arrived in 1854 began the foundations of what is now one of the most idyllic and privileged villages in Ibiza.
Pare Palau was apparently confined to the Pitiusas, after being accused of being a troublemaker and therefore was expelled from his ministry in Barcelona. Here from this point, Pare Palau began to build a chapel which remains today as the church of Es Cubells.
From 1858 onwards, he was said to spend several days in asceticism on the islet of es Vedrà, confined to a cave, praying and carrying out rituals in awe of the rock.
He was recorded (during this time) to have sent a letter to Rome, requesting permission to build a hermitage. Then, later in 1864, Es Cubells became recognised as a great centre for pilgrimage devotees.
The local parish which now stands as the central focus of Es Cubells, was the very last church to be built following typical Ibizan architecture on the island. Visitors can see the commemoration of the life and history of Pare Palau, as his sculpture is situated outside the church.
Es Cubells village has likely been the least affected spot on the island by the influx of seasonal tourism. It upholds many of its original and authentic traditions and environments including The Teresa Sisters convent, also thought to be founded through the life of Palau.
Its local residential population is inevitably the smallest on the island and any exclusive villas in the Es Cubells or homes within the area are few and far between.
The coastline of Es Cubells is minimalist with a few small fishermen coves including Es Cubells beach, Ses Boques, Cala Llentrisca, Es Torrent and Porroig.
Beaches
Es Cubells local beaches are at the foot of the majestic cliff forming three small, yet truly authentic fisherman's coves, each individually separated by the rocky formations that segregate them.
Due to the typical cliff edge, these tiny cobbled beaches are completely natural with gravel sands and crystal waters that are as inviting for warm summer swims as they are for deep water snorkelling.
Es Cubells beach, directly below the Church is very intimate with a few simple fisherman huts. Further on, Ses Boques beach offers a small authentic Ibicencan beach restaurant and on the far end, Cala Llentrisca offers another enclosed beach cove with a small dock and several fishermen's huts.
However, buying a property in Es Cubells is not conclusive to these small coves and one village. Many looking for a villa for sale in Ibiza often specify quick access to Ibiza Town as well as the most popular beaches and areas favoured by A-list celebrity clientele.
Just a short drive away from Es Cubells, a myriad of natural wonders, spectacular scenery of Ses Salines Nature Park, trending beaches, bars and restaurants of Ses Salines, Es Cavallet and Cala Jondal beach are located with the famous beach clubs of Blue Marlin Ibiza, El Chiringuito and Sa Trinxa.
These two stylish and renowned beaches with long stretches of white sands surrounded by natural woodlands, crystal clear waters offer a completely different beach experience for those looking for a property for sale in Es Cubells, compared to the small coves and fishermen style beaches in the village itself.
Buying a property in Es Cubells village offers lots of authentic charm and a more traditional Ibiza lifestyle, as well as being within close proximity to visit Cala d'Hort Natural Park. However, unlike many overseas rural locations, a villa in Es Cubells is only a simple moment away from the lively atmosphere of the bustling city life, lifestyle vacation beaches and the best nightlife of the Island.
Properties to buy in Es Cubells lean predominantly towards high profile clients looking for exclusive Ibiza villas within an authentic area as a second home.
Property Style in Es Cubells
Properties in Es Cubells typically boast of their breath-taking south facing and sweeping sea
views with a multitude of Es Cubells villas for sale offering extensive landscapes and grounds.
Cala d'Hort beach and the surrounding area of Es Cubells are naturally known for its ultimate views of the most iconic symbol of Ibiza, Es Vedra. A property for sale in Es Cubells with sunset views overlooking Es Vedrà is perhaps one of the most desirable luxury home buyer requirements within the Es Cubells area.
The house prices in the South of San Jose and exclusive properties for sale in Es Cubells typically start and reach well in excess of €3,000,000, which is the highest minimum price for any property for sale in Sant Josep municipality.
Residence and properties in Es Cubells are sporadically isolated across the village's rural surroundings. The area has the lowest recorded residents of any comparable area on the island, which only highlights the rarity of properties for sale in Es Cubells, which are of course, nothing less than luxury estates and extravagant country houses.
Finca Colina is an example of a typical lavish country style finca in Es Cubells for sale. Located on high, this authentic Ibizan Finca has been renovated with construction of 360 m2 set on a plot of 122,000m2. This property is located only 5 minutes from the beach, 10 minutes from the airport and 20 minutes from the city of Ibiza.
The main house has two bright and spacious living rooms, an open and fully equipped kitchen and a magnificent dining room, as well as four double bedrooms, two bathrooms and several independent terraces with views. Additionally, the Es Cubells country home for sale consists of a guest house and a spacious outdoor area with a pool surrounded by terraces and lawns.
The properties available within the Es Cubells area contrasts between the upper part of the village retaining a modern authentic style housing, compared to the newer houses built lower down in luxury complexes like the exclusive properties in Vista Algere.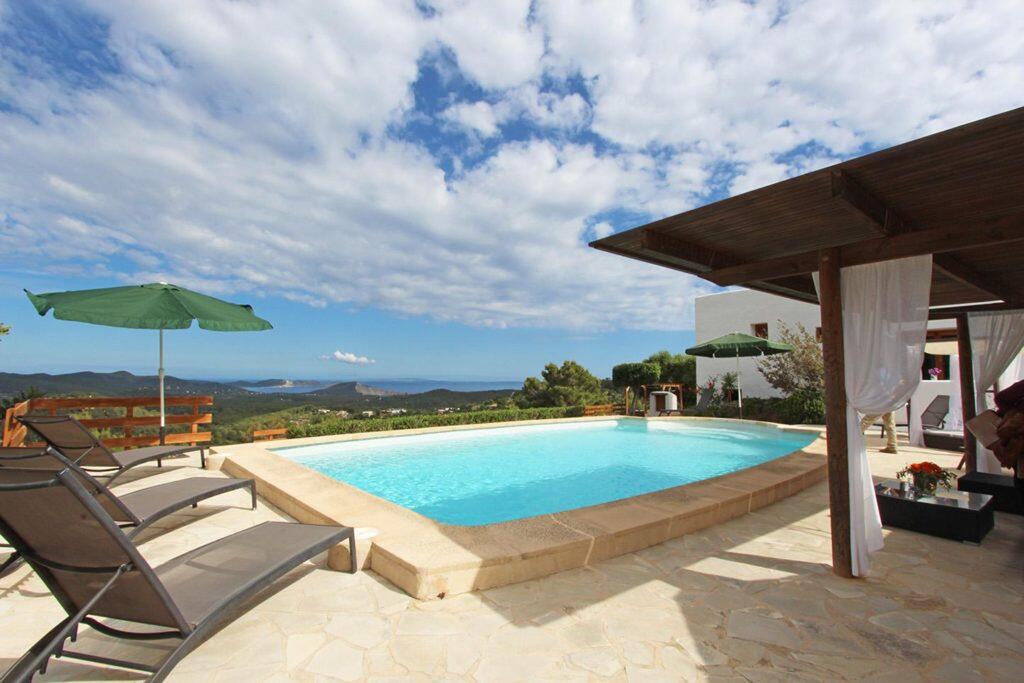 Vista Alegre
The high-profile gated community of Vista Alegre offers super exclusive homes in Es Cubells to the highest of standards.
Vista Alegre Ibiza Exclusive Properties boast  the most credible and modern architectural villas, mansions, and homes with breath-taking views of the coast and bay of Es Porroig. A luxurious and complete haven.
Can Berry is a contemporary designer villa with sea view located in the Vista Alegre urbanization in Es Cubells.  This truly stunning villa has been finished to a very high quality finish including a professional kitchen which would impress even a world leading chef. The elevated position offers breathtaking views of this beautiful coastal area with clear sight of Es Porroig beyond the turquoise bay. The property consists of 4 bedrooms, 5 bathrooms, a spacious open plan living spaces. The outdoor area includes a large terrace with bbq, outdoor kitchen, large outdoor dining area, multiple other terraces and skillfully landscaped manicured gardens and an infinity pool.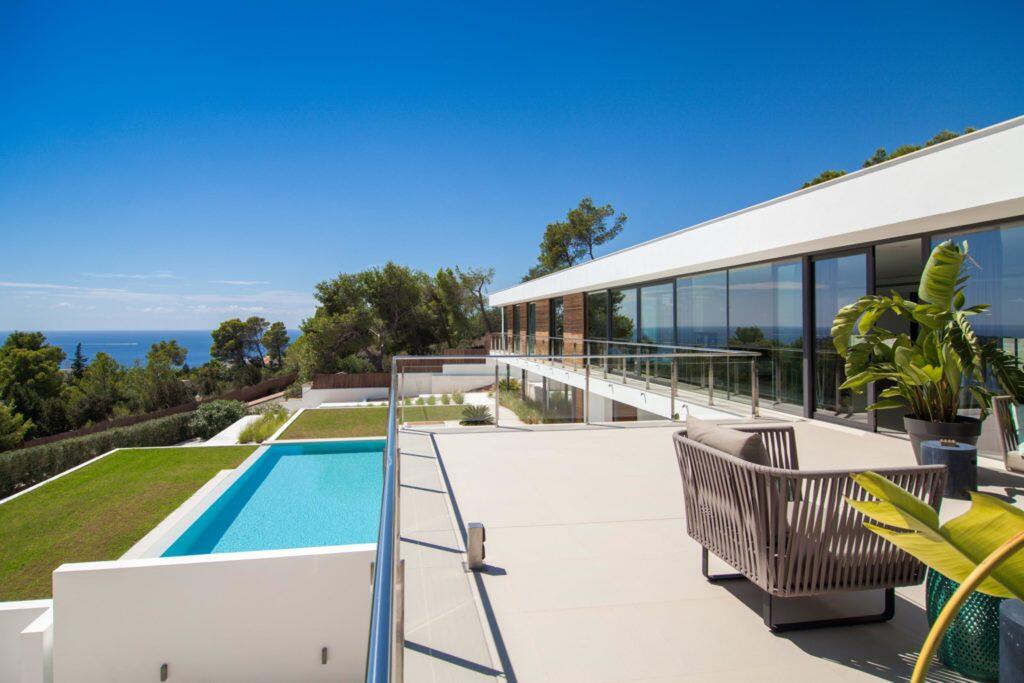 Are you thinking about buying a property in Es Cubells?
Buying a property in Es Cubells offers miraculously peaceful and unparalleled surroundings with a unique, traditional charm and the most authentic local fishermen beaches and coves of Ses Boques, Cala Llentrisca, Es Torrent, Porroig, and the notable Cala d'Hort Natural Park. Barely touched by tourism, surrounded by privacy and complete seclusion, yet close enough to the famous beaches and attractive clientele spots.
In terms of the effect of Ibiza's tourism, few places could claim to have been less affected. The area is made up of extensive countryside, whereby all kinds of beautiful luxury villas and country houses in Es Cubells reside.
Prestige Properties Ibiza currently has a portfolio of 97 properties for sale in the San Jose area and only 9 properties for sale in the Es Cubells area.
The area of San Josep de Sa Talaia is immensely popular and offers a wide range of a variety of properties within different cultures, communities and styles. Why not browse over our recent Sant Josep de Sa Talaia article and find out which area suits your preferences with our informative guide.
Potential home buyers are often encouraged to look beyond the well sought after areas and onto the neighbouring spots which have an incredible opportunity to maximise value for money and still be impeccably close to those stylish areas like Es Cubells.
Properties for sale in Port Des Torrent, Playa d'en Bossa and Sant Jordi are perfectly accessible to the main town of Sant Jose, Ibiza Town, the airport and to many of those desirable locations, still offering a great variety of local amenities and stylish restaurants to explore. Take a look at our property in San Josep de Sa Talaia here.
If you are considering buying a property in the Es Cubells area, then why not take a browse at our current exclusive properties available.
Our team is always ready to help you along your buyer's journey and ensure you discover your dream home with Prestige Properties Ibiza – contact us today.
In need of a Holiday Rentals Villa whilst visiting to view properties?
Our vacation villas have recently expanded. Book a villa with us and we can show you around interesting properties for sale in Ibiza during your stay.
Thank you for staying updated with us at Prestige Properties. We hope to see you soon and wish you the very best of luck with purchasing your new home here on the magical white island of Ibiza.