Whether you wish to call Ibiza your home or are interested in purchasing an exclusive property for investment purposes, you can rely on us, the island's leading real estate agency, Prestige Properties Ibiza.
Our portfolio inspires buyers with luxury, modern architecture and interiors, stunning swimming pools, exclusive sea and countryside views, penthouse apartments, and plenty of investment opportunities.
This month's blog will introduce you to a range of villas available in San José. San José (Sant Josep de sa Talaia), located in the south-west of Ibiza, is known for its natural beauty and international community of residents. Those interested in purchasing a home here will be pleasantly surprised – an ideal location for investing in a perfect 'opportunity' property.
We invite you to look at our top three picks that might be just what you are looking for…
Top investment properties in San José, Ibiza
Villa Elegant San Agustin
In addition to its privileged location, Villa Elegant San Agustin boasts an elegant contemporary design with four bedrooms and three bathrooms. This villa is located near some of the island's most famous beaches, near San Agustin, within walking distance of the charming village of San José – and comes complete with a final tourist rental licence, which makes it an ideal investment property.
This quiet residential community home features a master suite with an en-suite bathroom (with two sinks and a bathtub), three other bedrooms with twin beds, and two bathrooms, one of which is en-suite; the other two belong to the family bathroom.
This home's spacious open-plan living and dining room extends outside to a lovely covered terrace with garden and swimming pool views – perfect for al fresco dining and relaxing on sunny island days. The superior house features a minimalist design with pure white walls adorned with rich organic materials, reflecting and complementing its natural surroundings.
On the rooftop terrace, two wraparound sofas, coffee tables and polished floors overlook the inviting swimming pool below. Exotic palms and mature trees also shade a sumptuously furnished sun terrace. In addition to breathtaking hills and green countryside views, this upper level also offers a glimpse of Ibiza's legendary western sunsets.
Ibiza tourist rental licences are becoming increasingly difficult to obtain. Laws have become stricter, and processes can take a long time. It is often considered a golden opportunity to find a property that has already been licensed and is ready to rent out. You can read more on obtaining a tourist license in Ibiza here.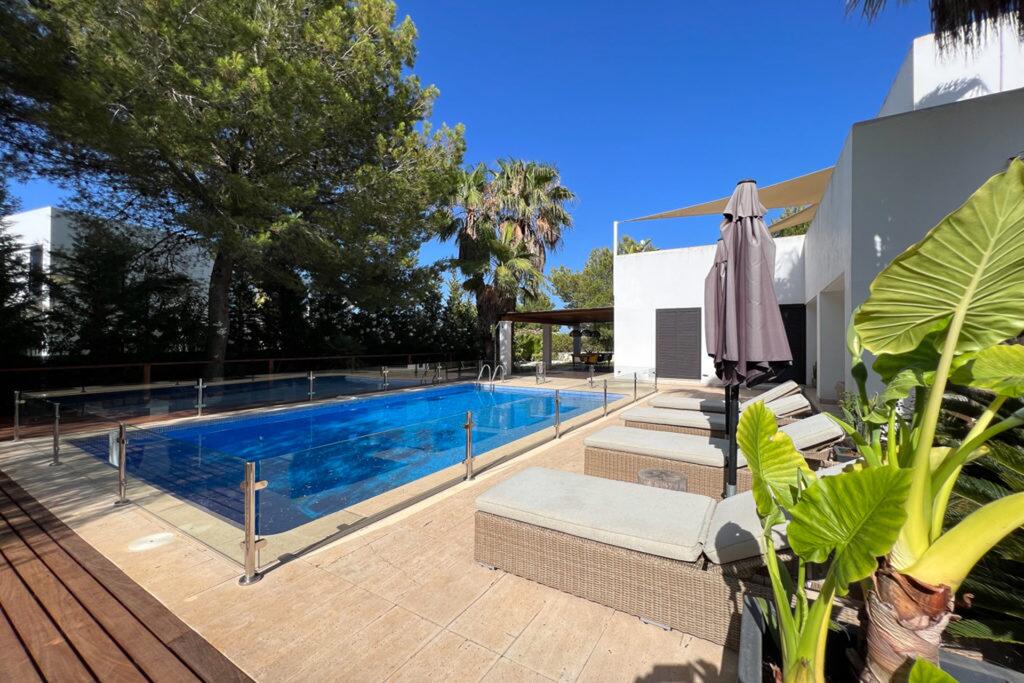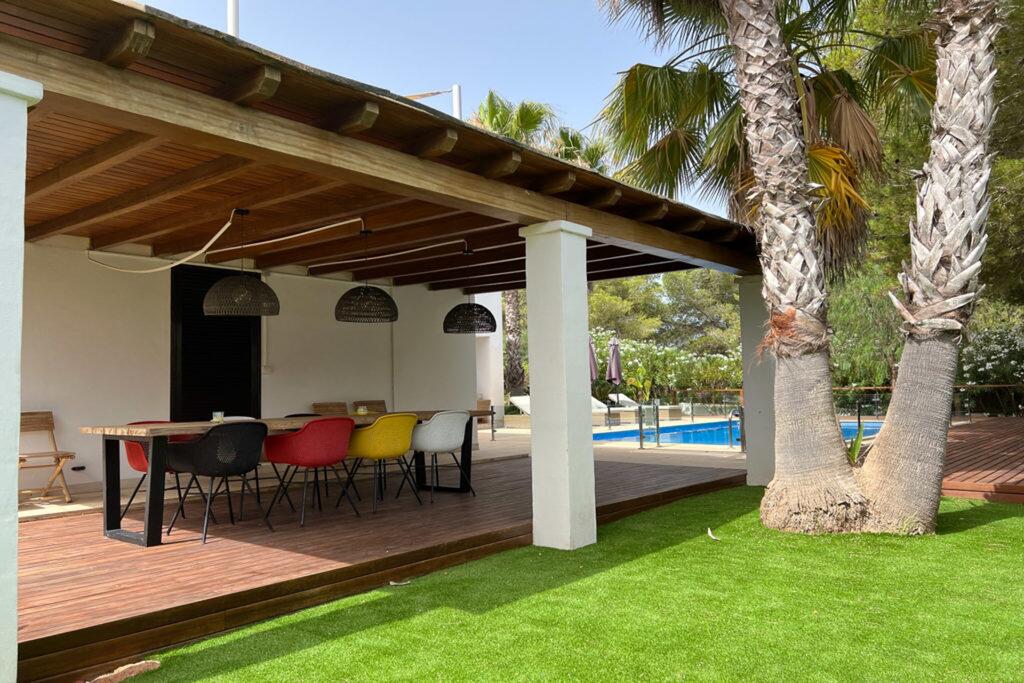 Villa Campo Cala Conta
This property is ideal for investors or people looking to live in Ibiza all year round since it offers the possibility to add their own touch to the property, especially since it has all the paperwork in order, and obtaining a license to renovate will not be difficult for this property.
Located near amenities and with distant sea views, Villa Campo Cala Conta is a charming 4-bedroom villa near Cala Tarida and Cala Conta beaches. There is a living room and dining area overlooking the swimming pool on the ground floor, a kitchen with a separate entrance, and 2 bedrooms with ensuite bathrooms. The third bedroom with an ensuite bathroom can be found in the annexe, only a few metres from the main house's entrance.
A fourth bedroom is located on the upper floor of this property, complete with an ensuite bathroom and access to its own private terrace, which provides distant sea views on a clear day. 
Outside is a 60m2 swimming pool and superb gardens with mature plants.
In addition, there is further access to a large rooftop terrace with beautiful views towards Cala Conta and San Antonio, which offers fabulous sunsets in summer.
Lastly, in the basement, under the terrace, we have a garage and ample space to use as additional storage. Don't miss this opportunity to purchase a home where everything is in place to obtain all necessary licences without a headache, a rarity in Ibiza.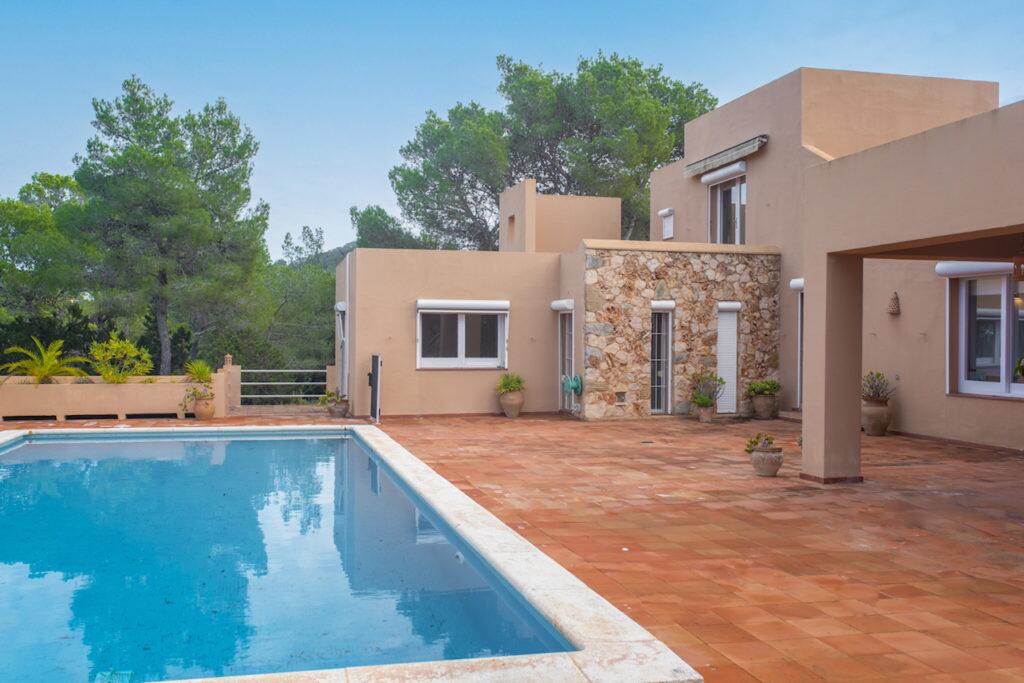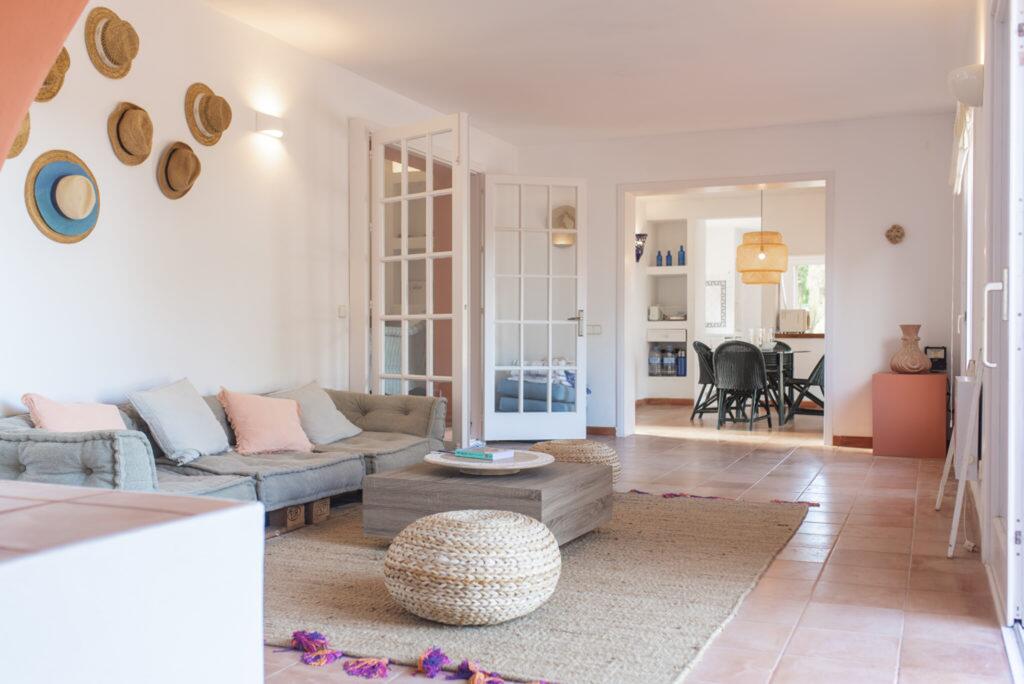 Proyecto con Licencia San Agustin
Proyecto con Licencia San Agustin has recently received planning permission for a rustic Mediterranean-style detached house with a private swimming pool. This 15.153 m2 plot is located in a quiet residential area in the west of Ibiza; just a few minutes' walk from the beach and restaurants.
The house is divided into two floors and an additional basement. Three double bedrooms and three bathrooms are on the first floor, along with a separate kitchen and dining area. A central courtyard faces south and is the centre of life in the house, which can serve as extra living space, combining indoors and outdoors during summer. There are many outdoor terraces, some with pergolas or solid roofs, plus a 24 m2 swimming pool. On the upper floor is the master bedroom, with a dressing room, private bathroom with bathtub and private terrace.
The construction project is ideally suited to those who want to determine their own style and quality requirements from the outset, which can serve as a holiday home and a house for year-round use.
When you buy a project with a building licence, you can define all finishes precisely to your liking. By having a licence ready, you don't have to wait the usual 2 years + until you get one authorised, meaning construction can start immediately. With this particular house, after the investment in construction, you will have a finished house that costs ca. 2.100.000 € which is likely to sell for around 2.800.000€ (with the right finishes) if placed straight back on the market – so it's an excellent investment opportunity all around.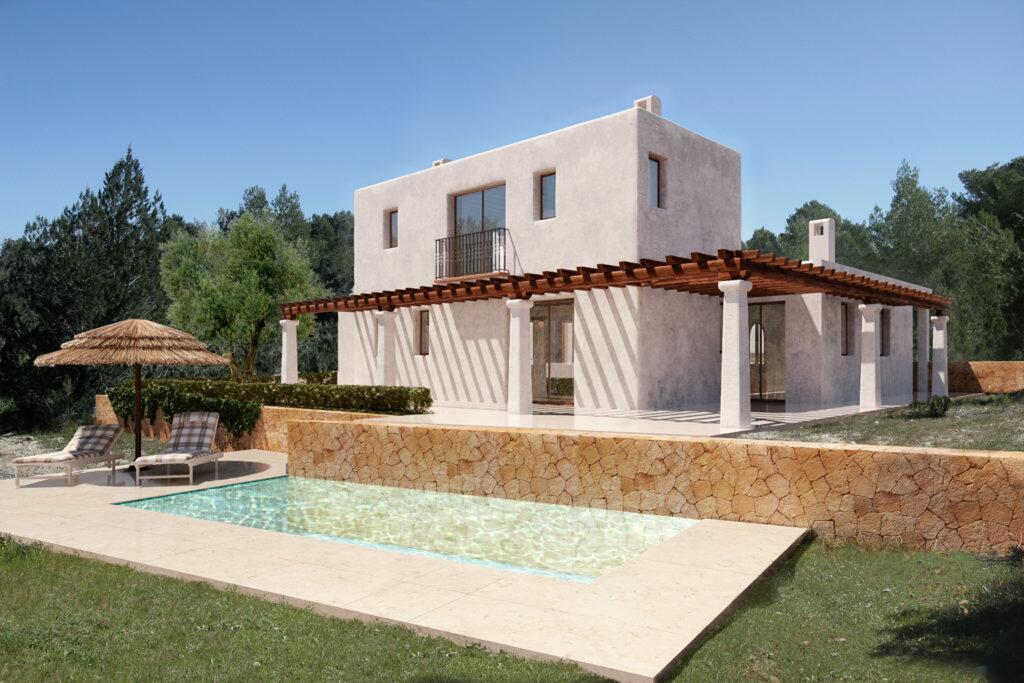 Buying a property in Ibiza
When the right investment opportunity property that suits your requirements becomes available, you're ready to start the process as quickly as possible. There are often some great investment opportunities here. But as the demand is almost always higher than the supply, if the perfect investment property still needs to be added to the market, then actively registering yourself with the right agent as early as possible comes highly recommended.
Are you looking to buy a property here in Ibiza?
Let's chat with one of our agents to help you find a suitable property investment. We would love to hear from you! 
For regular updates, recommendations, and experiences, keep up to date with our latest news via our social media pages and blog posts.