Ibiza has many authentic and traditional restaurants that most certainly merit a visit. The quality of our local restaurant scene is greatly enhanced by our island's fresh produce, daily seafood menus, and typical Ibicencan flair.
With a long list of family-friendly restaurants offering tasty menus and picture-perfect beachside locations overlooking the turquoise-blue Mediterranean Sea – we're sure you'll find something you like. Read on to explore our top-recommended gastronomic experiences and traditional Ibiza restaurants.
Balafia Restaurant – San Lorenzo, Ibiza
Balafia has been run by the Marí family since 'Lina and Toni' built this small establishment many decades ago. The restaurant is ideally located close to the quaint and charming village of San Lorenzo, alongside an orange tree orchard. These days Antonio Junior grills delicious food in an authentic wood oven while his sisters Lina, Toñi and Marita serve their customers. It is the perfect place to recover after a long beach day or have a delicious meal of grilled meats under the evening stars on their spacious Mediterranean terrace.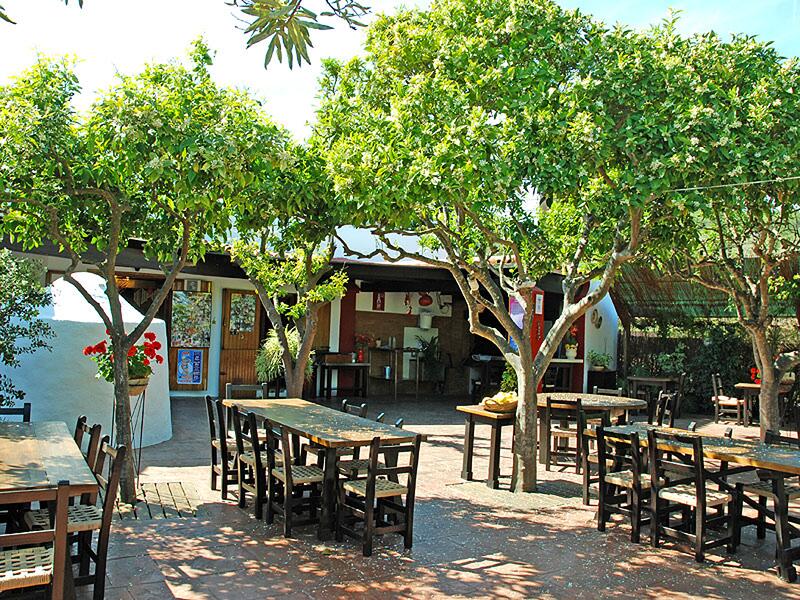 El Carmen – Cala d'Hort, Ibiza
In one of the most picturesque locations on the island of Ibiza, El Carmen Restaurant is situated in a place that can only be described as magical  – facing the sea in front of the islets of Es Vedrà and Es Vedranell. Whether day or night, under the sun's heat or in the evening before the breathtaking sunset, you can enjoy a feast full of typical specialities, especially fresh fish and seafood. Here you can enjoy a taste of one of these plates in an environment that is pleasant, familiar, surrounded by nature, and with spectacular views.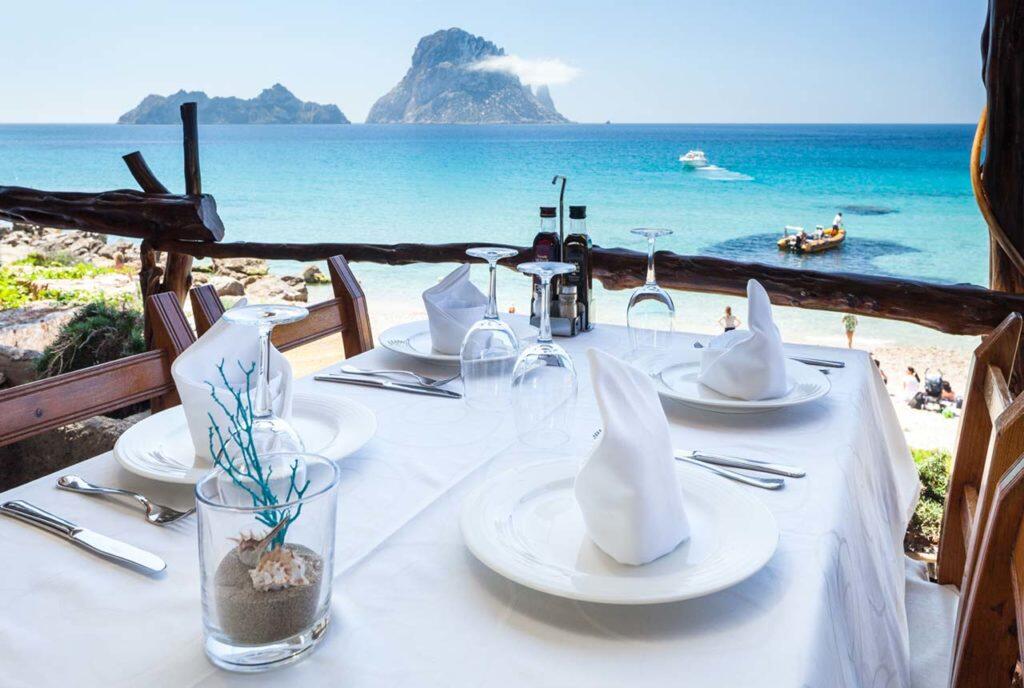 Cas Pagès – San Carlos, Ibiza
As one of the island's oldest restaurants, Cas Pagès was established in 1972 by Carmen and Lucia Pagès. This small restaurant on San Carlos Road has served grilled meats and homemade dishes for over 50 years. They offer a variety of great rice dishes to their guests, including their famous "arroz de matanza", a delicious rice dish that contains the finest pork cuts available, and the "sofrit payès", which consists of lamb and chicken with sobrasada, potatoes, toasted almonds, and various herbs and spices. This menu is both wholesome and filling.
El Bigote – Cala Mastella, Ibiza 
El Bigote is a beach-shack-style, no-frills restaurant with a view of Cala Mastella's picturesque cove. The local restaurant is so popular that the King of Spain was allegedly turned away because he didn't have a reservation. Reservations here are often months in advance, and there's no answer on their mobile phone. It can take hours or even days to get through, so it is usually advised to drive there to reserve a table. Here's where our Concierge Services can help you ensure your reservations are secured! 
El Bigote only serves a minimal menu of authentic dishes – bullit de peix (fish cooked in saffron with potatoes) and rice cooked in fish broth. This authentic restaurant experience is worth the trek.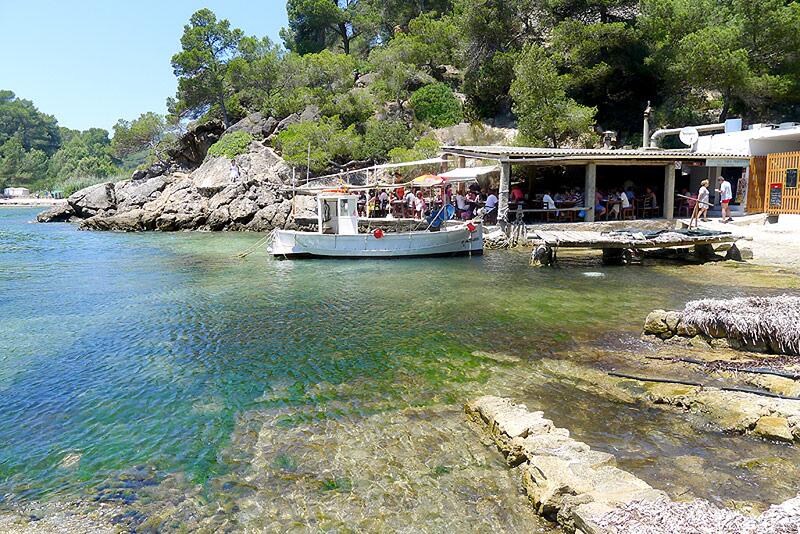 Restaurante Salvadó – Pou des Lleó, Ibiza 
Salvadó Restaurante is a historical place on a boat dock where fishermen sold fresh fish. They've been running a family business for over 30  years with classic recipes passed down generations for you to enjoy from one of the island's most authentic spots. This is a secret corner where you can experience the original flavour of the island in its purest form. 
Salvadó Restaurante serves a wonderful array of seafood and fresh fish dishes, but we would highly recommend the traditional dish Bullit de Peix and Paella. It's one of the best on the island!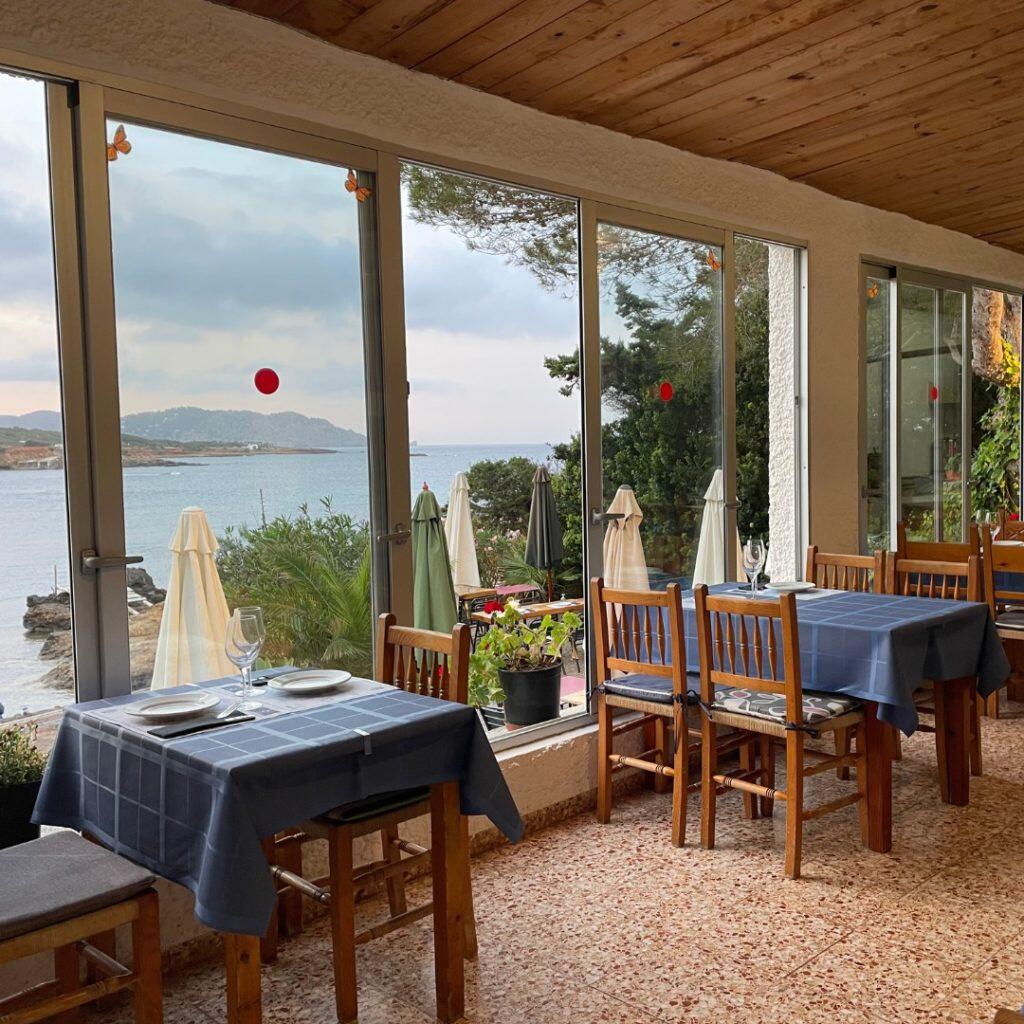 Book your Ibiza Restaurant Reservations with Us
There is nothing quite like a great culinary experience to remember your Ibiza holiday. Remember, when you book your villa vacation stay with us, we'll help you make restaurants and reservations in Ibiza. Many local and authentic restaurants have long waiting lists for a table, are walk-in only or have a no-card policy. Make sure you check in with our team to ensure that we can assist you with your reservations.