Now that travel is back on everyone's agenda, Ibiza is of course getting ready to enjoy another great season. If you're still undecided about when or where to take your summer vacation, then take a look at our rental property – Can Rocas – which may be exactly what you are looking for!
This modern property with typical Ibicencan architecture and state-of-the-art gardens offers nothing short of an oasis of relaxation. The perfect retreat for friends and family to spend a week or two under the heat of Ibiza's sun.
With easy access to many of the island's best beaches (between Ibiza Town and San José), Can Rocas is ideal for those who want to stay in a highly cosmopolitan part of the island, but still want to be able to escape the hustle of tourism crowds.
Sound appealing? Why not venture with us and take a look through the keyhole of one of our top Ibiza rental villas?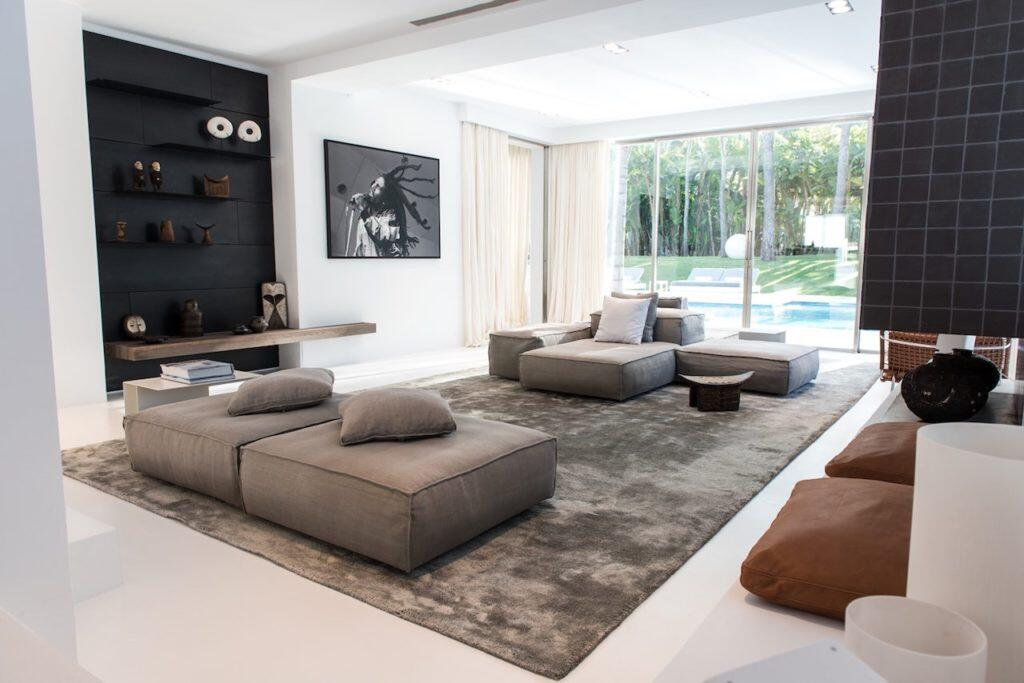 Can Rocas: An Exclusive Ibiza Property to Rent with Stylish Designs
On arrival, you will feel immediately assured that you have entered an exclusive Ibiza home, where every single detail has been meticulously crafted, in line with 5-star accommodation standards. This completely renovated villa combines modern interior design with a sober mix of ethnic touches throughout. Living spaces are bright and spacious woven with clean organic and neutral colours. Despite its minimalist style and approach to decor, this elegant Ibiza property is laced with luxury and high-spec fixtures and furnishings.
With its floor-to-ceiling french patio doors and windows, the house offers a pleasant indoor/outdoor experience, with direct access to the large swimming pool and gardens from almost any room. In spite of its open-plan nature, Can Rocas has been thoughtfully designed with separate zones for quiet time and individual space. And that's just the beginning.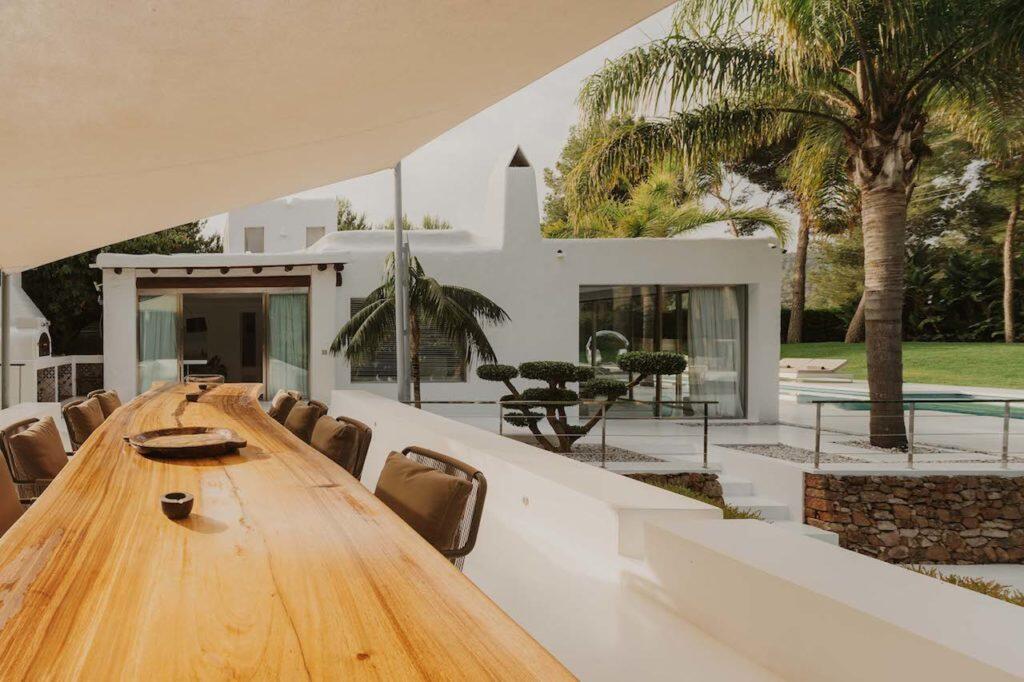 Can Rocas: Five Bedroom Ibiza Rental Property with Elegant En-Suite Bathrooms
Each of the five bedrooms, which are designed in the same style as the main body of the house, has its own elegance and sophistication. The en-suite bathrooms in each bedroom have either a high-end bathtub or shower, and you may be left wondering whether the features of the en-suites rival the main aspects of the rooms themselves. It's hard to deny that the Master Bedroom's freestanding bathtub, located directly at the foot of the King-size bed andoverlooking the garden, is one of the most attractive features of the house.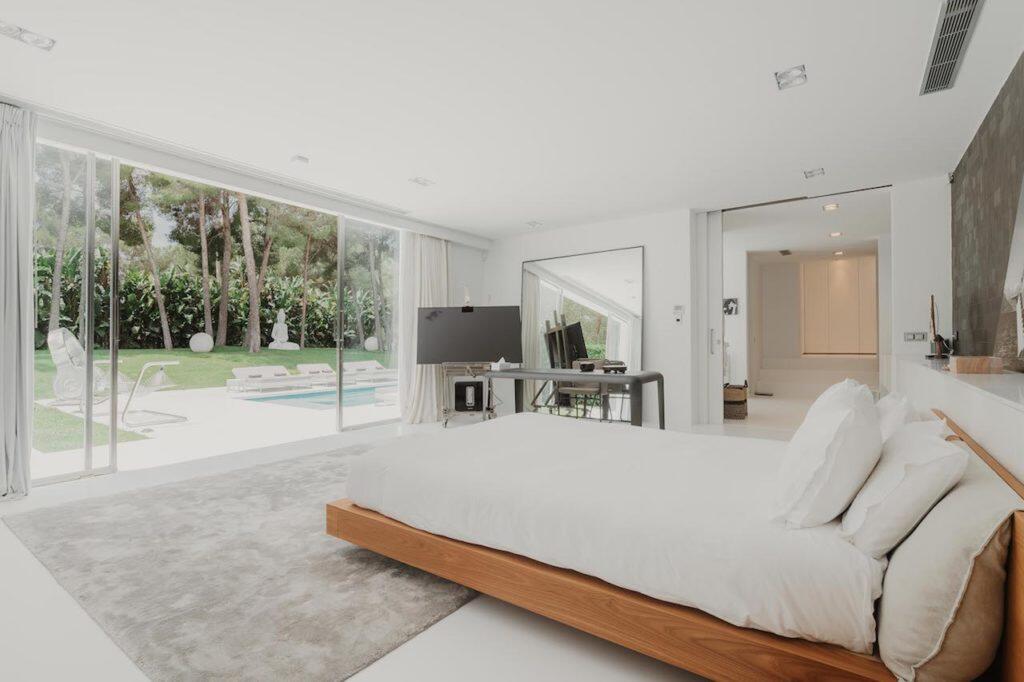 Can Rocas: An Ibiza Holiday Rental with Large Lush Mediterranean Gardens & an Elegant Swimming Pool
Why would you book a holiday to Ibiza if not for the hot summer weather in the Mediterranean? And, for you to make the most of the great weather, you need to book a villa in Ibiza with large surrounding gardens, a big swimming pool, lots of chill-outs, and outdoor dining spaces. Well, Can Rocas ticks all these boxes and much more.
You will certainly enjoy plenty of privacy and tranquillity on the grounds of Can Rocas. The garden itself is dotted with inspirational sculptures, including a large Buddha, an apple, and a stylish set of DJ headphones. In fact, there is something sensational about all its various features from the well-maintained lush lawns, tropical palm trees, pine trees, and the long, narrow pool that runs the length of the villa. Of course, there are also plenty of cushioned sun loungers, a relaxing hammock, and a large comfortable sofa chill-out zone, perfect for events. Similarly, the outdoor dining area boasts a solid wood-oak banquet table fully covered by a terrace canopy for all those wonderful outdoor dining occasions. A central courtyard with a feature olive tree is also noteworthy, which gathers the main bedrooms together, all opening through their sliding french doors offering direct access to an outside shaded chill-out space.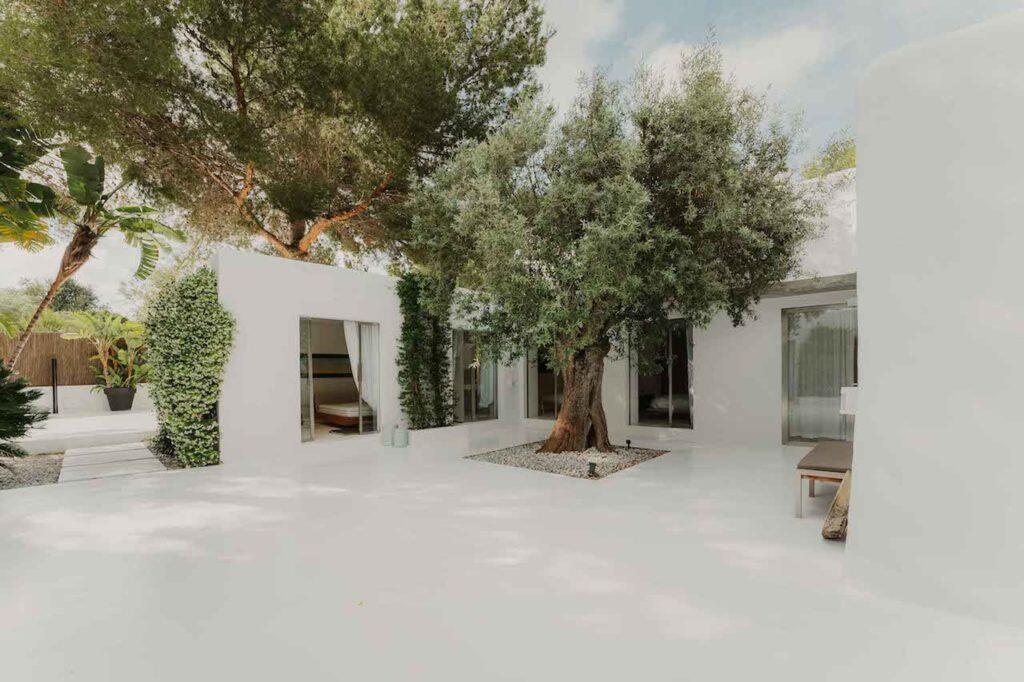 Can Rocas: A Perfectly Located Rental Villa Close to Ibiza Town, San José and all the Top Beaches of the South
All within a 15-minute radius to the most beautiful beaches of the south, the nightlife of Ibiza Town, Marina Botafoch, Las Salinas, and some of the island's most renowned beach clubs like Blue Marlin, this wonderful holiday home sits close to all the action, yet quietly in a rural setting.
What's more, you don't even need to lift a finger while you're here. There are two housekeepers, a laundry and towel service, and a property manager to ensure that your stay is as comfortable as possible. And, if you wish to really indulge in an extra relaxing week, Can Rocas offers the right facilities so you can also hire a private chef and a hospitality team to cater to your every need. Our Prestige concierge agents will arrange all those extras required to make your stay as pleasant and memorable as possible.
Book your Luxury Ibiza Holiday Rental Property with Prestige Properties Ibiza
Vacation rentals at Can Rocas are an excellent choice for a relaxing getaway. Take a well-deserved break and spend time with your family and friends by booking today.
The upmarket villa rentals we offer cover all of Ibiza's municipalities, including Santa Eulalia, Santa Gertrudis, San José, San Antonio, Eivissa, and San Juan, which come in many sizes, styles, and budgets.
Check out our website rental page or see our special offers for your perfect vacation in Ibiza.
Prefer to chat with one of our agents to help you find the perfect holiday property in Ibiza? We would love to hear from you! Contact us Today