Talamanca is a small resort located close to the city centre that offers a wonderful cosmopolitan and trendy lifestyle for long-term residents and tourists alike. In particular, the area is known to host the most visited beach in Ibiza Town, Talamanca Bay, and boasts close proximity to the luxurious Marina Botafoch which entertains some of the world's most impressive yachts. Here a multitude of high-rise and penthouse apartments reside, as well as a wide range of high-quality restaurants, shops, bars and hotels. 
The centre of Ibiza Town can be easily reached on foot within 20 minutes and in the opposite direction, the authentic and fashionable village of Jesus where you will find a good selection of quality bars and restaurants can also be reached within a 15 minute walk.
Talamanca (Ibiza): The Beach
Talamanca Bay offers a beautiful long beach with a length of over 900 meters, making it the largest beach in the municipality. Its width provides plenty of space during the busiest months of the year and the wooden boardwalk makes for an easy walk from one end to the other. With its safe, shallow waters, and protection from the wind, the beach is a popular spot for swimming, kayaking and various other water sports such as jet skiing and pedal boats. It is easily accessible and offers a wide range of services including bathrooms and lockers, as well as being a great beach option for an energising morning run or sunset yoga practice on the promenade terrace. 
Talamanca Beach is also home to a number of excellent bars and restaurants that run the length of the beach, many of which are open all year round. In high summer the beach is often crowded with sun worshippers and cosmopolitan lifestyle goers, but the beach itself remains unspoilt and retains much of its authentic bohemian presence. While the beach may be popular with visitors in high season, there are also plenty of locals who regularly visit there all year round.
Talamanca (Ibiza): Lifestyle & Tourism
Over the years, the area of Talamanca has certainly developed into an affluent affair, with many unique boutiques and chic bistros, a marina full of super yachts, an up-market coffee culture, Ibiza's leading casino, and the luxurious Boas de Ibiza Apartments (designed by an award-winning architect) with its featured rainbow-coloured balconies are to name a few of the areas landmarks.
Originally Talamanca's success as a resort was due to its attraction among clubbers who were known to relax during the day on the soft white sands of Talamanca Bay and wander around at night, into Ibiza Town with its amazing nightlife onto the world famous Pacha Ibiza superclub (just a ten minute walk from Talamanca Bay itself).  However, despite the ongoing attraction, Talamanca has become so much more and upholds itself as an up-market and prosperous area to both live and visit.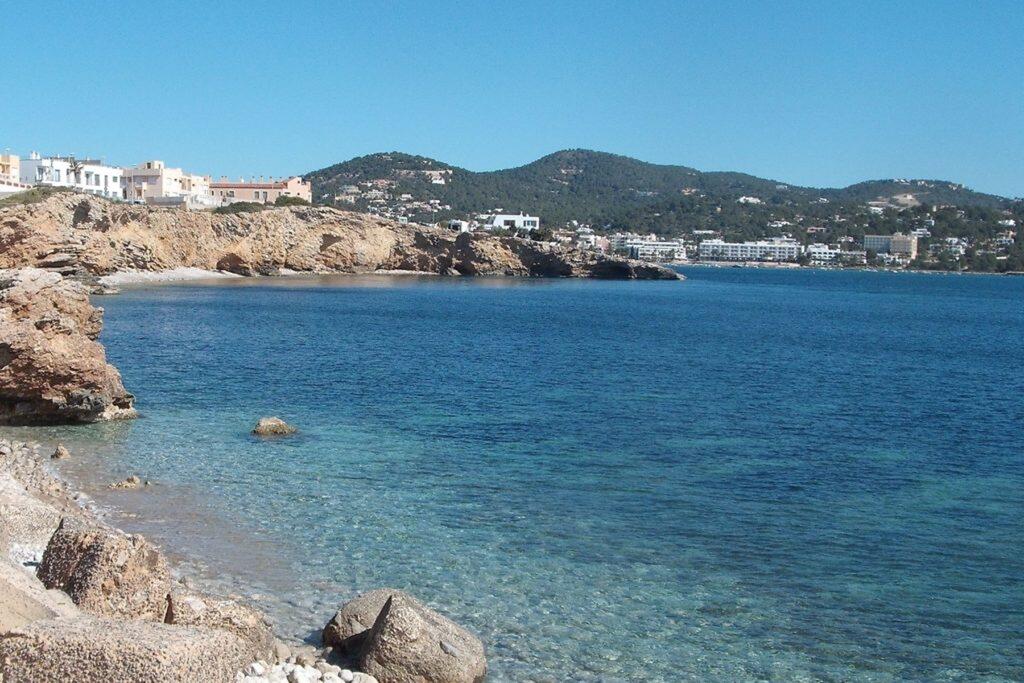 Talamanca (Ibiza): Insiders Recommendations
The Fish Shack is a small, rustic chiringuito that invites visitors for an authentic Ibizan experience with a simple, no-frills catch-of-the-day fish menu directly on the beach. Many locals boast that the Fish Shack serves some of the best fish on the island. Although incredibly humble, the restaurant comes highly recommended and is locally recognised as one that is well worth the visit.
At the opposite end of the dining experience scale, the recently built Nobu Hotel Ibiza offers a luxurious setting made of natural wood and handmade ceramics that reflects the islands' aesthetic, often attracting many guests from the Marina Botafoch area. Co-owned by actor Robert De Niro, the 5-star hotel offers first-class service, fantastic facilities, and a variety of dining options, including the world-famous Nobu Restaurant, serving unique signature Japanese dishes. The poolside lounge bar transforms into the perfect place to enjoy an aperitif or cocktail, whilst Chambao is a laid back beach chiringuito serving fresh seafood and quality Mediterranean cuisine.  Bibo presents their michelin-star Spanish Chef Dani Garcia who brings his renowned restaurant concept of creative dishes all summer long in the form of a classic street food style. The Bay Cafe also is a great relaxing place offering  a poolside menu of super-healthy smoothies, salads, brunch snacks, gluten-free options and tapas throughout the day. 
Destino is a spectacular open-air restaurant and luxury hotel owned by the Pacha Group. Located at the northeast end of Talamanca Bay in the Cap Martinet area, Destino offers breathtaking views of the Mediterranean Sea, Formentera, and the UNESCO World Heritage Site of Dalt Vila and Ibiza Town. The elegant and atmospheric restaurant with open-air entertainment is the perfect setting for a mix of cocktails, great food and a carefully curated music program.  Close by to Talamanca Bay, in walking distance, are also the exclusive restaurants of Marina Botafoch. Here the luxury five star hotel, Ibiza Gran Hotel, Ibiza's Casino, Hotel Pacha and Heart Ibiza nightclub are staggered along one side of the stunning promenade, opposite to the clear views of Dalt Vila, across the mouth of the Mediterranean Sea. Marina Botafoch is home to much of the VIP clientele on the island and encounters many upmarket restaurants, cafes and bars, like Blue Marlin Marina, Lio and IT Restaurant.
Looking to buy a property or rent a holiday villa in Talamanca, Ibiza? Click here to view all our properties for sale and rent in Talamanca
Talamanca offers many outstanding contemporary, authentic and modernised Mediterranean style villas, with a large number of new and fully secured apartment complexes, with more to be built in the near future. Properties for sale in the area cost around 6,500 euros per m2 for apartments, with an average price between 700,000 and 1 million euros. Many of the large villas for sale in the area offer excellent sea views and appeal to lifestyle and vacation buyers as well as more single and retired clients looking for properties in this part of Ibiza Town and its other counterparts. The area is particularly popular with those looking for properties for sale close to Ibiza Town, with easy access to a variety of unspoilt scenic beauty spots and beaches, offering a mix of family-friendly atmosphere, local amenities and trendy places to spend the summer months. Although incredibly vibrant in the summer season, Talamanca offers a relaxed city vibe all year round with an added element of tranquility and beauty due to its prime seafront location and stunning surrounding views.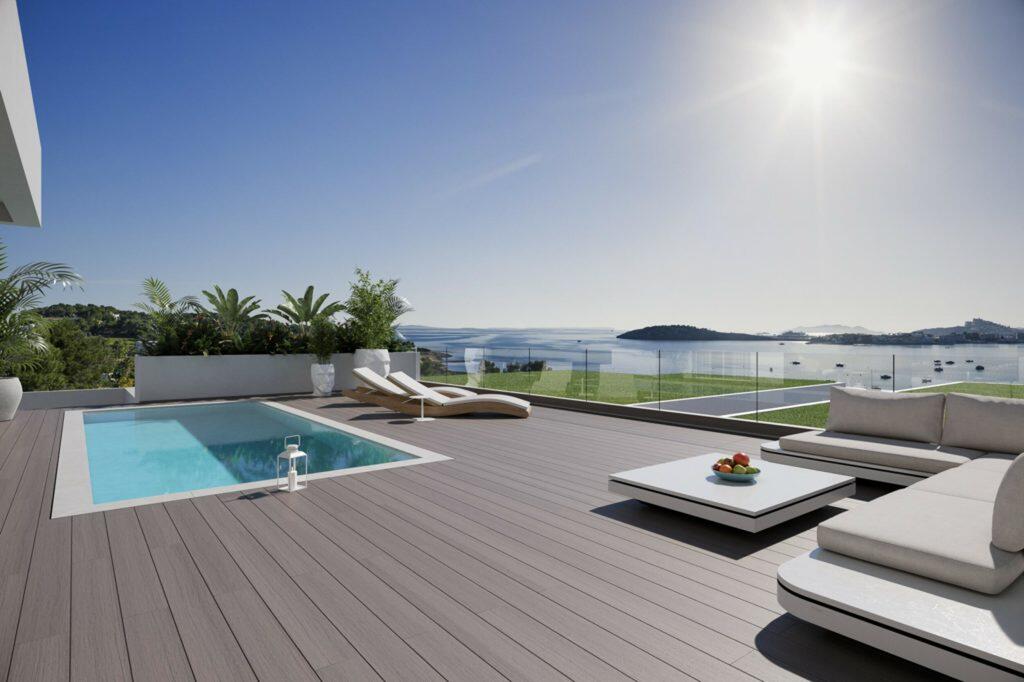 Why not read our article "Why buy a property in Ibiza (Eivissa Municipality)" which highlights Talamanca and the area of Marina Botafoch in more detail, and find out which area suits your preferences with our informative guide.
Our team is always ready to help you along your buyer's journey and ensure you discover your dream home with Prestige Properties Ibiza – contact us today
Thank you for staying updated with us at Prestige Properties. We hope to see you soon!