Celebrities in Ibiza are already legends. Millionaires, actors, footballers and aristocrats have chosen Ibiza as the ideal place. Many come to visit Ibiza frequently, live here permanently or spend a season here every year to relax as couples or families.
The great offers and high quality of the real estate market in Ibiza allows luxury homes to be obtained at (comparatively) affordable prices.
Celebrity villas in Ibiza
The luxury celebrity homes, with their comfort, their many rooms, their swimming pools and large gardens are wonderful. In them the artists, millionaires and footballers seek privacy and all the comforts imaginable.
Each celebrity looks for different styles according to his or her tastes. Antonio Banderas and Juio Iglesias prefer more complex architecture. Guti or Fernando Hierro prefer mansions designed with cutting-edge trends in mind. Kate Moss and Jade Jagger, on the other hand, prefer the traditional Finca style home in the bohemian North of the island.
Other football players who have made the island their sanctuary are Zidane, Gerard Piqué, Carles Puyol, David Villa and Pepe Reina.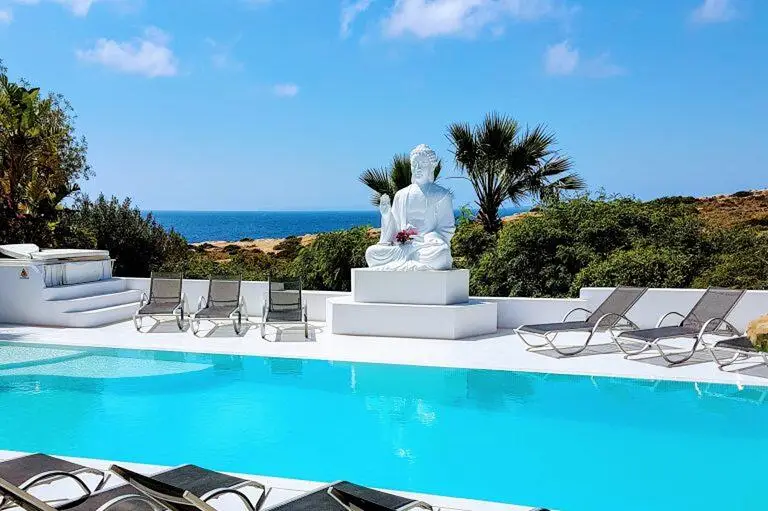 Other celebrities with properties in Ibiza include Pepe Martínez, Eugenia Martínez de Irujo, the Goyanes-Lapique family and Blanca and Borja Thyssen. Vladimir Doronin, the Russian millionaire ex-husband of Naomi Campbell has a mansion in San Jose.
Areas with more Ibiza mansions
Many of those seeking luxury homes in Ibiza are interested in constructions with local and traditional architectural features that are unique to the island. These houses are rare and distinctive, and they are often located in the countryside.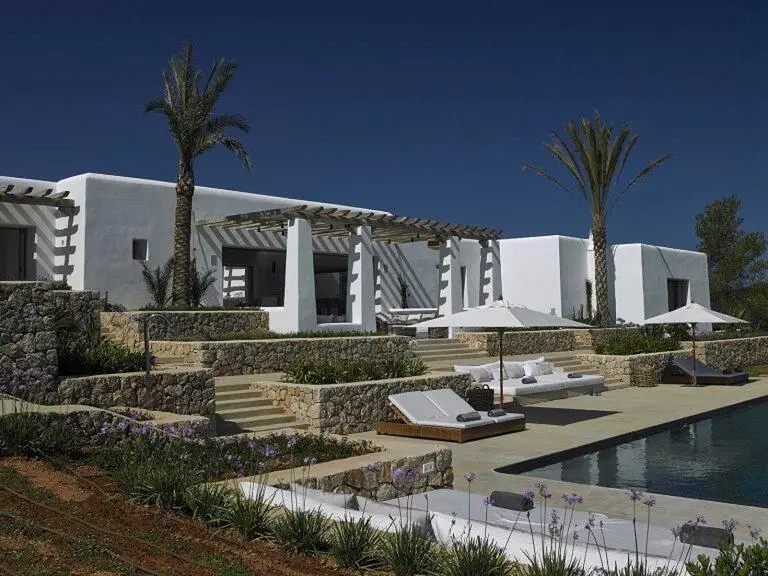 These homes are mostly in the north of Ibiza, such as Santa Eulalia and San Miguel, where there are a large number of mansions, as well as San Juan.
The south and southeast areas of the island also offer luxury homes. There are two main styles of Ibiza mansions in the north of the island: avant-garde villas or traditional buildings.
Where to buy a house in Ibiza and at what price
The purchase of houses on the island is booming and that has determined some of the prices as we'll explain below.
A detached house facing the sea in Santa Eulalia can have a value of up to 12,000 euros per square meter. On the seafront, the price of a two-bedroom apartment fluctuates around 7,000 euros p/m2.
There are luxury homes for 10 million euros or more, but the vast majority of them are around 2 or 3 million.
The redevelopment of the old town has given a new rising value to luxury villas and the proximity of VIP beach clubs has raised the average cost of a luxury home around Ibiza Town to more than 3.5 million euros.
Celebrities in Ibiza add another touch of glamour to island life, enjoying their Ibiza villas with style. However, Ibiza is not just for the rich and famous; anyone with a dream can come here and try their luck. We would be more than happy to help you in fulfilling your dream of a new home in Ibiza.
Ibiza, April 2019
---