For the first time in almost two years, 2022 is appearing to be the very best year to date for travel. Naturally, travel and tourism still involve advance planning and remaining patient and flexible, but as countries are easing restrictions, and vaccination passports, passenger locator forms, and health testing are becoming the new normal, the vast majority of travellers are finally feeling confident to plan and take their next vacation as normal. 
Gratefully, there was a lot of unexpected optimism in the tourism industry here in Ibiza over the past two seasons, particularly in the luxury travel sector. Although we all hoped that the optimism would continue, recent "good news" from the media and the nightclub industry have given us every reason to expect the summer of 2022 to be an even better year for Ibiza, attracting tourists from across the globe and bringing things back to how they once were.

Ibiza Night Clubs are Due to Open for their First Full Season this 2022
In addition to the nightclubs announcing their opening this year, they have also planned to open two weeks earlier than usual, from the end of April, through until October, or possibly November if all goes well.
As part of the island's nightlife season, all major operators are working hard to get ready. With a possible 65% capacity, a valid COVID passport, differentiated zones to ease into things safely, and a few necessary restrictions, the clubs will hopefully be fully operational in early Spring. 
So far, Amnesia has announced their opening party for 2022 and it has not taken long to revolutionise clubbers around the world, who are already placing their bets on the lineup of the opening. On May 21 Amnesia opens its doors and tickets are already on sale too.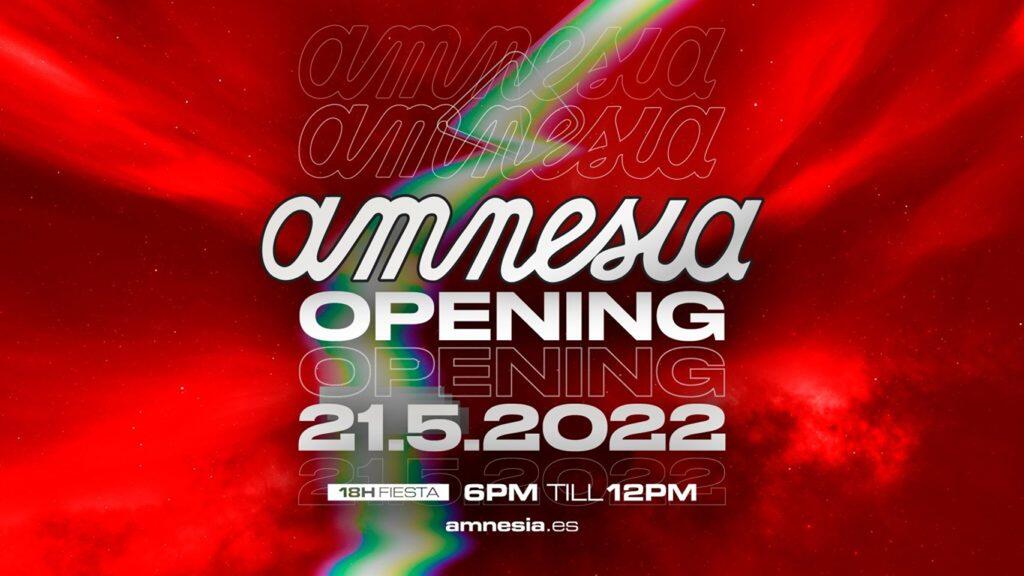 General COVID-19 Restrictions and Measurements in Ibiza
Even though we can't predict what the season ahead holds, Ibiza adapted well both during the summer of 2020 and 2021, maintaining a very positive attitude and safety throughout, where the majority of activities and many social events continued to operate as usual. It is evident from the past two seasons, even during much uncertainty, that tourism and events in 2022 will continue to increase and thrive on the island. 
We have not only seen an increase in culinary experiences, including the opening of numerous new restaurants, especially in the Santa Eulalia area, but tourists have also taken a deeper interest in a multitude of outdoor activities such as sunset charters, private yachts, and the discovery of the island's hidden gems! All of which has led to many tourism sectors having reported experiencing their best summer seasons, even when compared to prior to the pandemic. 
Over the winter period 2021/22 we saw a brief tightening of restrictions, whereby proof of 'COVID Vaccination Passports' was required for entering restaurants and attending large-scale events. However, these restrictions eased after 2 weeks as the social Christmas season returned back to normal. Like many European countries, mandatory masks are still required in busy urbanised areas and when attending public places like supermarkets and indoor venues, something that will likely continue and is preferred for the safety of us all. 
So right now, apart from the above-mentioned mask-wearing, there are NO Covid-related RESTRICTIONS in Ibiza. 
For more info, check out our Ibiza COVID-19 News 2022
Travel to Ibiza Safely this Season 2022 – Entry Requirements to Enter Spain
It is very important to stay up-to-date on both the requirements for entering Spain as well as the restrictions that may apply once you arrive in Spain.  
In light of the fact that the Pandemic is constantly changing, here are a few links and information points to keep in mind.  You can take the majority of the stress out of your travel experience if you have a solid understanding of what to expect before you go and can effectively plan everything that you need. 

Do I need a  Health Control or Passenger Locator Form to enter Ibiza?
The safety of tourism is dependent on the health control measures taken. The Balearic Islands require that all visitors entering from other international countries, regardless of their nationality, age, or any other consideration, complete a health check or a passenger locator form. 
It is important to note that the only travellers to whom this form does not apply to are international passengers in transit at a Spanish airport with a final destination in another country, provided that the transit lasts less than 24 hours and that the passengers do not leave the airport premises. It is imperative that each form is fully completed accurately on an individual basis in order to check-in and fly. Each form can only be associated with one trip at a time.Health Check Forms for all travel into Spain can be found here: https://spth.gob.es

Do I need a Vaccination Certificate, Diagnostic Test or Recovery Certificate to enter Ibiza?
All passengers arriving from another country must present one of the following documents in order to enter Spain:
A certificate of Vaccination against COVID-19 
Valid from 14 days after the complete vaccination schedule (x2) and for up to one year after the date of vaccination.
A negative certification of an active infection diagnostic test
Required 72h prior to arrival in the Balearic Islands or a rapid antigen test, 48h prior to arrival in the Balearic Islands. Currently, at the point of publishing this type of certificate is NOT accepted in the case of passengers arriving from the United Kingdom (UK).  A full Vaccination certificate is required.
A certificate of recovery after having contracted the disease
Corresponding to a test within a period not exceeding 180 days after the date of the first positive result of an active infection diagnostic test (NAAT) and no earlier than 11 days following the date of that positive result. Currently, at the point of publishing this type of certificate is NOT accepted in the case of passengers arriving from the United Kingdom (UK).  A full Vaccination certificate is required.
These certificates (vaccination, diagnostic test, recovery) must be the original, written in either Spanish, English, French, or German, and may be presented in paper or electronic format.
For regular updates and more information see Safe Tourism Illes Balears Travel.

Find a COVID Test Centre in Ibiza 
Tourists and residents of the Balearic Islands can take the rapid antigen test upon arrival without an appointment at the Balearic Islands Health Service's COVID EXPRÉS testing centres.
Here you can find your Covid Express Testing Centres 
---
Thanks for staying updated with Prestige Properties Ibiza.  We are looking incredibly forward to another successful tourist season and the slow return of one of our main tourist attractions, Ibiza's globally recognised Night Clubs.
If you are considering travelling to Ibiza this season 2022 and are still yet to book accommodation, then why not check out our villas on offer.
Alternatively, our team members are always ready to help you with your travel opportunities and are happy to assist you with any of your questions, so get in touch with us today!