Summer 2023 is just around the corner, and we're ready to entice you with one of our top favourite rental properties here in Ibiza. Could Can Alegria be the perfect villa destination for you?
This countryside hideaway, nestled between Santa Gertrudis and San Mateo, offers relaxation like no other. Can Alegria is the perfect villa for friends and family who wish to spend a wonderful week or two under the heat of the Mediterranean sun.
We invite you to explore one of our most-loved Ibiza holiday villas.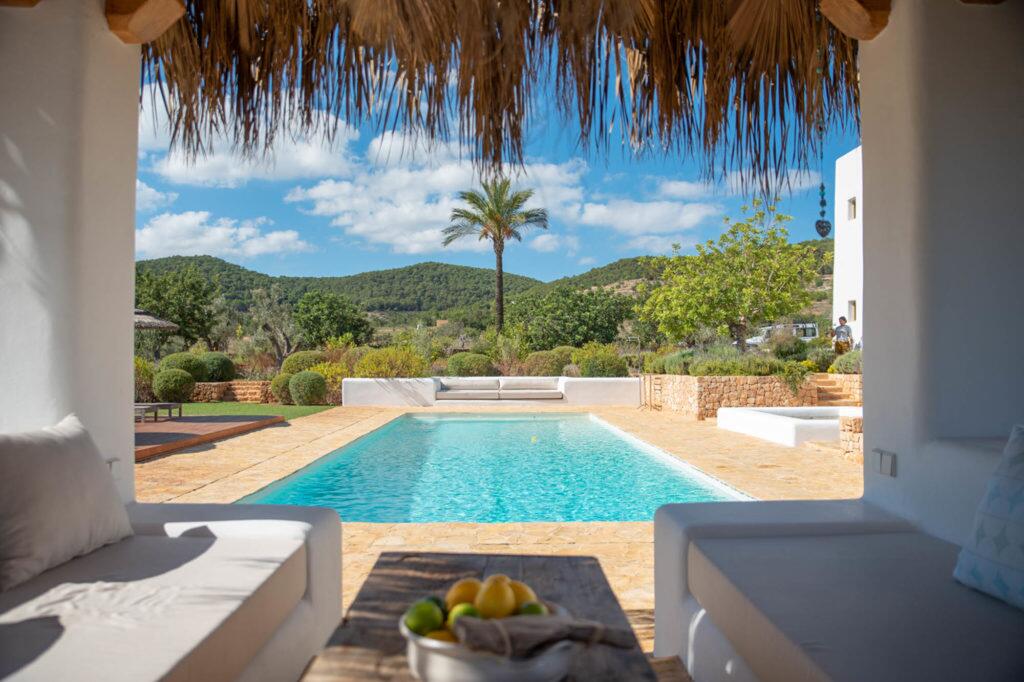 Can Alegria – The Luxury Rental Villa with a Blakstad Design
With its stunning Blakstad design, Can Alegria hosts its original Ibizan architecture with outstanding modern features. This holiday home's beautiful personal touches make for an impeccably styled and decorated must-visit.
Upon entry, you're welcomed into an airy, stylish living room flooded with light. The high ceiling windows add energy as the bright blue sky showcases itself throughout – a feature unmistakably associated with traditional Ibiza architecture.
Can Alegria is filled with unique pieces collected from around the world, including sculptures, wall hangings, and a music-themed chandelier designed by the renowned Zermatt artist Heinz Julen.
In this home, you can gather to share food and conversation in a bright, functional and wonderfully styled space. Plenty of room exists for inclusion and hosting guests in this open-plan layout.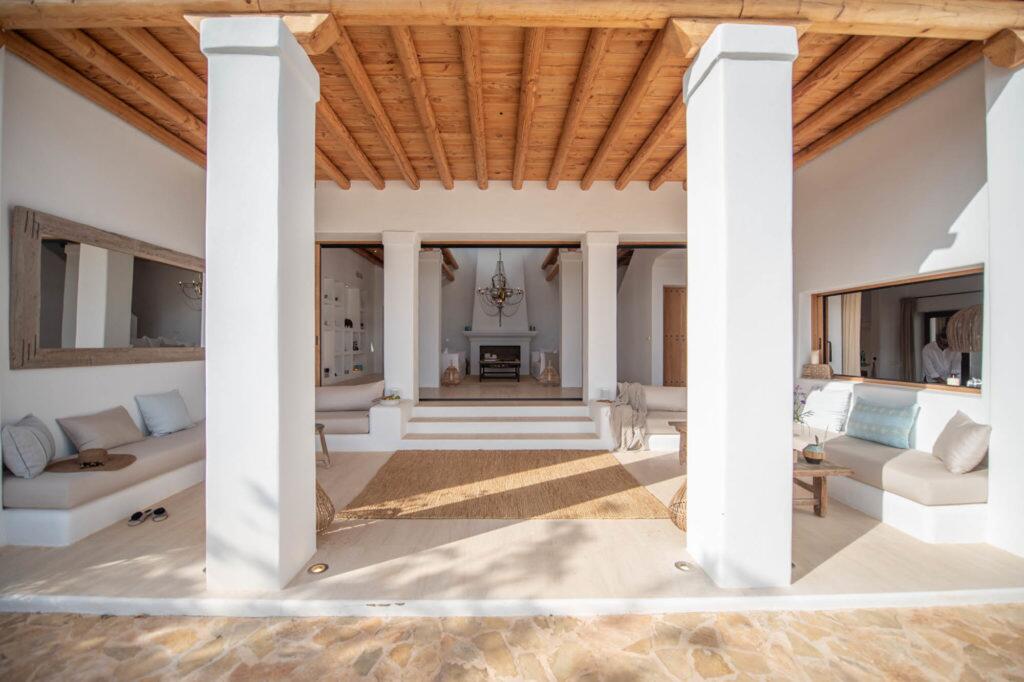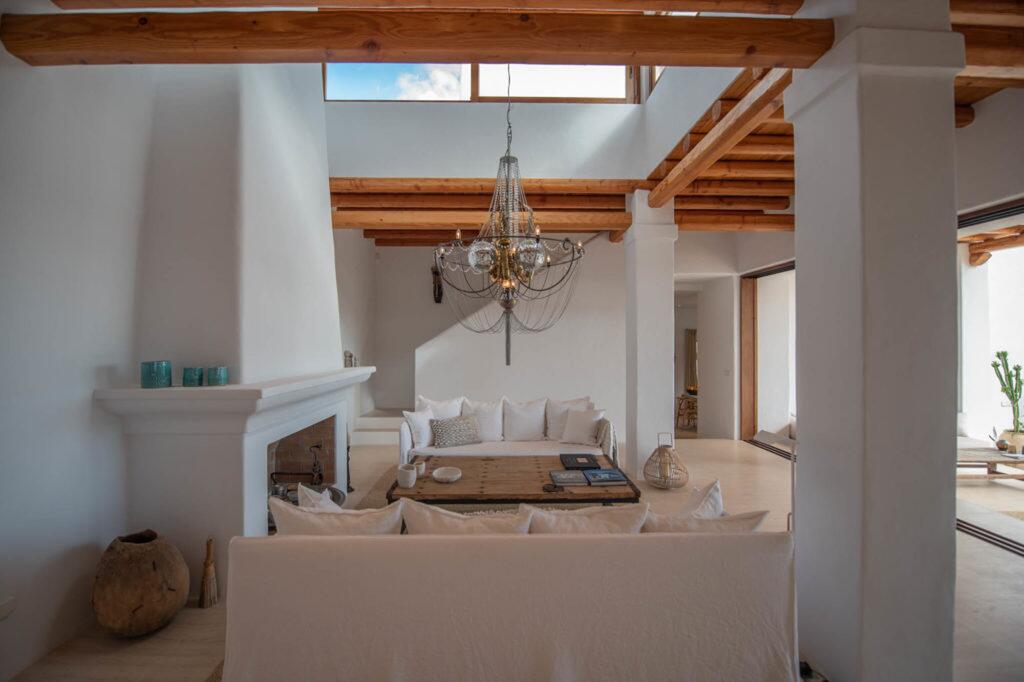 Can Alegria: A Large Holiday Villa with Five Bedrooms
Uniquely, each of Can Alegria's five bedrooms has its own name, all decorated perfectly, creating an exclusive sense of home. 
Located in a separate wing of the house, the master bedroom offers ultimate seclusion, space, and stunning sunrises. Here you can enjoy breathtaking views over the gardens and distant green hills from the huge private terrace.
Featuring neutral colours and natural materials, Marrakesh, Jardineta, Vista Hermosa, and Terraza are each bright, welcoming bedrooms. There is a good chance you'll be debating which room to choose among the charming options available, especially the distinctive en-suite bathroom in Marrakesh, which features a narrow archway and leads into a luxurious round bathtub surrounded by Moroccan-style alcoves.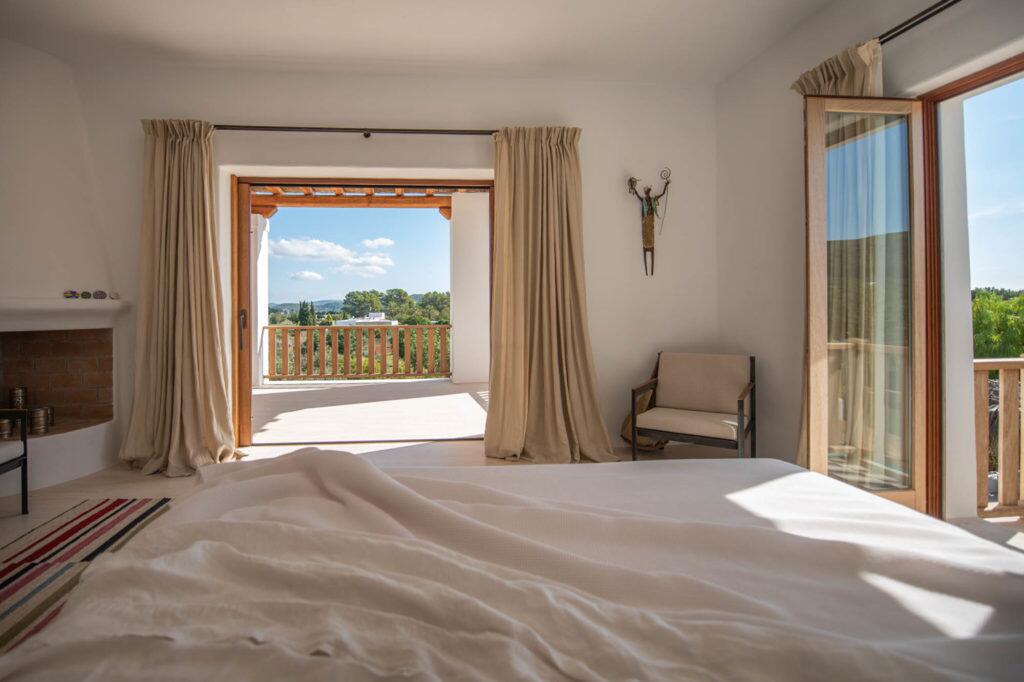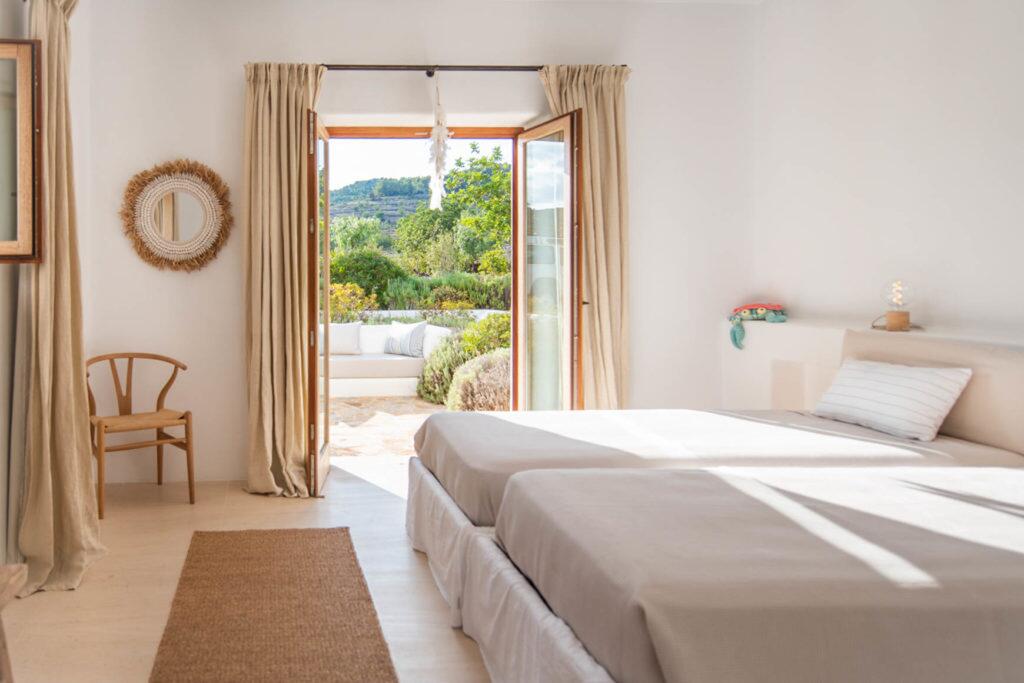 Can Alegria: An Ibiza Holiday Rental with Large Lush Mediterranean Gardens & Swimming Pool
The best way to take advantage of the beautiful weather in Ibiza is to book a villa with extensive surrounding gardens, a big swimming pool, and lots of outdoor chill-out zones. The answer is Can Alegria. This lovely garden and terraces are an idyllic spot to enjoy breakfast or an evening meal as the sun rises and falls, filling the space with warm, golden light – which overlooks the shimmering turquoise pool that runs the length of the house.
Although outdoors, there's plenty of space to escape the summer sun under the numerous covered terraces, shaded thatch umbrellas and inviting gazebos. No doubt Can Alegria's grounds will provide plenty of privacy and tranquillity.
The villa's main living area offers large sliding glass doors directly outside, creating a dynamic space that seamlessly blends indoors and outdoors.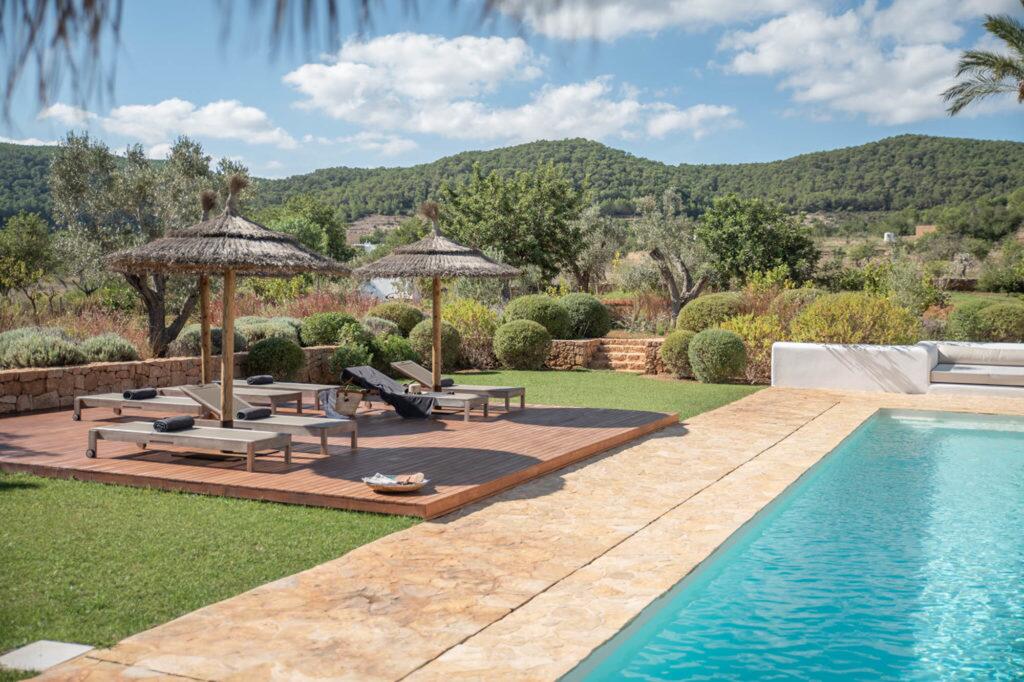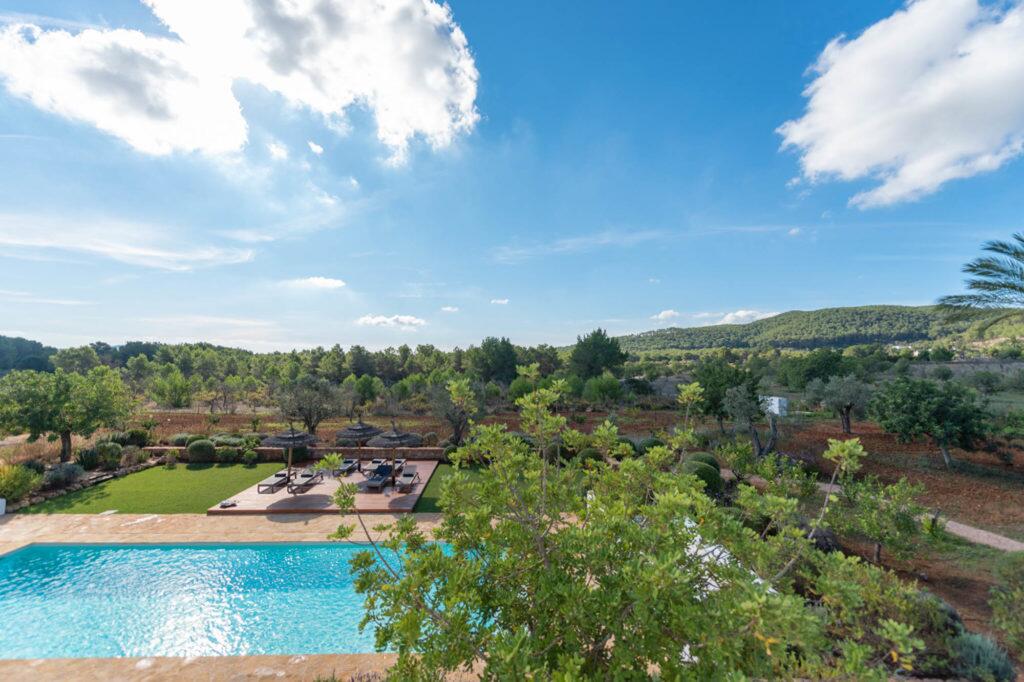 Can Alegria: A Perfectly Located Rental Villa Close to the centre of Ibiza, near San Miguel and Santa Gertrudis
Within twenty minutes of Ibiza Town and just six minutes from Santa Gertrudis, this wonderful, rural holiday home sits in the middle of it all, close to everything, but quiet enough to retreat to when you want. And, if you wish to really indulge in an extra relaxing week and stay a little more within your private setting, then Can Alegria offers the right facilities. Our concierge agents will be able to arrange any extras you might need to make your stay even more enjoyable and memorable.
Book your Luxury Ibiza Holiday Rental Property with us
Vacation rentals at Can Alegria are an excellent choice for a relaxing getaway. Take a well-deserved break and spend time with your family and friends by booking today.
The upmarket villa rentals we offer cover all of Ibiza's municipalities, including Santa Eulalia, Santa Gertrudis, San José, San Antonio, Eivissa, and San Juan, which come in many sizes, styles, and budgets.
Check out our website rental page or see our special offers for your perfect vacation in Ibiza.
Prefer to chat with one of our agents to help you find the ideal holiday property in Ibiza? We would love to hear from you! Contact us today.  
For regular updates, recommendations, and experiences, be sure to keep up to date with our latest news via our social media pages and blog posts.