As Ibiza's property market continues to flourish, we are thrilled to share our latest real estate market update, demonstrating why Ibiza continues to be an excellent investment opportunity.
In recent years, the Ibiza real estate market has experienced a significant influx of new residents and international buyers, particularly in the luxury segment. Consequently, the island is experiencing a sensational rise in interest, a steady increase in prices, a decrease in quality supplies, and an elevation in demand.
So, is 2023 a good time to buy a property in Ibiza? There is no doubt about it! Now is an excellent time to invest. Check out our insights and forecast below for more information.
The General Spanish Real Estate Market in 2022
European and, in particular, Spanish real estate markets enjoyed a favourable year in 2022. As a result, Spain has been noted as one of the most promising countries to invest in property, with the price of real estate increasing by 7.1%, according to a recent report from Sociedad de Tasación. There have also been significant increases in the number of foreign buyers in Spain, with a record 26,728 sold and purchased properties, representing 15.92% of all sales in Spain (Idealista, 2022). In light of Brexit negotiations and economic growth rates, this figure is predicted to increase over the next few years.
The General Balearic Property Market over the Past Decade
The Balearic Islands have demonstrated continuous growth over the past decade (pre-pandemic), reaching its prominent peak in 2017. Sales and price averages remained steady until late 2019, when a mild decline began, indicating that the market was experiencing minor stagnation. Despite a temporary pause in 2020, sales and prices again reached their highest levels since 2007 during mid-2022.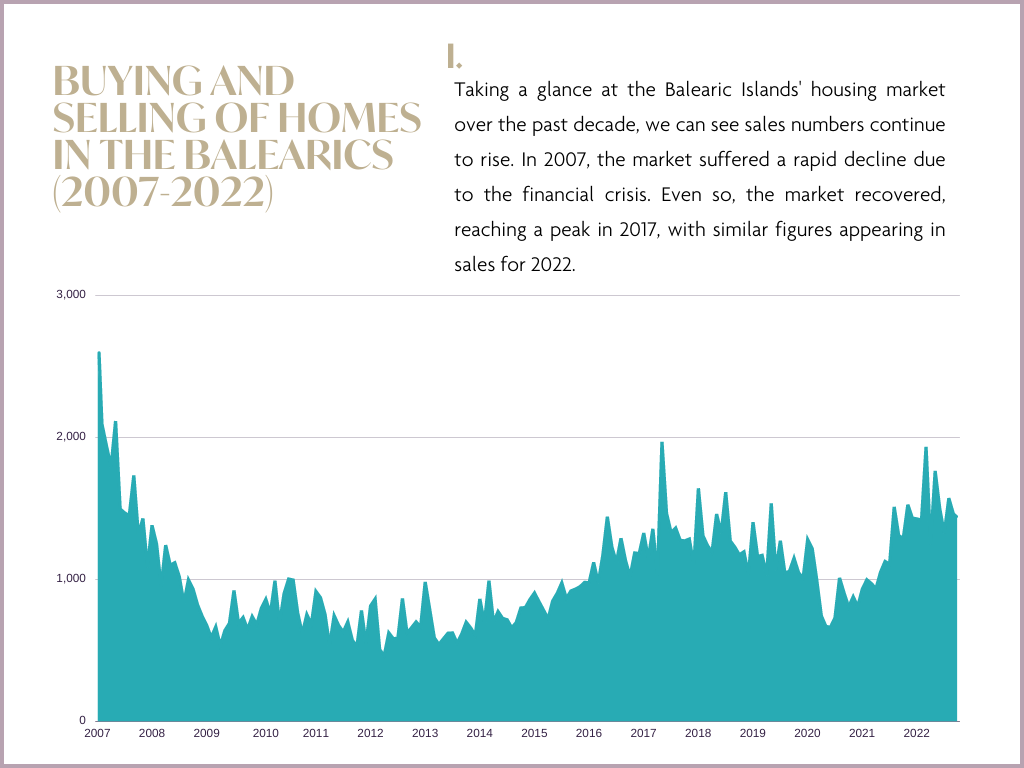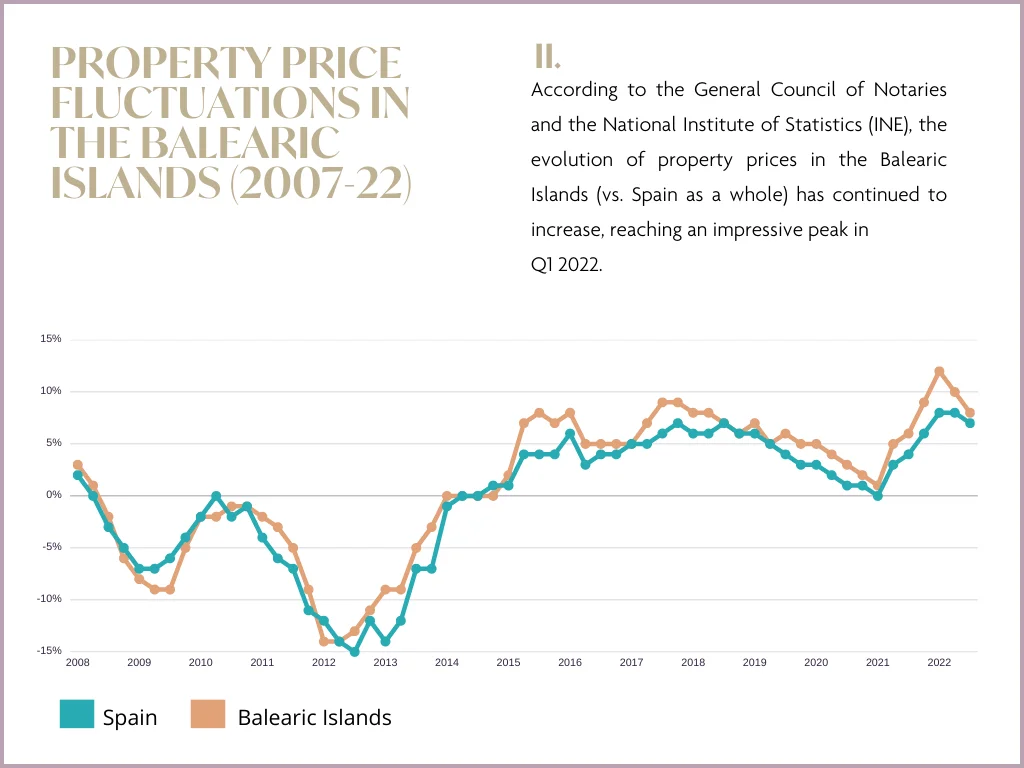 Ibiza's Luxury Housing Market 2022 with Prestige Properties
Ibiza's real estate market has always been more resilient than its neighbouring Balearic Islands' and Spain mainland's, whereby setbacks or downturns have never been as severe. As our counterparts have seen their markets grow, Ibiza is particularly noteworthy, especially in the luxury sector, for exhibiting an even more significant upturn since 2020. 
Our Prestige Properties Ibiza's sales data from 2022 calculated:
An overall 10% increase in price per square metre between 2020 and 2022 across all areas on the island
Our sales volume doubled between 2020 and 2021 – and remained stable throughout 2022
An 87% rise in enquiries over the past two years
A drop of around 50% in (published) listings (suggesting a high demand versus low supply market)
58% of our buyers purchased a property as a second home
For our Full Market Report and more statistics, please visit our 2022 Annual Ibiza Property Market Report and 2023 Forecast.
2023 Forecast and is now a Good Time to Buy a Property in Ibiza?
Based on our internal statistics and general market trends across mainland Spain and the Balearic islands, we are confident that Ibiza will remain a top destination for buying property in 2023.
Since the main boom of 2021 (which saw even higher numbers than pre-covid highs in 2017), we remain steady and continue to rise, making it an attractive investment. Since fewer sellers are on the market, the race against a low supply continues, thus guaranteeing a steady increase in property value.
The island generally continues to grow, especially in the hospitality and tourism sectors, and is becoming a premium place to live. As non-resident families become more active in their buyers' journeys, they opt to rent long-term whilst waiting to see when the right property to buy becomes available.
---
If you're interested in viewing our Prestige Properties Annual 2022/23 Report or would like to speak with an agent about the current market and investment opportunities, contact us today! 
We would be more than happy to talk you through Ibiza's Real Estate potential.