The Ibiza housing market significantly boomed during the Coronavirus pandemic, mainly due to a surge of interest from international buyers that were not economically or geographically restricted, and thus saw an opportunity to move away from the big cities and relocate somewhere quieter and more natural. This buyer interest inevitably created a high demand for properties on an island with a small supply.

In fact, this demand which began in the summer of 2020 and continued into the start of 2022, made Ibiza's property prices reach a record high and the real estate sector experienced one of the most optimistic years in over a decade. This not only brought joy to sellers and the real estate industry in general, but also created a range of long-term investment opportunities for buyers.

So, is this boom anticipated to continue, is now still a good time to buy, and what are the 2022 predictions for Ibiza's real estate?

What has the General Balearic Property Market looked like over the Past Decade?
If we rewind back, we can see from our recent article on the 2021 Annual Ibiza Property Market Report and 2022 Forecast that over the past decade (pre-pandemic), the Balearic Islands have shown continuous growth with sales and prices reaching a peak in 2017. These sales and price averages remained the norm, and it was not until late 2019 that these statistics mildly began to drop, suggesting that the market was experiencing minor stagnation. Naturally, it did not help that the real estate business around the same time started to experience less activity due to COVID-19's uncertain status and subsequent global lockdowns.

This stagnation, however, must be noted as a reflection of the Balearic Islands as a whole, and when comparing the overall market to the Ibiza luxury property market, the impact was most certainly less significant.

Yet, despite a temporary pause in buying activity, the interest has since quickly recovered and now regained the highest pricing since 2007.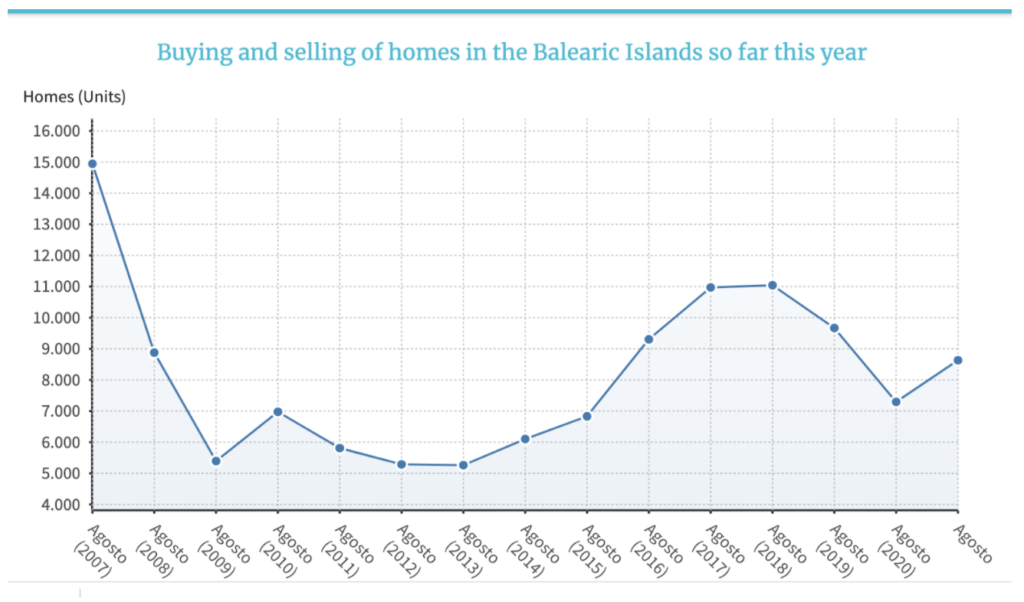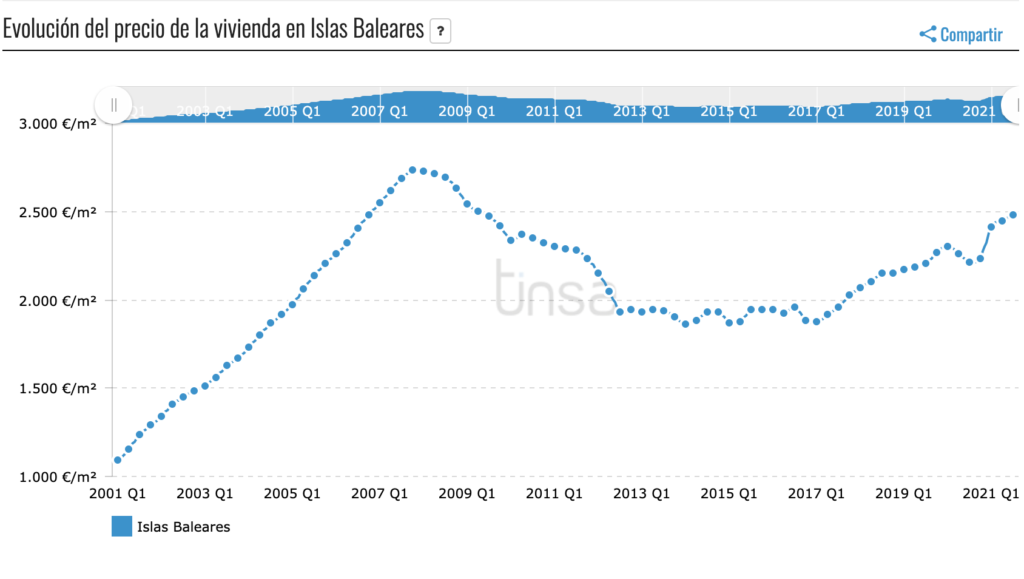 What did Ibiza's Luxury Housing Market 2021 with Prestige Properties Look Like?
Using Prestige Properties Ibiza's sales data, we calculated:
An overall 21% increase in price per square metre between 2019 and 2021 across all areas on the island
Up until October 2021, sales numbers have risen by 56% compared to 2019 and turnover has risen by 95% in Euros
The number of active enquiries and website visits increased by an overall 36%
For the Full Market Report and Statistics, please visit our 2021 Annual Ibiza Property Market Report and 2022 Forecast
2022 Forecast and is now a Good Time to Buy a Property in Ibiza?
Our statistics show Ibiza's market potential, which not only survived but flourished during the pandemic, giving us confidence that the island will remain a top destination on an international scale for the foreseeable future 2022. House prices in Ibiza's luxury property market are expected to keep rising steadily, making for an attractive investment. Despite this, we don't think sales will continue to increase as they have in 2021. With the post-pandemic effect fading, we expect the sales boom of 2021 to slow down, especially as we are increasingly seeing fewer sellers as we move into a new year.  This continues the race against supply and demand, thus promising us a steady increase in property value.
As we move into 2022 and the island is exhibiting even more growth in general, especially in the hospitality and tourism sector, and is becoming a more desirable and trendy place to live, we are starting to see families hitting the long-term rental market in order to be close by and proactive in their buyers' journey, even if that means waiting for the right property to come onto the market.
---
If you're interested in viewing our Prestige Properties Annual 2021 Report or you would like to speak with an agent about the current market and investment opportunities then contact us today! We would be more than happy to talk you through Ibiza's Real Estate potential.